2021-22 Non-conference opponent preview: St. John's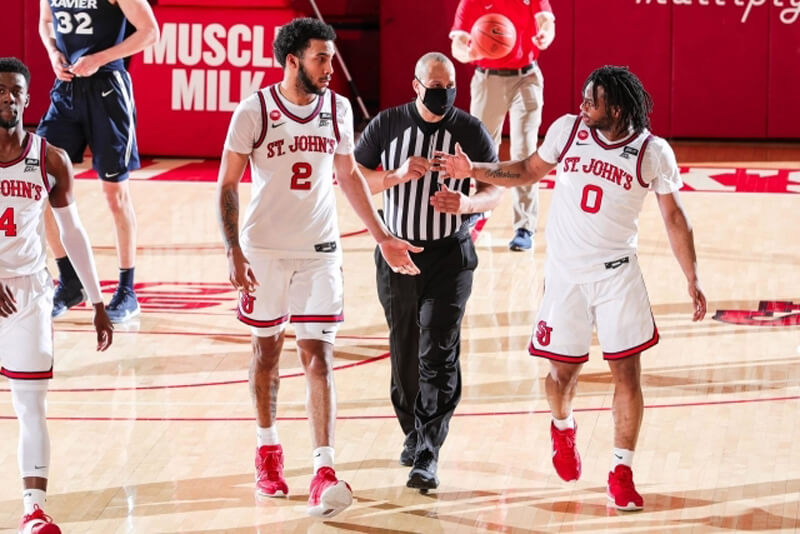 To-date, nine of Indiana's 11 non-conference opponents for the 2021-22 season have been revealed and Inside the Hall is taking a closer look at each of those opponents as the offseason rolls along.
Today: the St. John's Red Storm.
Indiana drew St. John's as its matchup for the sixth annual Gavitt Tipoff Games, which will take place Nov. 17 at Simon Skjodt Assembly Hall.
The Gavitt Tipoff Games is an early-season series between Big Ten and Big East teams, named in memory of Hall of Famer Dave Gavitt, who founded the Big East.
The Hoosiers have a 2-1 record in the games and a 5-2 advantage over the Red Storm in their seven-game history. Two of those matchups came during the NCAA tournament — an Indiana win in 1976 on its way to an undefeated season and an 86-61 loss to St. John's in 1999.
St. John's is led by Mike Anderson, who is now entering his third season as head coach for the program. During his 18 years as head coach in college basketball, he has never had a losing season and made nine appearances in the NCAA tournament.
Anderson's team is coming off a 16-11 season, capped off by an overtime loss to Seton Hall in the quarterfinals of the Big East Tournament.
But the Red Storm already have a huge win coming into the 2021-22 season. After accepting an invitation to the NBA combine, junior forward Julian Champagnie withdrew from the NBA draft at the beginning of July to return to St. John's for a third season.
Champagnie led the Big East in points with 19.8 per game and averaged 7.4 rebounds per game during his sophomore campaign. His performance earned him a spot on the All-Big East first team as well as the Big East's improved player award.
Champagnie stands at 6-foot-8, making him a threat inside the paint, but he's also a weapon from outside, shooting 38 percent from beyond the arc, which will benefit the Red Storm greatly this season.
Sophomore guard Posh Alexander is coming off a standout freshman season for St. John's. He started 24 games and led the team in assists (4.3) and steals (2.6) per game.
Although he averaged 10.9 points per game, Alexander was more impressive on the other end of the floor. He became only the fourth player in conference history to be named Big East defensive player of the year as a freshman, joining a group of three Naismith Hall of Famers (Allen Iverson, Alonzo Mourning and Patrick Ewing).
The Hoosiers will also see two familiar faces of Big Ten transfers in the Red Storm lineup.
Former Purdue forward Aaron Wheeler committed to St. John's as a graduate transfer in April, where he'll have two seasons of NCAA eligibility left. Meanwhile, former Rutgers guard Montez Mathis will also leave the Big Ten for the Big East.
Both transfers had a combined 4-0 record against the Hoosiers on their respective teams last season.
Filed to: 2021-22 schedule, St. John's Red Storm