6-Banner Sunday: Fall sports returning to 100% capacity, official visits dominate busy recruiting week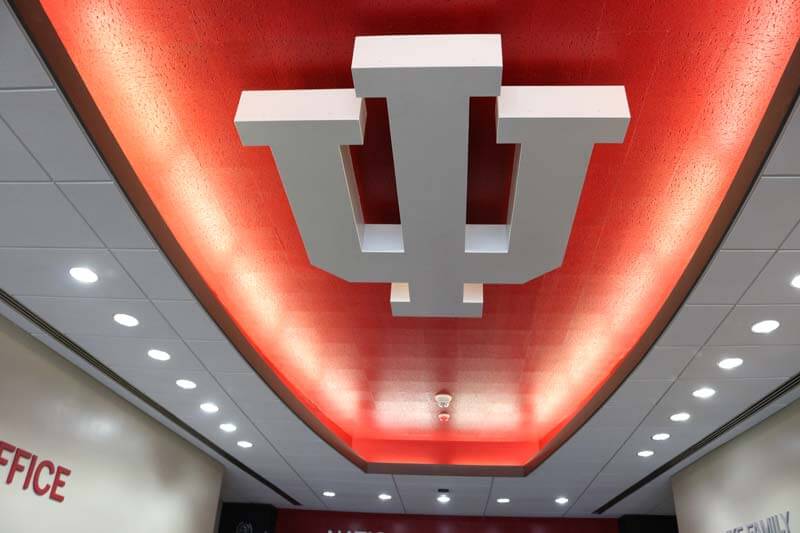 6-Banner Sunday is Inside the Hall's weekly newsletter in partnership with The Assembly Call. Nearly 8,000 Indiana fans receive the newsletter each week. In addition to appearing each week on the site, you can also opt to receive 6-Banner Sunday by email. A form to subscribe via email is available at the bottom of this week's 6-Banner Sunday.
Welcome to another edition of 6-Banner Sunday, a joint production between The Assembly Call and Inside the Hall where we highlight the five most essential IU basketball stories of the past week, plus take a look at how the other IU sports programs are doing.
There were three major new items this week. The most important being that IU sports are returning to 100% capacity. Other big topics in the last few days involve recruiting and some scheduling news.
This week's Assembly Call Radio discussed recruiting and other topics.
• Hoosiers returning to full capacity this fall
• Louisiana-Lafayette and Northern Kentucky added to the schedule
• Mike Roberts speaks out
• Summer workouts continue
• Recruiting news
• Hoosier roundup
Banner #1 – Hoosiers Returning to Full Capacity This Fall
While it seemed to be headed this way for a while, IU made it official and announced all fall sports will be able to have 100% fan attendance at Football and other fall matches. This would seem to be a good sign for basketball and other sports later on in the season, as this announcement does include volleyball which also takes place indoors at Wilkinson Hall.
Other competitions that see significant attendance and will operate at full capacity outdoors are Men's and Women's Soccer and Field Hockey. Other sports that compete in autumn include cross country, golf and any winter or spring sports that have exhibition matches.
Banner #2 – Louisiana Lafayette and Northern Kentucky Added to Schedule
The non-conference schedule continues to take shape as two additional opponents were announced.
The first were the Northern Kentucky Norse who joined Division One in 2012-2013, first in the Atlantic Sun and then moved to the Horizon League in 2015-2016. Despite being relatively new to the top level of College Basketball, they have seen a reasonable amount of success making two NCAA Tournament appearances recently as the conference champion. They would have made a third trip last year winning the Horizon League tournament if COVID had not wiped out the 2020 NCAA tournament.
This past season NKU slipped to 14-11 and 206 in the KenPom under second-year head coach Darrin Horn. If that name sounds familiar to Hoosier fans, it is because Horn has had previous stints at South Carolina and Western Kentucky.
The game between IU and Northern Kentucky will take place on December 22 at Assembly Hall.
The second piece added to the schedule, is a matchup with the Louisiana Lafayette Rajin' Cajun but no date has been set yet. They compete in the Sunbelt Conference and finished last year 17-9 and 201st in KenPom.
Other known matchups before Big Ten Play for IU are a date with the Merrimack Warriors as well as-yet-to-be-determined opponents in the Gavitt Tipoff Games against the Big East and a Big Ten/ACC Challenge Game. The only other non-conference game so far on the books is a December 18 matchup against Notre Dame in the Crossroads Classic in Indianapolis.
Banner #3 – Mike Roberts speaks out
Former IU player and recent Archie Miller assistant Mike Roberts, joined former Hoosier standout AJ Guyton this week on Guyton's "House of 68 Podcast". In the interview Roberts discussed his playing days and his time as a coach at IU.
Roberts was initially scheduled to stay on staff in Bloomington as the Assistant Athletic Director For Basketball Administration, but ended up moving onto Cincinnati where longtime mentor Wes Miller offered him a job as an Assistant Coach.
Banner #4 – Summer Workouts Continue
While IU Basketball is very much in the offseason, that does not mean players do not have to stay in shape. Pitt transfer Xavier Johnson tweeted out a video of himself working out with the team this week.
Also, Director of Athletic Performance Clif Marshall tweeted out pictures of himself and newcomer Michael Durr boxing with each other.
Marshall also tweeted about a pre-test evaluation for incoming standout freshmen Logan Duncan and Tamar Bates.
Lastly, the main IU Basketball Twitter Account had a video with the team working out.
Banner #5 – Recruiting News
Recruiting was in high gear this week with multiple news items taking place on this front.
First off, Kaleb Banks who is the No. 92 player in the 2022 class per 247Composite rankings had an official visit last week which he recapped.
Other 2022 official visits recently came from No. 84 Justin Taylor and No. 45 Kyle Filipowski.
Also, while it was not an official visit, but rather unofficial, IU target Jeremy Fears Jr. was on campus. He is a 2023 player from La Lumiere and is one of the top 25 players in his class.
The Hoosiers also offered a scholarship to 2023 four star recruit Kaleb Glenn and 2023 player Myles Colvin. The other offer went out to 2023 forward Coen Carr.
Banner #6 – Hoosier Roundup
• Lily King qualified for the Olympics as did three other Hoosiers and an additional athlete.
• Track and Field concluded its season at the national championships and the women's team finished 12th in the final rankings.
• A wrestler earned a silver medal at the Pan Am championships.
• Football was honored with an award for being media friendly and had a player named preseason All-American.
• Volleyball had three transfers added to the team.
• Baseball had two players awarded All-Region honors.
• Women's Basketball announced it's Big Ten opponents for next year.
• Field Hockey had a player named to the National Indoor Development team.
Thanks for your continued support for The Assembly Call. We'll be back next weekend with a new roundup.
Now go enjoy yourself a 6-banner Sunday.
Filed to: