High school coach on Kyle Filipowski's IU official visit: "He loved the campus"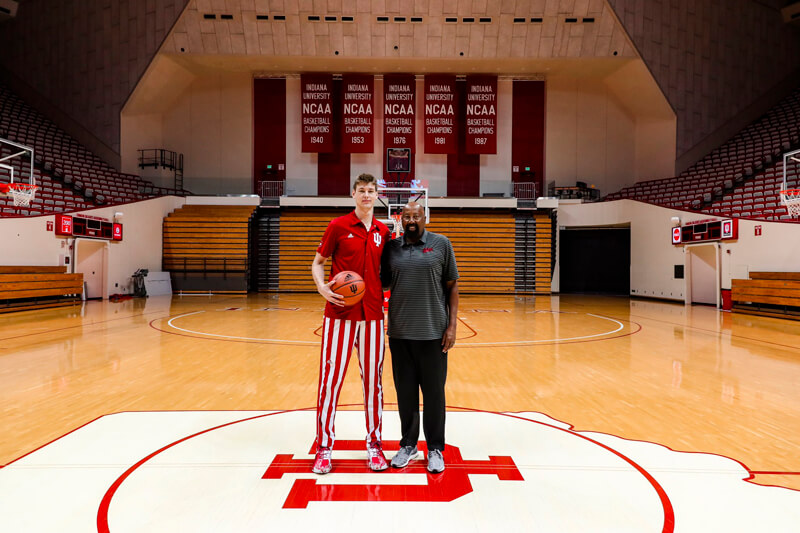 It's been a busy couple of weeks for the Indiana coaching staff in terms of official visits.
Last week, the Hoosier staff welcomed four-star Georgia wing Kaleb Banks to campus and this week, it was four-star forwards Justin Taylor and Kyle Filipowski.
The 6-foot-11 Filipowski, who plays at Wilbraham and Monson Academy in Massachusetts, has been on a whirlwind tour of college campuses this month.
"Syracuse was at the beginning of June," Wilbraham and Monson coach Mike Mannix told Inside the Hall. "Last weekend he went to Ohio State and then they drove from Ohio State to Bloomington. His family is staying a few days in Chicago and tomorrow he has an unofficial visit at Northwestern. And then next week, he has a half-day unofficial visit at UConn. And then on Monday the 28th, he gets on a plane for Duke. He'll have his official visit there and then he'll follow that up with his official visit at Iowa."
Given that the moratorium for prospects to visit college campuses ended on June 1, the month has been important for Filipowski after his recruitment was conducted by phone, Zoom and text message since the beginning of the COVID-19 pandemic.
"It's pretty unique in that if you look back before the pandemic, a sophomore's recruiting going into his senior year, a kid who might be a high major player probably attends a home game at university X during his sophomore year and then probably goes on an unofficial visit and then things really ramp up their junior year," Mannix explained. "And then they're taking visits during the fall of their senior year before these "junior year" visits came to be and obviously before the pandemic shut campuses down for like 15 months. I say that because Kyle and kids like Kyle, they go from not going on any visits at all to now you're on an official visit and you're sitting next to Mike Woodson at a steakhouse."
The Indiana trip was instructive for Filipowski in getting an opportunity to spend time getting to know Woodson, who will coach his first college game this fall at Indiana after a long career in the NBA.
"He loved the campus. He spent some good time with coach (Mike) Woodson," Mannix said. "He said that coach Woodson was very easy to talk to and they had some good conversations. They sat next to each other I think at one or two of the dinners. I think his conversations with coach Woodson were definitely one of the takeaways."
In addition to the time spent with Woodson and the coaching staff, Filipowski also got a better feel for the history and tradition of IU basketball being on campus for the first time.
"I think it was good to see the history of IU in person. Much like we're saying about campus tours," Mannix said. "You can see dorms, you can see weight rooms and things like that on Zoom.
"The same thing goes for a place like IU that has all of the history that it has. You've heard about the glory days of IU and the fanbase that is so passionate and then to get there to see it all for yourself, I think that was something that he definitely saw. That was something that definitely resonated."
Mannix said he isn't sure where Filipowski is in terms of a timeline of his recruitment or when a decision could come, but said that being able to visit schools is a major change following more than a year of virtual recruiting.
"It's like getting your driver's license at 16 or 17 and someone hands you the keys to a Cadillac or a Mercedes," Mannix said. "There's no easing into it. On these visits, it's his first time. So he's not only getting the full treatment of the official visit when you go out to eat and get tours, but this is all introductory.
"He's never been there before. He's had to kind of slow his mind down a little bit. And he's mature in that way where he'll kind of slow down his thinking and not get too, too caught up in the entertainment and everything that goes on during an official visit."
Filed to: Kyle Filipowski