Class of 2022 forward Kaleb Banks recaps Indiana official visit, says facilities are "a player's dream"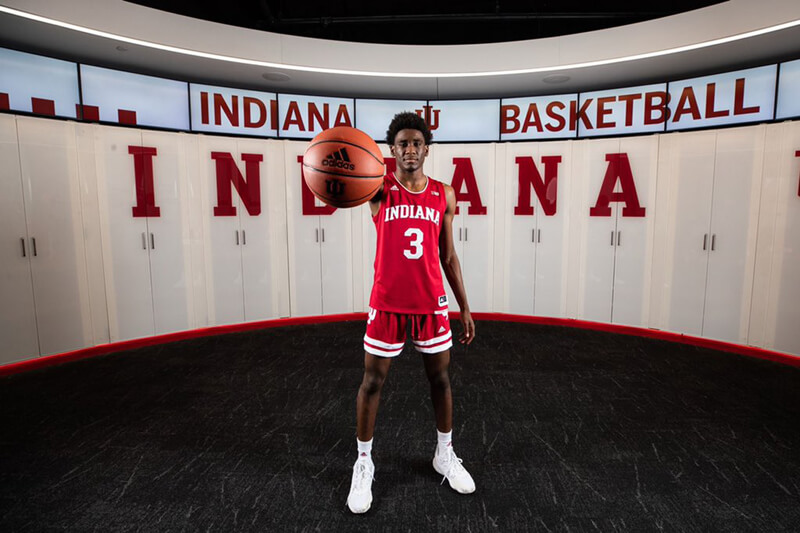 The third official visit for class of 2022 Fayetteville (Ga.) forward Kaleb Banks made quite an impression.
The 6-foot-8 forward, ranked the No. 92 player nationally according to the 247Composite, was in Bloomington for a visit that began Thursday and wrapped up Saturday after previously taking official visits to Georgia Tech and Alabama.
It was the first opportunity for Banks to tour Indiana's facilities, meet the coaching staff and get an up-close look at a program that has made him a recruiting priority.
"(Mike) Woodson is a super nice coach," Banks told Inside the Hall. "Very hands-on during practice. He's easy to talk to. We talked about basketball and also general life stuff."
Kaleb's mother, Kendra, said getting to Bloomington helped her and her son get a better feel for a place that up until recently they could only see on video or in pictures.
"The main thing that stood out was the facilities," Kendra Banks said. "Assembly Hall to Cook Hall to where they live, the facilities for the athletes stood out the most. Seeing it on video or in pictures is one thing. But when you are actually standing in the arena or seeing it in person and seeing the close proximity of where the athletes live, workout and play, it put a lot of things in perspective."
Indiana's players live in Evolve Bloomington, which is just minutes away from Assembly Hall and Cook Hall. Banks noted that having everything close together was a major plus in his eyes.
"The facilities are state of the art. I love the intimate feel of Assembly Hall," he said. "It's very unique. The other facilities are all state of the art and close together. I like that. A player's dream."
In addition to touring the campus, the trip also marked an opportunity to watch one of Indiana's first offseason workouts under Woodson.
"The coaches seem like they're a cohesive unit. They seem to work together and have fun together," Kendra Banks said. They're more like a family. It was a family atmosphere to me. They were engaged and a lot of hands-on instruction."
While Banks told Inside the Hall back in April that assistant coach Yasir Rosemond was leading his recruitment, visiting the campus allowed him and his mother to sit down and get to know Mike Woodson better.
In addition, the family also got to hear a presentation from Clif Marshall and meet long time athletic trainer Tim Garl.
"He (Woodson) was real personable. Down to Earth and very knowledgeable about basketball," Kendra Banks explained. "He's easy to talk to. He talked about a lot of stuff, not just basketball. He's well respected and he seems like he's real humble.
"With Clif (Marshall), he's very knowledgeable. He did an awesome presentation showing how he works with the players. The trainer (Tim Garl), he's been there 41 years. When you have people that have been there a while with that stability in the program, it means a lot."
The trip to Indiana will be the last official visit of the summer for Banks, who said he will use the rest of June and July to focus on his high school and AAU teams.
The NCAA has evaluation periods the last two weekends of June for scholastic events and will then have three evaluation periods in July for grassroots events.
"I'm going to hold off (on more visits) because I'm starting back to play summer games with my high school team," Banks said.
Filed to: Kaleb Banks