Q & A: Justin Taylor's mom, Kerri Taylor, recaps Indiana official visit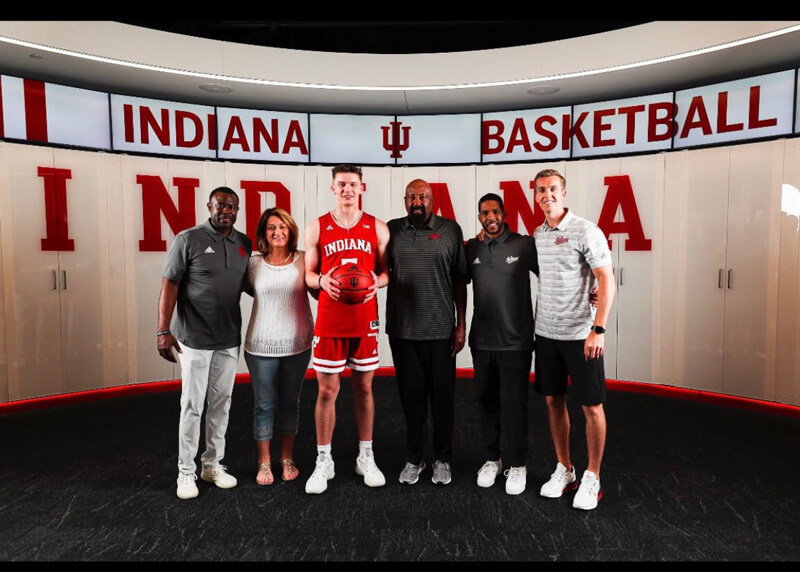 Indiana hosted St. Anne's-Belfield School (Va.) wing Justin Taylor earlier this week for an official visit.
It's been a busy month for Taylor, who took official visits to North Carolina and Syracuse as well as an unofficial trip to Virginia Tech.
Taylor's mother, Kerri, played collegiately at James Madison University and practices law in Charlottesville, Virginia. Inside the Hall spoke at length with Kerri Taylor this week about the trip to Bloomington, the recruiting process for her son and much more.
Our full Q & A is available below:
It looks like you've been busy recently with visits, how has it been being able to get to these campuses and learn more about these schools this month?
"It's been a whirlwind. We've done Zoom calls with all of them and it's just different being able to see everybody in person, see the campuses in person and seeing the facilities. It's just totally different. The Zoom calls were great for what it was, but there's nothing that can really substitute for the real thing. So that part has been good.
"You also get a sense of what it takes to get to each place whether you are driving or flying. So that's always helpful, too."
You went to Virginia Tech, North Carolina, Syracuse and Indiana. I'm sure those aren't the only schools that were pushing for visits, so why those four?
"Those four and UVA (Virginia) have been recruiting him the most consistently and the hardest. And I think they are also the same ones that he felt were the best fit for him, probably, in so far as style of play and coaching staff and where they were as far as player personnel.
"Not to say that the others aren't, but those are the ones that were kind of checking all of the boxes and that were showing the amount of interest that he felt like made it worthwhile, so to speak. He wasn't really into taking an official visit just for the sake of taking an official visit because it is a lot of time and of course it's a lot of work for the schools that you're visiting, too.
"He's supposed to set up an unofficial visit with UVA, but that hasn't been scheduled yet. Of course that's a lot easier because it is right here where we live. Virginia Tech was an unofficial, too, because it is only a couple of hours away."
These visits just count towards his junior year official visit allotment, right?
"He still has two left that he can use through July. And he gets another five available to him in August is my understanding."
With these visits out of the way, is this a case where he wants to take more visits in the fall and see other places? Or is he getting to the point where he's thinking about what he wants to do?
"I think he's getting to the point where he's trying to decide what he wants to do. There's a couple of schools that had been contacting him that he doesn't have offers from and I don't know if they were to come in and offer, if that wouldn't change his perspective on things. So I don't know that.
"There's a part of him that would like to get the process over a little bit before the July session starts. He definitely wants to have it done by this summer whether that's July or August. I think he wants to have it done before school starts."
I know Indiana recruited him before the coaching change and coach (Kenya) Hunter was a big part of that …
"He's been the consistent piece to branch across both coaching staffs. He's still the one is recruiting Justin."
What's the relationship like there between you and coach Hunter as well as Justin?
"It's been really good. He's been really good just keeping in contact with us and keeping us up to speed with what was going on in the coaching change and while coach (Mike) Woodson was putting together his staff.
"So that's been helpful just in so far as knowing what's going on and when he has had information, he's shared it with us, which has been helpful."
What vibe did you get from Justin coming out of the visit to Bloomington and what he thought of everything?
"I think we both were impressed with the campus and the facilities. They are certainly first rate. They're probably some of the nicest and prettiest that we've seen. He liked the campus and the buildings, the limestone. Everything is limestone but the buildings are all different, which was kind of neat.
"The facilities are obviously pretty spectacular. It's clear that it is a basketball school. Although they've had success in the football area, too. We did actually meet at lunch the head football coach (Tom Allen). They obviously had a really good year. It's clear that they've put money into the program and that's not going to change anytime soon.
"I think it was exciting to see everything and just from walking around you can tell that the fans are certainly ready to have a team they can root for and support. I think they've been looking for that for a while. They're definitely ready. But I think he left impressed with that. I think he certainly left impressed with the coaching staff that coach Woodson has put together.
"Coach Woodson has unique attributes in and of himself just by virtue of the fact that he graduated from Indiana. He has that going for him, but he went on to have a really successful NBA career playing and coaching. That perspective is a little different than what most college coaches have had. You have a good amount of college coaches who have had NBA careers, but most have not had the NBA coaching experience that he's had. And the success. That, I think, was appealing just to know that he has those connections. I think that will help him in recruiting and it's certainly impressive to talk to him about it."
What were your impressions of coach Woodson as a person? A lot of the words being used to describe him are "humble, down to Earth and easy to talk to."
"Those words definitely describe him. He's also really a player's coach. You can tell that the players really, really like him. He's family-oriented. He really wants relationships that will last beyond the four years that a player is there. You could tell just in talking to him that he's sincere in wanting to make sure that kids succeed both on the court and off.
"To be in the position he's in, he's very easy to talk to and very down to Earth. He's exceptionally knowledgable. He knows the game inside and out. But he's had success with businesses that he runs. He's an impressive guy for sure."
Unless my research is wrong, you played in college as well …
"Yeah, I played at JMU (James Madison University). And my dad played at Duke. And my daughter played at William & Mary. So it's been a family ordeal."
So you know what to look for from a basketball perspective. I am assuming you saw some workouts. Any observations from those?
"We did get to watch a workout. They haven't put any offenses in yet. They're still working on defense. He's using that as a tool to also do conditioning. Instead of just running a suicide, they're incorporating drills with the conditioning.
"You can tell he clearly wants to change the offense and the defense. He wants to run an NBA style offense …big into pick-and-roll and being able to guard that. Archie Miller was running more of a pack line defense and I think coach Woodson is intending to change that. He clearly has different ways of having kids, on the defensive end, rotate off of ball screens. It's still man-t0-man, but a different way of doing things.
"So it was interesting to see. I think a lot of it is feeding off of his experience at the NBA level. He certainly has a path he intends to follow in mind and knows what he wants to do. For him, it's going to be a matter of the 2022 class, Justin's class, that's going to be his first recruiting class. I think it's going to be a matter of getting in shooters, which is why he's recruiting Justin. He definitely wants some shooters and to get in the personnel to be able to run what he wants to run.
"And he does want to run. He wants to get up and down the court. He doesn't want to play a slow, methodical style of basketball. But if the fast break isn't there, he wants set up the half court offense and use the pick-and-roll, screens and that kind of thing."
How important was Evolve (the apartments where the players live) as a part of the visit?
"Evolve, I told my son that I don't know that I'd like him living in a place nicer than his own house. It's very nice. It comes full furnished. There's a pool, there's a game room. All of the amenities that any kid would love to have, of course. So the living situation is top-notch. It probably didn't hurt things that they had some people out sunbathing at the pool when we walked by (laughs)."
From an academic standpoint, what did you learn?
"Justin thinks he's interested in majoring in sports management and they have a great program for that. So we sat down with someone on the academic side and got a feel for what he'd be taking and what they do as far as academic support and tutoring and study halls and all of that. That piece is definitely there.
"Coach Woodson is intent on making sure kids succeed in the classroom. That piece is not going to be missing."
One thing that excited Indiana fans was the photo of Justin and Kyle Filipowski together in the IU uniforms. I know all of the schools take photos, but what is his relationship with Kyle?
"Justin had told me that they had been texting back and forth a little bit. I think they both realized that a lot of the same schools were looking at them. They had barely missed each other when they visited Syracuse. And they realized that they were going to overlap with each other at Indiana (on the visit).
"They spent a good bit of the day together on Tuesday. They got to talk a good bit. They went out with the guys Tuesday night after we went to dinner. So they were able to talk a good bit then. And I know they've talked since. I think they've got the base of a friendship in place.
"I think they both realized that their games are similar but different enough that they would definitely mix well together. I think schools are looking at Kyle at kind of a wing-power forward and I think Justin is more of a shooting guard-wing. So they both can shoot the 3. Kyle is every bit of 6-foot-11. And Justin is pushing 6-foot-7. They both have good size to them. Their games are real similar. It's just that Kyle has a little bit more size to him.
"They shot around together. They didn't scrimmage with the team, but they did a shooting workout and you could see some similarities at that point."
Filed to: Justin Taylor