6-Banner Sunday: Logan Duncomb's new perspective on life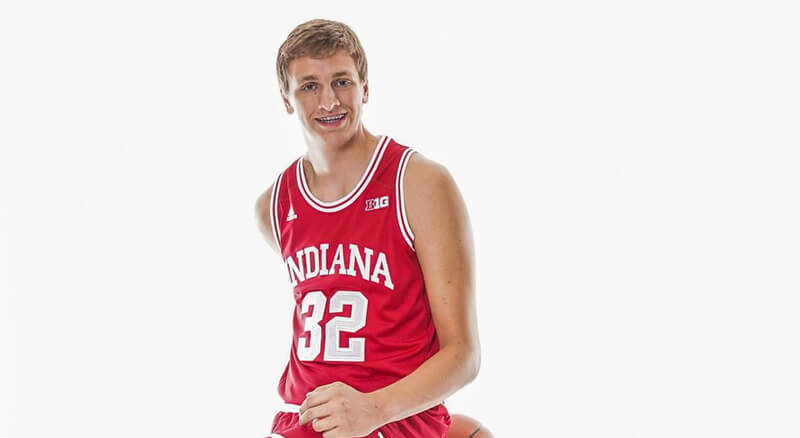 6-Banner Sunday is Inside the Hall's weekly newsletter in partnership with The Assembly Call. More than 7,500 Indiana fans receive the newsletter each week. In addition to appearing each week on the site, you can also opt to receive 6-Banner Sunday by email. A form to subscribe via email is available at the bottom of this week's 6-Banner Sunday.
Welcome to another edition of 6-Banner Sunday, a joint production between The Assembly Call and Inside the Hall where we highlight the five most essential IU basketball stories of the past week, plus take a look at how the other IU sports programs are doing.
Memorial Stadium hosted graduation on Saturday as the next class of IU students officially became graduates. Meanwhile, the IU basketball offseason continues to forge ahead.
Mike Woodson spoke with local columnists last week and shared more details about his transition to IU. Woodson also made an appearance on The Field of 68 Podcast with A.J. Guyton.
"I want to win and I want them (the players) to experience winning because it would be nothing like they've ever seen in their life at Indiana University," Woodson said. "I'm going to push you along with my staff to get back to the top."
In the new class of 2021 247Sports rankings, Tamar Bates was up to No. 26 and Logan Duncomb came in No. 62. This is the first class since 2018 that Indiana has multiple incoming freshmen in the top-100, per 247Sports.
IU assistant coach Dane Fife joined this week's edition of Podcast on the Brink, which you can listen to here. Former IU guard Devonte Green joined a special edition of Hoosier Storytime with Assembly Call. The weekly show of Assembly Call Radio can also be found here.
• Indiana signee Logan Duncomb's new perspective on life
• Dane Fife talks offseason workouts, expectations for next season
• Inside the Hall concludes season wrap-ups
• Indiana introduces Mike Stump, Anitra House to support staff.
• Winners and losers in the Big Ten this offseason
• Hoosier Roundup
Banner #1
Indiana signee Logan Duncomb's new perspective on life
During his senior year at Archbishop Moeller High School in Cincinnati, Indiana basketball signee Logan Duncomb has dealt with grief after the death of his friend Michael Currin.
Logan was a sophomore when they became friends, while playing together on the Moeller basketball team. Currin, who was a grade above Logan, became a role model. He always talked to Logan and made him feel welcome. If Logan made a mistake, Currin would always be encouraging.
But last September, Logan spent the night at a friend's house when he was awakened at 6 a.m. He was told that Currin was in a serious car accident and in critical condition at the hospital. Currin died a week later.
The tragedy spurred Logan to look at the world differently and he's gained a greater appreciation for life. He tells those close to him that he loves them more often.
"I just try to live like Currin," Logan said. "Just live up to his values, which was being kind to everyone. Let everyone in with an open heart."
Throughout his senior year, Logan tried to mirror Currin's character. He invited his younger teammates to gatherings. He talked to them and made them feel welcome. If Logan saw a teammate having a bad day, he'd talk to them. In the classroom, he's near the top of his graduating class with a weighted GPA of 4.65. Logan plans to arrive in Bloomington in June where he'll start workouts with IU.
"Don't forget them," Logan said. "Remember them. Try to live out your life as they want you to. Live in their image."
Banner #2
Dane Fife talks offseason workouts, expectations for next season
IU assistant coach Dane Fife spoke with Inside the Hall about Indiana's offseason workouts and expectations for next year. Early on, Fife and the staff have been putting their focus on fundamentals.
"For the lack of a better term, let's tighten up certain skills that are lacking, the basics," Fife said. "It's not to put the fault or blame on anyone other than we're trying to develop our personnel. We would do this if it were year five, if it were year three and we're certainly going to do it in year one."
It's been little observations, Fife said, like telling Trey Galloway to get more air under his shot. Making accurate passes that allow a shooter to catch the ball in rhythm. Advising Trayce Jackson-Davis to take a breath before shooting his free throws.
Recently, Fife has been watching film on Rob Phinisee, observing how to put Phinisee in better situations to be successful.
"I was surprised at how many shots Rob took when he was moving almost full speed laterally," Fife said. "I'm thinking, gosh, those are tough shots… I think there's a simple fix that can really help him."
Banner #3
Inside the Hall concludes season wrap-ups
Inside the Hall published its final installment of retrospective pieces, reviewing Archie Miller, team defense and team offense from last season.
In March, Miller was fired after four seasons at the helm in Bloomington. He failed to lead the Hoosiers to a NCAA Tournament appearance in a tenure that was riddled with inconsistencies. In his final season, Indiana lost six consecutive games to end the year. Miller was booed off the court after Indiana's loss to Rutgers in the first round of the Big Ten tournament.
Indiana's offense last season was often stagnant. It's 3-point and 2-point shooting percentages both dropped from the previous season. There was also a significant decline in success on the offensive glass.
On defense, Indiana started the season with some of its best numbers under Miller, but then fell apart during Big Ten play. Defensive rotations were often slow and communication was poor. They did, however, put up some great performance against Iowa, but also allowed 52 second-half points against Michigan State.
Banner #4
Indiana introduces Mike Stump, Anitra House to support staff
IU added two more members to its support staff last week. Mike Stump was added as the team and recruiting analyst and Anitra House as the Assistant to the Head Coach.
Stump graduated from Cathedral High School in Indianapolis before working as a manager for the University of Kentucky's basketball team. He worked with Karl-Anthony Towns, Devin Booker and Jamal Murray during his time with the Wildcats. He also held coaching positions at Broad Ripple and Cathedral High Schools, as well as a position with the Ft. Wayne Mad Ants.
House first met Mike Woodson during his career at IU, serving as his tutor. Woodson went on to become the first person in his family to earn a college degree.
House graduated from Silver Creek High School and eventually finished a bachelor's degree in secondary education/social studies and a master's degree in reading. She worked in the IU athletic department as a tutor starting in 1974 before accepting a full-time job in 1979. She retired from her position as Director of Eligibility and Systems in 2014. But now, she's making her return.
Banner #5
Winners and losers in the Big Ten this offseason
It's been a crazy month for college basketball as the transfer portal has caused a lot of moving parts. Inside the Hall picked winners and losers in the Big Ten so far.
Winners: Indiana, Michigan State, Michigan, Nebraska, Penn State, Purdue.
Losers: Iowa, Illinois, Rutgers, Northwestern.
Still to be decided: Maryland, Minnesota, Ohio State, Wisconsin.
To recap IU's movements, they brought in new head coach Mike Woodson along with assistants Dane Fife and Yasir Rosemond, while retaining Kenya Hunter. They also added Thad Matta in an off-court role.
On the roster, Indiana lost Armaan Franklin, Al Durham and Joey Brunk in the transfer portal. But the Hoosiers are bringing transfers Miller Kopp and Xavier Johnson, as well as four-star freshmen Tamar Bates and Logan Duncomb. Woodson also convinced four of the Hoosiers originally in the transfer portal to stay at IU. Plus, Trayce Jackson-Davis is staying for his junior season.
Banner #6
Hoosier Roundup
Soccer and Baseball had huge weeks, as the former is onto the Elite Eight of the NCAA Tournament and the latter has taken the Big Ten lead. Also, Football had some off field news and Men's Golf is off to postseason play for the first time in eight years.
• Soccer beat St. Francis Brooklyn and Marquette in their first two NCAA Tournament Games to advance to the Elite Eight. Also, star forward Victor Bezerra was named a finalist for Player of The Year in College Soccer.
• Baseball closed out a series victory over Iowa to re-take the top spot in the Big Ten, allowing Cole Barr to be named named Conference Player of The Week. They then beat Rutgers twice, before falling to Nebraska, but Big Ten lead is still in tact for now.
• Four former Hoosier Football players signed to play in the NFL. They also announced a game with Colorado State in 2026.
• Water Polo ended their season with a loss to Cal.
• Softball lost the series finale to Michigan State, but swept a series from Penn State with two doubleheader victories.
• Men's Golf finished sixth at the Big Ten Championships to earn an NCAA Tournament bid.
Thanks for your continued support for The Assembly Call. We'll be back next weekend with a new roundup.
Now go enjoy yourself a 6-banner Sunday.
Tyler Tachman – Student Intern The Assembly Call
Filed to: