6-Banner Sunday: Indiana completes coaching staff with addition of Yasir Rosemond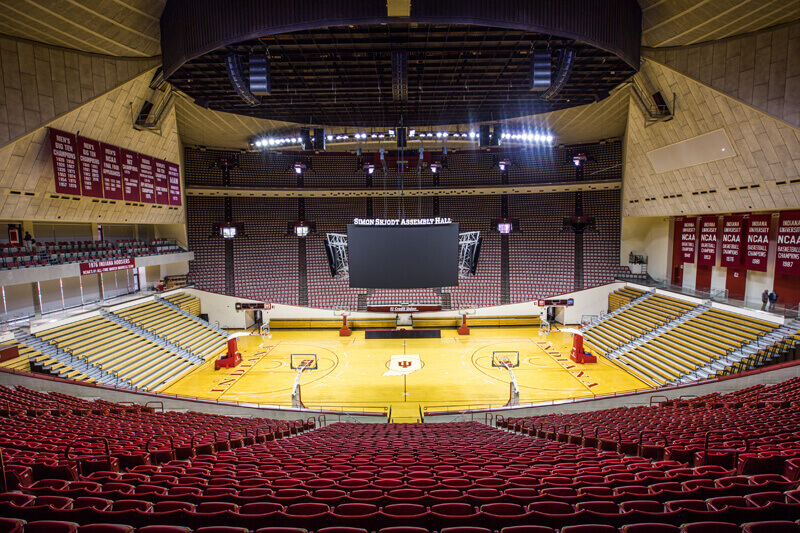 6-Banner Sunday is Inside the Hall's weekly newsletter in partnership with The Assembly Call. More than 7,500 Indiana fans receive the newsletter each week. In addition to appearing each week on the site, you can also opt to receive 6-Banner Sunday by email. A form to subscribe via email is available at the bottom of this week's 6-Banner Sunday.
Welcome to another edition of 6-Banner Sunday, a joint production between The Assembly Call and Inside the Hall where we highlight the five most essential IU basketball stories of the past week, plus take a look at how the other IU sports programs are doing.
Indiana's coaching staff is now officially complete after Mike Woodson hired Yasir Rosemond as the third assistant coach.
Along with this news, IU announced the rest of the support staff. Mike Roberts, who was an assistant coach under Archie Miller, will remain in the Indiana program as the Assistant AD for Basketball Administration. Also, Clif Marshall, who was the Director of Athletic Performance for IU basketball under Miller, will remain in that same position for Woodson.
Benny Sander and Brian Walsh, who have worked in the IU program the last four years, will also be retained on staff. Walsh is the new Team and Recruitment coordinator and Sander received a promotion to Director of Basketball Operations. Thad Matta, who was introduced to the program with Woodson, still holds the title of Associate AD for Basketball Administration.
"These men all will play valuable roles in the success of the program and the more I have gotten to know them it becomes more evident that they have great passion for our young men and I can't wait to continue to work with them on a daily basis," Woodson said in a statement.
In recruiting news, it was announced that players can begin visiting campuses on June 1, ending the more than one-year dead period. The NCAA also announced that they will allow all Division I student-athletes to transfer once and compete immediately.
IU mourns the loss of the great Bobby "Slick" Leonard who was instrumental in helping the Hoosiers win the 1953 National Championship. He was also a legendary coach and radio broadcaster for the Indiana Pacers.
You can listen to the newest episode of Podcast on the Brink with former Big Ten MVP Brian Evans here. You can also check out the most recent edition of Assembly Call radio here.
• Yasir Rosemond added as third assistant
• The story of Mike Woodson's unlikely season
• Dane Fife's passionate plan to reinvigorate Indiana's basketball culture
• Kenya Hunter stabilizes Indiana amid uncertainty
• Joey Brunk moving on from IU
• Hoosier Roundup
Banner #1
Yasir Rosemond added as third assistant
Yasir Rosemond filled Indiana's final assistant coach opening, joining Kenya Hunter and Dane Fife on Mike Woodson's staff, the program announced Wednesday.
Rosemond has 14 years of collegiate coaching experience, serving on the staff at Samford, Georgia, Oregon and Alabama. His most recent job was at Alabama where he spent two years working with Avery Johnson. He coached future NBA first-round picks Collin Sexton and Kira Lewis Jr. during his stint with the Crimson Tide.
"He brings a great deal of experience at schools like Alabama, Georgia and Oregon and has been a big contributor to their success and worked with and recruited a number of young men who were able to develop and take their game to the next level," Woodson said in a statement.
Rosemond, a native of Atlanta, helped coach Oregon to an Elite 8 appearance in 2007. During his time with the Ducks, he coached three future NBA draft picks, including All-American Aaron Brooks.
In his playing career, Rosemond played for Okaloosa-Walton Junior College in Florida before transferring to Butler (Kan.) Community College. From there, he played two seasons at Oregon, appearing in 58 games. He earned the John Warren Award in 1999, an honor given to the most inspirational player on the Oregon basketball team.
Banner #2
The story of Mike Woodson's unlikely season
In his senior year at IU, Mike Woodson underwent back surgery in late December. Doctors said it would be a three-month recovery process and Woodson's season and career at IU was likely over.
"If he didn't get better, he wouldn't be playing basketball again," Dr. Henry Feuer, Woodson's neurosurgeon, said.
Woodson, though, had a sense of urgency. "He was chomping at the bit," Feuer said. Woodson had already played too many games for a redshirt. This was his last chance.
The pain in Woodson's back was gone almost immediately after the operation and he didn't have any postoperative setbacks. Feuer instructed IU's trainer as to what exercises Woodson could do to rehab. Woodson could bench press, ride a bicycle, do leg extensions and run on a treadmill.
Then, on February 14, 1980, less than two months after his surgery, Woodson made his improbable return to the court. He scored 18 points on 7-of-18 shooting from the field and 4-of-4 from the free-throw line, while grabbing five rebounds. Woodson went on to win Big Ten Player of the Year.
"There's no style to it, he's just very competitive," Randy Wittman, Woodson's teammate at IU, told Inside the Hall recently. "If he puts his mind to do something, he's going to try to do the best he can."
Banner #3
Dane Fife's passionate plan to reinvigorate Indiana's basketball culture
New assistant coach Dane Fife spoke to the media Tuesday for the first time as a member of the Indiana staff. Fife, who played for the Hoosiers from 1998-2002, said the culture around IU basketball is different now.
"What I saw was just people picking and picking and picking at our program and everybody jumped on board and it just created a giant, a snowball of an avalanche that couldn't be stopped," Fife said about last season. "…It's okay to get upset, but what's going on now is pretty superficial."
Fife served as an assistant coach at Michigan State for the last decade, watching his alma mater from across state lines.
"I think that this is a culture issue," Fife said. "Not only with the program itself, but with the fans, the media, the whole state."
But now, after returning to IU, Fife wants to help rebuild the culture. He wants to embrace the Indiana community, having players sign autographs after games instead of posting pictures on social media. He wants to go on tours around the state, naming New Castle, Kokomo and Fort Wayne among other cities, allowing fans to meet players.
"You recognized that Trayce Jackson-Davis was one of the nicest kids you'll ever meet," Fife said. "Race Thompson, incredible kid. (Rob) Phinisee, incredible kid. (Anthony) Leal, (Trey) Galloway, these are all kids that grew up just like you guys."
Banner #4
Kenya Hunter has stabilized Indiana amid uncertainty
The driving force in assistant coach Kenya Hunter's decision to join the IU coaching staff last fall was the chance to work with Archie Miller. Their relationship goes all the way back to when Miller was a 15-year-old recruit. So last September, even though Hunter was an assistant coach at UConn and through the uncertainty of the pandemic, he decided to pack his bags for Bloomington.
But six months later, following a disappointing season, Miller was fired from Indiana and Hunter was uncertain about whether the new coach would want him to stay. Still, Hunter stayed during the transition period, maintaining communication with players and offering some stability.
Then, after Woodson was hired, the two quickly connected despite the fact that they didn't have a preexisting relationship. They met on multiple occasions, watched film from last season and discussed coaching philosophies.
"I think when you talk to him you're talking to someone who's real," Hunter said to media Thursday. "And I think the knowledge that he has of the game and some of the things he wants to implement from the NBA style to college, it excites me."
Shortly after, Woodson offered a job as an assistant coach, which Hunter accepted. Hunter's willingness to invest in Woodson's vision speaks to the new head coach's ability to get others to buy into a culture.
"His blood, sweat and tears were shed here and I just think he's going to put a lot of effort and time into making this a program that everyone can be excited about," Hunter said. "I would love to be a part of that."
Banner #5
Joey Brunk moving on from IU
Senior center Joey Brunk announced that he is leaving IU and will use his final year of eligibility to play at Ohio State.
"I'm incredibly grateful for Indiana University," Brunk said in a post on social media. "I have been able to get my Master's Degree and am thankful to have been able to continue my education… Thank you Indiana."
Brunk, who transferred from Butler to IU before his junior year, played in just one season for the Hoosiers. He was sidelined for the entirety of last season after undergoing back surgery. Entering last season, Brunk was named one of Indiana's four captains and still offered leadership even though he couldn't play.
As a junior, his lone season on the hardwood for IU, Brunk averaged 6.8 points and 5.2 rebounds in 19.6 minutes per game. He started 31 of Indiana's 32 games and shot 52.2 percent from the field.
The loss is a slight hit to Indiana's backcourt depth, but the Hoosiers are adding incoming freshman center Logan Duncomb to the rotation of Trayce Jackson-Davis, Race Thompson, Jordan Geronimo and Jerome Hunter. Mike Woodson said he's still looking to add another forward from the transfer portal.
Banner #6
Hoosier Roundup
By Aaron (Ari) Shifron
This week was highlighted by Soccer winning its third straight Big Ten Tournament Title.
• Men's Soccer won the Big Ten Tournament Championship with wins over Maryland and Penn State.
• Baseball had its series finale against Illinois rained out. They went to Northwestern this weekend and split their first two games.
• Softball beat arch-rival Purdue to win that series. They then beat Ohio State Friday and split a doubleheader Saturday.
• Women's Soccer had a potential season-ending loss to Penn State in the Big Ten tournament.
• Field Hockey fell to Penn State before finally beating Michigan State for their first win of the season. The triumph was short-lived as they suffered a loss to Michigan after.
• Men's tennis lost to Ohio State while their match against Purdue was canceled for COVID.
• Women's Tennis was defeated by Michigan State.
• Water polo lost twice to UCLA, before defeating San Jose State.
• Men's Golf competed at the Boilermaker Invitational.
• Track and Field was at the Husker Invitational.
• Rowing competed at the Big Ten Invitational.
Thanks for your continued support for The Assembly Call. We'll be back next weekend with a new roundup.
Now go enjoy yourself a 6-banner Sunday.
Tyler Tachman – Student Intern The Assembly Call
Filed to: