After two busy weeks, Mike Woodson wants to keep building momentum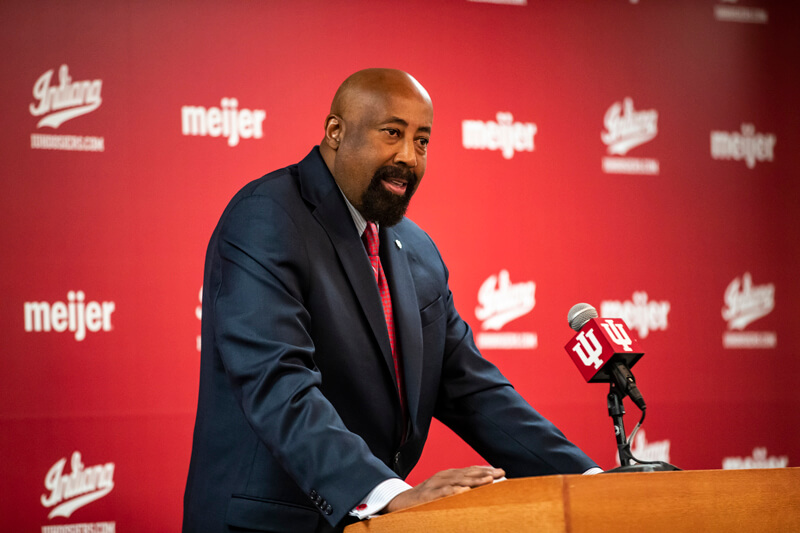 Mike Woodson doesn't like to wait around. "It's just my nature," he says. This much became apparent when he arrived in Bloomington the same afternoon that he was hired at Indiana. The following day, he was already meeting with players. At the time, he inherited a roster with six players in the transfer portal and no coaching staff.
Twelve days later, Woodson has done the following: convinced four players in the transfer portal to stay at IU, retained Kenya Hunter on staff, hired Dane Fife, persuaded All-American Trayce Jackson-Davis to return next season and added a dynamic guard from Pittsburgh in Xavier Johnson.
"I want so much so fast. But I know I have to take it a day at a time and try to push the right buttons and put the right pieces in place to make this thing work," Woodson said Friday.
In less than two weeks, Woodson has already been on quite the roll, quickly building a buzz around the program. The first domino to fall in Woodson's favor was on March 31 when Hunter remained on the coaching staff.
Hunter didn't have a preexisting relationship with Woodson but was on the transition team after Archie Miller was fired. Hunter and Woodson watched film together from last season and much of Hunter's philosophies resonated with Woodson.
"He (Hunter) had a good rapport, relationship with the players, so that was very meaningful for me as well," Woodson said.
When Woodson was hired, he said his first priority was to convince the current IU players in the transfer portal to stay at IU. As he began to build relationships, his pitch was laid out clearly.
"I'm a no-nonsense coach," Woodson said. "I've always been that way ever since I started coaching. No nonsense meaning on the court and off the court."
The message obviously resonated with the players. UT-Martin transfer Parker Stewart was the first to announce he would be returning to Indiana. Then last Friday Jackson-Davis, somewhat unexpectedly, pledged his return. Woodson emphasized the development of Jackson-Davis' jump shot and right hand, a bluntness that Jackson-Davis and his family came to appreciate.
"The things that he really told me is the things that I didn't want to hear," Jackson-Davis said.
Then on Monday, freshmen Jordan Geronimo and Khristian Lander followed suit. On Thursday, Race Thompson did the same. Between the recommitments, IU landed Pittsburgh transfer Xavier Johnson and added an experienced college mind in Dane Fife to the staff.
In total, out of the six players initially in the portal, four are coming back. Only Armaan Franklin and Al Durham moved on from the program.
For the ones that are returning, Woodson has held individual meetings and players have popped their heads in his office to chat. Between his meetings and busy schedule, Woodson has already been on the court to work with players and even watched them play three on three as he lays the foundation for his vision of player development.
"It's not a manager's job. It's not a GA's job. It's me and my coaching staff's job to develop," Woodson said. "I've always been that way. I like being on the basketball floor and working with players."
Woodson attributes this characteristic to his mentor Bob Knight, who he played for at Indiana. Woodson met with Knight last weekend and expects to visit him again this weekend.
"That's important when you're talking about building a basketball team," Woodson said. "Coach Knight did it with me. All the great coaches that I played for once I left Indiana University and played in the pros were always hands-on with me."
For Woodson, this is a component that could prove integral to IU's success. Indiana has had the talent but hasn't been able to coherently develop it as a group. With his NBA background, a key pillar to Woodson's vision is helping players reach their potential. On Friday, he talked at length about helping Thompson and Jackson-Davis develop a jump shot to become more versatile.
But Woodson still hasn't had a chance to work with his players for an extended period of time yet, nor does he know what the final roster will look like. He has, however, already hammered home another point in their conversations.
"My main thrusts with this team so far is trying to get young men to understand the value of playing hard on the basketball floor," Woodson said. "We always think we play hard as players, but to me, there's always another level. So I think that's going to be my main focus right now and pushing guys to compete at a high level."
Woodson has already accomplished a lot in his first days as head coach. But from his perspective, all of this is just the beginning. He's working to fill the final assistant coaching position. He said he's headed back into the transfer portal to try to add a scoring two-guard and another piece at the three or four positions.
"We're still in the portal trying to make things happen for our team," Woodson said. "…We still have to do our due diligence there and continue to work to get our team better because that's what it's all about in terms of moving forward."
And with that, Woodson and Indiana will try to continue their momentum.
Filed to: Mike Woodson