6-Banner Sunday: Another week of good news for Mike Woodson and IU basketball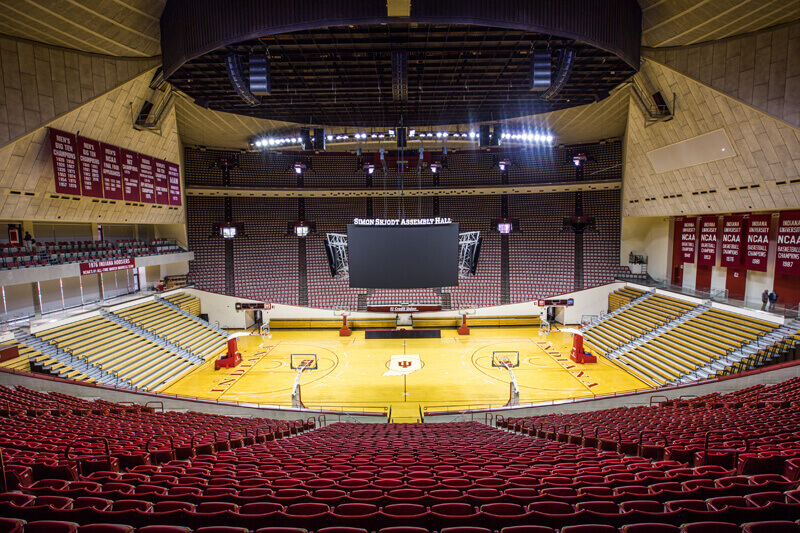 6-Banner Sunday is Inside the Hall's weekly newsletter in partnership with The Assembly Call. More than 7,500 Indiana fans receive the newsletter each week. In addition to appearing each week on the site, you can also opt to receive 6-Banner Sunday by email. A form to subscribe via email is available at the bottom of this week's 6-Banner Sunday.
Welcome to another edition of 6-Banner Sunday, a joint production between The Assembly Call and Inside the Hall where we highlight the five most essential IU basketball stories of the past week, plus take a look at how the other IU sports programs are doing.
It was another busy week for head coach Mike Woodson and Indiana basketball.
All six IU players that initially entered the transfer portal have now made their decision. Four of them are sticking with IU, while Al Durham and Armaan Franklin are leaving the program.
This leaves two scholarships at Woodson's disposal. There are still a variety of options left in the transfer portal for Indiana to pursue. Adding post depth and a knockdown shooter would likely be at the top of IU's list.
After Dane Fife was hired as an assistant coach this week, Indiana now has one more vacancy left on the staff.
"We're still in the portal trying to make things happen for our team," Woodson said Friday. "…We still have to do our due diligence there and continue to work to get our team better because that's what it's all about in terms of moving forward."
This week's Podcast on the Brink featured Rick Bozich, who recently talked with Larry Brown about Mike Woodson. You can also listen to a breakdown of this week's news on the newest edition of Assembly Call Radio.
• Dane Fife hired as assistant coach
• Xavier Johnson commits to Hoosiers
• Khristian Lander, Jordan Geronimo set to return to IU
• Race Thompson announces return to IU
• Armaan Franklin transferring to Virginia
• Hoosier Roundup
Banner #1
Dane Fife hired as assistant coach
Michigan State associate head coach Dane Fife made his return to Bloomington and was added to Mike Woodson's coaching staff at IU, the program announced Monday.
Fife suited up for Indiana from 1998-2002, playing under both Bob Knight and Mike Davis. The 6-foot 4-inch guard finished his career at Indiana averaging 5.6 points, 2.6 rebounds and 2.3 assists per game. Fife still holds Indiana's program record for all-time steals with 180.
After a stint as the head coach of Indiana Purdue Fort Wayne (now just Purdue Fort Wayne), Fife joined the staff at Michigan State under Tom Izzo, where he's been for the last ten seasons. Fife has worked with a host of NBA players like Miles Bridges, Denzel Valentine, Gary Harris, Jaren Jackson Jr. and Cassius Winston. The Spartans have reached the Final Four twice in his tenure at Michigan State.
The addition of Fife to the staff gives Indiana another experienced college basketball presence along with Kenya Hunter and Thad Matta.
"His (Fife's) knowledge of the Big Ten and his success as a recruiter will be an invaluable asset as we look to continue building a staff that will help elevate this program to the highest levels," Woodson said in a statement.
Banner #2
Xavier Johnson commits to Hoosiers
Pittsburgh transfer Xavier Johnson announced his commitment to Indiana on Wednesday. He will arrive at Indiana with two years of eligibility.
The 6-foot 3-inch guard spent three seasons at Pittsburgh and is a career 33 percent 3-point shooter. His best year from behind the arc came in his freshman season when he hit 35 percent. He also boasts a lightning-quick speed.
"They're in need of a guard who can get in the paint and get guys open," Johnson told Inside the Hall. "I think I can be a big asset for them next year."
Last season, Johnson led Pittsburgh in both assists per game (5.7) and steals per game (1.3). He was also third on the team in scoring with 14.2 points per game, including a 32-point outing against Virginia Tech.
"I got a big heart that cares about the game," Johnson said. "I always give it my all. That's what I expect of Indiana to think of me. Always giving my all."
Johnson said that he hopes to arrive in Bloomington in May to start training with the team.
Banner #3
Khristian Lander, Jordan Geronimo set to return to IU
Freshmen Khristian Lander and Jordan Geronimo both announced that they will be returning to IU next season after previously entering the transfer portal. It was another big win for Mike Woodson as both players figure to be key parts in the future of the IU program.
Lander, who graduated high school a year early to enroll at Indiana last fall, struggled mightily as a freshman last season. He averaged just 2.1 points and 1.2 assists per game, while shooting 25 percent from the field. The numbers, however, aren't indicative of Lander's talent.
"I'm putting my trust into my team, coach Woodson and the staff he is assembling," Lander said in a post on social media.
Geronimo, who appeared in 22 games as a freshman last season and averaged 2.2 points and 1.8 rebounds in 8.1 minutes per game, showed flashes of his potential. He helped spark the Hoosiers in an upset win on the road against Iowa.
Geronimo's physical attributes, standing 6-feet and 6-inches tall, give him an extremely high ceiling if Mike Woodson can help develop him. Geronimo's athleticism will likely allow him to fit in well with Woodson's free-flowing offense.
Banner #4
Race Thompson announces return to IU
Junior forward Race Thompson announced that he will be returning to IU next season after initially entering the transfer portal.
As a redshirt junior last season, Thompson was voted a team captain and averaged 9.1 points and 6.2 rebounds per game. He started all 27 games for the Hoosiers.
The decision gives Indiana another experienced presence in the locker room. It also means that last season's starting frontcourt of Thompson and Trayce Jackson-Davis will be returning.
Thompson and Jackson-Davis were forced to log heavy minutes last season due to the injury of Joey Brunk. Next season, Indiana could have significantly better depth if Brunk returns (which he hasn't confirmed yet) along with the addition of freshman forward Logan Duncomb.
Banner #5
Armaan Franklin transferring to Virginia
Sophomore guard Armaan Franklin announced Thursday night that he will transfer to Virginia.
"Still, have to say a big thanks to the IU community, fans and my teammates for all their support," Franklin said in a post on social media. "Know that I appreciate you all so much!"
This is a significant loss for the Hoosiers. Franklin was one of the most improved players in the Big Ten last season, averaging 11.4 points, 4.1 rebounds, 2.1 assists and 1.2 steals per game for the Hoosiers.
The Hoosiers still have a lot of options in the backcourt with Khristian Lander, Rob Phinisee, Anthony Leal, Trey Galloway, Xavier Johnson and Parker Stewart. However, Franklin was Indiana's best 3-point shooter by percentage last season. The Hoosiers will need to find someone to replace his production.
Banner #6
Hoosier Roundup
Baseball lost their series finale against Ohio State. However, this weekend has seen a massive rebound against Illinois with two very noteworthy victories so far. Friday ended on a walk-off homer, while Saturday saw the first no-hitter by the team in 37 years.
Men's Soccer had many players make the All Big Ten team after their regular season championship. The Big Ten Tournament saw an opening round victory over Northwestern.
Women's Soccer was given a pass into the next round of the Big Ten Tournament after COVID issues within the Michigan program.
Softball fell to Iowa to close last weekend, but have taken two of the first three from arch-rival Purdue so far this weekend.
Field Hockey was beaten by Ohio State and Penn State.
Men's Tennis beat Michigan State and Penn State.
Women's Tennis was beaten by Northwestern.
Men's Golf finished second at a home event.
Track and Field had a home meet as well this weekend.
Football is awarding a scholarship in honor of the late former player Chris Beatty.
Wrestling added a couple of recruits.
Thanks for your continued support for The Assembly Call. We'll be back next weekend with a new roundup.
Now go enjoy yourself a 6-banner Sunday.
Tyler Tachman – Student Intern The Assembly Call
Filed to: