Dane Fife's passionate plan to reinvigorate Indiana's basketball culture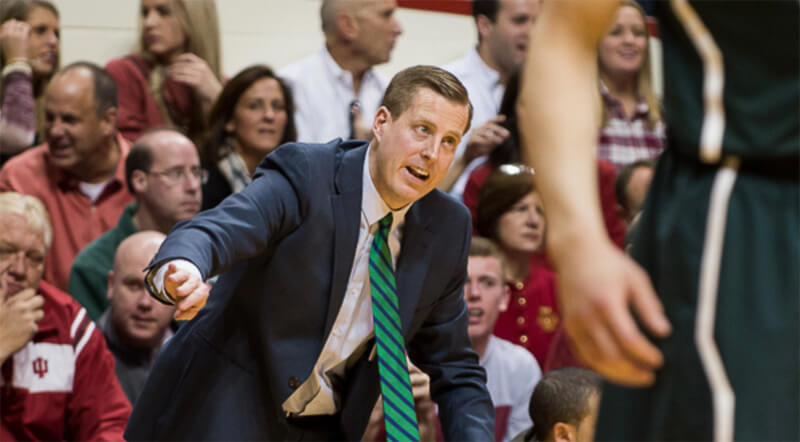 This wasn't how Dane Fife remembered it. The energy around the IU program was different.
Fife knows what winning basketball looks like. During his senior year at Indiana in 2002, Fife was a part of the most successful Hoosier team since the turn of the century when they made a national championship game appearance. Earlier in his career, he was coached by Bob Knight, who won three national championships.
So Fife knows the fanbase and expectations. He knows Bloomington. During his introductory press conference Tuesday, Fife said he was disappointed that Opie Taylor's closed down.
But over the last decade, from across state lines, Fife has watched his alma mater struggle to realize a consistent level of prosperity.
And when Indiana dropped its last six games last season, morphing from an NCAA tournament squad to a hopeless afterthought, Fife had a front-row seat. Two of those losses came against Fife's Michigan State team, including a second-half meltdown that started Indiana's dismal stretch.
From Fife's perspective, though, it wasn't just the numbers in the win and loss column that have changed since he played for IU. He noticed something bigger. And now, as an assistant coach under Mike Woodson, he bluntly called it out on Tuesday.
"I think that this is a culture issue," Fife said. "Not only with the program itself, but with the fans, the media, the whole state."
By returning to Indiana, this is what Fife wants to help change. He thinks back to his playing days at IU, where he was a 6-foot 4-inch guard, to explain the evolution of the IU program. Despite his team's success at IU, there were times where fans expressed their displeasure.
"We've been booed up 20, walking off the court with coach Knight," Fife said. "…But those same people showed up the next time cheering their heads off. The balconies were filled to play a team that was out of a conference that they'd never heard of."
The dynamic, however, in Indiana's season-ending loss to Rutgers in the Big Ten tournament, was different than what Fife was used to. Boos and chants of "fire Archie" echoed down from the seats. There was a restless toxicity around the program throughout the season.
"What I saw was just people picking and picking and picking at our program and everybody jumped on board and it just created a giant, a snowball of an avalanche that couldn't be stopped," Fife said. "…It's okay to get upset, but what's going on now is pretty superficial."
During his extended tenure at Michigan State, even while he watched Indiana crumble last season, Fife always knew that he wanted to return to Bloomington.
But those experiences with the Spartans, learning from Hall of Famer Tom Izzo, will be invaluable to Indiana. Fife has worked with a variety of NBA players like Miles Bridges, Denzel Valentine and Jaren Jackson Jr. The Spartans reached the Final Four twice in his tenure at Michigan State.
This offseason, when Woodson came calling, there were plenty of reasons to turn the job down. East Lansing is 45 minutes from Fife's hometown. His brother lives in Ann Arbor and his parents are close by. Fife's two daughters have grown up there. Plus, Fife didn't have a preexisting relationship with Woodson.
But Fife was still set on returning to IU, sharing the same vision as Woodson of uniting generations of IU fans.
"I think that we will mend a lot of fences just by virtue of coach Woodson being here, connecting the old with the young," Fife said. "…We got to talk about how special this place still is and should be."
Fife has a plan to help build the program back. He wants to invest in his player's lives, understanding how to optimize their skillsets on and off the court.
"It's so easy to get sidetracked, to get distracted with social media and people just constantly pecking at you if you don't have your circle tight," Fife said. "But that's on the staff, too. We've got to look for signs, we got to be investigators. We gotta be almost FBI to know what's being thrown in these kids' faces and going in their ears."
Fife also wants to embrace the Indiana community, having players sign autographs after games instead of posting pictures on social media. He wants to go on tours around the state, naming New Castle, Kokomo and Fort Wayne among other cities, allowing fans to meet players.
"You recognized that Trayce Jackson-Davis was one of the nicest kids you'll ever meet," Fife said. "Race Thompson, incredible kid. (Rob) Phinisee, incredible kid. (Anthony) Leal, (Trey) Galloway, these are all kids that grew up just like you guys."
And so, in his first appearance speaking to the media as an assistant coach at Indiana, Fife made his point clear. He called out everyone, including the media, and not placing the blame of Indiana's recent shortcomings on a single factor. But if anything became clear in his 45-minute press conference, it's that Fife is doing this because he cares.
"I'm not afraid to lecture a few people because this is my program," Fife said. "This is your program. This is coach Woodson's program. And if anybody has a right to criticize or stick up for it, it's us."
Filed to: Dane Fife