6-Banner Sunday: Mike Woodson named IU coach, roster for 2021-22 season begins to take shape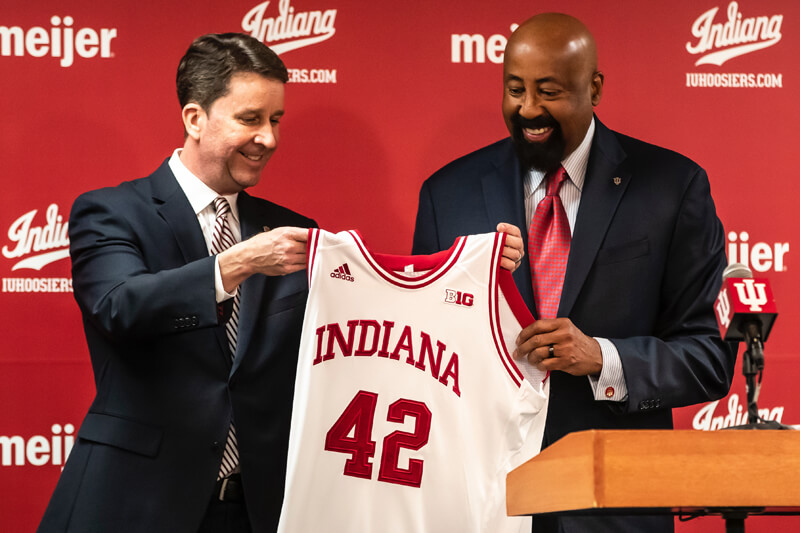 6-Banner Sunday is Inside the Hall's weekly newsletter in partnership with The Assembly Call. More than 7,500 Indiana fans receive the newsletter each week. In addition to appearing each week on the site, you can also opt to receive 6-Banner Sunday by email. A form to subscribe via email is available at the bottom of this week's 6-Banner Sunday.
Welcome to another edition of 6-Banner Sunday, a joint production between The Assembly Call and Inside the Hall where we highlight the five most essential IU basketball stories of the past week, plus take a look at how the other IU sports programs are doing.
The two-week long coaching search came to a close last Sunday when Mike Woodson was named as the next head basketball coach at Indiana University. It was later announced that Woodson inked a six-year contract, earning an average of $3 million per year.
There was quickly a variety of reactions from former IU players on social media.
"Lettsssss gooooo!!!!!" Verdell Jones wrote. "Coach Woodson to the HOOSIERS!! NBA guy..Understands the IU culture…Defensive minded..Hoosier Nation let's rally around him and get this program back on top!!"
"I love it," Jared Jeffries added. "Woody is a proven coach. He did an amazing job with our Knicks team. One of the nicest guys I've ever met. Most of all understands our school better than anyone."
With his coaching experience in the NBA, Woodson said Monday that he hopes to play a modern style of basketball at IU, including a spaced-out offensive system to shoot 3-pointers and the ability to switch multiple positions defensively.
Woodson said that his top priority right now is convincing the IU players in the transfer portal to stay in Bloomington. Currently, there are still four players in the portal: Armaan Franklin, Khristian Lander, Race Thompson and Jordan Geronimo. Last week Al Durham announced he was transferring to Providence.
It was also announced Monday that former Ohio State head coach Thad Matta was joining the Indiana staff as the associate athletic director of basketball administration.
You can listen to a breakdown of the hire on this week's edition of Podcast on the Brink here. You can also listen to the newest edition of Assembly Call radio, which reviewed all of the week's news.
• Mike Woodson named head coach at Indiana
• Trayce Jackson-Davis returning to Indiana for junior season
• Kenya Hunter to remain on IU's coaching staff
• Parker Stewart to return to Indiana next season
• Indiana recruits Logan Duncomb, CJ Gunn remain committed to the Hoosiers
• Hoosier Roundup
Banner #1
Mike Woodson named head coach at Indiana
Mike Woodson was formally introduced as Indiana's head basketball coach by athletic director Scott Dolson in a press conference Monday morning. When Dolson set out to hire a new coach two weeks earlier, he said a key component to the search was finding a way to connect Indiana's illustrious, but fading past, to its future.
In hiring Woodson, the two sides of Dolson's logic come crashing together. Woodson played under Bob Knight at Indiana, scoring more than 2,000 career points and leading IU to a 1979 NIT Championship. Now, he'll be tasked with leading the future of Indiana basketball and finding a medium between the past and present.
"It's going to be my job to bridge the gap between young people who don't know who coach Woodson is," Woodson said. "And I'm going to bring all the old-timers back, like the old days, the gap between old and new."
There have, however, been some reservations about the hire of Woodson, who is 63 years old and has never coached at the collegiate level. He has, though, had success in the NBA, leading both the New York Knicks and Atlanta Hawks to the playoffs as a head coach. But Woodson doesn't see a major challenge in transitioning from coaching in the NBA to the collegiate level.
"At the end of the day, coaching is coaching," Woodson said. "…I honestly believe I can go in a kid's home and be able to relate because of what I've gone through in my career. And I have a story to tell, I do. If that kid is willing to listen and he buys into my story, I think I can get him to come to Indiana University."
Banner #2
Trayce Jackson-Davis returning to Indiana for junior season
At the end of Indiana's season, Trayce Jackson-Davis was "almost dead set" on hiring an agent and entering the NBA draft. But after Archie Miller was fired, Jackson-Davis wanted to give the new coach a chance, so he waited. Two weeks later, Mike Woodson was hired.
During a meeting with Jackson-Davis and his family, Woodson pulled out the film from last season. He pointed out what Jackson-Davis did wrong when he missed shots. He showed Jackson-Davis how to approach specific situations differently. Woodson made it blatantly clear that Jackson-Davis needed to work on his jump shot and right hand.
"The things that he really told me is the things that I didn't want to hear," Jackson-Davis said Friday afternoon. "That right there was already showing me that he already wants what's best for me… I think that's when my parents were sold on it as well."
In all, the meeting lasted two hours. After it concluded, Jackson-Davis and his family only needed five minutes to consult with each other. His dad told him he was staying.
On Friday, Jackson-Davis made it official, posting on social media that he'd be returning for his junior season.
"I want to get Indiana basketball back on track," Jackson-Davis said. "That why I came back. I believe in the tradition. I believe what we have here is something special, and I want to be one of the reasons why. I don't want to be someone who ran away when it was tough."
Banner #3
Kenya Hunter to remain on IU's coaching staff
Assistant coach Kenya Hunter will remain on Indiana's staff, Inside the Hall reported last week. This is significant news regarding Indiana's recruiting and player development.
Hunter was brought onto IU's staff by Archie Miller prior to last season after Bruiser Flint departed for Kentucky. After Miller was fired, Hunter remained on staff as a part of the transition team while Dolson searched for a new coach.
Hunter has major recruiting ties and will be able to help Woodson navigate the in and outs of the business. Hunter was also a major reason that UT-Martin transfer Parker Stewart ended up at Indiana. Many of the 2022 recruits that Indiana extended offers to are because of Hunter's connections.
Before coming to Indiana, Hunter coached at Nebraska, UConn, Xavier, Duquesne and Georgetown.
Banner #4
Parker Stewart to return to Indiana next season
UT-Martin transfer Parker Stewart announced that he will return to Indiana next season after initially entering the transfer portal last week. The decision was likely in large part due to the fact that Kenya Hunter will remain in Bloomington.
Stewart didn't appear in any games last year after transferring to Indiana mid-season. He had to adjust to Bloomington while dealing with the sudden death of his father Anthony, who was the head coach at UT-Martin.
"IU gave me a home when I needed it the most after the passing of my father, and I look forward to staying and putting on my jersey at this prestigious university," Stewart posted on social media Wednesday.
At UT-Martin, Stewart was named to the All-Ohio Valley Conference second team, averaging 19.2 points, 4.6 rebounds and 3.8 assists per game. He also previously played for Pittsburgh.
As a career 36 percent 3-point shooting, Stewart figures to be a key piece of Indiana's offense in Woodson's four-out/one-in offensive system.
Banner #5
Indiana recruits Logan Duncomb, CJ Gunn remain committed to the Hoosiers
Class of 2021 Indiana signee Logan Duncomb and class of 2022 Indiana commit CJ Gunn are both honoring their pledge to the Hoosiers after speaking with Mike Woodson last week.
Duncomb, who is Indiana's lone incoming freshman next season, told Inside the Hall that he spoke with Woodson twice this week. Duncomb said that he's planning on arriving in Bloomington in June.
"I like the fact that he likes to push his players to be better than they are so they keep growing," Duncomb said. "..He's going to let you know what you need to get better on, be tough on you, but I think he wants to get you better to hopefully put you in the best position to get to the next level."
Gunn, who attends Lawrence North High School in Indianapolis, originally committed to Indiana in early February. The 6-foot-5 guard is the No. 107 player nationally, according to the 247Composite and a four-star prospect.
"We happen to have some folks in common, so the trust factor for me is pretty high (with coach Woodson)," Christopher Gunn, CJ's father, told Inside the Hall. "He talked about being committed to CJ and wanting him to be a part of the plan of what he's building, I told him that was great and let him know that we remain committed to you guys as well.
Banner #6
Hoosier Roundup
While it came in an unconventional way as a result of a postponement, IU picked up its second Big Ten Championship (Men's Golf got the first in Match Play in February) of the 2020-2021 academic year as Men's Soccer claimed the conference crown for their sport. Women's Soccer had their own bit of success as well, achieving their highest amount of wins in Big Ten play in nearly a decade.
• Men's Soccer won the conference championship for the third straight year after this weekend's cancellation of a game against Maryland.
• Women's Soccer beat Michigan and Michigan State to obtain their most conference wins in a single season in eight years. They closed the season with a scoreless tie against arch-rival Purdue.
• Women's Basketball had their best season in program history come to an end with a loss in their first-ever Elite 8 to Arizona. The good news for the team though is star guard Ali Patberg opted in for an additional year, head coach Teri Moren received a contract extension and Grace Berger was honored with an All-American award. With the entire starting lineup expected back next year, the Hoosiers should be able to make a run at another historic season.
• Football had a player named Scholar-Athlete of the Month. Rowing also had an athlete win one.
• Baseball, after a really strong start to the season, has hit a major funk and fallen out of first place with a loss to Michigan State to end last weekend, and three defeats to Ohio State so far this weekend. It was also announced the Hoosiers will have five games on national television late in the season.
• Softball was defeated by Michigan before rebounding and beating Iowa Friday. Saturday took a turn for the worst as the Hawkeyes swept the Hoosiers in a doubleheader.
• Volleyball's season is over after having their final scheduled matches against Ohio State canceled for COVID-19.
• Women's Tennis fell to Maryland.
• Men's Tennis lost to Minnesota and Michigan
• Women's Golf competed at the Clemson Invitational.
• Men's Golf added an additional player through transfer.
• Water Polo lost to Arizona State and USC twice.
• Wrestling added a recruit.
• Field Hockey lost to Ohio State.
Thanks for your continued support for The Assembly Call. We'll be back next weekend with a new roundup.
Now go enjoy yourself a 6-banner Sunday.
Tyler Tachman – Student Intern The Assembly Call
Filed to: