6-Banner Sunday: Indiana falls 61-50 to Rutgers in Big Ten tournament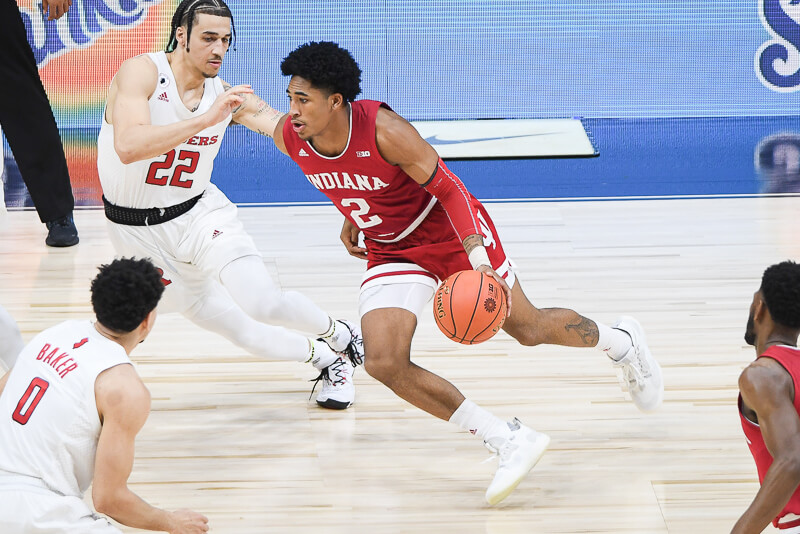 6-Banner Sunday is Inside the Hall's weekly newsletter in partnership with The Assembly Call. More than 7,500 Indiana fans receive the newsletter each week. In addition to appearing each week on the site, you can also opt to receive 6-Banner Sunday by email. A form to subscribe via email is available at the bottom of this week's 6-Banner Sunday.
Welcome to another edition of 6-Banner Sunday, a joint production between The Assembly Call and Inside the Hall where we highlight the five most essential IU basketball stories of the past week, plus take a look at how the other IU sports programs are doing.
Indiana closed the season on a six-game losing streak and will fail to make the NCAA Tournament yet again. The Hoosiers still haven't been to the Big Dance since 2016.
On Thursday, Indiana fell to Rutgers 61-50 in the first round of the Big Ten Tournament, ending their season. This was Indiana's third loss to the Scarlet Knights this year. The Hoosiers finished with an overall record of 12-15, head coach Archie Miller's worst mark in his tenure in Bloomington.
After beating Minnesota in mid-February, Indiana had a reasonable path to the NCAA tournament. But then there was an utter collapse. As the losing streak compounded, the questions became more about whether Miller would be fired after this season rather than if the Hoosiers would make the NCAA tournament.
"I'm not entering any offseason wondering if I'm gonna be back," Miller said after the loss to Rutgers. "Those decisions are made higher up than me. My job is to coach the team."
It figures to be a busy offseason that'll be telling about the future of the Indiana basketball program.
• Indiana sputters down the stretch in loss to Rutgers
• Navigating the state of Indiana basketball through the Lucas Oil Stadium crowd
• Trayce Jackson-Davis takes national, all-conference honors
• Al Durham earns conference sportsmanship award
• This week's podcasts
• Hoosier Roundup
Banner #1
Indiana sputters down the stretch in loss to Rutgers
Two weeks ago, Indiana built a lead of 15 points in the first half against Rutgers before falling into a rut and suffering an embarrassing loss. On Thursday, Indiana got off to yet another fast start against Rutgers, building a lead of up to 10 points in the first half. But then the Hoosiers succumbed to the same fate, giving away the lead and falling 61-50.
The Hoosiers only hit one field goal in the final 10 minutes of the game. Trayce Jackson-Davis, who led the way with 19 points, was the only Hoosiers to score in double-figures. The only points off of the bench came from an ailing Armaan Franklin, who scored six points.
Overall, Indiana shot just 37.5 percent from the field and 12.5 percent from beyond the arc. They were also a dismal 6-of-15 from the free-throw line.
"I feel like we had a lot of good shots," Trayce Jackson-Davis said postgame. "We had layups, but we missed them. Obviously, the inability to put the ball in the basket just killed us."
Banner #2
Navigating the state of Indiana basketball through the Lucas Oil Stadium crowd
For the first time this season, fans could watch the Hoosiers play in-person within the state of Indiana. Though it was limited capacity, Indiana fans were scattered throughout the Lucas Oil Stadium seats on Thursday night against Rutgers.
Having a crowd meant the opinions, good and bad, that have been bottled up on Twitter this season, would be displayed live and in-person.
Jay Kramer and his 13-year-old son Dame drove almost three hours for the game. When Jay got the email offering tickets, he said there was never a doubt that they would go.
"We want to be there," Jay said. "We're true fans. We're true supporters. It has nothing to do with what's going on."
There was also frustration from the crowd, too.
During the pregame introductions, Miller was met with some jeers after his name was announced. As the game began slipping out of Indiana's reach, there were chants of "Fire Archie" coming fairly frequently from multiple sections of Lucas Oil.
"I didn't hear the fans say anything," Miller said postgame. "If they were chanting my name, that's up to them, but during the game that's not a whole lot you can pay attention to."
Banner #3
Trayce Jackson-Davis earns National, All-Conference honors
Indiana sophomore forward Trayce Jackson-Davis was named first-team All-Big Ten by the league's media and second-team by the league's coaches this week. He was also named a third-team All-American by Sporting News.
Jackson-Davis finished the season averaging 19.1 points, nine rebounds and 1.4 blocks per game. It was an impressive improvement from his average of 13.5 points per game during his freshman season. Jackson-Davis was the centerpiece of Indiana and carried the team for a majority of the season.
The questions now become whether Jackson-Davis will return for his junior season or enter the NBA draft and start his professional career.
"Right now I'm not worried about that," Jackson-Davis said after the loss to Rutgers. "I'll probably take a couple of weeks just to try to get my mind right and just plan everything out and be able to make the best decision that's for me."
Banner #4
Al Durham earns conference sportsmanship award
Senior guard Al Durham was honored with one of the Big Ten's Sportsmanship Awards this season. Durham averaged 11.3 points, 3.1 rebounds and 2.6 assists per game this season and was often the team's emotional heartbeat.
On Friday, Durham posted on Twitter with the caption "Uno Out," essentially confirming that he will not be using his extra year of eligibility to return next season. He'll likely finish his career averaging 8.4 points, 2.2 rebounds and two assists per game.
"It's all of the blessing filled with hard work and pain, sweat and tears," Durham said on Senior Day. "I feel like there's too many jewels I've taken from Indiana, whether that's relationships, basketball, friendships, anything."
Banner #5
This week's podcasts
Inside the Hall's Alex Bozich welcomed ITH co-founders Eamonn Brennan and Ryan Corazza onto this week's edition of Podcast on the Brink.
The trio discussed why Indiana fell apart down the stretch of the season and the future of Archie Miller at Indiana. They also talked through the Hoosiers' free-throw issues and how the role of player development has played into Indiana's struggles.
You can also re-listen to Assembly Call's show following the loss to Rutgers here.
Banner #6
Hoosier Roundup
Every sport IU fields beside Women's Golf either competed or had off-the-field news this week. The big story came in the form of a new deal for IU Football coach Tom Allen. On the competition side of things, Baseball made the most headlines and is off to a 5-1 record. Most noteworthy was Hoosier pitcher McCade Brown tying the IU strikeout record with 16 in seven no-hit innings against Penn State.
• Football showed its commitment to head coach Tom Allen with a new deal involving a big pay raise.
• Baseball toppled Minnesota to close last weekend. As a result Tommy Sommer earned Big Ten pitcher of the week. This weekend got off to an interesting start as IU had to postpone their Friday games due to head coach Jeff Mercer testing positive for COVID-19. The teams were able to resume with a doubleheader Saturday though and IU was dominant, taking both games from Penn State by lopsided scores.
• Men's Soccer dominated Wisconsin to get back on the right foot after a surprising loss to Northwestern.
• Women's Basketball saw Mackenzie Holmes named Big Ten player of the week and she parlayed that into a first team all-Big Ten honor. She was joined by several other Hoosiers with conference honors after a terrific season for the team. Unfortunately, for the Hoosiers they suffered an unexpected loss to Michigan State in their first game of the Big Ten tournament. They will still head to the NCAA Tournament with a likely top four seed. The selection show is Monday at 7 p.m. on ESPN.
• Volleyball fell twice to Michigan.
• Women's Soccer beat Maryland before falling to Illinois.
• Softball lost a doubleheader and a single game to Northwestern before rebounding with a doubleheader sweep of Rutgers.
• Cross Country earned a bid to the NCAA national championships on both the men's and women's side.
• Men's Tennis fell to Ohio State before rebounding with a resounding victory against arch-rival Purdue.
• Women's Tennis lost to Purdue and Wisconsin.
• Field Hockey lost to Michigan State and Northwestern.
• Wrestling finished up the Big Ten championship.
• Water Polo blew a late lead and came out on the wrong end against Michigan.
• Men's Golf competed at the Spartan Collegiate.
• Swimming and Diving had 21 Hoosiers qualify for the NCAA championships.
• Track and Field competed at the NCAA championships.
• Rowing opened their season.
Thanks for your continued support for The Assembly Call. We'll be back next weekend with a new roundup.
Now go enjoy yourself a 6-banner Sunday.
Tyler Tachman – Student Intern The Assembly Call
Filed to: