Frustration and the question of what's next: Navigating the state of Indiana's basketball program through the Lucas Oil Stadium crowd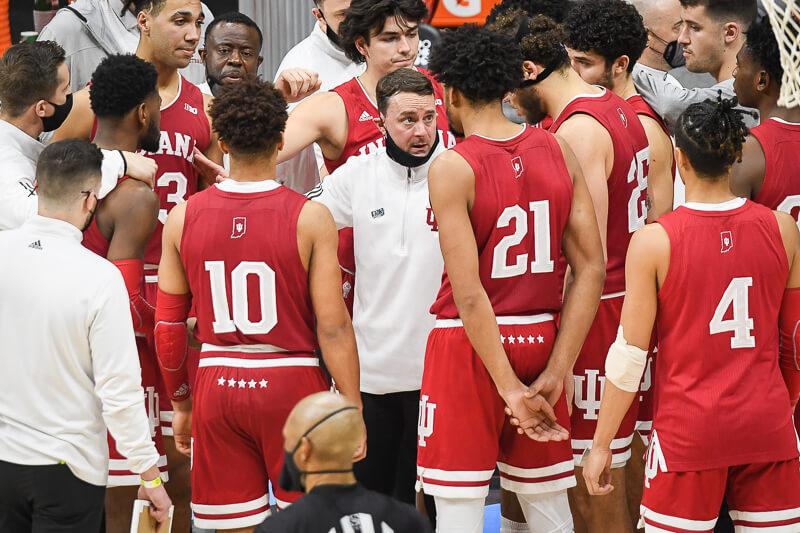 INDIANAPOLIS – From chants of "Fire Archie" to sentiments of unflinching support, the diverging viewpoints about the current state of Indiana's basketball program were represented by the crowd in Lucas Oil Stadium on Thursday night.
For the third time this season, Indiana fell to Rutgers. Thursday's edition was a 61-50 defeat in the first round of the Big Ten Tournament, decidedly ending Indiana's season. The Hoosiers finished with an overall record of 12-15, head coach Archie Miller's worst mark in his tenure in Bloomington.
The story of the game was the same as it has been all season. Indiana's offense was embarrassing, hitting only one field goal in the final ten minutes of the game. They were a putrid 6-of-15 from the free-throw line.
"We got our opportunities and we didn't cash in on them," Miller said. "Performance matters and our performance here this season was inconsistent."
After beating Minnesota in mid-February, Indiana had a tenable path to the NCAA tournament, a place it hasn't reached since 2016. But then there was an utter collapse. The loss on Thursday made it six in a row to end the season.
As the losing streak compounded, the questions became more about whether Miller would be fired after this season rather than if the Hoosiers would make the NCAA tournament. Frustration from four years of inconsistencies and a meandering direction of the program reached its boiling point within the fan base. Many wanted him gone. But a $10 million buyout and uncertainty for a sensible replacement have made some weary.
"I'm not entering any offseason wondering if I'm gonna be back," Miller said postgame. "Those decisions are made higher up than me. My job is to coach the team."
But Thursday provided a new wrinkle to the ordeal: Fans could watch the Hoosiers play in-person within the state of Indiana for the first time this season. That meant the opinions, good and bad, that have been bottled up on Twitter this season, would be displayed live and in-person.
There are fans like Jay Kramer and his 13-year-old son Dame. They drove almost three hours from their home in Newburgh, Indiana to Indianapolis for the game Thursday night. Dame wore the iconic candy stripe pants and a button-down crimson jacket.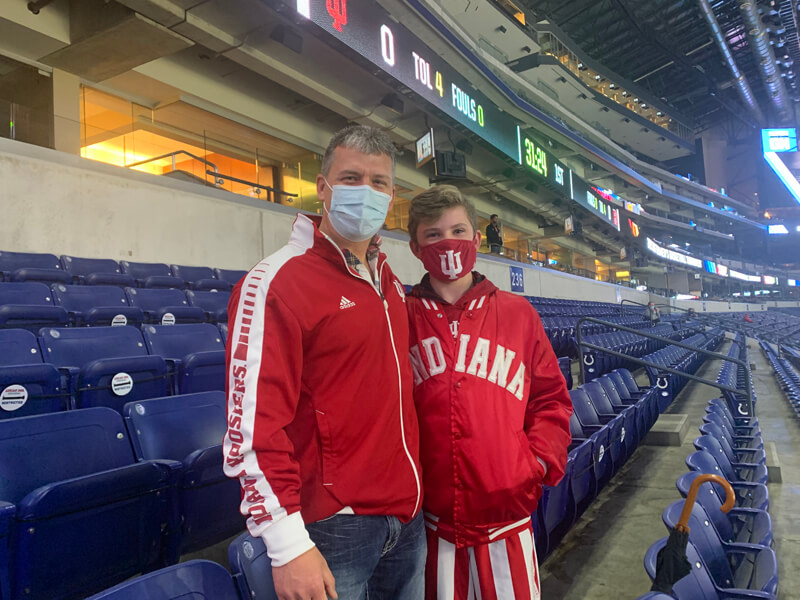 Dame's message before the game was short and optimistic: "I think we're going to win," he said.
Jay grew up in Indiana during the Bob Knight-era. He passed the fandom down to Dame because "of course I did," Jay said. Normally, they're season ticket holders at Simon Skjodt Assembly Hall. But Big Ten restrictions only allowed close family and friends to games this season.
Like Indiana fans around the country, the family was stuck watching games at home. They yelled "play better defense" and "we got to play more disciplined" toward the TV. When a player was performing poorly, Dame raised his voice to request that he be taken out of the game.
Then, last Friday, Jay got an email about buying tickets for the Big Ten tournament. He didn't hesitate, even though Indiana had lost five in a row. Dame's friends were jealous that he was going.
"We want to be there," Jay said. "We're true fans. We're true supporters. It has nothing to do with what's going on."
There were also students like Sujay Voleti, Stephen Auw and Alex Caronis, all sophomores at IU,  that made the hour-plus drive from campus to Lucas Oil Stadium for the game.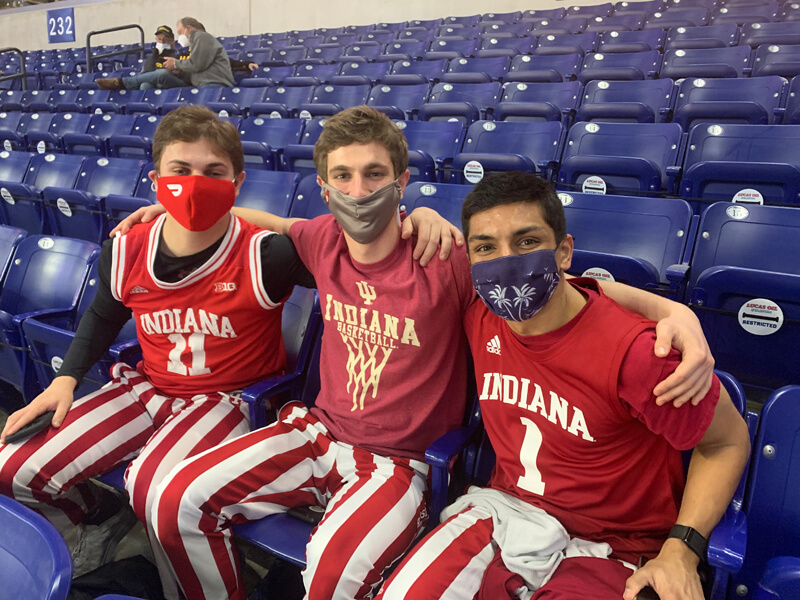 The trio would get together at a friend's house to watch games this season. During the recent losing streak, they let out screams of irritation and resorted to punching a sofa to release their anger.
But they too had no doubt that they wanted to attend the game against Rutgers. They didn't, however, have the same unyielding level of optimism as Jay and Dame. They talked about how, if Miller is fired, the new coach would inherit a promising group of four freshmen to build for the future. They dove into a discussion about Miller's decline in defensive efficiency this season.
"It's a lot of expecting something and then realizing that they haven't done it the entire year, so why are we expecting something," Auw said. "They show so many little flashes."
Then there's the part of the fanbase that's tired, disheartened, infuriated: decidedly ready to move from Miller. Or all of the above.
During the pregame introductions, Miller was met with some jeers after his name was announced. In the second half, a call of "Let's run a set, Archie" came flying down from the stands. After Indiana missed six consecutive free throws in the second half, a chorus of boo's mounted.
As the game began slipping out of Indiana's reach, there were chants of "Fire Archie" coming fairly frequently from multiple sections of Lucas Oil.
"I didn't hear the fans say anything," Miller said postgame. "If they were chanting my name, that's up to them, but during the game that's not a whole lot you can pay attention to."
There were many times, though, that the crowd lifted Indiana up. There were chants of "Defense." When Armaan Franklin took a charge in the second half, the crowd exploded into a roar that hasn't been present all season.
But even then, it wasn't enough to propel the Hoosiers to victory. As the players headed into the tunnel after the final buzzer, a fan called down in encouragement: "Next season, next season."
The question, though, is who will be coaching next season. It's now in the hands of Athletic Director Scott Dolson to make that decision.
And on Thursday, for the first time all season, fans made their plea in-person. The divide on how the future of Indiana basketball should be handled was evident within the stadium.
But the disappointing season, the loss, has left everyone wondering the same.
What's next?
Filed to: 2021 Big Ten tournament