Five takeaways from Indiana's loss to Rutgers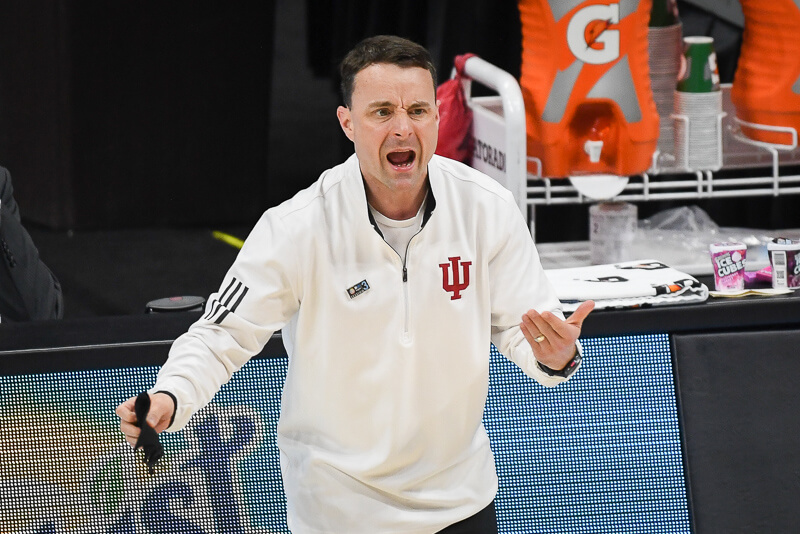 Indiana's season came to an end Thursday night in Indianapolis with a 61-50 loss to Rutgers in the 2021 Big Ten tournament at Lucas Oil Stadium. The Hoosiers led by 10 in the first half before surrendering the lead by halftime. A putrid second-half performance capped off a sixth straight loss as the program enters an offseason full of uncertainty.
Here are five takeaways from the loss to the Scarlet Knights:
• An inept offensive performance: That phrase describing Indiana's offense – inept – has been appropriate to use frequently over Archie Miller's four-season tenure in Bloomington.
Indiana has been difficult to watch offensively for most of Miller's time at the helm as points typically have not come easy for the Hoosiers on that end of the floor.
Thursday's performance was the latest example of Indiana laboring to get anything done offensively. In the second half, Indiana scored only 18 points, didn't make a 3-pointer, and made just two of its eight free throw attempts.
None of those statistics were a surprise to anyone who has followed the program closely over the last four seasons. Indiana has done little to generate easy offense in transition under Miller. IU's inability to make free throws undermines its major strength offensively, which is getting to the line. And its indifference to taking and making 3-pointers doesn't really jive in an era of basketball where being able to successfully space the floor is important.
• With fans in attendance, an ugly scene emerges: A postseason being played exclusively in its backyard should have been a favorable development for Indiana.
The Hoosiers had an opportunity to travel just 45 minutes north for postseason play and a postseason run would have been well supported by a fanbase hungry for any taste of success.
For a brief stretch on Thursday, it was clear Indiana fans were making an impact even with their small presence in Lucas Oil Stadium. The BTN broadcast crew made mention of it as fans cheered as IU opened a 10-point lead in the first half.
But as momentum waned and Rutgers took control, those same fans let out their frustration and let their displeasure with the program's performance be known. There were chants of "Fire Archie." There were also boos in the second half as Indiana missed field goal after field goal and numerous free throws
While Miller said postgame that he didn't notice the jeers, it's hard to ignore the prospect of what Indiana could be looking at in terms of the atmosphere at Assembly Hall next season if he is retained for a fifth season. Fan dissatisfaction isn't the only factor that has to be considered by Scott Dolson, nor should it be. It is, however, clear that the athletic department has work to do to inspire confidence that Miller is the right man for the job if that is the path chosen for next season.
• Rather than peaking in March, Indiana sunk to a new low with sixth straight loss: While this college basketball season was shorter than usual, it probably felt longer to coaches and players because of the circumstances surrounding it.
Daily COVID-19 testing was required. Players and coaches were sheltered from the every day activities they are accustomed to because of the pandemic. There is no doubt mental health was a challenge for all involved.
Ultimately, however, every coach and player that opted into the season did so with the intent of winning games and peaking at the right time of the season.
Indiana neither won enough games nor peaked at the right time of the season. In fact, the Hoosiers bottomed out over the final month and a half of the season and dropped nine of their last 12 games.
"We didn't take advantage of the opportunities, we weren't good enough," Miller said. "Now you have to take some inventory, and you've got to make sure that you're doing everything you can to progress and get better, which I know we will."
• Jackson-Davis again sets the pace offensively: Trayce Jackson-Davis finished his sophomore season with another solid offensive performance.
The sophomore from Center Grove scored a game-high 19 points on 8-of-14 shooting in 36 minutes in Thursday's loss. Over 27 games, Jackson-Davis averaged 19.1 points, nine rebounds, 1.4 blocks and 1.4 assists in 34.3 minutes per game. He is deserving of the individual accolades he has received and any others that are still to come.
The focus now shifts to the future for Jackson-Davis, who has aspirations to play in the NBA. Unsurprisingly, he was not yet ready to make any definitive statement on his future in the immediate aftermath of the season's end.
"Right now, I won't worry about that," he said. "I'll probably take two weeks off and try to get my mind right, just be able to make the best decision for me right now."
• The offseason is here … what's next? It was already going to be an interesting offseason in college basketball with the expectation that players will be able to transfer without sitting out at their new school.
The transfer portal is already adding names every hour and Indiana is going to have to dip into the portal as a resource to improve for next season.
But before next season's roster begins to take shape in any tangible way, there needs to be a definitive statement from Dolson on a path forward from the program. If the plan is to move forward with Miller, Dolson needs to answer questions and explain why that is the appropriate path forward.
To Miller's credit, he had no issue answering tough questions about his future on Thursday night.
"I'm not entering any offseason wondering if I'm going to be back," Miller said. "Those decisions are made way higher than me. My job is to run the program. We're doing our thing here. I talk to our administration daily. We're in a good spot."
If Dolson, however, doesn't believe that IU basketball is in a good spot, he will then be tasked with identifying how to fix a program that hasn't been to a Final Four in 19 years and hasn't been to the NCAA tournament since 2016.
Filed to: 2021 Big Ten tournament, Archie Miller, Rutgers Scarlet Knights, Trayce Jackson-Davis