6-Banner Sunday: Indiana set to host Iowa in Sunday matinee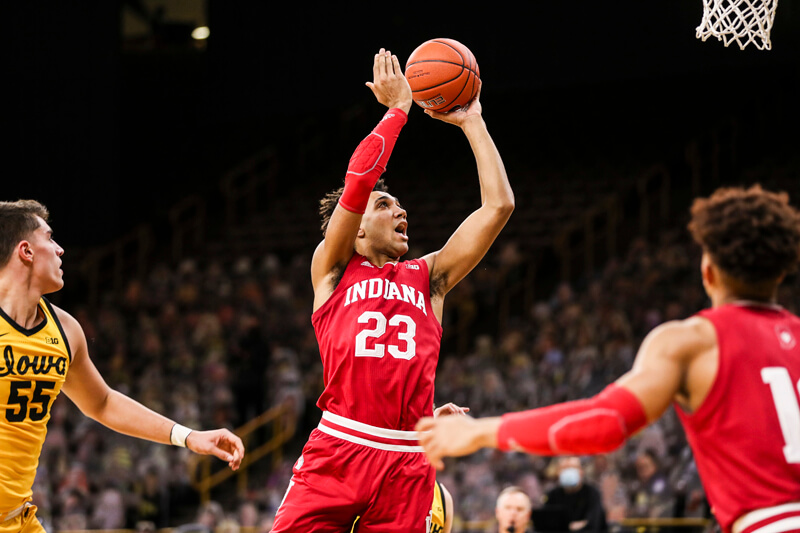 6-Banner Sunday is Inside the Hall's weekly newsletter in partnership with The Assembly Call. More than 7,500 Indiana fans receive the newsletter each week. In addition to appearing each week on the site, you can also opt to receive 6-Banner Sunday by email. A form to subscribe via email is available at the bottom of this week's 6-Banner Sunday.
Welcome to another edition of 6-Banner Sunday, a joint production between The Assembly Call and Inside the Hall where we highlight the five most essential IU basketball stories of the past week, plus take a look at how the other IU sports programs are doing.
After an upset win against Iowa on the road more than two weeks ago, Indiana has now lost its last two games at home. Most recently, it was a 75-71 overtime loss to Illinois on Tuesday night. The Hoosiers are now 1-3 in overtime games this season. Those three losses have all come against top-25 opponents.
Indiana held Illinois' star guard Ayo Dosunmu to just 10 points on 2-of-11 shooting and he fouled out with just under three minutes remaining in the second half. Despite the defensive effort against Dosunmu, the Hoosiers allowed Illinois guards Trent Frazier and Andre Curbelo to beat them down the stretch.
"We're not tough enough in little plays, loose balls, it hits your hands and you can't get it," Indiana head coach Archie Miller said after the game. "There's just too many of those plays right now that we're not able to finish off. The tough plays that you have to make to win."
Indiana freshman guard Trey Galloway made his return to the court on Tuesday after missing two games due to a sore back. However, the Hoosiers will be without sophomore Jerome Hunter on an indefinite basis in what Miller called a "coaches decision."
The Hoosiers host No. 8 Iowa on Super Bowl Sunday in hopes of sweeping the regular-season series against the Hawkeyes.
You can listen to this week's edition of Assembly Call Radio here and the newest Podcast on the Brink with guest Rick Bozich here.
• Indiana comes up short in overtime to Illinois
• Hoosiers host Hawkeyes on Sunday afternoon
• Trying to crack the code of Indiana's unpredictable offense
• Class of 2022 guard CJ Gunn to announce college decision Sunday
• Big Ten tournament makes move to Indianapolis
• Hoosier Roundup
Banner #1
Indiana comes up short in overtime to Illinois
Despite getting off to a fast start in the first half, Indiana dropped its sixth conference game of the season in a 75-71 home overtime loss to Illinois Tuesday night. The Hoosiers lost both regular-season games to the Illini this season.
Indiana put together an impressive first-half performance, shooting nearly 50 percent from the field and making 3-of-5 3-pointers, while only committing four turnovers. They led 41-34 at the break.
But much like most of the success Indiana has had this season, it wasn't able to be sustained. The offense fell into a rut, missing six consecutive shots from the 14:01 mark to 9:39. The Hoosiers also committed nine second-half turnovers.
"Our second half taking care of the ball bit us again," Miller said. "We had some reluctant shooters, at times, who felt like they wanted to drive it."
Indiana failed to score in overtime until Race Thompson hit a close-range shot with seven seconds left on the clock. By that point, it was too late to mount a comeback. The Hoosiers squandered another promising opportunity to build its NCAA Tournament resume.
Banner #2
Hoosiers host Hawkeyes on Sunday afternoon
Indiana will have the chance to pull off another upset over a top-10 ranked Iowa squad when the Hawkeyes travel to Bloomington on Sunday. Less than three weeks ago, Indiana stymied Iowa's offensive in a massive road win.
Iowa has struggled some lately, dropping three of its last four games, including a home loss to Ohio State on Thursday. Over that four-game stretch, Iowa has allowed a total of 328 points.
The Hawkeyes, however, still boast a dynamic offense. AP Player of the Year candidate Luka Garza is averaging nearly 26 points and nine rebounds per game. Guards Joe Wieskamp and Jordan Bohannon both average double-figures and are dangerous shooters from beyond the 3-point arc. It's unknown whether Iowa guard CJ Fredrick will play, as he missed the game against Ohio State due to a lower leg injury.
The Hawkeyes hold a 13-5 overall record and 7-4 mark in the Big Ten entering Sunday's matchup with Indiana. The Hoosiers will need to perform with the same defensive intensity as the last matchup to have a chance to win.
Banner #3
Trying to crack the code of Indiana's unpredictable offense
Last season, Indiana's three-forward lineup became a point of constant scrutiny. The Hoosiers had too many big bodies on the floor, causing the lane to be clogged. The player that took the brunt of the criticism was Justin Smith, whose lack of perimeter shooting made him one-dimensional. Much of this offensive incoherence led to long scoring droughts.
This season, though, was supposed to be different. Over the summer, Smith transferred to Arkansas and Archie Miller brought in a freshman class with three dynamic guards and a versatile forward in Jordan Geronimo. Miller wanted to play a guard-oriented lineup.
"My hope would be this: our skill level goes up, our turnovers go down, our shooting percentage goes up, our style is a little bit more up-tempo more so than a year ago," Miller said back in July. "I feel like we're going to have to come in with almost a hybrid team this year."
Instead, Indiana's scoring droughts have remained. Most recently, they had a long field goal drought against Illinois. They've also had lengthy droughts earlier in the season against Texas, Florida State, Northwestern, Wisconsin and Rutgers.
Miller's new-look lineup hasn't quite panned out, either. Indiana has only marginally improved its assist, turnover and 3-point percentage. Its rebounding, though, has taken a significant hit with a smaller lineup. Last season, Indiana ranked 44th nationally in both offensive and defensive rebounding percentage. This season, Indiana ranks 280th nationally in offensive rebounding percentage and 122nd in defensive rebounding percentage.
As of now, the season, much like Indiana's offense, may be decided by chance.
Banner #4
Class of 2022 guard CJ Gunn to announce college decision Sunday
Four-star shooting guard and Lawrence North product CJ Gunn is scheduled to make his college decision on Sunday. The 6-foot 5-inch Gunn has offers from Indiana, Cincinnati, Kansas State, Xavier and Missouri among others.
"I've had a Zoom call with coach (Archie) Miller and (Tom) Ostrom," Gunn told Inside the Hall over the summer. "They are showing me high interest and showing me I'm a priority, and I text them every week. All day every week. It's just been a blessing that that's my hometown recruiting me…It's very cool. Especially because I know the history there and how big the program is and how big the fan base is with their support."
In the class of 2022, Gunn is ranked No. 107 nationally and as the No. 14 shooting guard, according to the 247Compsite. All five of his crystal ball predictions have him going to Indiana.
As a sophomore for Lawrence North last season, Gunn averaged 7.1 points and 2.5 rebounds per game while shooting 35 percent from three.
Banner #5
Big Ten tournament reportedly moving to Indianapolis
The Big Ten tournament will be moved to Lucas Oil Stadium in Indianapolis this year, it was reported Thursday. The tournament, which was originally supposed to be held in Chicago, is scheduled to be played on March 10-14.
"It protects the teams that are in the tournament, with less travel," Miller said earlier in the week, "and I think the city of Chicago right now is very difficult to navigate with hotels, social distancing protocols, eating — a lot of things a lot of people probably aren't thinking about (regarding the conference tournament) that require you to go to a city for multiple days and be together that just (aren't) doable right now."
Earlier this year, it was announced the entirety of the NCAA tournament will be played in the state of Indiana. Assembly Hall and Mackey Arena will both be among the host locations.
Banner #6
Hoosier Roundup
This week was highlighted by the Hoosiers taking their first Big Ten Championship of the year among their 24 sports, as Golf came out on top in Big Ten Match Play in their first event of the season. Also, Men's Tennis and Water Polo opened their seasons, while Swimming and Diving, Track and Field, Volleyball, Women's Basketball and Wrestling continued theirs. Also, in football a couple schedule adjustments were made to go with a bit of good news in recruiting, and bad news and legal trouble off the field for one of IU's best defensive players.
• Men's Golf opened the season with a Big Ten Championship in Match Play, marking a remarkable turnaround for a team who has struggled the last few seasons.
• Football rounded out its 2021 recruiting class with another four star recruit, this time a WR. They also announced some slight adjustments to their schedule next year. However, in less savory news, cornerback Jaylin Williams who tied for the team lead in interceptions this season was arrested on OWI charges yesterday per the Herald Times' Jon Blau.
• Women's Basketball bounced back from the Ohio State loss with a strong victory against Michigan State. However, their game against Rutgers was postponed for a second time on Thursday as the Scarlet Knights have been in COVID protocol without games for over a month now. The team heads to Iowa at 2pm today on ESPN2. Also, star Ali Patberg was named a top 10 finalist for the Nancy Liberman award and Grace Berger was named a top 10 finalist for the Cheryl Miller award.
• Volleyball fell to Iowa Friday, before pulling out a thrilling win yesterday.
• Men's Soccer will start the season in a familiar place with a high ranking in the polls. Also, defender Spencer Glass received preseason recognition.
• Swimming and Diving picked up two victories this weekend over arch-rival Purdue and a single victory over Rutgers.
Track and Field posted nine victories at their home meet this weekend.
• Wrestling fell to Michigan State and Nebraska. However, they did have a Big Ten Wrestler of the Week.
• Field Hockey announced their schedule which begins late this month.
• Water polo opened its season with two victories against Salem and St. Francis and will play the same teams again today. Their series next weekend against arch-rival Michigan has been cancelled as the Wolverines entire Athletic Department remains in COVID protocol.
• Men's Tennis opened their season with strong results at the Badger Invitational, while also releasing their schedule for the rest of the season.
• Women's Tennis also released their schedule which began this weekend. However, no information from their first Invitational in Illinois has been posted yet.
Thanks for your continued support for The Assembly Call. We'll be back next weekend with a new roundup.
Now go enjoy yourself a 6-banner Sunday.
Tyler Tachman – Student Intern The Assembly Call
Filed to: