Film Session: Illinois
Indiana came up short in overtime against the Illini on Wednesday night, failing to score on its first five possessions of the extra frame. IU's lone basket came with just seven seconds left in the contest on its sixth possession of overtime. While Illinois wasn't much better on the other end, the Hoosiers' inability to get anything going doomed them into another loss.
So what went wrong?
A look at the film reveals an Illini team locked in on defense and keenly aware of Indiana's sets and personnel. The scouting report was read. Illinois switched on screens when appropriate for its defensive lineup. Kofi Cockburn defended the pick-and-roll at a high level. And most importantly, the Illini packed the paint, often using an extra defender to stop drives and leaving Indiana's non-shooters to bring more attention down low.
It resulted in an Indiana team unable to break free for advantages (or squandering opportunities when it did) for pretty much the entirety of overtime.
We'll take a look at the five empty possessions in the latest edition of Film Session:
After winning the tip, the Hoosiers come down for their first possession. As Race Thompson passes to Trey Galloway up top, Jackson-Davis sets a screen on the wing for Armaan Franklin: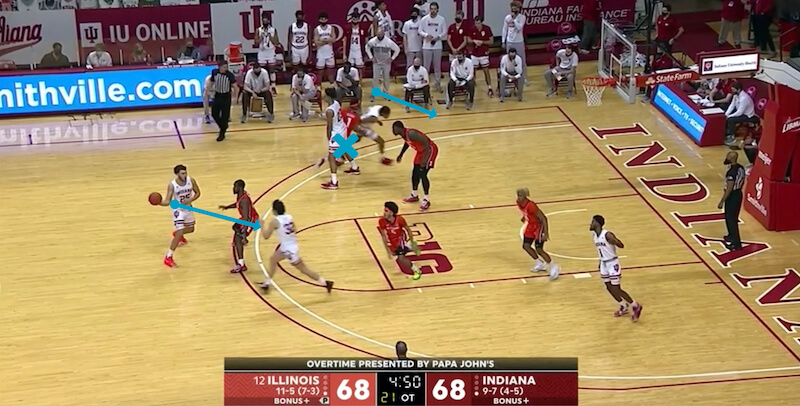 As Franklin gets to the right low post, Galloway passes to Jackson-Davis: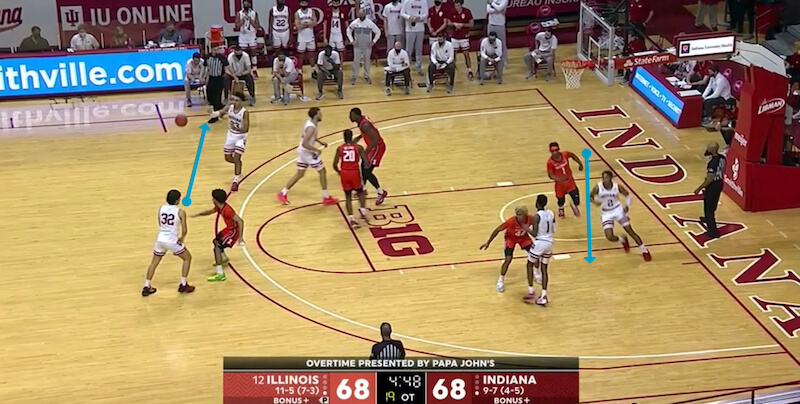 Instead of coming around another screen from Al Durham, Franklin actually stops short and looks to set a down screen for Durham. So they are essentially switching off on the wheel motion, with Durham coming up to the wing instead of Franklin: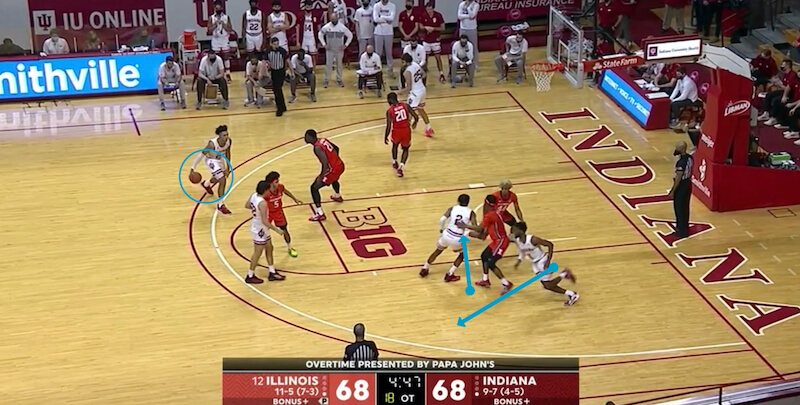 Because Trent Frazier kept his body inbetween Franklin and Adam Miller, Franklin doesn't get a body on Miller at all. But there's another down screen coming for Durham as Miller chases, this time from Galloway: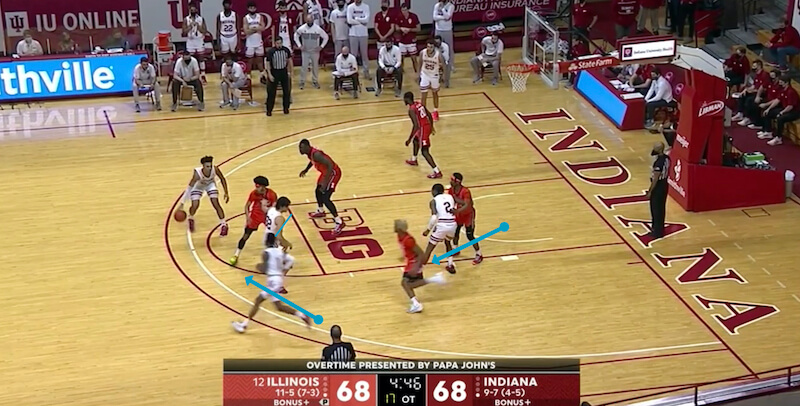 Galloway doesn't do much to impede Miller either, though he does have ground to make up as Jackson-Davis hands off to Durham. But it's no matter because Andre Curbelo simply switches onto Durham: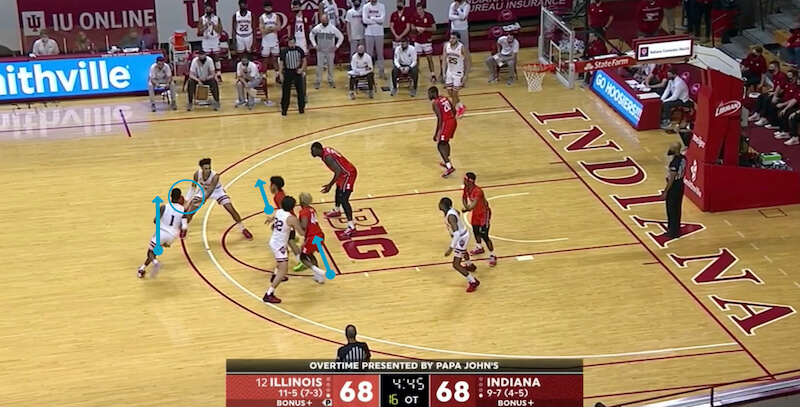 Jackson-Davis doesn't put much of a body on Curbelo either and he's got a hand up on Durham: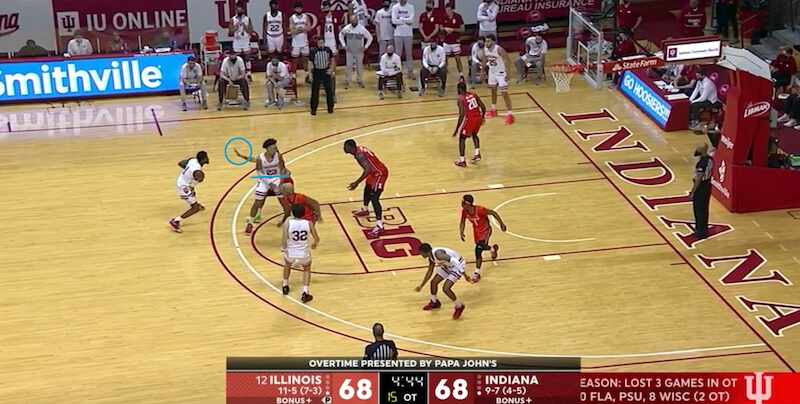 Durham ends up driving left as Jackson-Davis looks to ball screen him to the middle. There's more space left. But Cockburn is behind the action:
And he and Curbelo both stop Durham. Miller has moved off Galloway to give help on Jackson-Davis' roll: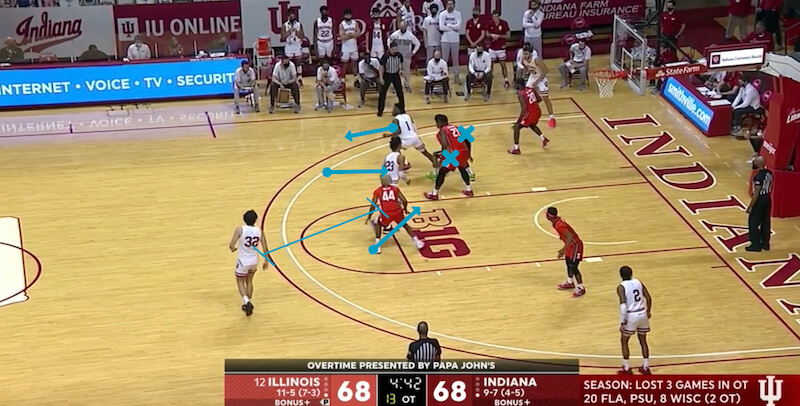 From there, Durham resets up top and gets a ball screen from Thompson. Cockburn again plays back off the action, as Thompson is not a threat to pop for a 3-pointer: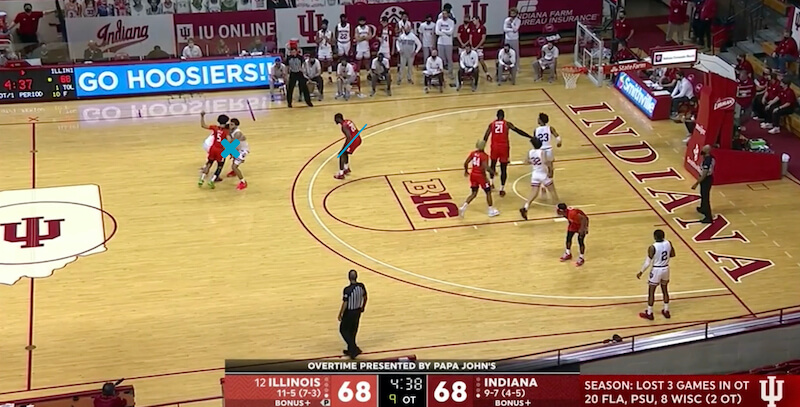 This time around, though, the extra room from starting the ball screen higher up allows Durham to thread a pocket pass to Thompson. He's got room ahead in the lane. But Miller sees Thompson coming and decides to completely leave Galloway: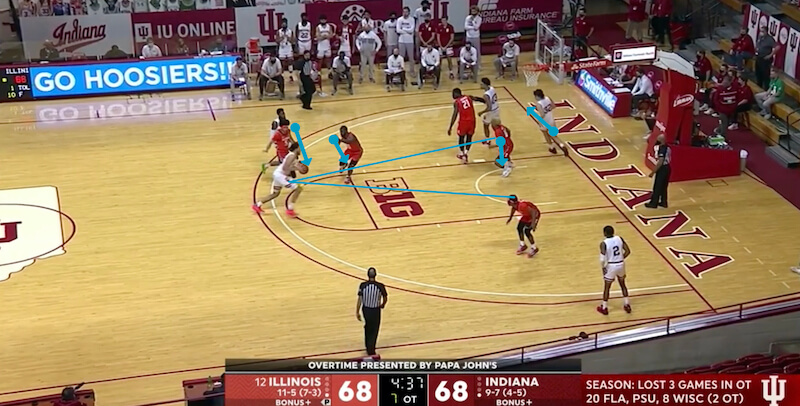 With Frazier staying home in the right corner on Indiana's best 3-pointer shooter, Thompson opts to keep driving straight into Miller and draws the charge with three other Illini players near in the paint: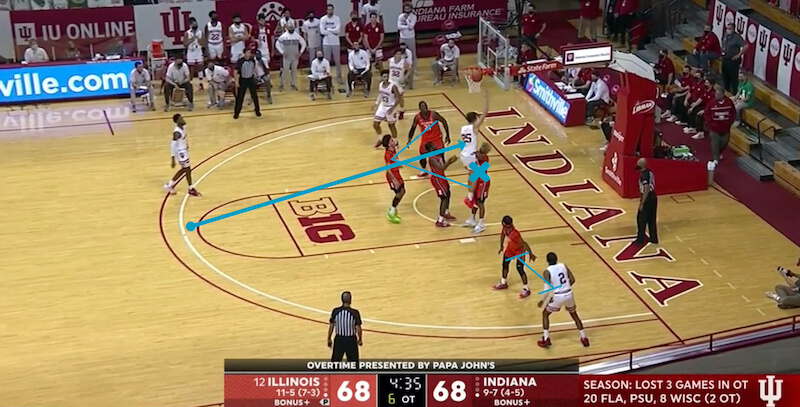 While Indiana finally was able to gain an advantage late in the possession here, it came after fighting around screens, switching and solid pick-and-roll defense stymied the Hoosiers. And Thompson driving in from the top of the key isn't something we've really seen much of, if at all, this season. It's not a strength of his offensive arsenal and Miller made him pay here setting up for the charge.
Filed to: Illinois Fighting Illini