Trying to crack the code of Indiana's unpredictable offense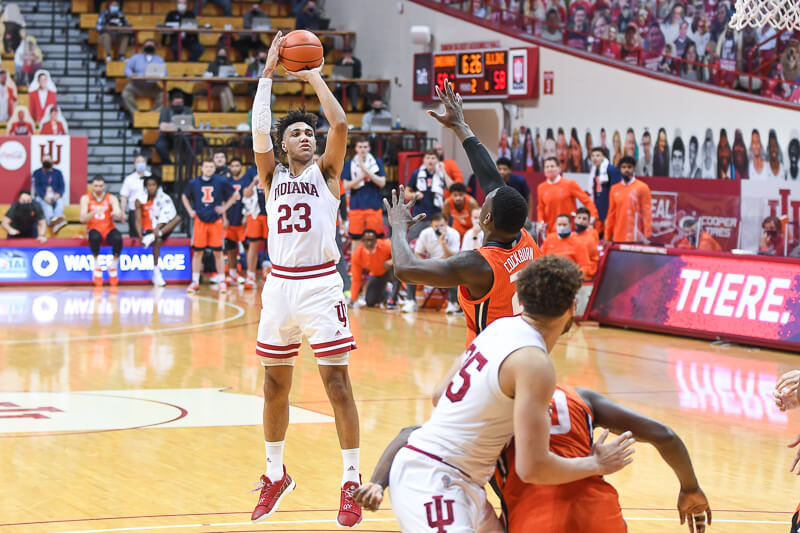 For more than six minutes against Illinois on Tuesday, Indiana failed to make a shot from the field. It started with a missed layup from Trey Galloway, followed by another from Armaan Franklin. Then a 3-point attempt was off from Khristian Lander. It compounded into three more misses in the ensuing four minutes.
Before this stretch, Trayce Jackson-Davis hit a layup with 14:31 remaining in regulation to put the Hoosiers up by four. Indiana didn't score a field goal again until the 8:03 mark.
What's most astonishing is that Indiana still held a slight lead during that period thanks to seven made free throws. Illinois had fallen in struggles of its own, missing six consecutive shots from the field.
These six minutes were a golden opportunity for Indiana to extend its lead and capitalize on what could've been a resume-building win. Instead, the Hoosiers' offense went cold, holding them back from putting the game out of reach and Illinois won 75-71 in overtime.
This story has been all too familiar over the past couple of years. Scoring droughts became a staple in Indiana's offense last season.
This season, however, was supposed to be different: more guards, more offensive movement, more speed. But for the most part, that hasn't happened and the numbers behind it are concerning.
Last season, Indiana's scoring droughts were examined in an article published on Inside the Hall. It noted 20 of the team's notable scoring droughts during an eight-game stretch at the beginning of conference play. Sixteen of those 20, the article said, happened after the first 10 minutes of the game, meaning that the droughts mostly stemmed after substitutions had been made.
It also pointed to Justin Smith's inability to stretch the defense as a cause for the issue. Smith's poor perimeter shooting, along with inconsistent production of Jerome Hunter and Damezi Anderson, allowed defenses to pack the paint. With Smith at the three position, and on the floor with two other big men, it meant less room for Trayce Jackson-Davis to maneuver near the rim.
As a result, Indiana fell into lengthy periods without scoring field goals.
But last offseason, it appeared this would change. Away went Smith to Arkansas and Anderson to Loyola-Chicago. And in came a freshman class filled with three guards and a versatile forward in Jordan Geronimo.
"My hope would be this: our skill level goes up, our turnovers go down, our shooting percentage goes up, our style is a little bit more up-tempo more so than a year ago," Indiana head coach Archie Miller said back in July. "I feel like we're going to have to come in with almost a hybrid team this year."
It all sounded promising at the time. Five-star freshman point guard Khristian Lander could come in and be the facilitator off the bounce that Indiana desperately needed. Only two big men on court meant more slashing, in turn, leading to open 3-pointers. It meant fewer turnovers and more assists.
In reality, it hasn't panned out that way. And the stagnant offense has remained.
First off, unlike last season, the sluggish offensive stretches are happening with both starters and the bench. Indiana has gotten off to slow starts, bad finishes and rough stretches in the middle of the game like against Illinois on Tuesday. What's troubling is that there's no discernable pattern.
At the beginning of the second half against Rutgers, with its starters on the floor for a majority of the time, Indiana scored at the 19:39 mark, but then not again until 15:58. They turned the ball over five times in three minutes.
To open the first matchup against Illinois in late December, Indiana went 0-of-5 from the field and didn't score until more than two minutes into the game.
The starters have had trouble closing games, too. In the loss to Florida State, the Hoosiers finished the game 0-of-5 from the field. Against Wisconsin, they went just 4-of-13 in two overtime periods.
The incongruity remains when substitutions are made. In the loss to Texas, Indiana went 0-of-7 from 13:37 to 9:28 in the first half, including two misses from each Hunter and Lander. Against Wisconsin, Indiana went on another 0-of-7 streak in the middle of the first half, including three missed shots from Lander.
Even more: In the Big Ten opening loss to Northwestern, there were four instances where the Hoosiers went more than 2:12 of game time without a point, including twice where it went on for more than three and a half minutes.
The small lineup hasn't been the permanent seal to fix the recurring problem.
Comparing last season to this season, statistically speaking, Indiana's 3-point percentage is slightly up, from 32 percent to 35 percent. Assists are marginally up, from 12.9 to 14.3 per contest (Al Durham leads the team with three per game). Indiana's turnovers are down by a slim figure, from 12.6 per game to 12 per game. Many of Indiana's giveaways this season have been fundamental errors like errant passes or moving screens.
On average, Indiana is fouling more than last season. They haven't been noticeably quicker than their opponents. In fact, against Nebraska, they got outhustled down the court multiple times. According to KenPom, Indiana's adjusted tempo is slower than last season.
Another byproduct of going to the small lineup is that Indiana's rebounding has suffered.
Last season, Indiana ranked 44th nationally in both offensive and defensive rebounding percentage. The Hoosiers rebounded 32.4 percent of their missed shots and allowed their opponents to grab only 24.5 percent of their misses. This season, Indiana ranks 280th nationally in offensive rebounding percentage (23.8) and 122nd in defensive rebounding percentage (26.4). Rebounding was a deciding factor late in the losses Florida State and Wisconsin.
In order for the small lineup to be effective, the Hoosiers would have to make big strides in the statistics like assists, 3-pointers and turnovers to make up for the lost advantage on the boards. Arguably, that isn't happening.
"They imposed early on how physical and how tough they were going to play and I thought that played a role to knock us on our heels," Miller said about Texas' size earlier in the season.
In those games, Miller was reluctant to switch back to a bigger lineup. At this point in the season, though, he doesn't have a choice anymore. With Joey Brunk sidelined with a back injury and Jerome Hunter suspended indefinitely, the smaller lineup is the only option for the rest of the season. With all of the injuries, Smith may have been a useful piece at the four this year.
These offensive shortcomings have been a microcosm of Indiana's inability to show growth on a year to year basis. The lineup changed. The result hasn't. And in the game against Illinois on Tuesday, there were shades of last season's troubles. The Illini left Galloway, a nonfactor from three, on the wing and pulled more bodies in the paint.
The rest of the season is in the hands of the inconsistent offense. It can, at times, be explosive like against Wisconsin when the Hoosiers made seven consecutive shots from the field. The bench has lifted IU to victory against No. 4 Iowa. However, it hasn't been sustained.
"Some games go your way, some games don't," Armaan Franklin said after the loss to Rutgers.
As of now, the season, much like Indiana's offense, may be decided by chance.
Filed to: