Five takeaways from Indiana's overtime loss to Illinois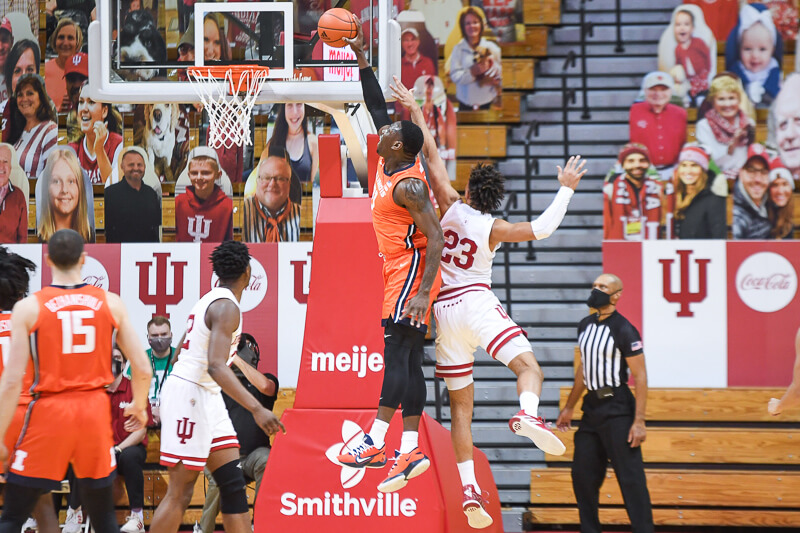 Indiana fell to Illinois 75-71 in overtime on Tuesday night and dropped to 9-8 overall and 4-6 in the Big Ten.
Here are five takeaways from the loss:
• A tale of two halves: The Hoosiers put together a well-oiled first half and held a 41-34 advantage at the break. Indiana shot nearly 50 percent from the field and made 3-of-5 3-pointers. They only committed four turnovers.
But in the second half, Indiana's offense fell out of sync. The Hoosiers missed six consecutive shots from the 14:01 mark to 9:39. Then, in the last 3:41 of regulation, Indiana went just 1-of-4 from the field. IU also had nine turnovers in the second half.
"Our second half taking care of the ball bit us again," Indiana head coach Archie Miller said. "We had some reluctant shooters, at times, who felt like they wanted to drive it."
With Ayo Dosunmu out after picking up his fifth foul, Illinois senior Trent Frazier and freshman Andre Curbelo made timely plays down the stretch. Frazier hit a pair of momentum-swinging 3-pointers with five minutes remaining in the second half. Meanwhile, IU wasn't able to make the same type of clutch plays.
In overtime, Indiana turned the ball over twice more and went just 1-of-4 from the field.
• Indiana continues its inability to close out games: In four games decided in overtime this season, Indiana has now lost three. Those three losses have all come against top-25 teams, too.
The first was against Florida State, where the Hoosiers fell on a game-winner by Scottie Barnes. The second came when Indiana squeaked past Penn State at home. But the next two, against Wisconsin in double-overtime and now Illinois, Indiana has fallen short down the stretch.
The final minutes of Tuesday's game came down to many of the same principles that were prevalent in Indiana's loss to Illinois earlier this season: the Hoosiers weren't able to secure loose balls and rebounds when it mattered most.
"We're not tough enough in little plays, loose balls, it hits your hands and you can't get it," Miller said. "There's just too many of those plays right now that we're not able to finish off. The tough plays that you have to make to win."
• Rob Phinisee is silent: Indiana's veteran backcourt has been at the epicenter of the team's criticism this season. Phinisee, who seemed primed for the best season of his career entering this year, hasn't performed up to those expectations.
After struggling early in the season, it appeared that Phinisee had turned his production around over the last few games. But Tuesday was yet another stumble in his progress.
Phinisee quickly fell into foul trouble. In the first half, he played just seven minutes and shot 0-of-2 from the field. There were times where he was invisible on the court.
The second half wasn't any better. Phinisee fouled out with under one minute remaining in regulation with a final stat line of zero points, zero assists and five fouls in 13 minutes of action.
• Frontcourt carries Indiana: Trayce Jackson-Davis didn't have his most efficient game this season, yet he still scored 19 points and grabbed 14 rebounds. His teammate in the paint Race Thompson seemed to be the best player on the court for the Hoosiers for the majority of the game. Thompson scored 18 points on 6-of-9 shooting while tallying eight rebounds.
"He's a guy that continues to be blue-collar," Miller said about Thompson. "He's a leader right now. He's developing into a terrific teammate. I'm really proud of Race for his effort tonight."
Thompson and Jackson-Davis combined for 77 minutes on the floor and have already been banged up throughout the conference season as a result of the limited frontcourt rotation.
The one downfall for Thompson was his free throw shooting in which he connected on just 6-of-12 attempts from the line. No more than 10 minutes after the conclusion of the game, Thompson was back out on the court practicing free throws.
• Indiana unable to take advantage of Ayo Dosunmu's off night: The Hoosiers were able to hold one of the best players in college basketball to just 10 points and 2-of-11 shooting. Dosunmu ended up fouling out with just under three minutes remaining in the second half.
In the previous matchup, Dosunmu went off in the final ten minutes to lift Illinois to victory. But on Tuesday, Indiana was able to contain the talented guard.
It was a golden opportunity for Indiana to take advantage of. But Frazier, Curbelo and Kofi Cockburn were able to make important plays down the stretch in Dosunmu's absence.
Overall, Indiana's defense was good, holding Illinois to 39 percent from the field. Fouls, however, became a factor in favor of the Illini, too, as they knocked down 24-of-32 free throws in what helped determine the outcome of the game.
Tuesday offered a great opportunity for Indiana to build its NCAA tournament resume. Instead, it turned out to be another game of "what ifs."
Filed to: Illinois Fighting Illini