Scrappy plays and free-for-all moments define Indiana in loss to Illinois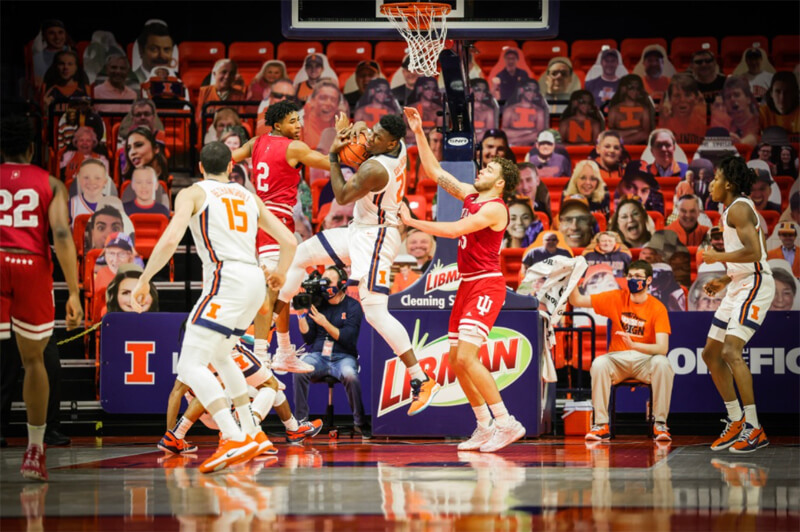 CHAMPAIGN, Ill. – Ever since Indiana's overtime loss to Florida State in early December, head coach Archie Miller has often talked about his team's inability to get loose balls. It has been a legitimate concern for Miller and his staff. In theory, it's a simple principle: two hands and 10 fingers pressed together around the orange sphere.
But in the final 53 seconds of regulation against Florida State, the Hoosiers didn't make it look so simple. They allowed three offensive rebounds during that time. Then in the overtime period, the Seminoles pulled down another five offensive boards, eventually pulling out a two-point victory.
The following week, it left Miller saying this: "It came down to us not being able to secure balls all game long… I can't tell you how many times we had the ball in our hands or hit our hands and we didn't come down with it or up with it."
Fast forward to Saturday in Champaign, Illinois and the Hoosiers are still struggling to come up with what Miller calls "hustle" plays. Often, tightly contested Big Ten games can be determined by a few fleeting moments where the ball bounced one way rather than another.
A majority of those plays ended up with the ball in the arms of Illinois guard Ayo Dosunmu, whose late-game heroics and 30-point outing proved to be the difference.
"They stepped up and made the winning plays," Miller said after Indiana's 69-60 loss to No. 18 Illinois. "Loose balls played a role in it."
Indiana, who has relied on their defense the whole season, was putting together another clinic in the first half, allowing them to keep their deficit to just two points at the break.
Through the first 20 minutes, Illinois converted on just 43 percent from the field and were held to 2-of-10 from behind the 3-point arc. Star center Kofi Cockburn was held to just five points.
Meanwhile, on the offensive end, the Hoosiers were sputtering again. Trayce Jackson-Davis was 2-of-8 from the field. As a team, Indiana was shooting just 38 percent.
The back-and-forth game continued in the second half. But it eventually gave way to the free-for-all moments that Indiana just hasn't been able to control.
The first notable occasion came with just under seven minutes left in the game and the Hoosiers down by three.
After a missed 3-pointer by Dosunmu, Indiana wing Jerome Hunter had the rebound slip out of his grasp. It was corralled by Illinois and the possession reset.
Then, with the shot clock running down, Dosunmu curled to the top of the key. Indiana junior guard Rob Phinisee was locked on Dosunmu as he weaved the ball in a blur between his legs. Phinisee then knocked the ball out of Dosunmu's hands, causing Dosunmu to retreat and scoop it off the floor.
Phinisee went belly-flopping onto the hardwood, reaching for the ball only to whiff and scoot between Dosunmu's legs. Dosunmu quickly squared his body to the basket and hoisted a three at the last second. Phinisee watched from his back, cradling his head in discomfort.
It ripped through the net.
Six-point lead Illinois.
Timeout Indiana.
Miller was parked on the scorer's table with his hand on his head and a blank stare on his face.
"It's a game of makes and misses," Miller said. "They made some. We didn't."
On Illinois' next offensive possession, Illini point guard Andre Curbelo pushed the ball down the middle of the floor. As he neared the right elbow, the ball was poked away by Indiana's Trey Galloway.
But the ball trickled to the right-wing where Dosunmu happened to be standing unguarded. He let it fly from three again. It was pure again. The lead was extended to nine, capping off a 14-0 Illinois scoring run.
"We got to be able to get those 50-50 balls and I think it'll change the game for us," senior guard Al Durham said. "Or a couple of those other possessions where they got second-chance shots and made."
Indiana climbed back into the game, though. The Hoosiers were down by just five points with under two minutes remaining. Miller implored his defense from the sideline, yelling "one-stop" and pointing his index finger in the air. Indiana did indeed hold Illinois on that possession.
Durham pushed it in transition, firing a pass to Armaan Franklin in the corner. Franklin then whipped the ball to Jackson-Davis who was posted in the paint. But Curbelo got a hand on the pass, sending it pinballing off the bottom of the backboard. It popped back to Jackson-Davis, but he didn't have quick enough reflexes to grab a hold of it.
You can guess what happened on the ensuing possession. It led to another wide-open look for Dosunmu from the right-wing. It was another make. That made it an eight-point game, essentially sealing Illinois' victory.
"I think we need to just take it to another level in terms of taking away those three to four plays that we can control," Miller said.
It's not fair to say that these plays were the only reasons that Indiana lost. The Hoosiers suffered through more scoring droughts and finished at a 40 percent clip shooting from the field. They were handily outrebounded by 12. They've shown an inability to close out games this season.
It was also far from the Indiana team that showed up against Northwestern. Each time Indiana has shown signs of struggles, there has been a strong response. Unfortunately, there are no moral victories in the Big Ten and the fact of the matter is that IU is now 0-2 in the conference.
But Saturday also proved that sometimes the ball just won't bounce your way.
And if it doesn't, it may land in the arms of a potential All-American.
(Photo credit: Illinois Athletics)
Filed to: Archie Miller, Illinois Fighting Illini