6-Banner Sunday: Trayce Jackson-Davis named to preseason All-Big Ten team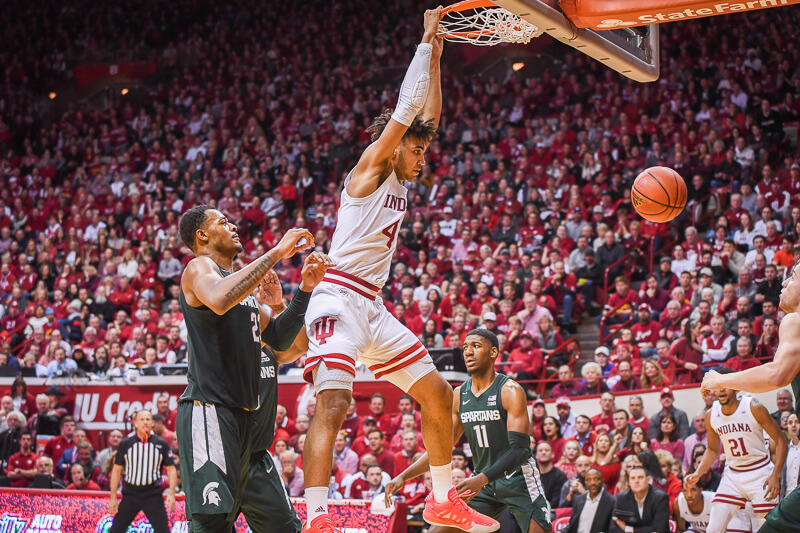 6-Banner Sunday is Inside the Hall's weekly newsletter in partnership with The Assembly Call. More than 7,500 Indiana fans receive the newsletter each week. In addition to appearing each week on the site, you can also opt to receive 6-Banner Sunday by email. A form to subscribe via email is available at the bottom of this week's 6-Banner Sunday.
Welcome to another edition of 6-Banner Sunday, a joint production between The Assembly Call and Inside the Hall where we highlight the five most essential IU basketball stories of the past week, plus take a look at how the other IU sports programs are doing.
Indiana's tipoff against Tennessee Tech in Assembly Hall is less than two weeks away as uncertainty continues to swirl around college basketball. Miami's season opener against Stetson on Nov. 25 was already canceled due to COVID-19 concerns. It was also announced that Michigan State head coach Tom Izzo was diagnosed with the virus.
The Big Ten slate has still yet to be unveiled, but Indiana's non-conference schedule has continued to take shape. North Alabama is set to travel to Assembly Hall on Dec. 13, according to the Lions' website. Last year, IU defeated North Alabama 91-65 in the third game of the season.
The AP preseason rankings were released this week and Indiana was not included in the top-25, although they received 48 votes. Indiana was also left out of the coaches poll, but collected 14 votes. Earlier, Jeff Goodman ranked the Hoosiers at No. 33 in his preseason top-50.
In other previews, Inside the Hall concluded its outlooks of IU players heading into this season. The Indianapolis Star's Zach Osterman discussed college basketball's scheduling challenges on this week's edition of Podcast on the Brink. Three important questions heading into Indiana's season were debated on his week's episode of Assembly Call Radio, as well.
• Trayce Jackson-Davis earns preseason All-Big Ten honors
• Indiana receives votes in preseason AP rankings
• Joey Brunk's journey to his senior season at Indiana
• Logan Duncomb inks National Letter of Intent
• Indiana to host virtual Hoosier Hysteria
• Hoosier Sports Roundup
Banner #1
Trayce Jackson-Davis earns preseason All-Big Ten honors
Indiana sophomore forward Trayce Jackson-Davis was named to the preseason All-Big Ten team this week.
Jackson-Davis made the cut along with Kofi Cockburn (Illinois), Ayo Dosunmu (Illinois), Luka Garza (Iowa), Joe Wieskamp (Iowa), Aaron Henry (Michigan State), Marcus Carr (Minnesota), Trevion Williams (Purdue), Geo Baker (Rutgers) and Nate Reuvers (Wisconsin). Garza was selected as the preseason Big Ten Player of the Year.
After deciding to return to IU after a stellar freshman season, there are lofty expectations for Jackson-Davis this year. Earlier, he was listed as a preseason second team All-American by both Stadium and CBS Sports and touted on the Karl Malone Award watchlist.
"Trayce has to continue to evolve from a freshman to that natural progression as a sophomore where not everything's new to him anymore," head coach Archie Miller said over the summer. "Now he's leading the way more along the lines than learning on the run. Very few players in America are as impressive or as productive as him and I think he just has to up the production. He's got to be a dominant, dominant rebounder for us.
Banner #2
Indiana receives votes in preseason AP rankings
While Indiana was left out of the preseason AP top-25 rankings, they still received 48 votes, ranking them at No. 30 in the nation.
Gonzaga was the preseason No. 1, followed by Baylor and Villanova to round out the top-3. Iowa came in as the highest-ranked Big Ten team (No. 5), followed by Wisconsin (No. 7), Illinois (No. 8), Michigan State (No. 13), Ohio State (No. 23), Rutgers (No. 24) and Michigan (No. 25).
The Hoosiers will face a difficult schedule this season, not only in Big Ten play, but also in their non-conference slate. Indiana will compete in the Maui Invitational, which will host North Carolina (No. 16) and Texas (No. 19), along with Alabama, Stanford and Providence, who all received votes in the top-25.
In early December, Indiana will travel to Tallahassee to take on Florida State (No. 21) in the ACC/Big Ten challenge.
Banner #3
Joey Brunk's journey to his senior season at Indiana
There was a time when Jason Smeathers saw a different version of Joey Brunk than he was accustomed to. Smeathers, who is now Brunk's trainer, played pickup with Brunk when he was a budding young star at Southport High School in Indianapolis.
Three years ago, the two reconnected, but Smeathers saw an unmotivated Brunk. Earlier, during Brunk's freshman year at Butler, his father died after a battle with a brain tumor.
"He had every excuse in the world to not want to workout," Smeathers told Inside the Hall. "I mean if someone were to look at someone and say 'I don't need to, I don't want to,' he was the guy."
Smeathers told Brunk that they would start training together again. Quickly, Smeathers saw Brunk rediscover his passion and work ethic. Now, after an inconsistent junior year, Brunk was named a team captain for Indiana and will be leading the Hoosiers through an unprecedented season.
Banner #4
Logan Duncomb inks National Letter of Intent
Class of 2021 center Logan Duncomb is officially a Hoosier after signing his National Letter of Intent earlier this week. Duncomb is currently Indiana's lone commitment in the class.
Duncomb, who originally committed to Indiana in April, is ranked as the No. 104 prospect overall and No.19 center in the nation, according to the 247Sports Composite. The 6-foot 9-inch Cincinnati, Ohio product averaged 14.2 points, 8.4 rebounds and 1.6 blocks per game for Archbishop Moeller last season. The prior year as a sophomore, Duncomb helped lead the team to a state title.
"Logan is a throwback front court player with a relentless work ethic and a genuine love for competing," Archie Miller said in a release. "He is an elite runner in the open court with an exceptional feel for the game. He also craves the physicality that he will encounter in the Big Ten."
Miller and the coaching staff are hoping to add five-star small forward Aminu Mohammed and four-star power forward Mason Miller to the class in the upcoming months.
Banner #5
Indiana to host virtual Hoosier Hysteria
Indiana will stream a virtual Hoosier Hysteria on Wednesday Nov. 18 at 8 p.m. via Facebook. The event in Assembly Hall, which usually kicks off the season in early October, was canceled due to the COVID-19 pandemic.
Normally, the men's and women's players are introduced at the event. Both Archie Miller and Teri Moren speak to fans about the upcoming season. There is music, dunk and three-point contests, along with a scrimmage to close the festivities.
Last fall, Trayce Jackson-Davis won the dunk contest with a between-the-legs slam. Later, he put in a reverse cradle while paying homage to former IU star Calbert Cheaney by wearing his No. 40.
This year, however, the schedule of the virtual Hoosier Hysteria is somewhat unknown. The link to the online event can be streamed here.
Banner #6
Hoosier Sports Roundup
This was the biggest week of IU sports news as a whole since the COVID-19 pandemic began. Many of the Hoosier athletic teams had National Signing Day. More importantly, IU defeated Michigan State in football to improve to 4-0 on the year as it continues to live up to its sudden top 10 ranking.
• Football dominated the Spartans 24-0 for their first Big Ten road shutout since 1993 and regained the Old Brass Spittoon Trophy.
•  In women's basketball, star point guard Ali Patberg was named to the Nancy Lieberman Award Watch List, transfer Nicole Cardano-Hillary to the Anne Meyers Drysdale Watch List and Grace Berger to the Cheryl Miller Watch List. As a result of this, IU starts well inside the Preseason Top 25 and was tabbed the favorite to the win the Big Ten for the first time in program history.
• IU QB Michael Penix is earning accolades for his stellar play to start the season.
• Water Polo announced its 2021 signing class, as did Women's Golf, Women's Basketball, Women's Soccer, Wrestling, Volleyball and Men's Golf.  
• Volleyball earned the AVCA Voting Community Award.
• IU Baseball has played intra squad scrimmages this fall which IU Coach Jeff Mercer discussed.  
• announced a partnership with Athlete Network for Former Student-Athletes.
Thanks for your continued support for The Assembly Call. We'll be back next weekend with a new roundup.
Now go enjoy yourself a 6-banner Sunday.
Tyler Tachman – Student Intern The Assembly Call
Filed to: