What to expect: Penn State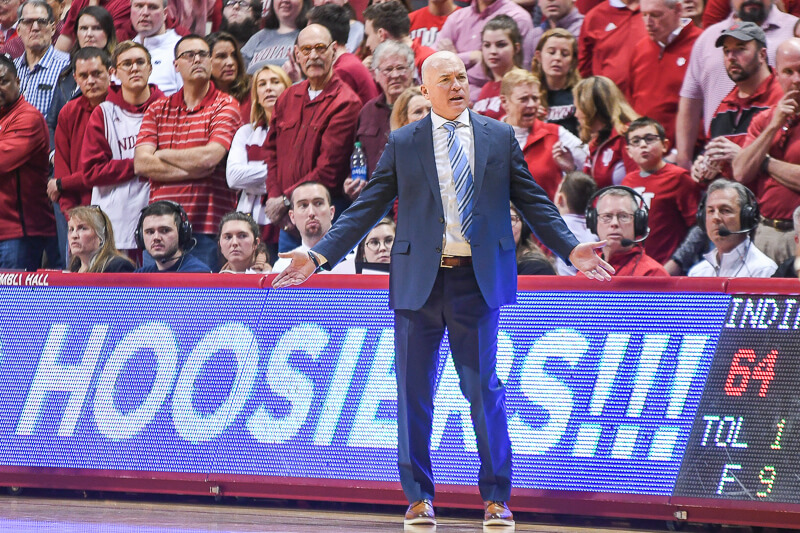 After a comfortable 89-64 win over Nebraska on Wednesday night, Indiana will take on Penn State in the second round of the 2020 Big Ten tournament at Bankers Life Fieldhouse.
The Nittany Lions, who have lost five of their last six games, are 21-10 and the No. 6 seed in the tournament.
Thursday's game will tip at approximately 9 p.m. ET on BTN with Kevin Kugler, Stephen Bardo and Rick Pizzo on the call:
College basketball is in uncharted territory. For the first time, the Big Ten tournament is scheduled to be played without fans in attendance. The NCAA tournament, which is scheduled to begin next Tuesday with the First Four games in Dayton, will do the same.
Other sports leagues around the world – most notably the NBA – have stopped playing games altogether after positive tests for COVID-19, also known as the Coronavirus.
Indiana coach Archie Miller definitely sounded concerned about the status of the season moving forward in his postgame comments last night.
"I think the big concern for us right now is the collegiate game," Miller said. "I think we're all sitting here teetering on worrying about not only the Big Ten Tournament in the next 48 hours but what happens after Sunday. So I think that's obviously a little bit nerve-racking for a lot of people right now."
THE REGULAR SEASON MATCHUPS
Indiana and Penn State split the regular season series with a 64-49 Nittany Lions win in State College on Jan. 29 and a 68-60 victory for the Hoosiers in Bloomington on Feb. 23.
In State College, Indiana put together a dreadful offensive performance, scoring just .70 points per possession and an effective field goal percentage of 35.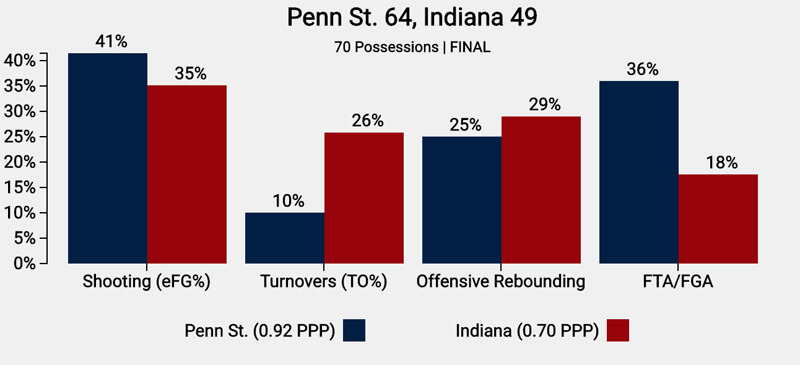 In Bloomington, the script was flipped as Indiana built a 19-point first half lead before Penn State made a run in the second half to claim a six-point lead at the 12:17 mark. The Hoosiers found their footing from there, though, outscoring Penn State 26-12 down the stretch to grab their eighth league win.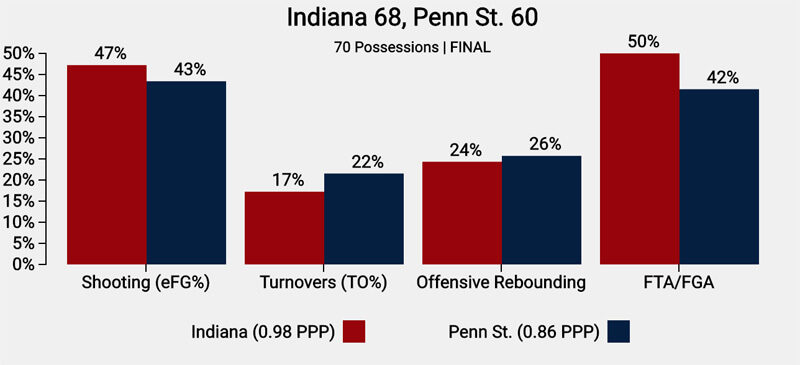 It's important to note that Penn State was without its second leading scorer, Myreon Jones, in the game at Simon Skjodt Assembly Hall. Jones missed six games with an undisclosed illness, but returned on Feb. 29 at Iowa. Jones has scored just 22 points over the team's last three games.
In addition, Mike Watkins, who was suspended for Penn State's regular season finale at Northwestern, is expected to be available tonight for the Nittany Lions at Bankers Life Fieldhouse.
TEMPO-FREE PREVIEW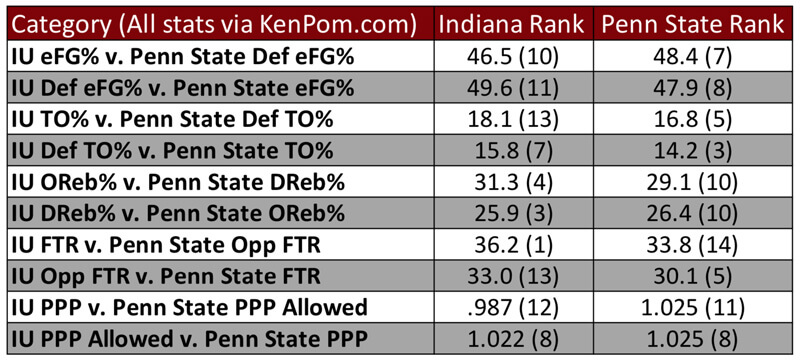 The Nittany Lions earned the No. 6 seed in the Big Ten tournament with a 11-9 record but finished 11th in the conference in efficiency margin.
Both teams foul at an alarmingly high rate with the Hoosiers ranking 13th in the conference in opponent free throw rate and the Nittany Lions ranking last.
In a game with little atmosphere and teams being forced to create their own momentum with their play, it will be interesting to see which team is better prepared to navigate circumstances that will clearly be uncommon for Big Ten basketball.
WHAT IT COMES DOWN TO
The KenPom projection is Penn State by two with a 44 chance of an IU victory. The Sagarin ratings favor Indiana by a point and the Vegas line favors the Nittany Lions by 2.5.
Indiana and Penn State are both expected to make the NCAA tournament, but it is impossible to know where both teams stand from a mental perspective given the unprecedented circumstances today's game will be played under. This is truly uncharted territory for college basketball and Miller's postgame comments on Wednesday only reiterate that fact.
"I think it's an evolving situation, and it's rapid, but it puts it into reality of the seriousness of it," he said. "When world experts start to recommend things, you obviously better listen. Obviously, you cross your fingers that the college basketball landscape can continue on, even if it means there aren't fans."
March Madness is here, but it's not what anyone expected.
Filed to: 2020 Big Ten tournament, Penn State Nittany Lions