The Minute After: Penn State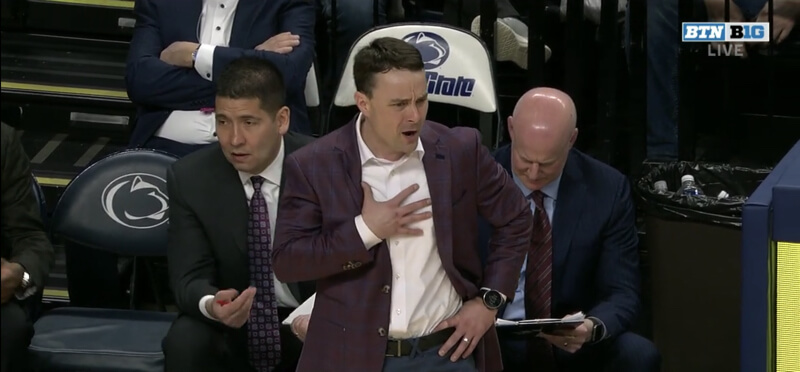 Thoughts on a 64-49 loss to the Nittany Lions:
As January's Big Ten slate comes to a close, one thing appears clear for these Hoosiers: They're horrendous on the road. Sure, it's not easy to win away from home in college basketball, especially in this conference this year. And Indiana did beat Nebraska a week and a half ago in Lincoln.
But Indiana's level of play in its now four conference road losses has been downright pathetic. Indiana trailed Wisconsin by 31. The Hoosiers trailed Maryland by 30. Indiana put up a better fight against Rutgers on Jan. 15 in a nine-point loss, but shot just 4-of-36 on field goal attempts that weren't layups, including a 2-of-19 mark from 3-point range where the team missed its first 15 attempts from deep.
Indiana fared well enough in the first half of this game. It wasn't a pretty 20 minutes of basketball by any stretch, as both teams mustered just .83 points per possession and went into the half tied at 28-all. Indiana's turnovers were a slight concern (18 TO%), but Trayce Jackson-Davis had 10 points on 3-of-5 shooting including 4-of-4 at the line. Penn State, despite getting some Hoosiers in foul trouble, shot just 50 percent from the line (4-of-8). Lamar Stevens needed 10 shots to score eight points. And despite Penn State's success this season, the Bryce Jordan Center wasn't intimidating Indiana.
But as the second half began, Indiana's offense sunk to a new low and that was pretty much that. The Hoosiers scored just 21 points in the second half, four of those coming in the final minute of the contest. They had trouble finding Jackson-Davis (2-of-4, four points). Things were stagnant and Indiana just couldn't get anything going. The Hoosiers shot just two free throws. And Indiana got even sloppier with the ball, as the Hoosiers turned it over on 26 percent of their possession for the contest. Every Indiana player that saw the floor tonight had a least one turnover. Penn State, the league leader in steals, had an insane 15 of them tonight — many turning into easy scores on the other end. The Nittany Lions' 21 points off turnovers accounted for nearly a third (32.8 percent) of their scoring tonight.
The Hoosiers did hold Penn State to just .916 points for the game, but still trailed by as much as 20 later in the second half as they came undone. Worst of all, Indiana seemed to lack focus and effort as the shots stopped falling,
Devonte Green shot 2-of-10. Al Durham was 1-of-7. Rob Phinisee shot 0-of-6. Arrman Franklin and Damezi Anderson went 0-for-3. De'Ron Davis shot 2-for-7. Jerome Hunter didn't play due to illness. And as Alex tweeted shortly after the game, Indiana's .702 points per possession was its worst output on offense since a .698 performance against Michigan State on Feb. 7, 2009. That was Tom Crean's first year as head coach.
"One game can't lead to another," Archie Miller said in his postgame press conference.
He's right. The Hoosiers simply need to re-group after this one, get back at it and not let things spiral. The problem? Saturday's game is on the road at Ohio State. And that means it could be a rough week for a team that isn't getting it done away from Bloomington.
Filed to: Penn State Nittany Lions