Indiana begins Big Ten tournament play in Indianapolis amidst COVID-19 pandemic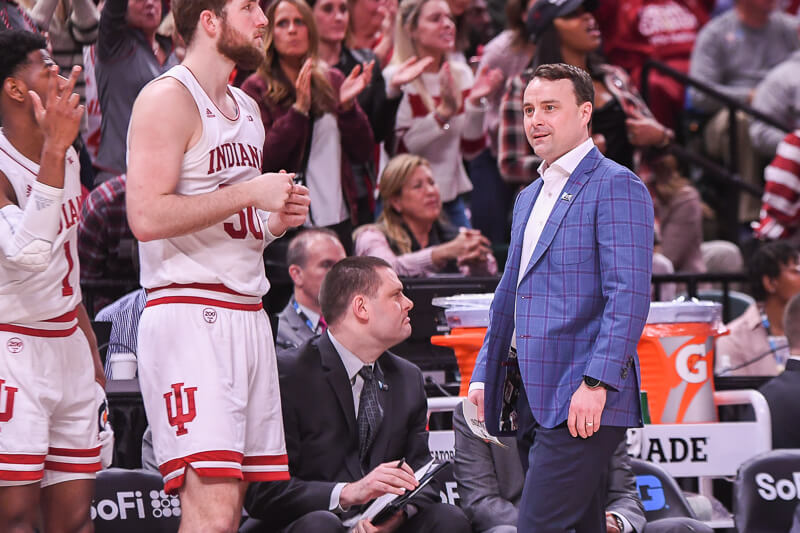 INDIANAPOLIS — Although the situation inside Bankers Life Fieldhouse on Wednesday night was anything but comical, Archie Miller still had a brief moment of laughter.
Maybe it was the change from routine, going from pregame handshakes with opposing coaches and officials to fist bumps, forearms taps and other alternative forms of greeting pregame.
Perhaps the need to thoroughly sanitize his hands before grabbing a whiteboard and dry erase marker reminded Miller of primary school instead of coaching major conference basketball.
But whatever it was it got Archie Miller to laugh, a moment of almost tragic comedy given the backdrop to Indiana's Big Ten tournament opener against Nebraska on Wednesday night.
Miller stood with assistant coach Tom Ostrom and assistant athletic director for basketball administration Bill Comar on the court pregame. Each man had generous drops of hand sanitizer in their palms to apply following their unorthodox pregame greetings with Nebraska's coaching staff.
The severity of the situation was abundantly clear to everyone who made the conscious choice to attend Wednesday's game, which is set to be the final Big Ten sporting event of the spring with fans in the stands.
The worldwide COVID-19 viral disease pandemic has killed thousands, infected hundreds of thousands and has brought the sports world to a grinding halt.
Even before the Big Ten tournament officially opened with Minnesota playing Northwestern in Wednesday evening's first game, significant news had arrived.
The NCAA tournament, should it take place this season, will have no fans in attendance.
The Big Ten reached the same conclusion for its conference tournament hours later, beginning with Thursday's games. The conference went so far as to refund fans the price of their tickets, even the tickets used Wednesday night, to make up for the policy change.
Fans booed anyway when this announcement was read to those inside Bankers Life Fieldhouse on Wednesday.
Then a game was played, one which was impossible to focus entirely on as the events of the outside world continued.
NBA player Rudy Gobert tested positive for COVID-19 on Wednesday night, and within minutes the NBA suspended its season. College basketball conference tournaments saw games postponed and additional measures put in place to limit those watching the games to only essential team personnel, the families of players and credentialed media members.
Reflecting on the evolving situation postgame, Miller was now serious, not mincing words when it came to the preventative measures taken.
"It puts it into reality of the seriousness of it," he said. "When world experts start to recommend things, you obviously better listen. Obviously, you cross your fingers that the college basketball landscape can continue on, even if it means there aren't fans."
But the ending to IU's 89-64 victory highlighted, as much as anything else, the possibility of college basketball being unable to continue this season.
Nebraska coach Fred Hoiberg woke up sick Wednesday morning, but was cleared to coach his team by medical personnel. By the under-four media timeout in the second half he was back in the locker room, unable to finish the game after displaying signs of illness on the Nebraska bench throughout the game.
This turned into an emergency room visit at a local hospital for Hoiberg, as well as an hours-long quarantine for the Cornhuskers inside their locker room at Bankers Life Fieldhouse, before both situations resolved themselves.
Nebraska was finally able to board the team bus back to the hotel, and Hoiberg was discharged from the hospital after being diagnosed with influenza A.
No one from Nebraska made it to the postgame media availability on account of this, and Miller took precautions as well, making the decision to not allow Trayce Jackson-Davis, Al Durham or Armaan Franklin to speak to the media.
"I decided to basically just move those guys as fast as we possibly can to get cleaned up after the game and get to the hotel as fast as possible," Miller said.
Miller also said none of his players are dealing with cold or flu-like illnesses at the moment.
Given the safeguards implemented Wednesday night right after the IU-Nebraska game, including a refusal by Bankers Life Fieldhouse staff to let anyone walk past the Nebraska locker room for fear of spreading a viral disease, it's not a crazy question for Miller to have to answer.
"Probably a lot like you guys, this is uncharted territory, and it's serious," Miller said. "We don't want to do anything to harm anybody."
Rightly or wrongly, it's still early enough in the process and connected enough to the on-court product that Miller feels the need to still comment on the basketball-side of things for Indiana.
Losing the benefit of fans at the Big Ten tournament in Indianapolis, or at a potential NCAA tournament site down the road, is an undoubted blow for the Hoosiers and their strong fanbase.
Furthermore, the idea of coaching with only essential personnel in the building is enough for Miller to admit it would affect his coaching style, at least from a cursing and screaming standpoint.
But it remains trivial to only focus on the COVID-19 pandemic from a win-loss or statistical perspective.
"I think we're all sitting here teetering on worrying about not only the Big Ten tournament in the next 48 hours, but what happens after Sunday," Miller said. "I think that's obviously a little bit nerve-racking for a lot of people right now."
Filed to: 2020 Big Ten tournament, Archie Miller