News and notes from Archie Miller's radio show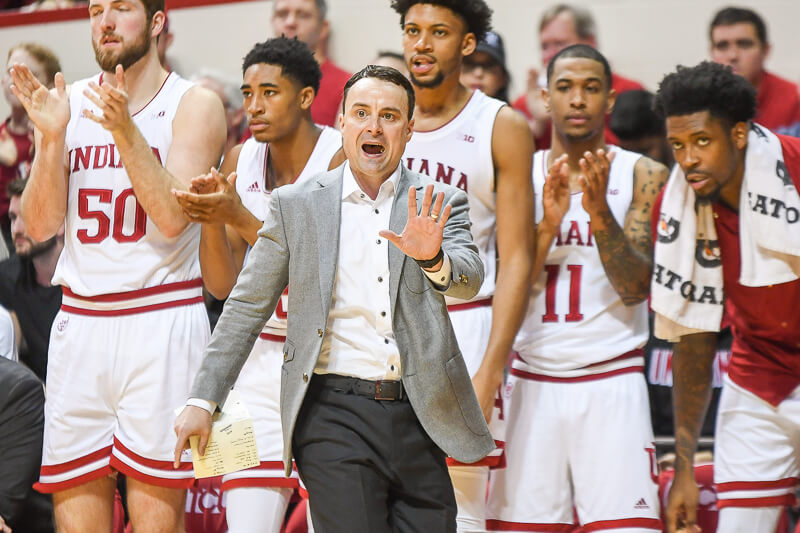 "Inside IU Basketball with Archie Miller" returned Monday night with an upbeat tone to it as Archie Miller and J.D. Campbell, the man who oversees communications for the Indiana men's basketball program, spent a combined hour with host Don Fischer to reflect on the past week in Indiana basketball, which included a pair of important wins at Minnesota and at home against then-No. 9 Penn State.
Here are the highlights from Miller and Campbell's evening with Fischer:
– Miller, somewhat obviously, said it was a good week for his program. He elaborated to say the Hoosiers took the court in Minnesota with a good attitude, and Indiana did well to calm down after Minnesota's hot start, gaining confidence as the game progressed. Miller said it was a great victory for his team at a time when Indiana needed "a shot in the arm."
– Miller said there was a carryover from the Minnesota game to the Penn State game, allowing Indiana to obtain a double-digit lead for most of the first half. But the Hoosiers blew that lead early in the second half, thanks in large part to Nittany Lion Lamar Stevens going 11-27 from the field and scoring 29 points. Miller attributed Stevens' work on ball screens and on dribble-handoffs as reasons for his success on offense.
– Miller cited Jerome Hunter's 3-pointer, which cut Indiana's deficit to three points with 11:45 to go in the game, as the "shot of the game." As he also did in his postgame press conference Sunday, Miller praised Indiana's performance in the final 10 minutes of the game after Hunter hit the 3.
– Fischer brought up the mental resolve of Indiana during its two wins this week, and Miller agreed saying that at this time of the year, it's more of a mental test than a physical one for his players. "It's just about that one opportunity," Miller said of his team's mindset entering the Minnesota game.
– Playing intense defense and taking care of the ball on offense were also talking points for Miller when looking at the Minnesota and Penn State wins. The Hoosiers turned the ball over just 10 times against Minnesota and 12 times against Penn State.
– Trayce Jackson-Davis was named the Big Ten Freshman of the Week on Monday, the fifth time he's received that honor this season. Miller said Jackson-Davis has really fought through the "freshman wall" and that Jackson-Davis' performance against Michigan, the way in which he was a "non-factor" wasn't going to happen again. "If you're not going to post in a game, you're not going to win," Miller said he told Jackson-Davis after the Michigan game.
– Miller said Jackson-Davis' rebounding totals this week (he had 16 against Minnesota and 10 against Penn State) were more indicative than his scoring totals about how locked in Jackson-Davis was during the games. "He's got to be one of the main cogs right now," Miller said of Jackson-Davis.
– Race Thompson was also a recipient of praise from Miller, who said Thompson is playing the best basketball of his collegiate career. Defense, rebounding and scoring are some of the ways Thompson's contributed according to Miller, along with his textbook physicality against Big Ten opponents.
– In the backcourt, Miller took time to appreciate the contributions of Devonte Green, despite his lack of eye-opening scoring numbers this week. Green scored 11 points against Minnesota and 10 points against Penn State, but perhaps more credit should go to Green for his low turnover totals in both games.
– Continuing on this topic, Miller explained turnovers have cost Indiana, in particular on the road, this season, and Green sometimes is the cause of those high turnover totals. Against the Golden Gophers and Nittany Lions, Green combined for just four turnovers.
– "We've come a long way," Miller said when reflecting on his team's evolution this season. As he did following the Penn State win, he also explained that Indiana approaches each game as a boxing match with 10 four-minute rounds. Winning as many rounds as possible, and separating winning or losing a round from the way IU approaches the next round, remains Indiana's goal.
– Looking ahead to this week's matchups against Purdue on Thursday night and Illinois on Sunday afternoon, Miller admitted Indiana's earlier loss to Purdue was likely its most disappointing performance of the season. He also said Mackey Arena remains an extremely tough road environment to play in, while singling out freshman center Kofi Cockburn, junior guard Trent Frazier and sophomore guard Ayo Dosunmu as the key members for the Fighting Illini.
– Miller went into more specifics on Purdue, explaining how the Boilermakers force more turnovers than any other team in the Big Ten during conference play. The offensive rebounding from Purdue, especially at home, was also a concern Miller mentioned ahead of Thursday night's game. "If you can't handle both of them, you're in trouble there," Miller said about Purdue's defensive intensity and offensive rebounding. "We're going to have to bring a little bit of an attitude to the game."
– In addition to the key 3-pointer Hunter hit against Penn State, Miller also discussed the help defense Hunter provides at the other end of the court. This came in response to an audience question about Hunter's ability to protect the rim after Hunter had a massive block against Minnesota. Rob Phinisee's strong on-ball defense throughout last week was also mentioned by Miller.
– In lieu of a player guest, Indiana's Sports Information Director for men's basketball, Campbell, appeared for the final segment. It was his second appearance on the show.
– Fischer asked Campbell how he tries to promote certain aspects of this year's Indiana team, like the high-level play of Jackson-Davis. Campbell said he tries to highlight some of the more interesting and unique aspects of a player's role on the team. For example, the Indiana men's basketball Twitter account sent a Tweet out Monday mentioning that Jackson-Davis leads the Hoosiers in scoring, rebounding, field goal percentage, free-throws made, free-throws attempted and blocks, one of only four freshmen nationally to lead his team in those statistics.
– Campbell also explained how the changing media landscape over the past few decades has altered the way the Indiana men's program is covered. Campbell teaches a class at Indiana on college media relations, and said the immediacy with which news is delivered in the modern 24/7 news cycle is the biggest change from when Campbell started with the Hoosiers more than a decade ago.
Filed to: Archie Miller