Indiana played a dismal second half in State College on Wednesday night. While Indiana had a tough time knocking down shots, it also did itself no favors, turning it over nine times after the break.
Often those live ball turnovers — mostly steals from the Nittany Lions, who had a whopping 15 on the night — turned into quick scores for Penn State, allowing them to cruise to victory as the Hoosiers weren't able to find any stability on the offensive end. Whether in the half court or in transition, Indiana's mistakes were taken advantage of by Penn State.
We'll take a look at four steals into scores for the Nittany Lions in the latest edition of Film Session:
Early in the second half with Indiana down just two, Trayce Jackson-Davis passes from the right corner to Joey Brunk at the top of the key: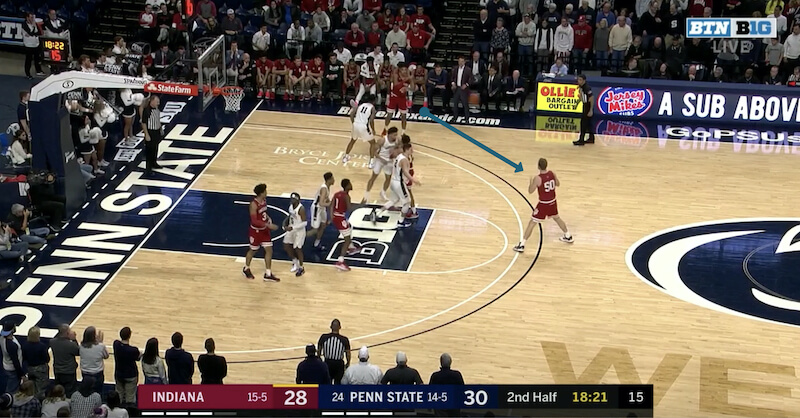 Brunk swings to Justin Smith on the left wing, who has popped out from the left low block. Rob Phinisee sets a bit of a cross screen on Lamar Stevens for Jackson-Davis as he cuts to the developing strong side: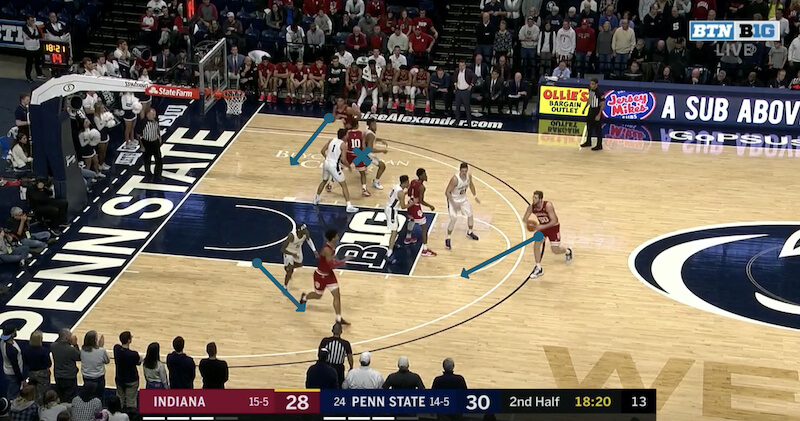 Jackson-Davis calls for the ball as Smith peers in. Stevens wasn't slowed by Phinisee on the screen and actually has a step on Jackson-Davis to the strong side: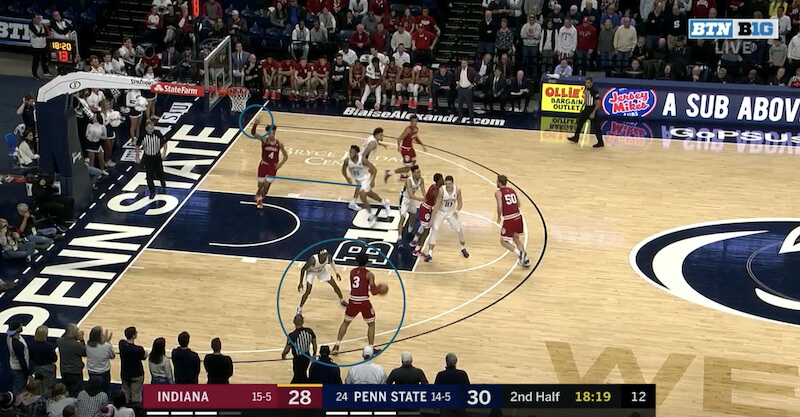 As Smith makes the pass, he doesn't lead Jackson-Davis to the baseline where it's more safe. Instead, the pass comes in a position where Stevens can pounce without fouling: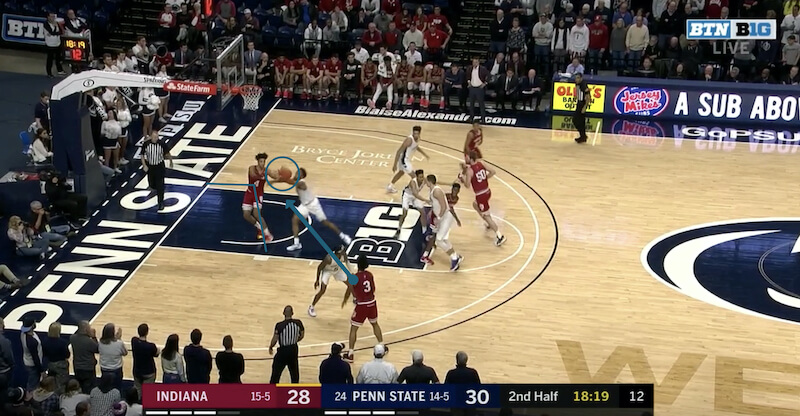 The ball is knocked loose and John Harrar recovers. He outlets to Jamari Wheeler: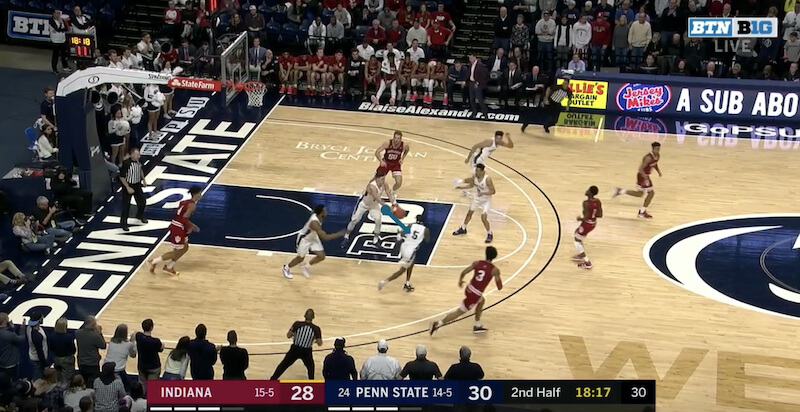 Wheeler comes up the court and the Hoosiers are communicating to start. Al Durham picks up the ball. Justin Smith calls out Seth Lundy coming down the left side: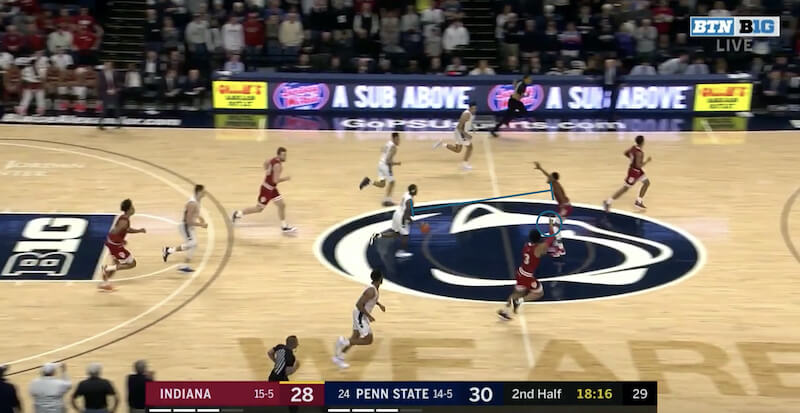 Indiana covers the wings up with Smith and Phinisee, but Penn State still has a 4-on-3. Wheeler passes to Myreon Jones: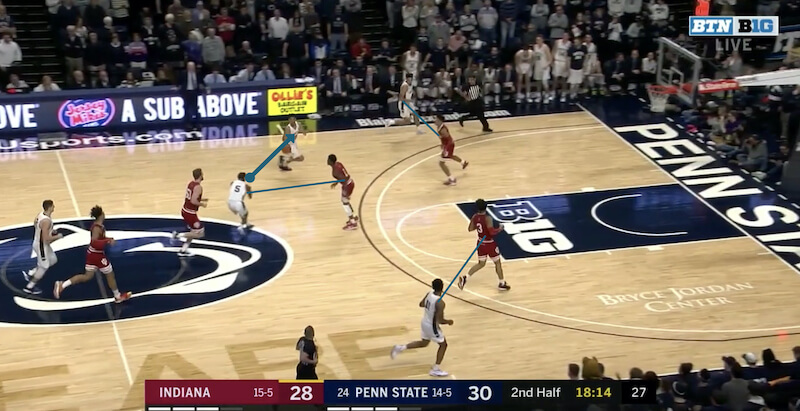 He cuts through. Phinisee rotates over but is unable to stop the ball: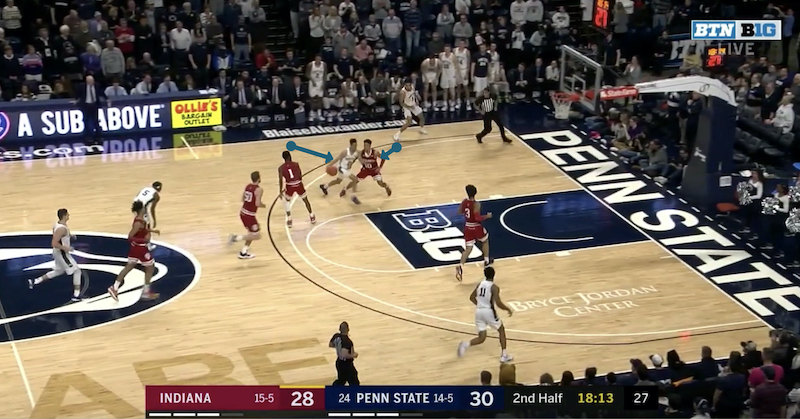 Jones takes it all the way to the hoop. While Smith rotates over on the shot, Jones is able to get it up and over him for the score: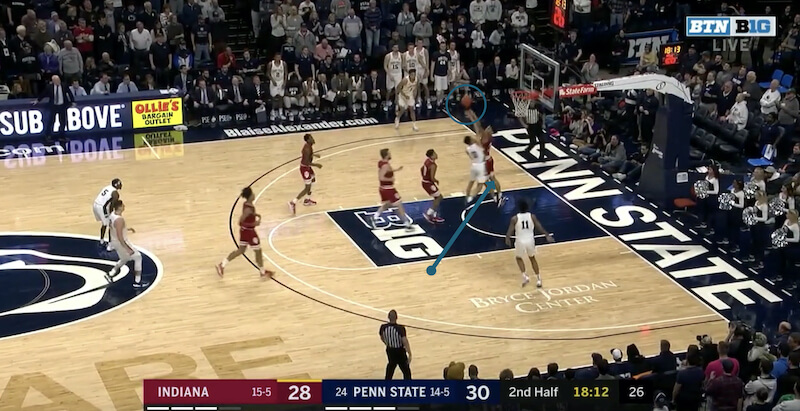 A poor pass and decision from Smith doomed the Hoosiers in this sequence.
Video:
Filed to: Penn State Nittany Lions