6-Banner Sunday: IU carries momentum into Maryland after Michigan State win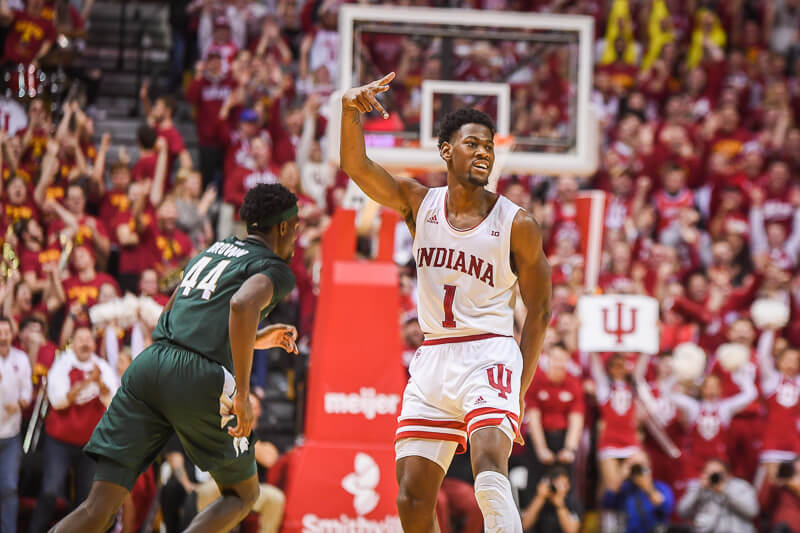 6-Banner Sunday is Inside the Hall's weekly newsletter in partnership with The Assembly Call. More than 7,000 Indiana fans receive the newsletter each week. In addition to appearing each week on the site, you can also opt to receive 6-Banner Sunday by email. A form to subscribe via email is available at the bottom of this week's 6-Banner Sunday.
Welcome to another edition of 6-Banner Sunday, a joint production between The Assembly Call and Inside the Hall where we highlight the five most essential IU basketball stories of the past week, plus take a look at how the other IU sports programs are doing.
Anticipation built after Indiana finally picked up its first road win of the season a little over a week ago at Nebraska. The monkey was off the Hoosiers' back and what came next had campus buzzing all week, especially on Thursday.
Students were lined up well before the game against Michigan State. The crowd brought energy and so did Indiana. This led to a huge 67-63 victory over the No. 11 Spartans.
The win has put new life into the Hoosiers' season. More big games await in the near future. This made for an exciting week in Indiana basketball news.
In this week's edition:
• Indiana's frontcourt flourishes in Michigan State win
• Hoosiers find toughness they were lacking
• Archie Miller excels in late-game situations
• Indiana continues success against ranked opponents at home
• What to expect from Maryland
• Hoosier Sports Roundup
Banner #1
Indiana frontcourt flourishes in Michigan State win
The key to success on Thursday night was the Hoosiers' commitment to feeding the ball in the post and punishing Michigan State in the paint.
Getting the ball inside has always been Indiana's strength, but too often this season the Hoosiers deferred from that and it made their offense struggle. But Thursday, whether the Spartans were double-teaming or not, Indiana was relentless in the post, outscoring Michigan State in points in the paint 34-18.
Inside the Hall writer Cameron Drummond wrote about this dominance after the game, but he also focused on how much the Hoosiers' inside game has evolved since November. Once reliant on just Trayce Jackson-Davis, the frontcourt has now gained more dangerous offensive weapons, most notably Joey Brunk.
Brunk finished with a team-high 14 points and six rebounds. And Race Thompson and De'Ron Davis played valuable minutes in the victory.
Banner #2
Hoosiers find toughness they were lacking
Ryan Phillips, senior writer at The Big Lead who also appeared on this week's edition of Assembly Call Radio (which was also the MSU postgame show since it was Thursday), wrote about the toughness Indiana displayed during the game.
According to Phillips, the toughness Indiana played with against the Spartans was something they were lacking all season. Sure, some could argue certain games like Notre Dame or Northwestern Indiana showed toughness down the stretch, but what Phillips is referring to is consistent toughness throughout the entire game.
He called it the "complete performance coach Archie Miller has been looking for from his team." Although there were still some scoring droughts, it didn't result in a lapse of intensity or focus, which is usually what happens when IU can't score. Miller was happy with his team's performance, especially when things got tough, saying, "I give our guys credit, though. We found a way to gut it out.
If Indiana can continue to play with this type of confidence and toughness, especially in road games, more success should come from it.
Banner #3
Archie Miller excels in late-game situations
Say what you will about Archie Miller, but throughout his time at Indiana, the third year head coach has found ways to win when the game is on the line.
Nothing highlights this better than the piece Assembly Call's Jerod Morris wrote following the Michigan State game. Miller is 5-0 this season in games decided by five points or fewer (or that went to overtime).
Miller's record in close games at Indiana is 18-10, which equates to a winning percentage of 64.3%. One play illustrated this at the end of the Michigan State game.
Indiana led by two with nine seconds left and MSU had the ball. Miller called out "Blue" — which means he wants the Hoosiers to switch everything. Rob Phinisee was matched up against Cassius Winston and the whole game Indiana was hedging on ball screens and not switching. But on this final possession, when Xavier Tillman set the screen, Jackson-Davis switched onto Winston to avoid any threat of giving Winston a split second to get off a 3-pointer to win the game.
The strategy worked out as Jackson-Davis blocked an attempted lob from Winston to Tillman and Indiana won the ball game. In a tough league like the Big Ten, it's promising Miller has shown he has what it takes to coach his team through tight games.
Banner #4
Indiana continues success against ranked opponents at home
Coaches come and go, players fluctuate, and no two editions of the same team are alike. Some things remain though — like the building, the crowd, and the overall atmosphere created in Bloomington when a top-25 team comes to town.
That was never more evident than Thursday night in Assembly Hall, which featured by far the best crowd Indiana has had this season.
"The environment in there is as good as it gets. Our fans right now, when we play a home game, man, it's second to none," Miller said after the game.
Before the MSU game, Cameron Drummond wrote about the success Indiana has had against ranked opponents at home lately. After defeating the Spartans, IU has now won its last five home games against ranked foes.
This dates back to last season when Indiana defeated Wisconsin in double overtime and Michigan State in March. It continued this season with wins over Florida State, Ohio State and now Michigan State.
That streak can expand to six later today when Indiana hosts No. 17 Maryland at 1 p.m.
Banner #5
What to expect from Maryland
Indiana fans are hoping round two versus the Terrapins goes much better than round one.
Maryland and Indiana are both tied for the best overall record in the Big Ten at 15-4 and are also both tied in the conference standings at 5-3 in fourth place with Iowa.
In the first meeting in College Park, Maryland went on a 35-8 run in the second half to take as much as a 30-point lead before winning 75-59. Indiana's defense has improved since then and so has their attitude.
Since losing to Maryland, the Hoosiers have won four of their last five. On this week's edition of Podcast on the Brink, Alex Bozich were joined by Dylan Burkhardt of UM Hoops and the trio spent a lot of time talking about Maryland. This included their shooting and road woes as well as head coach Mark Turgeon.
A win later today could create huge momentum for Indiana before a tough two-game road trip and could change the narrative about Indiana's staying power in this year's Big Ten race.
Banner #6
Hoosier Sports Roundup
This content was contributed by Aaron Shifron.
This week was a watershed moment for a former IU Football great while winter sports had another week of competition with mixed results.
• Football announced the rest of their Coaching Staff. Also, former Hoosier Tevin Coleman and his San Francisco 49ers made the Super Bowl.
• Women's Basketball lost to Maryland but finally got back on track by beating Penn State. Also, Mackenzie Holmes was named Co-Big Ten Freshman of the Week.
• Swimming and Diving dominated rival Purdue.
• Women's Tennis competed at the Winter Invitational and split in Alabama.
• Men's Tennis lost to Texas.
• Wrestling fell to rival Purdue. They also had a Big Ten Wrestler of the Week Honor.
• Track and Field competed back at home at the Gladstein Invitational. They also had a couple Big Ten Athlete of the Week Awards.
• Water Polo lost its season opener and then fell in OT.
Thanks for your continued support for The Assembly Call. We'll be back next weekend with a new roundup.
Now go enjoy yourself a 6-banner Sunday.
Filed to: