What to expect: Maryland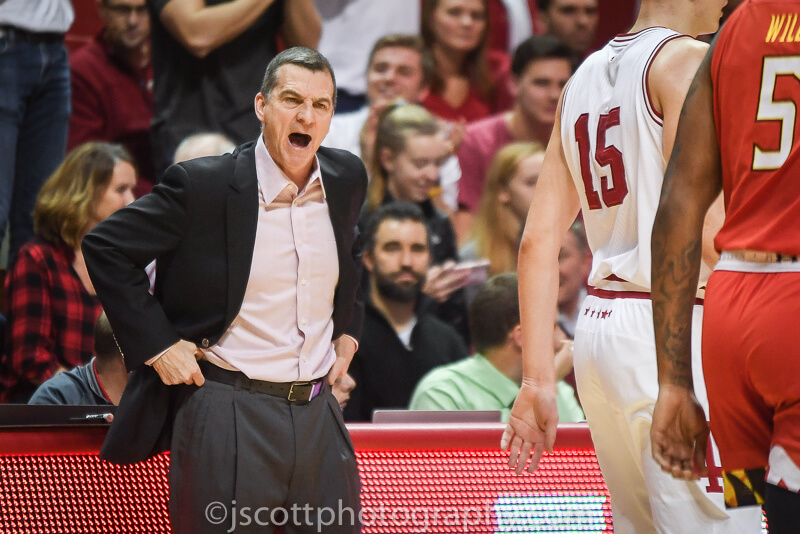 Indiana will look for its third straight win on Sunday afternoon when it hosts No. 17 Maryland at Simon Skjodt Assembly Hall. The Terrapins are 15-4 overall and 5-3 in Big Ten play.
Sunday's game will tip at 1 p.m. ET on CBS with Kevin Harlan and Jim Spanarkel on the call:
Indiana has an another opportunity to solidify its NCAA tournament resume on Sunday afternoon in Bloomington. Thursday's win against Michigan State was Indiana's third quadrant one victory of the season and Maryland is a chance for its fourth.
The Terps survived a road test on Wednesday in Evanston, 77-66, in a game they trailed by 14 at halftime. Maryland is just 1-4 in true road games this season with losses at Penn State, Seton Hall, Iowa and Wisconsin.
In a season where Big Ten teams continue to win home conference games at a ridiculous rate –45 of 56 through Thursday's games – Indiana has a clear path to a .500 or better Big Ten record if it can continue holding serve at Assembly Hall.
THE FIRST MATCHUP
Maryland beat Indiana easily back on Jan. 4 in a game that wasn't as close as the final score indicated.
After a Joey Brunk layup brought Indiana within three at the 14:17 mark of the second half, Maryland ran the Hoosiers right out of the Xfinity Center. Over the next 10-plus minutes, the Terps outscored Indiana 35-8 to open up a 30-point lead.
Indiana made the final score somewhat respectable – 75-59 – but it was the second straight road game where the Hoosiers were not competitive.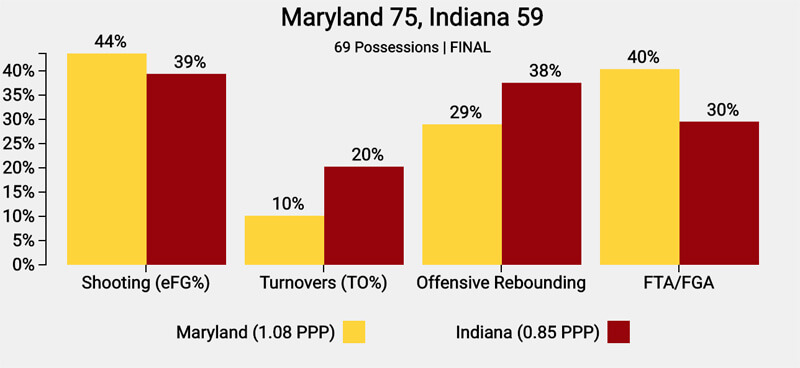 The Hoosiers were dominated in the paint as Maryland scored 34 points there to just 22 for IU. Sophomore Jalen Smith scored a game-high 18 points in just 17 minutes and three other Terps – Anthony Cowan (13 points), Aaron Wiggins (13 points) and Darryl Morsell (12 points) – reached double figures.
Wiggins, who has struggled with his perimeter shooting for most of the season, appears to be finding his range as of late. Over his last three games, the sophomore wing is averaging 14 points and is shooting 47.6 percent on 3s (10-for-21).
As Indiana prepares for the rematch, the Hoosiers have looked like a different team defensively since the loss in College Park. Indiana has held five straight Big Ten foes to under a point per possession and given Maryland's struggles offensively (currently the Big Ten's 13th best offense), it's a clear opportunity to extend that streak to six.
The Terps have one of the league's better duos in Cowan and Smith, but are shooting a dreadful 42.6 percent on 2s in league play. Besides Smith (58.2 percent) and Donta Scott (56.2 percent), no Terp in the current rotation is shooting better than 40.9 percent on 3s in league play.
TEMPO-FREE PREVIEW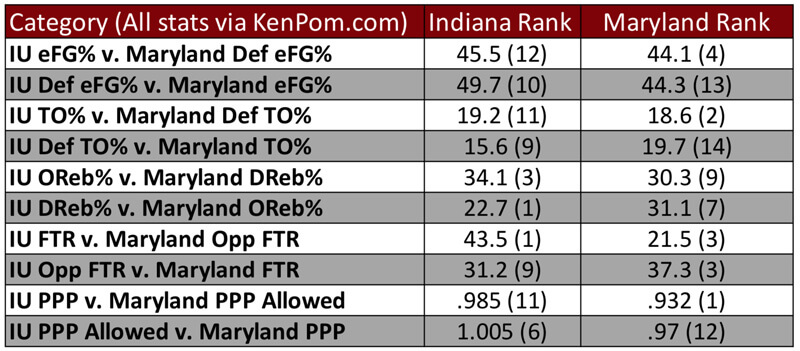 If its defense travels, Maryland will present a significant challenge for Indiana on Sunday afternoon. The Terps are currently the league's best defensive unit and that strength is built on turning opponents over and keeping them off the foul line.
Big Ten opponents are turning it over on 18.6 percent of their possessions against Maryland, the second highest rate in the conference. In Maryland's 75-59 win in College Park, Indiana committed 14 turnovers for a turnover percentage of 20.3. While the Terps aren't as dangerous as Michigan State in transition, this group will turn live ball turnovers into dunks and layups at the other end.
Indiana was able to get to the free throw line at a decent clip in the first meeting, but Maryland got there more frequently and converted at a much more efficient clip. Indiana has continued to play with fire from the line, particularly at home in its last two games. Against Ohio State, the Hoosiers were just 20-for-36 from the line (55.6 percent) and in Thursday's win against Michigan State, Indiana was just 11-for-20 (55 percent).
WHAT IT COMES DOWN TO
The KenPom projection is Indiana by one with a 47 percent chance of an IU victory and the Sagarin numbers have the matchup as a pick 'em when adjusted for home court.
After Thursday's thrilling win that has the Hoosiers poised for a return to the Associated Press top 25 if they can win on Sunday, Assembly Hall should again be rocking on Sunday afternoon.
For Indiana, a lot has changed since the first matchup. Devonte Green (22 minutes, 18 points) and Damezi Anderson (16 minutes, 0 points) are playing less and Armaan Franklin and Jerome Hunter are playing more. A more tightened, defined rotation has helped Indiana to find more continuity and flow in games, particularly in the second half.
Rob Phinisee also appears to be in a much better place despite lingering injury issues that have kept him from playing at 100 percent all season. Phinisee was a virtual non-factor in the first matchup, but has played 24 or more minutes in each of IU's last four games. His presence will be particularly important against Cowan, who is one of the toughest point guard matchups in the conference.
There was plenty of skepticism about the Hoosiers and their 4-3 start in league play, but a pair of wins over Michigan State and Maryland will quickly change the narrative about Indiana's staying power in this year's Big Ten race.
Filed to: Maryland Terrapins