News and notes from Archie Miller's radio show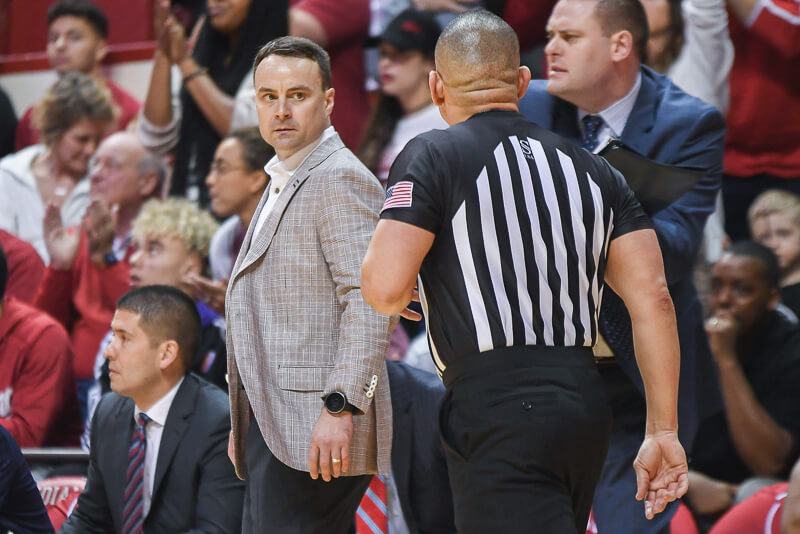 "Inside IU Basketball with Archie Miller" returned Monday night with Archie Miller and junior guard Cooper Bybee spending a combined hour with host Don Fischer to discuss Indiana's recent home wins over Northwestern and Ohio State. The show also touched on how Big Ten games have unfolded so far this season and featured a brief preview of Rutgers, Indiana's next opponent on Wednesday night.
Here are the highlights from Miller and Bybee's evening with Fischer.
– Miller described Indiana's two wins this past week as coming in different fashions, something important in a loaded Big Ten Conference. Miller conceded that Indiana's "edge" wasn't "as sharp as it needed to be" against Northwestern and that the Hoosiers were lucky to beat the Wildcats.
– But Miller also made it a point to say that coming from behind to beat Northwestern helped Indiana defeat Ohio State on Saturday, a game in which all 10 players who saw time on the court contributed to defeating the No. 11 team in the country.
– Fischer mentioned that at the IU basketball alumni reunion following the Ohio State game, several former players and staff members mentioned the energy Indiana played with in Saturday's win. Miller said this energy and effort is something he wishes he could bottle up as a coach, but that on Saturday everyone was tuned in and locked in toward the mission of winning the basketball game. "We played with great energy and toughness," Miller said.
– Fischer brought up the nearly 10-minute field goal scoring drought Indiana endured toward the end of the first half Saturday, but Miller said the defensive intensity never waned for Indiana during this stretch. "We were playing so hard defensively I thought we didn't know we weren't scoring," he said.
– Miller also mentioned that the scoring drought was a bit misleading since Indiana made it to the foul line multiple times during this period (making six free throws), but the Indiana coach also stressed the importance of making foul shots when they come. "We've got to go to the line and treat it as our secret weapon," Miller said of Indiana's free-throw shooting.
– In terms of standout players, for the Northwestern game Miller praised Al Durham for his attitude and leadership when it came to the closing minutes of the win. He also credited Joey Brunk, among others, for his strong effort on the glass, but Miller reminded listeners the comeback effort started with Indiana's guards and Durham in particular.
– When Fischer pressed Miller about the low-scoring nature of Big Ten games to this point, Miller jokingly said that no matter who the Indiana coach is for the next 700 years, they will have to change their style of play from nonconference to conference play. Miller went on to explain the "slugfests" that occur in Big Ten play, especially given the physical nature of play in the post.
– "If you can shoot the ball on the road, you're a dynamic team," Miller said when continuing to speak about the low-scoring Big Ten games. This statement can be applied both to Indiana's past poor road showings at Wisconsin and Maryland, and it also can be viewed as a necessary element to Indiana's upcoming road games at Rutgers and Nebraska.
– Miller on Trayce Jackson-Davis: "They threw a body at him every time on Saturday." Miller also said Jackson-Davis responded well to being double-teamed against Ohio State by making the proper reads and passing out of those situations. "That's what a great player does," Miller said. "He's learning…he played a really hard-fought game on Saturday…he's as happy as anyone to win."
– Miller on Rutgers, Indiana's next opponent: "They're a really good team…the RAC is a tough place to play, they're a hard-playing, tough team, always have been. At home they'll beat anybody in the country on a given night."
– Miller also said Indiana will continue to use some full-court defense against Rutgers, although a full-court press shouldn't be expected against the Scarlet Knights. He explained that this could help create transition offense for the Hoosiers.
– "It's a movement, no more ties," Miller said of the slight wardrobe change he debuted Saturday afternoon, when he didn't wear his trademark red tie and instead just wore a patterned sport coat with a dress shirt against Ohio State.
– When asked about how many wins it would take, or how many losses could be suffered, by the eventual Big Ten regular season champion, Miller said winning at least 14 games should put a team in the hunt for the regular season title. He mentioned the tough gauntlet of games teams will have to endure at different moments in their seasons.
– Miller confirmed that Joey Brunk currently has possession of the Gold Jersey as Indiana's best player in practice. "The one thing about Joey, he's never outworked," Miller said.
– When asked about the biggest change that has occurred between his time as an assistant at Ohio State and his return to the Big Ten as head coach at Indiana, Miller cited the depth of the conference. Miller said there were three tiers of the conference when he started coaching in it, and that the bottom tier of teams weren't consistently winning, but that's changed now.
– Miller's segment came to an end with picks for who would win Monday night's college football national championship game between Clemson and Louisiana State. Miller went with Clemson, while Fischer picked LSU. Miller was wrong as LSU won 42-25.
– When asked about the response he's received from folks in his hometown of Ellettsville since joining the Indiana men's basketball team as a walk-on, Bybee said that his father, George, hears about it everyday at the family-run Bybee Stone Company. "It's a blessing for sure," the younger Bybee said.
– Bybee also recounted his steps to Indiana, going from Edgewood High School (where he had three head coaches) to Olney Central College in Olney, Illinois. Bybee also said he was surprised by the level of basketball he encountered at Olney Central, a junior college.
– Bybee said he grew up as an Indiana fan, going to Hoosier Hysteria and attending games, even making road trips to watch Indiana play at Illinois in Champaign.
– When asked for his closest friend on the team, Bybee immediately brought up Joey Brunk, who he said shares a similar sense of humor and also golfs with Bybee at Cascades Golf Course in Bloomington (Brunk narrowly won the last match).
– Bybee's major is business management through the O'Neill School of Public and Environmental Affairs at Indiana, a school he was recently accepted into and a school that his sister and brother-in-law both went through.
Filed to: Archie Miller