News and notes from Archie Miller's radio show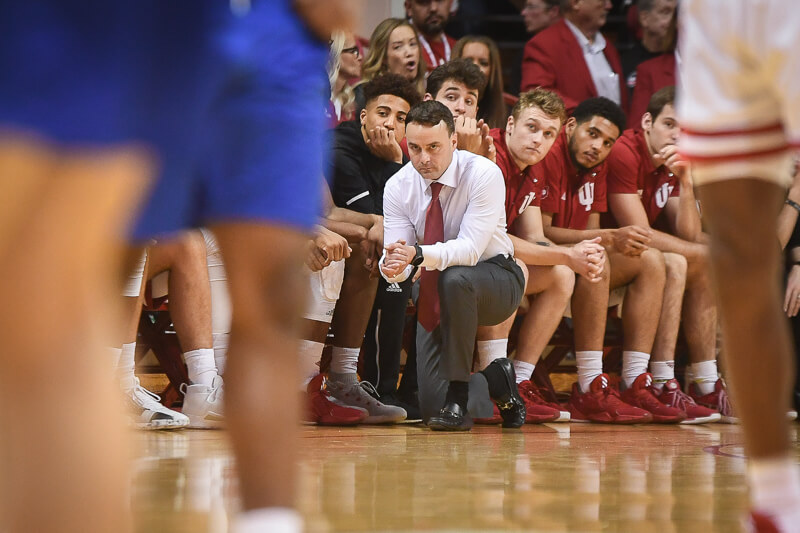 "Inside IU Basketball with Archie Miller" returned Monday night after a week off, with Archie Miller and redshirt freshman forward Jerome Hunter spending a combined hour with host Don Fischer to discuss Indiana's 7-0 start to the season, as well as the test that awaits Indiana on Tuesday night against Florida State in the Big Ten-ACC Challenge.
Here are the highlights from Miller and Hunter's evening with Fischer.
– Miller began by explaining his disappointment with recent offensive performances by Indiana, after the Hoosiers turned the ball over a combined 37 times against Louisiana Tech and South Dakota State. "You're trying to play through different waves of people," he said. "In the last three halves we haven't taken care of the ball."
– Miller went on to say that turning the ball over would be "a setup for disaster" against a Florida State team that enters Tuesday night's game against Indiana as the No. 17-ranked team in Monday's Associated Press poll. "I think a lot of it is focus, a lot of it is detail-oriented," Miller explained.
– Looking at the Hoosier backcourt, Miller said there have been "too many silly plays feeding the post" made by Al Durham and Devonte Green, along with too many charges and illegal screens on offense that have killed Indiana possessions before a shot could be taken.
– No conversation about the Indiana backcourt is complete without mentioning Rob Phinisee, who still doesn't have a timetable for his return from a myriad of early-season injuries that include a blow to the head and an abdominal problem. Miller called Phinisee "the best on-ball defender and the most physical defender" on the Indiana team, but failed to specify Phinisee's injury woes any more. "He hasn't practiced a ton, so we're used to playing with what we have," Miller said.
– Returning to Durham, Miller said he'll play more as a primary point guard with Phinisee out, and also with the intended goal of moving Green off the ball to free up scoring opportunities for Green. Something Miller wants Durham to do is slow down with the ball more, and learn when to "choke your motor." While Durham had a lackluster scoring effort last weekend against South Dakota State (2-7 shooting for five points), Miller called the effort Durham's best defensive game of the season.
– Looking at freshman Armaan Franklin, Miller explained his recent struggles by saying freshmen who play regularly around the country always quickly realize that not every game is the same. Praise for Franklin came with discussion of his assist totals, as Franklin leads the Hoosiers with 21 assists. "I think Armaan is continuing to learn how to do the little things," Miller said.
– When finishing up his reflection on the wins against Louisiana Tech and South Dakota State, Miller stressed the difference in styles between the two teams. He referenced the Bulldogs' up-tempo offensive style using their athletes, while the Jackrabbits play a "smash mouth" style in which they forced certain Indiana players to take shots since they were left open. "Two different styles of game to play, which was good," Miller said, before later adding that the defensive effort against South Dakota State was Indiana's best of the season.
– Trayce Jackson-Davis was honored for the second time in the young season Monday with the Big Ten Freshman of the Week award after recording a double-double in both of last week's games. "He's gotten off to a really good start rebounding," Miller said. "He can really impact the game on both ends for us."
– Going further on Jackson-Davis' rebounding prowess, Miller mentioned how Jackson-Davis only had one rebound in 19 minutes of play during Indiana's closed-door scrimmage against Marquette. Now Jackson-Davis has adjusted to the initial parts of collegiate play, but is still adapting to things like operating offensively against post defense, learning ball screen coverages and guarding the perimeter, things he didn't do much experience with from his time at Center Grove High School. "It's the details, it's the work ethic, it's the smarts that comes with it," Miller said.
– When asked about Indiana's halfcourt offense, Miller said that scoring the ball for the Hoosiers starts with defense, and then taking advantage with smart play in transition. Miller wants whoever is handling the ball to move it up the court quickly, and more so this season than in prior years, Miller has let his team play more motion offense with off-ball movements, rather than calling out set plays. Asked for something to improve on, Miller quickly pointed to feeding frontcourt players in the post. "Post feeding is a huge deal with our current team," he said.
– Taking a specific look at Florida State, Miller isolated senior guard Trent Forrest and three wing players — freshman Patrick Williams, sophomore Devin Vassell and junior M.J. Walker — as players of concern for Indiana. Miller said the Seminoles are "not a one-trick pony" in terms of scoring the ball, and that they have tremendous size at all positions (two of Florida State's three centers are taller than seven feet). Asked for a key against the Seminoles, Miller said taking advantage of one of IU's biggest strengths, offensive rebounding, will be important.
– A listener question for Miller inquired about what Trey Galloway will bring to the Hoosiers next season, and the Indiana head coach listed a slew of compliments for the Culver Academies senior. Miller called Galloway "deceptively very athletic" and a good perimeter guard who could play at the one, two or three spots. Miller also said Galloway will become a fan favorite in Bloomington because of his effort and the amount of times he's likely to dive on the floor for loose balls.
– Another audience question posed to Miller focused on the early-season schedule for the Hoosiers, something Miller said is "difficult" to put together due to a 20-game Big Ten regular season as well as contractual events for the Hoosiers like the Big Ten-ACC Challenge and the Crossroads Classic. Despite the low ranking Indiana's nonconference schedule has to this point, Miller said he thinks it "will come out pretty good" when assessed at the end of the season, thanks in part to games against Florida State, Connecticut, Notre Dame and Arkansas.
– This is part of the reason so much has been invested by Miller, his players and the IU fan base into the outcome of Tuesday's game, as Florida State represents the first ranked team the Hoosiers have played this season. "This is an environment game…a set the tone game," Miller said "We're going to have to answer the bell."
– Player guest Jerome Hunter was asked by Fischer about his return to the court this season, and Hunter continued his theme of just being thankful for being able to return to the court. "It's real tough…sitting out just made me love it (basketball) even more and just fall in love with the game even more," Hunter said. "I've been waiting all year for it so, it was a great feeling (to return)."
– Hunter has had some up and down scoring performances as he continues to adjust to the college game. A career-high of 12 points against North Alabama in early November has been followed by four straight games of four points or less for the redshirt freshman. "I'm just trying to get back to how I was…just taking it game by game," Hunter said. "It's hard right now, but I'm starting to get the hang of it and figure things out more and more."
Filed to: Archie Miller, Jerome Hunter