How does Indiana's non-conference schedule shape up in Archie Miller's third season?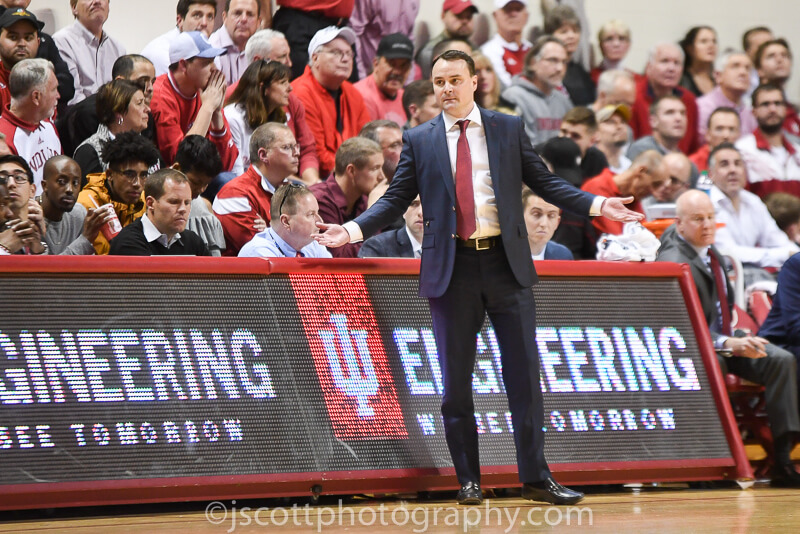 Indiana's non-conference schedule is designed differently for coach Archie Miller's third season compared to his previous two.
The Hoosiers won't play much over the winter holiday break, nor will they stray from Bloomington much over the course of their 11 non-conference games this season.
Only one of them is outside the state of Indiana, and only two will be played outside of the friendly confines of Simon Skjodt Assembly Hall.
Indiana will start the season with eight straight non-conference home games, before Big Ten play begins with a trip to Wisconsin on Dec. 7. Sandwiched in between that game against the Badgers and a home Big Ten game against Nebraska is a neutral-site non-conference game against UConn in the Jimmy V Classic at New York's Madison Square Garden on Dec. 10.
The non-conference slate finishes with the Crossroads Classic in Indianapolis against Notre Dame on Dec. 21 and with a home game against Arkansas on Dec. 29.
"I think starting with Florida State, finishing the end of the month with Arkansas, mixing in two Big Ten games, we're really going to be on the hustle, so to speak, from December on," Miller said in October at Big Ten Media Day.
That sense of December urgency Miller alludes to likely comes because of how weak the front part of Indiana's non-conference schedule is.
For the first time since 2014, Indiana will just play home games in November.
In Lindy's College Basketball Preview Magazine, the seven non-conference teams set to come to Assembly Hall in November have an average predicted finish of 6.7 in their respective league standings.
This varies from schools like Princeton (Ivy League) and Louisiana Tech (Conference USA) who have an outside chance to capture a regular season league title, to a complete rebuilding project at Troy (Sun Belt) and a perennially bad program in Western Illinois (Summit League).
Matt Norlander, a senior writer for CBS Sports, created a preseason formula using KenPom to rank non-conference strength of schedule for college basketball teams ahead of the 2019-20 season.
Norlander did this for all the teams in the major seven conferences (American, ACC, Big 12, Big East, Big Ten, Pac-12 and SEC), along with select teams from less prestigious leagues like Gonzaga (West Coast) and Utah State (Mountain West).
The formula took into account things like non-conference games against highly-ranked KemPom teams, road non-conference games (Indiana has none) and neutral-site non-conference games (Indiana has two).
The end result wasn't kind on Indiana.
Of the 92 teams analyzed, Indiana checked in at 85th with the seventh-worst non-conference schedule.
Contributing factors to this included Indiana's lack of road games as well as a lack of quality opponents — the Hoosiers will play just one team in non-conference play (Florida State) which made the NCAA tournament last season and five teams currently ranked 200th or worse in KenPom.
Only six teams in Norlander's ranking failed to schedule a road non-conference game, with Indiana joined by Washington, Texas A&M, South Florida, St. John's and Virginia Tech (which was determined to have the easiest non-conference schedule).
All of this points to an overarching theme for Indiana in the early part of non-conference play — Miller's team can't afford to lose.
"This year's non-conference, although maybe mapped out a little differently (compared to last year's), I suspect will come into the same realm," Miller said in October. "If we do our part, that's a non-conference schedule that not only puts you in the tournament, but gets you a seed."
The back end of Indiana's non-conference schedule features brand-name schools. December brings games against Florida State, UConn, Notre Dame and Arkansas, all from distinguished college basketball conferences and with past success to speak of.
But even that is misleading.
Aside from Florida State, those other three schools are predicted to finish seventh (Connecticut), 11th (Notre Dame) and 11th (Arkansas) in their conferences by Lindy's, with none of them harboring NCAA tournament expectations to start the season.
Miller noted during Big Ten media day that with the league's expansion to a 20-game regular season schedule and some of the contract events Indiana is a part of (home-and-home with Arkansas, Crossroads Classic, etc.) it feels like December is always loaded with high-major games for the Hoosiers to play.
This season that's a good thing because of how poor the non-conference opponents are to start the schedule, but it's also not helpful that those designated December high-major games are against mediocre teams.
Last season's non-conference schedule was boosted by the inclusion of Duke (on the road), Marquette and Louisville, and the year before's also featured the Blue Devils, along with Seton Hall (on the road), Louisville (on the road) and a much-better Notre Dame team in Indianapolis.
The non-conference schedule was a strength for Miller's group last season, and frankly the 2017-18 season began poorly enough to where Indiana's opponents and where the games were played didn't really affect a potential postseason berth.
Miller singled out Princeton, with their distinct playing style, and Louisiana Tech, which has won at least 20 games in six of the last seven seasons, as quality non-conference games on Indiana's schedule.
Having non-conference games against predominantly bad teams can be a good thing, especially for teams still lacking consistent on-court cohesion.
Indiana falls into this category, so if nothing else November gives Miller seven opportunities to tinker with his lineup and adjust the roles of his players accordingly.
Increasingly, it can also be viewed as a time for the Hoosiers to cash-in on what should be straightforward wins while nursing players like Devonte Green, Al Durham and Rob Phinisee back to full health.
All this falls apart with losses though. Even just one in the early part of the season could leave a lasting mark.
This places power in the hands of Miller and his players to get it right during non-conference play, whether that entails changing lineups or providing rest, but dependent on winning games.
"I think the schedule overall will line up right where we want it," Miller said.
Filed to: 2019-2020 schedule, 2019-2020 season preview