2019-20 Preseason Bracketology: 1-4 Seeds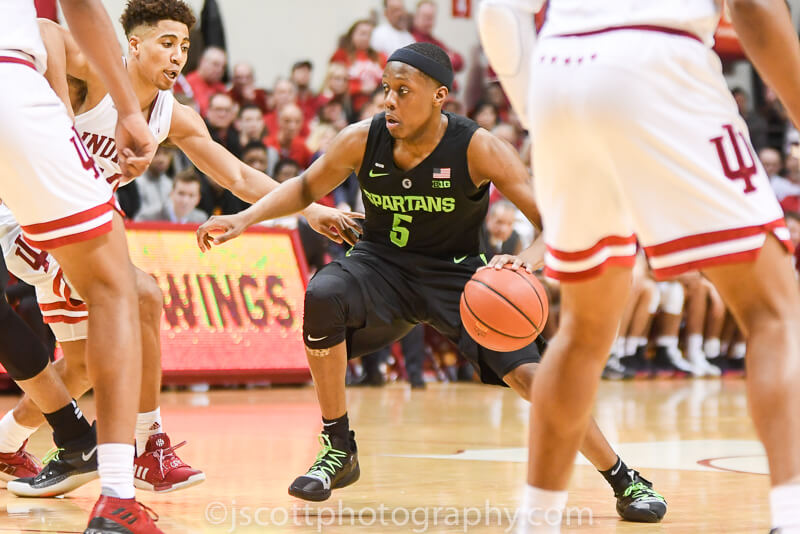 Here are the final sixteen teams in my preseason field. The ACC leads the way with four teams on the protected seed lines, while the Big Ten and Big 12 have three teams a piece. Tomorrow I'll put together the bracket and share a few quick thoughts on the teams that just missed the cut.
(Previously: 13-16 Seeds, 9-12 Seeds, and 5-8 Seeds)
4 Seeds
Villanova – Despite going just 3-5 in their final eight Big East games, the Wildcats still won the regular season championship before following that up with a conference tournament title. Gone are Phil Booth and Eric Paschall, who were the team's top two scorers a season ago, but the Wildcats do have a solid nucleus featuring four guys who played at least 20 minutes per game. Collin Gillespie (10.9 ppg, 2.8 apg, 37.9 3PT%) will be asked to take on additional responsibility with Booth gone from the backcourt. The other guard spot will likely be manned by a freshman, but the question is who. Bryan Antoine is the top-rated recruit, but he's still rehabbing from offsesason shoulder surgery, leaving his status in doubt. Justin Moore is the other freshman in the backcourt mix, while wing Jermaine Samuels (6.4 ppg, 5.4 rpg) made over 62 percent of his 2-pointers last year and posted solid rebounding percentages on both ends of the floor. In the frontcourt, sophomore Saddiq Bey (8.2 ppg, 5.1 rpg) is a breakout candidate, while Dhamir Cosby-Roundtree (5.1 ppg, 5.8 rpg) is back in a complementary role. Freshman Jeremiah Robinson-Earl was named a McDonald's All-American and acquitted himself well on the FIBA U-19 World Cup team, so it would be a surprise if he's not in the starting lineup to begin his college career. Fellow freshman Eric Dixon and sophomore Cole Swider give Wright even more depth on the frontline. Big East titles have become commonplace for Villanova, who has ranked in the top 25 in adjusted offensive efficiency for six straight seasons. The Wildcats had a similar streak of defensive performances snapped last season when they fell to 81st. With fewer proven offensive weapons on the roster, Wright will need the defense to improve in order to stave off a number of tough competitors in what should be a balanced Big East.
Baylor – Despite a couple questionable non-conference losses and a mid-season injury to one of their top players in Tristan Clark, the Bears managed to finish 10-8 in a tough Big 12 and advanced to the second round of the NCAA tournament. Scott Drew must replace three of his top five scorers following the suspension and subsequent departure of Mario Kegler, but Baylor still projects to be a deep team that can finish near the top of the league. Clark is back after averaging 14.6 points, 6.3 rebounds, and 2.4 blocks in his 14 games of action last season, all while making an absurd 75.5 percent of his 2-point attempts. Sophomore point guard Jared Butler (10.2 ppg, 2.7 apg) found himself in the starting lineup following Clark's injury, and his play over the second half of the season was critical for the Bears. Despite being listed at 6-foot-5, Mark Vital (7.2 ppg, 7.2 rpg) led the team in rebounding and proved to be a monster on the offensive glass, ranking 16th nationally in offensive rebounding percentage. Four other returnees logged at least 10 minutes per game last season, including Devonte Bandoo (8.4 ppg, 39.5 3PT%) and Freddie Gillespie (5.3 ppg, 4.4 rpg). A pair of transfers figure prominently into this year's rotation, led by former UNC-Asheville guard MaCio Teague, who scored 16.7 points per game and shot over 42 percent from long range in the Big South in 2017-18. Auburn transfer Davion Mitchell also sat out last season and will provide additional backcourt depth. Baylor finished second in the nation in offensive rebounding percentage last year, and given the roster, they project to excel on the glass again this season. Drew hopes his squad can improve defensively after finishing seventh in defensive efficiency in league play and putting opponents on the line far too often. Kansas looks to be in a tier of its own in the Big 12, but Baylor will be firmly in the mix to finish near the top of the conference.
Oregon – There will be plenty of new faces in Eugene this season, as the Ducks return just two of their top nine scorers. Guard Payton Pritchard (12.9 ppg, 3.9 rpg, 4.6 apg, 1.8 spg) keyed a late season stretch that saw Oregon rip off 10 straight victories before falling to eventual national champion Virginia in the Sweet Sixteen. Will Richardson (6.0 ppg, 2.5 apg) and Francis Okoro (3.1 ppg, 3.2 rpg) are the other returnees of note, with the latter a potential starter at center to begin the season since freshman big man N'Faly Dante isn't expected to be eligible until mid-season. Two transfers from the Mountain West are expected to assume starting roles. Former New Mexico guard Anthony Mathis (14.4 ppg, 41.6 3PT%) is a fantastic shooter and played with Pritchard in high school, while forward Shakur Juiston (10.8 ppg, 8.8 rpg) joins the Ducks after averaging a double-double for UNLV in 2017-18 but missing a chunk of last season due to a knee injury. Chris Duarte was named the NJCAA player of the year a season ago after scoring 19 points per game and knocking down 40 percent of his 3-pointers at Northwest Florida State. He'll provide coach Dana Altman with another knockdown shooter, while freshman C.J. Walker projects as an explosive athlete on the wing. Oregon was named the preseason favorite to win the Pac-12, but with so many new faces, it may take a bit for Altman to get the Ducks firing on all cylinders.
Memphis – Penny Hardaway led the Tigers to 22 victories in his first season at the helm, but the expectations are dramatically higher in season two given the collection of incoming recruits who comprise the nation's top-rated class. Just three rotation players return, with guard Tyler Harris (10.8 ppg) the only one to score more than six points per game. The other two, forward Isaiah Maurice (5.6 ppg, 3.1 rpg) and guard Alex Lomax (5.1 ppg), will continue to play reserve roles given the influx of talent. The headliner is James Wiseman, the consensus top recruit in the country who stands over seven feet tall and boasts a versatile set of skills. Forwards D.J. Jeffries and Precious Achiuwa will both have the chance to carve our prominent roles in the frontcourt. In the backcourt, point guard Boogie Ellis backed out of a commitment to Duke to join the Tigers, where he projects to start as a freshman. Fellow first-year player Lester Quinones provides Penny with a solid long-range shooter that can provide instant offense off the bench. Louisville transfer Lance Thomas and a handful of other freshmen will present Hardaway with the challenge of finding minutes and shots for everyone. With so many new faces, it's difficult to know just how well all the pieces will fit together, but Memphis certainly won't lack for talent. The Tigers should be the front-runner in the AAC, but the range of outcomes here is pretty wide overall.
3 Seeds
Texas Tech – Following an early February loss at Kansas, the Red Raiders sat at 5-4 in Big 12 play. They proceeded to rip off nine straight wins and then rebounded from a quarterfinal loss in the Big 12 tournament to make a run to the NCAA title game. Coach Chris Beard utilized an eight-man rotation over the bulk of the season, but just two of those players return so a projected seed this high is based almost solely on Beard's track record. The top returnee is guard Davide Moretti (11.5 ppg, 2.4 apg), an accomplished shooter who hit nearly 46 percent from long range, 55.5 percent inside the arc, and over 92 percent from the line. He'll be asked to play more with the ball in his hands this year as a playmaker. Fellow guard Kyler Edwards (5.5 ppg) is also back after shooting 44.9 percent from 3-point range and coming up big in the national championship game with 12 points off the bench. A pair of transfers will factor prominently in the starting lineup and provide experience for a team with so many new faces. Forward T.J Holyfield (12.9 ppg, 6.4 rpg in 2017-18) takes a big step up in competition after a solid career at Stephen F. Austin, and he's also coming back from an injury that forced him to miss all of last season. Virginia Tech transfer Chris Clarke (8.2 ppg, 6.3 rpg, 3.0 apg) joins the team after being suspended all of last season, so like Holyfield, there will be some rust to shake off. Outside of those four players, the rotation will be filled out by freshmen and redshirt freshmen. Guard Jahmi'us Ramsey is one of the highest rated recruits in school history and blew up for 44 points during one of the team's exhibition games in the Bahamas over the summer. The other true freshmen likely to see action are point guard Clarence Nadolny, wing Terrence Shannon, Jr., and athletic forward Tyreek Smith. A pair of redshirts, guard Kevin McCullar and big man Andrei Savrasov, will have a have a chance to earn minutes as well after spending last spring with the program. Defense has been Beard's calling card, and it will need to be once again while the offense integrates so many new pieces. A repeat Big 12 title seems unlikely, but I still like the Red Raiders to slot into the second tier in the league with Baylor.
Maryland – The Terps lose just one player from a season ago, although that one player, Bruno Fernando, is a big loss both literally and figuratively. Even so, a slew of talented guards and wings and the somewhat surprising return of sophomore Jalen Smith provides coach Mark Turgeon with a strong nucleus. Senior point guard Anthony Cowan (15.6 ppg, 3.7 rpg, 4.4 apg) led the team in points and assists but made just 33.7 percent of his 208 3-pointers. Smith (11.7 ppg, 6.8 rpg) has all the physical tools to be a force in the league and racked up 34 points in Maryland's two NCAA tournament games last season. Junior Darryl Morsell (8.5 ppg) is a versatile defender on the wing, while sophomores Eric Ayala (8.6 ppg, 2.1 apg, 40.6 3PT%) and Aaron Wiggins (8.3 ppg, 41.3 3PT%) can both help space the floor thanks to their ability to shoot from long range. Fellow sophomores Serrel Smith, Jr. and Ricky Lindo, Jr. both averaged double-digit minutes last season and will return to the rotation. Of the newcomers, four-star big man Makhi Mitchell appears most likely to earn minutes early on, while his twin brother, Makhel, and wing Donta Scott will be brought along more slowly as reserves. Maryland has ranked in the top 50 in adjusted offensive efficiency in each of the past four seasons, and the pieces are there to continue that trend. The Terps ranked 21st in defensive efficiency last season, which marked the highest ranking in Turgeon's tenure in College Park, and it will be interesting to see just how much that falls off without Fernando. Michigan State is in a tier of its own in the league, but Maryland falls firmly be in that next tier.
Ohio State – Following a 12-1 start, the Buckeyes were up and down in Big Ten play, finishing 8-12 in the league but still earning a berth in the NCAA tournament, where they knocked off Iowa State in the first round. Overall, they ranked 25th in adjusted defensive efficiency, but the offense took a step back, finishing 84th nationally and just 13th in Big Ten games. Coach Chris Holtmann must replace a pair of guards this season, but the focal point of the offense will once again be big man Kaleb Wesson (14.6 ppg, 6.9 rpg), who made 54.9 percent of his 2-pointers, posted strong offensive and defensive rebounding percentages, drew fouls at a high rate, and even showed some ability to step out and make threes. His brother, Andre, is one of the other top returnees after averaging 8.6 points and 4.1 rebounds as a junior. Sophomores Luther Muhammad (7.6 ppg) and Duane Washington, Jr. (7.0 ppg) gained valuable experience as freshmen but struggled to offensive ratings under 100. Forward Kyle Young (6.0 ppg, 4.4 rpg) made 70 percent of his 2-pointers and rebounded well in a reserve role, while fellow junior Musa Jallow (2.9 ppg) saw his minutes fluctuate but did start the final four games of the season, including the NCAA tournament game against Iowa State where he scored 11 points. The backcourt losses will be offset by the addition of Florida State transfer C.J. Walker (8.0 ppg in 2017-18) and highly-touted freshman D.J. Carton. Walker started for the Seminoles as a sophomore and was able to practice with the Buckeyes while sitting out last season, while Carton has a good chance to be given the keys to the offense immediately. Forward E.J. Liddell is the other freshman likely to earn playing time early on as a complement to Kaleb Wesson on the frontline. Like Maryland, Ohio State is unlikely to best Sparty for the Big Ten title, but Holtmann's squad shapes up to be one of the best teams in the league.
Virginia – The defending National Champs must replace four of the eight rotation players from last year's squad, including the trio of Kyle Guy, De'Andre Hunter, and Ty Jerome, who combined to score nearly 45 points per game. Forward Mamadi Diakite (7.4 ppg, 4.4 rpg, 1.7 bpg) made 57.1 percent of his 2-pointers and ranked in the top 25 in block rate, and he played some of his best basketball during UVA's tournament run. He'll be joined up front by junior Jay Huff (4.4 ppg, 2.1 rpg), who played well in stretches of ACC play last year but will need to take a big step forward this season. Like Huff, Braxton Key (5.7 ppg, 5.3 rpg) will be counted upon in a larger role after serving as a complementary piece last year. In the backcourt, Kihei Clark (4.5 ppg, 2.6 apg) is the only returnee of note. His calling card is harassing perimeter defense, but he did a solid job when called upon last season and knocked down a few big shots against Oregon in the Sweet Sixteen. The final starting spot will likely fall to freshman Casey Morsell, but junior college sharpshooter Tomas Woldetensae will see plenty of time at the two-guard spot after shooting nearly 48 percent from long range last season. Sophomore Kody Stattmann, redshirt freshman Francisco Caffaro, and true freshman Kadin Shedrick will compete for reserve roles on a team with plenty of depth-related question marks. The Cavaliers have ranked in the top 25 in adjusted defensive efficiency in each of the last eight seasons, including six straight finishes of seventh or better, so we know what Tony Bennett's club will hang its hat on. The offense will certainly take a step back though, which will likely keep UVA from besting Duke, Louisville, and North Carolina in the ACC. That said, you'd be hard-pressed to bet against Bennett given his track record.
2 Seeds
Gonzaga – Like Virginia, Gonzaga will look quite a bit different this season after massive personnel losses, including each of its top four scorers. In fact, just three players return who played meaningful minutes last season. Corey Kispert (8.0 ppg, 4.1 rpg) is the top returning scorer after shooting the ball well from both 2-point (57.3 percent) and 3-point range (37.4 percent). Forward Killian Tillie (6.2 ppg, 3.9 rpg) can also step out and make shots, but his availability for the beginning of the season is in question after knee surgery. The injury bug caused Tillie to miss around half of last season, and a successful season for the Zags hinges largely on a breakout season from him. The other returnee of note is big man Filip Petrusev (6.5 ppg, 2.7 rpg), who performed well over the summer in the FIBA U-19 World Cup. Teammate Joel Ayayi played well for France in the same tournament and will certainly improve upon his 1.7 points per game from a season ago. The backcourt will be manned by a pair of transfers, as Ryan Woolridge (11.7 ppg, 5.9 rpg, 4.8 apg, 1.9 spg) and Admon Gilder (12.3 ppb, 4.1 rpg in 2017-18) join the team from North Texas and Texas A&M, respectively. Six true freshmen also join the roster, although guard Brock Ravet recently took a leave of absence from the team, leaving his status up in the air. Four of the other freshmen are listed at 6-foot-8 or taller, so bench size certainly won't be an issue. Drew Timme, who chose the Zags over a number of high-major programs, and Anton Watson are the newcomers most likely to earn minutes early on. Few programs can match Gonzaga's consistency, as the Bulldogs have won at least 28 games for the last seven seasons. Tillie's health is a big factor for Mark Few's squad, but I trust Few to effectively integrate the newcomers, which should leave Gonzaga atop the WCC once again and in contention for a high seed in the big dance.
North Carolina – The top five scorers are gone for the Heels, who tied Virginia atop the ACC last season. Roy Williams added a pair of grad transfers and a few talented freshmen, and if those pieces can integrate well with a slew of role players, UNC can compete at the top of the league once again. Garrison Brooks (7.9 ppg, 5.6 rpg) is the lone starter returning after a season that saw him post an impressive 122.4 offensive rating thanks to 57 percent 2-point shooting and solid work on the glass. Sterling Manley (3.5 ppg) is also back up front after appearing in just 18 games due to a lingering knee issue. Guard Brandon Robinson (3.4 ppg) knocked down 46 percent from long-range as a junior, while wing Leaky Black (2.5 ppg) is in line for an expanded role as a sophomore. Like many of his colleagues, Williams went the grad transfer route to bolster the offense. Guard Christian Keeling scored nearly 19 points per game at Charleston Southern, while forward Justin Pierce averaged 14.9 points, 8.9 boards, and 4.1 assists for William & Mary. Both will need to prove they can continue to produce against tougher competition. The task of replacing Coby White at the point will fall to stud freshman Cole Anthony, who will get the keys to the offense from day one. He's a dynamic scorer and playmaker who averaged a triple-double as a high school senior. Fellow freshman Armando Bacot will factor into the frontcourt rotation and gives Williams another big body that can pound the glass. Last season, the Tar Heels ranked in the top 15 in both adjusted offensive and defensive efficiency, and despite the personnel losses, a repeat of that performance is possible given the addition of Anthony to the backcourt and the glut of size and length defensively.
Louisville – Chris Mack exceeded expectations in his first year at the helm, and the Cardinals are poised to take another big leap in year two. Junior Jordan Nwora (17.0 ppg, 7.6 rpg) is an All-American candidate following a breakout sophomore season where he established himself as a key contributor on both ends of the floor. Four other players return who scored at least 7.2 points per game last season, led by a trio of frontcourt players. Senior Dwayne Sutton (10.0 ppg, 6.9 rpg) can do a little bit of everything and even played center for a while in the team's exhibition game against Bellarmine. That opportunity came thanks to injuries to Steven Enoch (9.4 ppg, 5.2 rpg) and Malik Williams (7.7 ppg, 6.1 rpg). Neither player is expected to miss significant time, and both proved to be solid rebounders and shot-blockers while manning the post last season, even combining to knock down 42 3-pointers. In the backcourt, Mack returns Ryan McMahon (7.2 ppg), who does virtually all of his damage from long range, and Darius Perry (5.4 ppg), who will get a crack at the starting point guard job. Saint Joseph's transfer Lamarr "Fresh" Kimble (15.6 ppg, 2.8 apg) gives Mack another option at the point if he can adjust quickly enough to the Louisville system. A deep recruiting class will provide an additional influx of talent. McDonald's All-American Samuell Williamson seems the one most likely to contribute right away on the wing or potentially as the starting two-guard. Local product David Johnson underwent offseason shoulder surgery, but once he returns, he should carve out a reserve role in the backcourt. Of the incoming bigs, Aidan Igiehon is most likely to garner rotation minutes. Louisville fans are hopeful that the early injuries are just a blip on the radar, because at full strength, you can certainly make a case for the Cardinals to earn a one seed come March.
Florida – The Gators needed a strong showing in the SEC tournament to solidify a tournament bid last season, and while the defensive ranked 16th in adjusted efficiency, the offense struggled due to a low free throw rate and poor shooting. Much of the late season surge for Florida was spurred by freshmen, which bodes well for the upcoming season. Point guard Andrew Nembhard (8.0 ppg, 5.4 apg) played over 80 percent of the team's minutes and ranked in the top 50 in assist rate. Fellow guard Noah Locke (9.4 ppg) knocked down 37.9 percent from long range, while wing Keyontae Johnson (8.1 ppg, 6.4 rpg) also showed some ability to hit from beyond the arc but stood out more for his work on the glass. A pair of newcomers with varied levels of experience will likely join that trio of sophomores in the starting lineup. Big man Kerry Blackshear, Jr. (14.9 ppg, 7.5 rpg) was one of the most sought-after grad transfers when he decided to leave Virginia Tech, and his talent as both a scorer and a passer will help make his teammates better. Wing Scottie Lewis is one of two McDonald's All-Americans in the incoming class, and his mix of athleticism and tenacity will serve him well in Gainesville. The other is guard Tre Mann, a local product who can play both backcourt spots. There are plenty of options for the reserve frontcourt roles with returnees Dontay Bassett and Gorjak Gak in the mix along with freshmen Omar Payne and Jason Jitoboh. While Mike White has solid depth on the roster, it's worth noting that every key player is a freshman or a sophomore with the exception of Blackshear, who is also new to the program. There may be some growing pains early on, but I expect the Gators to be neck-and-neck with Kentucky atop the SEC.
1 Seeds
Duke – Once again, Coach K will be swapping out one group of one-and-done players for another set of highly-rated recruits. Gone are Zion Williamson, R.J. Barrett, and Cam Reddish, leaving only point guard Tre Jones (9.4 ppg, 5.3 apg, 1.9 spg) from last season's freshman class. Jones is back to run the show once again after posting an impressive 24.0 assist rate while rarely turning the ball over, but his outside shooting has to improve for a team that ranked 327th in 3-point shooting last year. A quartet of newcomers will likely join Jones in the starting lineup. Big man Vernon Carey, Jr. is the highest rated of the bunch, and his versatility will allow him to create mismatches and score both inside and out. Stretch four Matthew Hurt should immediately be one of the team's best shooters, while fellow McDonald's All-American Wendell Moore will make his presence felt on the defensive end. Guard Cassius Stanley is the other freshman in this year's class, and his elite athleticism will allow him to be a factor on both ends of the floor. A few role players return for Duke, but none of them scored more than five points per game a season ago. Alex O'Connell (4.4 ppg) made 30 3-pointers and will provide backcourt depth, while Jack White (4.1 ppg, 4.7 rpg) will look to regain the shooting form he showed at the beginning of the season. The final returnee of note is senior Javin DeLaurier (3.8 ppg, 4.4 rpg), who made over 75 percent of his 2-point attempts while serving primarily as a rebounder and shot-blocker. Duke's offense has ranked in the top 10 in adjusted efficiency for 11 straight seasons, and the defense has also reached that mark in the past two. Talent is never going to be a question for the Blue Devils, so it's really just a matter of how quickly all the new pieces can fit together. It should be a terrific battle atop the ACC with Duke, Louisville, North Carolina, and Virginia fighting it out.
Kentucky – Like Duke, Kentucky is once again reloading with a talented recruiting class, but also like the Blue Devils, the Wildcats have a bit more experience than we've become accustomed to seeing. Point guard Ashton Hagans (7.7 ppg, 4.3 apg, 1.6 spg) led the team in assists as a freshman and proved to be a disruptive defensive force, too. Immanuel Quickley (5.2 ppg) returns in the backcourt as well, while forwards Nick Richards (4.0 ppg, 3.3 rpg) and E.J. Montgomery (3.8 ppg, 4.1 rpg) will assume expanded roles in the frontcourt after posting gaudy offensive rebounding rates in 2018-19. As for the freshmen, guard Tyrese Maxey and small forward Kahlil Whitney are the most likely to carve out starting roles early in the season. Maxey is an offensive weapon who can score from anywhere on the floor, while Whitney will be able to use his athleticism to impact the game defensively and in transition. Fellow freshmen Johnny Juzang and Keion Brooks, Jr. will also factor into the rotation, with Juzang known for his long-range shooting and Brooks a 6-foot-7 forward who can do a little bit of everything. John Calipari also dipped back into the grad transfer market, adding Bucknell forward Nate Sestina, who averaged 15.8 points and 8.5 rebounds last season while also knocking down 38 percent from long range. The Wildcats ranked eighth in adjusted defensive efficiency last season and should be elite on that end of the floor again with Hagans setting the tone. Offensively, they have excelled at getting to the line and grabbing offensive boards over the last two years, and this year's team seems well-equipped to continue those trends. The race between Kentucky and Florida atop the SEC should be fantastic.
Kansas – The Jayhawks' streak of Big 12 titles finally came to an end last season, but this year's squad seems poised to start a new one. Big man Udoka Azubuike (13.4 ppg, 6.8 rpg, 1.6 bpg) logged just nine games last year before a wrist injury ended his junior campaign. He's an absolute monster in the post and on the glass whose defensive presence can alter games, and Bill Self just needs him to stay healthy. Point guard Devon Dotson (12.3 ppg, 3.5 apg) led the team in assists as a true freshman and tallied at least 13 points in each of the last six games. Ochai Agbaji (8.5 ppg, 4.6 rpg) burned his redshirt midseason and had some big games in league play before seeing his production dip down the stretch. The other returnees of note are guard Marcus Garrett (7.3 ppg, 4.2 rpg) and big man David McCormack (3.9 ppg), both of whom played well in spurts last season with Garrett establishing himself as an elite defender. Forward Silvio De Sousa returns after a season-long suspension, and it sounds like Self intends to play plenty of two-big lineups featuring De Sousa and Azubuike. Iowa grad transfer Isaiah Moss (9.2 ppg) will prove to be a key acquisition given his ability to connect from beyond the arc. Four other true freshman will be in the mix for playing time, including a trio of small forwards in Christian Braun, Tristan Enaruna, and former Michigan commit Jalen Wilson. Given his track record at Kansas, there have not been many chances to "bounce back" for Bill Self, but this year's squad has the star power and depth to move right back into the national championship conversation.
Michigan State – The Spartans are the top-ranked team in nearly every preseason projection, and after watching them sweep the regular season and tournament titles in the Big 10 and subsequently making the Final Four last year, it seems foolish to bet against them. They boast the nation's top point guard in senior Cassius Winston (18.8 ppg, 7.5 apg, 39.8 3PT%), who posted a 120.0 offensive rating last year thanks in part to an absurd 44.8 assist rate. Backcourt mate Joshua Langford (15.0 ppg, 40.3 3PT%) played in just 13 games last season, but a foot injury has him sidelined again already. Big man Xavier Tillman (10.0 ppg, 7.3 rpg, 1.7 bpg) posted an offensive rating even better than Winston's thanks to impressive rebounding rates and 64.5 percent shooting inside the arc. Most of the other returnees are on the wing, as Aaron Henry (6.1 ppg, 3.8 rpg, 38.5 3PT%), Kyle Ahrens (4.7 ppg), and Gabe Brown (2.3 ppg) are all listed at 6-foot-6 or 6-foot-7. Henry and Brown saved some of their best moments for the NCAA tournament, with Henry exploding for 20 points and Brown tallying 15 in a Sweet Sixteen victory over KSU. This year's top-rated recruit is guard Mark "Rocket" Watts, who will likely see expanded duty with Langford sidelined. The reserve frontcourt spots will be filled by some combination of sophomores Thomas Kithier and Marcus Bingham and freshmen Malik Hall and Julius Marble. Outside of the early injury to Langford, there simply aren't many question marks for the Spartans who boast one of the game's top coaches, a stud point guard, and an experienced nucleus.
Follow Andy on Twitter (@andybottoms) for more thoughts on college hoops and to receive an update whenever new brackets are posted.
Filed to: