2019-20 Preseason Bracketology: 9-12 Seeds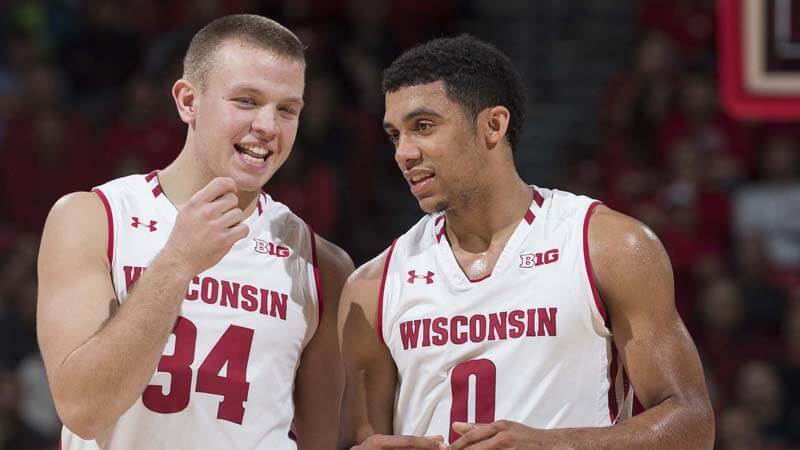 Yesterday we hit the 13-16 seeds, and today we'll hit the top teams from single-bid leagues as well as the squads I project as the final at-large teams to make the field.
12 Seeds
Western Kentucky – The Hilltoppers are locked in as the C-USA favorite thanks to a solid mix of returning production and an influx of new faces that should be able to contribute right away. Big man Charles Bassey (14.5 ppg, 10.0 rpg, 2.4 bpg) pulled his name out of the NBA draft and is one of four double-digit scorers returning along with Taveion Hollingsworth (14.4 ppg), Jared Savage (12.2 ppg), and Josh Anderson (12.1 ppg). Coach Rick Stansbury also adds transfers Carson Williams and Camron Justice, each of whom were double-digit scorers at Northern Kentucky and IUPUI, respectively. The main question is at point guard, where the Hilltoppers are waiting for the NCAA to rule on a waiver for Lipscomb transfer Kenny Cooper. Freshman Jordan Rawls, who reclassified from the 2020 class, is a four-star recruit and will factor into the mix at the point as well. If Stansbury can get all the talent on the roster to mesh, Western Kentucky could run away with the league.
East Tennessee State – With Wofford, UNC Greensboro, and Furman all set to take a step back after a historically strong season in the SoCon, ETSU is the heavy favorite to win the league. The Buccaneers return three double-digit scorers and six players who scored at least 8.8 points per game in 2018-19. ETSU's top player is Jeromy Rodriguez, who averaged a double-double with 11.2 points and 10.9 boards as a junior and helped the team to top 20 marks in both offensive and defensive rebounding percentage. As if that wasn't enough, they also added grad transfer Joe Hugley, who averaged over 12 points for Central Connecticut State. The pieces are certainly there to win the SoCon and potentially make some noise come March in the NCAA tournament.
Harvard – Despite being ravaged with injuries a year ago, the Crimson managed to share the Ivy League regular season crown but came up short in the conference tournament. Those injuries did allow a number of players to get experience, leaving Tommy Amaker with a loaded roster heading into this season. Five players return who scored at least eight points per game last year, headlined by Bryce Aiken (22.2 ppg) and emerging sophomore Noah Kirkwood (11.1 ppg, 4.4 rpg). The Crimson also get Seth Towns back, who averaged 16.0 points and 5.7 boards in 2017-18 before missing last season with a knee injury. Penn appears to be the next team in the Ivy pecking order, but if Harvard can stave off the injury bug, it's hard to pick against them to win the league.
New Mexico State – Coach Chris Jans returns a deep and experienced team that is once again a heavy favorite to win the WAC. The Aggies boast seven returnees who scored at least 4.6 points per game last season, and that depth will come in handy early with a number of players already banged up, including point guard A.J. Harris (9.5 ppg, 3.3 apg). New Mexico State also adds East Carolina transfer Shawn Williams, who averaged over 12 points and knocked down nearly 36 percent of his 3-point attempts. The Aggies ripped off 19 straight wins to close out last season before losing a heartbreaker to Auburn in the first round of the NCAA tournament, and the pieces are there to post another gaudy win total while earning another trip to the Big Dance.
11 Seeds
Oklahoma State (First Four) – After kicking three players off the team mid-season, the Cowboys had one of the thinnest rosters in all of college basketball, ranking among the nation's lowest in bench minutes. With such a thin roster, Oklahoma State struggled to a 5-13 mark in the Big 12, but five key rotation players return for coach Mike Boynton. The senior trio of Cameron McGriff (12.3 ppg, 7.4 rpg), Lindy Waters III (12.2 ppg), and Thomas Dziagwa (11.7 ppg) will lead the way for the Pokes, who finished in the top 50 in 3-point shooting thanks in large part to Waters and Dziagwa both knocking down at least 42 percent of their triples. Sophomore Isaac Likekele (8.7 ppg, 4.8 rpg, 3.9 apg) led the team in assists as a freshman, and the team also adds UMass grad transfer Jonathan Laurent, who provides Boynton with another knock-down shooter. A six-man freshman class will provide a level of depth that was missing last season, which hopefully will translate into much-improved performance on the defensive end. Ultimately I felt the Big 12 would get seven teams in the field, and I gave the Cowboys the nod over Oklahoma and West Virginia.
Wisconsin (First Four) – Similar to my comment above about the Big 12, seven teams seems like a reasonable expectation for the Big Ten. The Badgers will open the season without Ethan Happ for what feels like the first time in eight years, but even without their offensive and defensive centerpiece, there are some interesting pieces for Greg Gard to work with. That all starts in the backcourt with D'Mitrik Trice and Brad Davison, both of whom scored in double figures a season ago. The departure of Happ also opens up more minutes for breakout candidate Nate Reuvers (7.9 ppg, 3.9 rpg, 1.9 big), whose ability to step out and knock down 3-pointers will allow the Badgers to space the floor. Ohio State transfer Micah Potter will provide additional size inside once he becomes eligible mid-season, but the real key will be whether or not Kobe King and/or Aleem Ford can turn into consistent contributors. Gard's defensive track record is solid, with the Badgers finishing in the top 15 in adjusted defensive efficiency in three of his four seasons, but we're about to find out how much of that is the scheme vs. Happ. I'm leaning toward the former, and if I'm right, I like Wisconsin's chances to be firmly in the at-large mix come March.
Dayton (First Four) – I'm not sure how realistic a three-bid Atlantic-10 really is, but the Flyers have some interesting pieces and the league projects to be improved. The headliner is sophomore Obi Toppin (14.4 ppg, 5.6 rpg), who finished last season in the nation's top 10 in both effective field goal percentage and true shooting percentage en route to a gaudy 120.9 offensive rating. Dayton returns two other double-digit scorers in Jalen Crutcher (13.2 ppg, 4.0 rpg, 5.7 apg) and Ryan Mikesell (10.1 ppg, 5.3 rpg), while transfers Rodney Chatman (Chattanooga), Ibi Watson (Michigan), and Jordy Tshimanga (Nebraska) are all eligible after sitting out last season. Chatman scored over 13 points per game for the Mocs and is poised to slide into a starting role for a deep Dayton squad. It's certainly not outside the realm of possibility that the Flyers challenge VCU and Davidson for the A-10 Title.
Ole Miss (First Four) – Very little was expected from the Rebels last season, but Kermit Davis racked up 20 wins in his first season at the helm. Ole Miss struggled down the stretch and was bounced in the first round of the NCAA tournament, but it was arguably one of the most impressive coaching jobs in the nation. The Rebels lost a few key pieces from last season's team, most notably Terrence Davis, but the strength of the team will be the returning guard duo of Breein Tyree (17.9 ppg) and Devontae Shuler (10.3 ppg, 3.0 apg). Sophomore forwards Blake Hinson (8.3 ppg) and KJ Buffen (6.0 ppg, 4.4 rpg) are the only other players who logged meaningful minutes last season, but Davis reeled in a solid recruiting class to bolster the roster. A pair of transfers from Daytona State Junior College, Khadim Sy and Bryce Williams, will slide into the rotation immediately, and freshman Austin Crowley is the other newcomer most likely to earn significant playing time. After watching Davis work his magic in year one, he's worth betting on in the SEC this season where the Rebels will be battling it out in a crowded and competitive middle tier.
Washington – The Huskies return just one player who scored over 2.8 points per game last season and lost each of its top four scorers, but coach Mike Hopkins reeled in a terrific recruiting class, headlined by big man Isaiah Stewart and forward Jaden McDaniels, both of whom ranked in the top 10 in the 247Sports Composite. Naz Carter is the top returnee at 8.1 points per game, although sophomore Jamal Bey played well on the team's exhibition trip to Italy over the summer. One of the big questions for Washington is the point guard spot. Kentucky transfer Quade Green recently received word that his waiver was granted, so he's likely to get first crack at the job. Overall, the roster turnover makes it difficult to project the Huskies much higher than third or fourth in the Pac-12, but a finish there would be good enough to make it back to the NCAA tournament.
Davidson – Virtually everyone is back from a team that won 24 games a season ago, led by Kellan Grady (17.3 ppg, 4.5 rpg) and Jon Axel Gudmundsson (16.9 ppg, 7.3 rpg, 4.8 apg), the reigning A-10 Player of the Year. The Wildcats finished second in offensive efficiency in league play, and it's reasonable to expect improvement given the relative youth of last year's squad. Head coach and offensive guru Bob McKillop will have two other double-digit scorers at his disposal in Luka Brajkovic (11.1 ppg, 6.0 rpg) and Luke Frampton (10.3 ppg), who took nearly 89 percent of his field goal attempts from beyond the arc. As I mentioned with Dayton, an improved A-10 is hopefully the rising tide that lifts all boats, which would leave a Davidson team expected to finish near the top of the league firmly in the at-large conversation.
10 Seeds
Alabama – Nate Oats takes over for Avery Johnson in Tuscaloosa, and I'm intrigued to see what Oats can do with a stable of talented guards at his disposal. Kira Lewis, Jr. (13.5 ppg, 2.9 apg) led the team in points and assists last season when he should have been a senior in high school, and Oats managed to talk Lewis out of transferring once the coaching change took place. The other key returnees are juniors John Petty (10.2 ppg), who is a streaky long-range shooter, and Herbert Jones (6.4 ppg). Villanova transfer Jahvon Quinerly is still appealing to the NCAA to get a waiver to be eligible immediately, but West Virgina transfer James "Beetle" Bolden (12.2 ppg) is eligible and expected to slide into the starting lineup. Depth was already a concern for the Crimson Tide, and two recent knee injuries certainly won't quell those fears. The front court is the other big question mark following the graduation of Donta Hall, which means Oats desperately needs to get production out of the combination of Alex Reese and Galin Smith, who combined to average 10.1 points and 4.7 boards last year. The range of outcomes feels relatively wide for Alabama, but I'm banking on Oats parlaying his backcourt talent into a solid season in the SEC.
Cincinnati – The John Brannen era is off to a rocky start from an injury perspective for the Bearcats. Star guard Jarron Cumberland (18.8 ppg, 4.4 rpg, 3.6 apg) is dealing with a recurring foot injury, but if healthy, expect him to challenge for conference player of the year honors. His cousin, Jaevin Cumberland, transferred from Oakland after scoring over 17 points per game a season ago. The other notable returnees are junior Keith Williams (9.9 ppg) and senior Tre Scott (9.3 ppg, 6.9 rpg). Transfer guard Chris McNeal has called a number of colleges home over the course of his career, but he provides Brannen with an option at the point after scoring 9.5 points and dishing out 2.7 assists per game at New Mexico in 2017-18. It will be an interesting year in the Queen City as the Bearcats transition to Brannen's system, and even if they can shake off the early season injury bug, it feels like they are a rung below Memphis and Houston in the AAC.
Providence – The Friars got off to a 10-3 start last year, but they went just 8-13 over the remainder of the season to break a streak of five straight NCAA tournament appearances. Six of the top seven scorers from that club are back, led by do-it-all forward Alpha Diallo (16.0 ppg, 8.1 rpg, 3.1 apg, 1.6 spg). Fellow forward Nate Watson (11.7 ppg, 8.2 rpg) will team with Diallo once again to provide coach Ed Cooley with a solid frontline. In the backcourt, sophomore A.J. Reeves (9.8 ppg) knocked down over 38 percent from long range and is the team's best shooter, while fellow soph David Duke (7.1 ppg) projects as a double-digit scorer. Poor point guard play led to many of last season's struggles, and Cooley is hopeful that UMass transfer Luwane Pipkins can solidify the position. If so, Providence could find itself in the top four of the Big East and much further inside the NCAA tournament cut line.
Michigan – The Wolverines are among the most difficult teams to project following the loss of Jon Beilein and Luke Yaklich from the coaching staff as well as three key offensive contributors, all of whom were taken in the NBA draft. New head man Juwan Howard (full disclosure: I originally typed Juwan Morgan) inherits a solid nucleus with bulldog Xavier Simpson (8.8 ppg, 5.0 rpg, 6.6 apg, 1.4 spg) back to run the point along with Jon Teske (9.5 ppg, 7.0 rpg, 2.0 bpg) and Isaiah Livers (7.9 ppg, 3.9 rpg) in the frontcourt, both of whom can help space the floor due to their ability to hit from long range. Outside of those three, there are no proven commodities, but Howard is hoping at least a couple of the team's sophomores can take a major step forward, particularly with freshman Franz Wagner slated to miss the early part of the season due to injury. It remains to be seen what kind of coach Howard will be at the college level, but there are enough questions to push the Wolverines into a crowded middle tier of the Big Ten.
9 Seeds
Illinois – On the one hand, the Illini return nearly all of their rotation players from last season, including three double-digit scorers in guards Ayo Dosunmu (13.8 ppg, 3.3 apg) and Trent Frazier (13.7 ppg) as well as sophomore big man Giorgi Bezhanishvili (12.5 ppg, 5.2 rpg). On the other hand, last year's incarnation of the Illini finished 7-13 in the Big Ten and ranked 84th on KenPom. Even so, I think it's reasonable to expect Brad Underwood's club to take a step forward. Junior Andres Feliz (8.3 ppg) provides another option in the backcourt, and freshman big man Kofi Cockburn will be a factor inside from day one. I'm curious to see what (if any) other changes Underwood makes defensively, as the team led the Big Ten in defensive turnover rate but ranked 13th or 14th in effective field goal percentage defense, defensive rebounding percentage, and free throw rate.
Notre Dame – Last season was a nightmare for the Irish, as injuries and inexperience contributed to a 3-15 ACC mark and the worst season of coach Mike Brey's tenure in South Bend. If you want to take the glass half full approach, you'd focus on the fact that the injuries forced young players into larger than expected roles that will pay dividends this season. The Irish return seven players who averaged at least 5.7 points last season, including Rex Pflueger, who played just 10 games before tearing his ACL. Forward John Mooney made a huge leap as a junior, averaging a double-double with 14.1 points and 11.2 rebounds per game. Brey is hoping for a bounce back season from guard T.J. Gibbs (13.4 ppg, 3.4 apg), whose efficiency dropped off dramatically as a junior, and the Notre Dame coach should also see increased production from a slew of sophomores who wound up being thrown into the ACC fire last season. There seems to be a clearcut top six in the ACC, but Brey's track record and the experience gained last season is enough for me to project Notre Dame at the top of the next tier.
Iowa State – Coach Steve Prohm loses four of his top five scorers from a squad that finishing ninth in adjusted offensive efficiency last season and made a surprise run through the Big 12 conference tournament. Former Cornhusker Michael Jacobson (11.1 ppg, 5.9 rpg) is the team's top returning scorer and rebounder and should be in line for a bump in production, but the Cyclones' best returning player looks to be sophomore Tyrese Haliburton (6.8 ppg, 3.6 apg), who posted a gaudy 4.5:1 assist:turnover ratio last season while knocking down over 43 percent of his 3-point attempts. Guard Prentiss Nixon sat out last season after scoring over 16 points per game in his final year at Colorado State, while Penn State transfer Rasir Bolton (11.6 ppg) has already had his waiver approved by the NCAA. The health of Solomon Young will be an X-factor for Iowa State, but Prohm has a strong offensive track record and enough complementary pieces to project the Cyclones to go dancing once again.
Tennessee – The Vols must replace the production and leadership from the likes of Grant Williams, Admiral Schofield, and Jordan Bone, but the cupboard is not entirely bare for Rick Barnes. A pair of double-digit scorers return in Lamonte Turner (11.0 ppg, 3.8 apg) and Jordan Bowden (10.6 ppg), so the backcourt should be strong, particularly when you consider the addition of McDonald's All-Amerian Josiah-Jordan James. The only other returnees of note are juniors John Fulkerson (3.1 ppg, 2.6 rpg) and Yves Pons (2.2 ppg), both of whom will be counted on in significantly expanded roles. Tennessee is also waiting on a waiver decision from the NCAA on big man Uros Plavsic, who averaged 9.6 points and 7.5 rebounds at Arizona State in 2017-18. A trio of other freshmen will be in the mix for minutes, but depth will be a question mark until we get a better idea of how much they'll be able to contribute and how big of a step forward Fulkerson and Pons can make. Still, I think the backcourt is good enough to lead the way while that sorts itself out, and the Vols should slot in somewhere around fifth or sixth in the SEC.
Follow Andy on Twitter (@andybottoms) for more thoughts on college hoops and to receive an update whenever new brackets are posted.
Filed to: