2019-20 Preseason Bracketology: 5-8 Seeds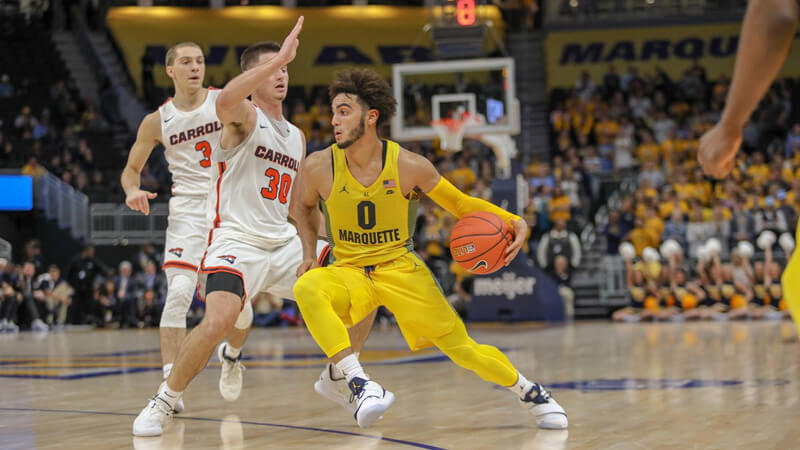 Today's installment of the preseason bracketology series focuses on seed lines five through eight, which are comprised predominately of teams from the major conferences but also features the top teams from the Atlantic-10 and Mountain West. (Previously: 13-16 Seeds and 9-12 Seeds)
8 Seeds
Texas – The Longhorns earned non-conference victories over North Carolina and Purdue a season ago, but a losing Big 12 mark and a 16-16 overall record relegated Shaka Smart's club to the NIT, which they eventually ended up winning. The top three scorers from that team are gone, but Smart does have a solid nucleus with guards Matt Coleman (9.8 ppg, 3.4 apg), Jase Febres (8.9 ppg), and Courtney Ramey (8.1 ppg, 3.1 apg). Up front, Jericho Sims (4.2 ppg, 3.6 rpg) has experience and should slide into a bigger role, while freshman Will Baker is the highest-rated incoming recruit. Another important newcomer is the aforementioned Luke Yaklich, who joins the Texas staff as an assistant coach. The return of guard Andrew Jones is most importantly a feel good story after Jones' bout with leukemia, but it's also a wild card for the Longhorns on the court. Jones was a double-digit scorer as a freshman and was off to a strong sophomore season before being diagnosed. Either way, I expect Texas to be right in the middle of a crowded second tier of the Big 12.
North Carolina State – A poor non-conference strength of schedule and relative lack of quality wins kept the Wolfpack out of the NCAA tournament last season, and replacing the production of Torin Dorn certainly won't be easy. Most of the other key players return, led by point guard Markell Johnson (12.6 ppg, 4.2 apg, 42.2 3PT%), who posted an assist rate of 29.7 and made nearly 57 percent of his 2-pointers on his way to a gaudy 119.9 offensive rating. The backcourt and wing will be the backbone of this team with C.J. Bryce (11.6 ppg, 4.6 rpg), Braxton Beverly (9.4 ppg), and Devon Daniels (9.3 ppg, 4.4 rpg) all back in the rotation. Both Bryce and Daniels are 6-foot-5, so it will be interesting to see if Coach Kevin Keatts opts to play one of them at the four for stretches this season. The questions here are clearly in the frontcourt, where DJ Funderburk (8.8 ppg, 4.2 rpg) is the top returnee but is currently suspended indefinitely. Lehigh transfer Pat Andree (12.9 ppg, 6.2 rpg) will be a key newcomer up front, and fellow transfer Danny Dixon (UMKC) and redshirt freshman Manny Bates will need to soak up interior minutes depending upon how much time Funderburk ends up missing. Sophomore Jericole Hellems is also in line for an expanded role in his second year with the program. The Wolfpack are squarely in the middle of the second tier of the ACC with the likes of Florida State and Notre Dame, which should leave them breathing easier on Selection Sunday this year.
Marquette – In the immediate aftermath of last season, the Golden Eagles were a Top 10 team in 2019-20 for many pundits, but the departure of the Hauser brothers dealt them a sizeable blow. That said, there is still plenty of talent on the roster led by Markus Howard (25.0 ppg, 3.9 apg, 40.3 3PT%), who will remain the focal point of the offense. Sacar Anim (8.3 ppg, 39.1 3PT%) showed flashes last season and is poised to take on a larger role as a senior, and Theo John (5.5 ppg, 4.9 rpg, 2.1 bpg) provides a physical presence inside. A pair of transfers will assume key roles as well, with Utah State transfer Koby McEwen (15.6 ppg, 5.4 rpg, 3.2 apg) ready to slide into the starting lineup after sitting out last season and Utah grad transfer Jayce Johnson (7.1 ppg, 7.7 rpg) providing another big body inside. Sophomore Brendan Bailey is another intriguing piece whose playing time will increase with the Hausers gone. Marquette was 23-4 last season before faltering down the stretch by losing six of the last seven games, but it's worth noting the Golden Eagles showed substantial improvement on the defensive end, finishing 45th in adjusted defensive efficiency after ranking 182nd the year prior.
Colorado – Virtually everyone is back from a team that quietly won 23 games last season, including six players who scored at least eight points per game. Guard McKinley Wright is the headliner after averaging 13.0 points, 4.9 rebounds, and 4.8 assists despite playing much of the season with a bum shoulder. Wright needs to improve on a poor turnover rate but has the tools to be among the nation's best at the position. Fellow junior Tyler Bey nearly averaged a double-double with 13.6 points and 9.9 boards per contest while ranking second nationally in defensive rebounding percentage. Shane Gatling (9.7 ppg) and D'Shawn Schwartz (9.2 ppg, 3.7 rpg) return to the starting lineup, and big man Dallas Walton is also back after missing last season with a knee injury. Sophomore Evan Battey (8.1 ppb, 4.4 rpg) gives coach Tad Boyle yet another productive piece in the frontcourt, where depth won't be an issue at all. A top four finish in the Pac-12 feels like a lock for this squad, and this projected seed may end up being a few lines too low.
7 Seeds
Creighton – Coach Greg McDermott returns four players who scored at least 9.7 points per game, all of whom are guards, so expect plenty of small ball from the Bluejays this year. Junior Ty-Shon Alexander (15.7 ppg, 4.0 rpg, 2.7 apg) led them in scoring last season, but improved 2-point shooting could lead to even more production this season. Mitch Ballock (11.1, 4.4 rpg, 3.2 apg, 41.9 3PT%), Marcus Zegarowski (10.4 ppg, 3.4 apg, 42.6 3PT%), and Davion Mintz (9.7 ppg, 3.0 apg) are the other key returnees. Zegarowski saw his role increase over the course of his freshman season, due in large part to his steady play at the point and prolific long-range shooting. As you might suspect, the big question mark here is the frontcourt, particularly after Martin Krampelj elected to leave school early. Big man Jacob Epperson missed the bulk of last season due to injury and recently suffered a broken leg in practice. That puts even more focus on Idaho State grad transfer Kelvin Jones, who scored 9.9 points and grabbed 5.6 boards last season. Christian Bishop (4.1 ppg) logged some minutes as an undersized center last year, and Epperson's injury suggests we'll see more of the same this season. Overall depth isn't a concern for Creighton, who also returns Damien Jefferson (6.2 ppg, 4.0 rpg) as well as SE Missouri State transfer Denzel Mahoney. If McDermott can get any kind of consistent play up front, the Bluejays have the firepower to finish atop a balanced Big East.
Houston – The Cougars finished last season 33-4 and were bounced from the NCAA tournament in a four-point loss to Kentucky in the Sweet Sixteen, but Kelvin Sampson lost three of his top four scorers from that squad. DeJon Jarreau (8.7 ppg, 3.8 rpg, 3.3 apg) is the top returnee, and the season largely hinges on his ability to provide steady play at the point. His 37.4 assist rate provides reason for optimism, while the 23.4 turnover rate gives reason for concern. Kansas transfer Quentin Grimes (8.4 ppg) had his waiver granted by the NCAA and should slide into the starting lineup along with sophomore Nate Hinton (7.2 ppg, 4.4 rpg) on the wing. Fabian White, Jr. (6.3 ppg, 4.0 rpg) is the top frontcourt returnee, but Sampson will also be counting on Towson transfer Justin Gorham (9.8 ppg, 6.7 rpg in 2018-18) to produce at the forward spot. A number of other options are available to provide interior depth, and a pair of freshman guards, Caleb Mills (who redshirted last season) and Marcus Sasser will man the backup guard spots. A repeat of last year won't happen for the Cougars, but I also don't expect them to fall outside of the top three in the AAC.
Auburn – Bruce Pearl will be replacing his top three scorers from last year's Final Four club, but he does have five seniors back on the roster. The top returning scorer is guard Samir Doughty (7.3 ppg, 42.5 3PT%), who will need to maintain his high efficiency in an expanded role. J'Von McCormick will slide into the starting point guard role after playing a couple of his best games during the NCAA tournament run, including his 16-point outburst that helped the Tigers stave off a first round upset. In the frontcourt, seniors Austin Wiley (7.1 ppg, 4.1 rpg, 1.3 bpg) and Anfernee McLemore (6.6 ppg, 3.8 rpg, 1.1 bpg) provide experience but will be called upon to play expanded minutes this season. The top newcomers will be highly-touted freshman Isaac Okoro and Memphis transfer Jamal Johnson, who sat out last season after scoring 6.9 points per game as a freshman. A slew of other freshmen will be in the mix given the roster turnover, and if Pearl can get a couple of them to fill consistent bench roles, the Tigers should be solidly in the field even if they won't challenge for the SEC title.
Utah State – The Aggies were among last season's most surprising teams, tying for the regular season Mountain West title and winning the conference tournament on their way to a 28-7 overall record. Expectations are much higher this season with virtually everyone back from that squad, led by senior guard Sam Merrill (20.9 ppg, 3.9 rpg, 4.2 apg, 1.1 spg), who also knocked down over 90 percent from the foul line and ranked among the nation's best with a 123.5 offensive rating. Utah State's other double-digit scorer, Neemias Queta (11.8 ppg, 8.9 rpg, 2.4 bpg, 61.4 FG%) was a force in the paint last season, but a knee injury suffered during the FIBA U-20 Tournament has his early-season availability in question. Guards Diogo Brito (8.2 ppg, 39.6 3PT%), Brock Miller (8.1 ppg), and Abel Porter (5.5 ppg, 2.8 apg, 40.5 3PT%) all return after playing significant roles last season, and sophomore Justin Bean (4.1 ppg) saw his role increase down the stretch. The Aggies are the clear favorite in the Mountain West heading into the season, but Queta's long-term health will determine whether the Aggies can reach their ceiling.
6 Seeds
LSU – Perhaps lost amidst all of the Will Wade recruiting controversy from last season was the fact that the Tigers won the SEC regular season title and racked up 28 wins before falling to Michigan State in the Sweet Sixteen. The top two scorers from that team are gone, but Wade is still the head man and returns a pair of double-digit scorers. Skylar Mays (13.4 ppg, 1.9 spg) and Javonte Smart (11.1 ppg, 2.4 apg) will man the guard spots and form what should be the strength of the team. Sophomores Emmitt Williams (7.0 ppg, 5.4 rpg) and Darius Days (5.3 ppg, 4.0 rpg) both posted strong offensive rebounding percentages and will play major minutes in the frontcourt. Days hit 38 percent of his 3-pointers as well, and Williams shot the three well on the team's trip to Spain. Senior Marlon Taylor (6.7 ppg) also returns, but the key newcomer is McDonald's All-American Trendon Watford, who should start from day one. Wade went to the junior college ranks to bolster the bench, but he will likely be forced to lean heavily on the top six or seven players in the rotation. The Tigers simply lost too much to challenge for the SEC crown once again, but the talent is still there to earn a trip back to the NCAA tournament.
VCU – The Rams won the A-10 regular season with a 16-2 mark last year but were bounced from in their first games of the both the A-10 and NCAA tournaments. Coach Mike Rhodes returns virtually everyone from that squad, so a repeat championship in the league feels like a reasonable expectation. Guards Marcus Evans (13.6 ppg, 3.2 apg, 1.9 spg) and De'Riante Jenkins (11.3 ppg, 3.9 rpg) are the strength of the team and provide tough defense at the point of attack for Rhodes' aggressive defensive scheme. Isaac Vann (10.8 ppg, 3.6 rpg, 2.2 apg, 1.2 spg) is another elite defender on the wing, while big man Marcus Santos-Silva (10.0 ppg, 7.4 rpg, 1.1 bpg) is the fourth double-digit scorer back on the roster. Four other players return who logged at least 14 minutes per game, so depth isn't a question for the Rams, who also add a few freshmen to the mix. VCU finished last season seventh nationally in adjusted defensive efficiency thanks to top 10 finishes in both effective field goal percentage defense and turnover rate, and a strong showing defensively feels like a given. If the Rams, can improved on their middle of the road offensive efficiency, this will be a dangerous team come March.
Florida State – Leonard Hamilton returns just two players who scored more than five points per game, but with at least 20 wins in 11 of the last 14 seasons, I'm willing to give him the benefit of the doubt. Guard Trent Forrest is the top returnee after averaging 9.3 points, 4.5 rebounds, 3.7 assists, and 1.9 steals as a junior. M.J. Walker (7.5 ppg) will join Forrest in a starting backcourt that is sure to pressure and harass opposing guards. The top newcomer is freshman Patrick Williams, a 6-foot-8 wing who will fit nicely into Hamilton's system. A pair of transfers will help bolster the frontcourt. Malik Osborne (9.0 ppg, 6.5 rpg in 2017-18) sat out last season after transferring from Rice, while Dominik Olejniczak (5.3 ppg, 3.0 rpg) joins the club as a grad transfer from Ole Miss. Sophomore RaiQuan Gray tallied 19 points over the Noles' first two NCAA tournament games and seems likely to be the starting four man. Much like NC State, it's highly unlikely that FSU will challenge for the ACC crown, but it's equally unlikely to see them falling much past sixth or seventh in the league.
Saint Mary's – The Gaels upset Gonzaga in the WCC tournament to steal a bid to the Big Dance, and with the exception of Jordan Hunter, everyone is back this year. The dynamic duo of Jordan Ford (21.1 ppg, 41.2 3PT%) and Malik Fitts (15.2 ppg, 7.6 rpg, 40.6 3PT%) both posted offensive ratings above 117 last season and ranked among the nation's best in a variety of metrics. Senior Tanner Krebs (8.9 ppg, 39.8 3PT%) gives Randy Bennett yet another potent long-range shooter to deploy offensively. The job of replacing Hunter inside will fall to some combination of sophomore Matthias Tass (3.7 ppg, 3.1 rpg) and Seattle transfer Aaron Menzies, who averaged 11.3 points, 8.9 boards, and 2.3 blocks in 2017-18. The Gaels also received news recently that Cincinnati transfer Logan Johnson was granted a waiver and will be eligible to play this season. While the roster will be top-heavy from a production standpoint, Bennett has solid depth, and his offensive track record speaks for itself. While Gonzaga is still the favorite in the WCC, I wouldn't be stunned if Saint Mary's unseated the Zags.
5 Seeds
Arizona – Last season was a forgettable one for the Wildcats on a variety of fronts, but coach Sean Miller is hoping an influx of new faces and talent can lead to a different outcome in 2019-20. Top among those newcomers is five-star point guard Nico Mannion, a local product from Phoenix who projects as a one-and-done player who will log heavy minutes on a team with no other real options at the point. With Brandon Williams out for the season, UC Irvine grad transfer Max Hazzard (12.5 ppg) will likely get first crack at the two-guard spot. Wing Josh Green and forward Zeke Nnaji should both challenge for starting spots as freshmen, and Cornell transfer Stone Gettings (16.7 ppg, 6.6 rpg, 2.9 apg in 2017-18) will provide depth inside. Senior Chase Jeter (10.9 ppg, 6.6 rpg) is Arizona's top returnee, while Dylan Smith (7.2 ppg, 3.7 rpg) and Ira Lee (6.6 ppg, 4.2 rpg) are the only others who logged at least 12 minutes per game. Prior to last season, the Wildcats had ranked in the top 20 in adjusted offensive efficiency for six straight seasons, but they plummeted to 153rd last year. The addition of Mannion should help bring that number back down and propel Arizona back into contention for the Pac-12 title.
Seton Hall – Star guard Myles Powell's decision to return for his senior season has expectations high for the Pirates heading into this season. Powell poured in 23.1 points per game as a junior while also adding 4.0 rebounds, 2.9 assists, and 2.0 steals, getting fouled at a high rate, and knocking down 84 percent from the stripe once he got there. Led by Powell, the backcourt/wing will once again be the strength for Seton Hall, who also returns Quincy McKnight (9.4 ppg, 3.9 apg, 1.6 spg) and Myles Cale (10.2 ppg, 4.1 rpg, 37.8 3PT%). Up front, junior Sandro Mamukelashvili returns after posting 8.9 points, 7.8 boards, and 1.2 blocks per game. He's likely to be joined in the staring lineup by Florida State transfer Ike Obiagu who sat out last season. Five other returnees scored between 2.0 and 4.6 points per game, with four of the five playing double-digit minutes, which gives Coach Kevin Willard solid depth capable of playing supporting roles. Seton Hall should be firmly in the mix for the Big East title with the likes of Xavier and Villanova.
Purdue – This seed is ultimately a nod to the masterful job Matt Painter has done in recent years, shifting from a post-oriented attack with the players like Caleb Swanigan, A.J. Hammons, and Isaac Haas to last year's guard-dominated look led by Carsen Edwards and Ryan Cline. With that duo gone from a team that ranked fourth in adjusted offensive efficiency, this season will present Painter with additional challenges. Juniors Matt Haarms (9.4 ppg, 5.4 rpg, 2.1 bpg, 63.2 FG%) and Nojel Eastern (7.5 ppg, 5.5 rpg, 2.5 apg) are the top returnees. Eastern, in particular, needs to become more of a consistent offensive threat in order to maintain some semblance of floor spacing. Painter will need multiple players from the sophomore class to take a step forward this year after playing complementary roles a season ago. Guard Sasha Stefanovic (2.5 ppg) knocked down 41 percent from 3-point range, and forward Aaron Wheeler (4.7 ppg, 3.0 rpg) also showed an ability to step out and make shots. Both players will need to help replace the 281 made 3-pointers from Edwards, Cline, and Grady Eifert. Big man Trevion Williams (5.2 ppg, 4.0 rpg) had a strong stretch of play over the middle of last season and played well for the USA U-19 team over the summer. In terms of newcomers, the most important one will be High Point grad transfer Jahaad Proctor (19.5 ppg, 3.3 apg), while freshman Brandon Newman feels like the other new face most likely to earn a key spot in the rotation. Over the past four seasons, the Boilers have ranked 34th or better in adjusted defensive efficiency and 24th or better offensively, so while a dip on the offensive side is inevitable, the defense should still be good enough to slot Purdue somewhere between fourth and sixth in the Big Ten.
Xavier – Following a February 9th home loss to DePaul, the Musketeers were sitting at 11-13 in the midst of a six-game losing streak, but coach Travis Steele's squad responded by winning seven of their next eight games before falling to Villanova in overtime in the Big East tournament. Xavier was fantastic defensively during that stretch, as the team improved its KenPom ranking by nearly 50 spots in a month and a half. The top four scorers are all back, including the frontcourt tandem of Naji Marshall (14.7 ppg, 7.2 rpg, 3.4 apg) and Tyrique Jones (11.3 ppg, 7.7 rpg, 62.4 FG%), who ranked third nationally in offensive rebounding percentage. The backcourt duo of Paul Scruggs (12.3 ppg, 4.9 rpg, 3.3 apg) and Quentin Goodin (11.0 ppg, 3.2 rpg, 4.8 apg) is equally impressive, and if they can get their turnover rates under 20 percent, the Musketeers should see a nice bump in offensive efficiency. With no other returnees of note, Steele will be counting on a pair of transfer to assume key roles. Forward Jason Carter averaged 16.5 points and 6.7 boards at Ohio and will likely assume the final spot in the starting lineup, while fellow MAC transfer Bryce Moore (9.8 ppg at Western Michigan) will provide backcourt depth and shooting. Xavier also adds a quintet of freshmen to the roster, but the experienced nucleus will allow them to be brought along slowly. In a balanced Big East, the pieces are there for Xavier to challenge for (and potentially win) the crown.
Follow Andy on Twitter (@andybottoms) for more thoughts on college hoops and to receive an update whenever new brackets are posted.
Filed to: