6-Banner Sunday: De'Ron Davis has been overcoming adversity his whole career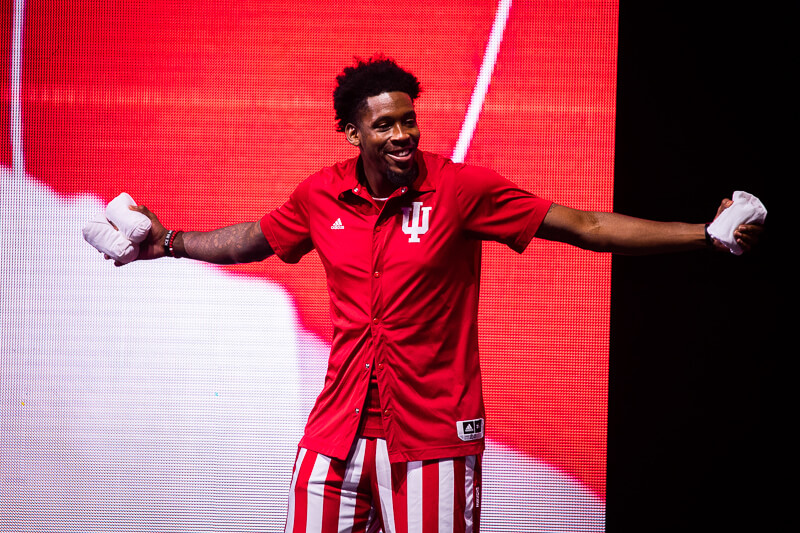 6-Banner Sunday is Inside the Hall's weekly newsletter in partnership with The Assembly Call. More than 6,500 Indiana fans receive the newsletter each week. In addition to appearing each week on the site, you can also opt to receive 6-Banner Sunday by email. A form to subscribe via email is available at the bottom of this week's 6-Banner Sunday.
Welcome to another edition of 6-Banner Sunday, a joint production between The Assembly Call and Inside the Hall where we highlight the five most essential IU basketball stories of the past week, plus take a look at how the other IU sports programs are doing.
In just two days, the long offseason will finally be over as Indiana will play its first game of the season against Western Illinois on November 5 at 7 p.m. in Simon Skjodt Assembly Hall.
The Hoosiers are coming off a 30-point exhibition win over Gannon last Tuesday, and the newcomers showed out with a short-handed group. The Gannon game offered a glimpse into Indiana's style this year, which sparked a lot of discussion in a busy week before the start of the season.
In this week's edition:
• Freshmen shine in exhibition win
• Indiana ill with injury
• De'Ron Davis remains in control ahead of senior season
• How did the proud IU basketball program fall so far — and can it get back to the top?
• Team predictions, Derek Elston leaves program
• Hoosier Sports Roundup
Banner #1
Freshmen shine in exhibition win
Indiana defeated Gannon 84-54 on Tuesday night, and two bright spots for the Hoosiers were freshmen Armaan Franklin and Trayce Jackson-Davis.
They each scored 12 points and were in the top three of the team in minutes played — Jackson-Davis was third at 23 minutes and Franklin led the team at 34 minutes.
On Assembly Call's IU-Gannon Postgame Show, host Jerod Morris was joined by Andy Bottoms and Ryan Phillips to discuss the game, and Franklin's performance was the Banner Moment. They talked about how comfortable Franklin looked on the court, pushing the ball down the floor and creating plays for others.
They also talked about Jackson-Davis' athleticism, and how his ability to rotate defensively to block shots (he had three blocked shots against Gannon) will be beneficial in Indiana having one of the better defenses in the country.
Tune in to the postgame show immediately following every IU basketball game. The best place to watch is on YouTube, where you can join the #ChatMob in commenting alongside the show. Click here to subscribe to The Assembly Call on YouTube. If you can't participate live, you can listen to the replay wherever podcasts are available.
Banner #2
Indiana ill with injury
When head coach Archie Miller met with the media prior to Indiana's exhibition, he admitted the team has been struck with the injury bug over the last month.
Miller said Devonte Green and Rob Phinisee haven't practiced a whole lot over the last month. Green is battling a hamstring injury and Phinisee has a lower abdominal injury. Both weren't expected to play in the exhibition, but after Al Durham showed up in sweats during shootaround, Miller felt Phinisee was healthy enough to get on the floor, mainly just to spell Franklin, who seemed to be the only healthy guard.
Phinisee played just 14 minutes, took just four shots, scored five points, and looked rusty on the floor. Justin Smith said postgame that Durham's knee was bothering him, and that it happened recently.
Being without your three best guards to start the season isn't ideal. There isn't an official timetable for their return, but Miller doesn't think any injury is too serious. In the interim, it has allowed Indiana's newer pieces to get acquainted, which Miller views as a positive.
Banner #3
De'Ron Davis remains in control ahead of senior season
When it comes to being injury-riddled, De'Ron Davis knows a thing or two about having to watch from the sideline. Most of his career at Indiana has been stricken with maladies he can't control.
Inside the Hall student writer Cameron Drummond wrote about this concept in an in-depth feature story about Davis' basketball career. Within the article is insight from Davis' AAU coach Art Williams, who still has a close relationship with Indiana's big man, especially following the death of Davis' father when he was 11.
"He kind of knew ahead of time how serious things were, more than kids his age typically do," Williams said. "I think losing his dad at such an early age humbled him pretty early. Kind of created some perspective for him, something other kids don't have to go through at that age."
Davis has gone through a lot of adversity in his career, but this article shows what Indiana can expect from its senior forward in his final campaign.
Banner #4
How did proud IU basketball fall so far and can it get back to the top?
Indianapolis Star reporter Zach Osterman wrote an article reflecting on the last few decades of IU basketball. In a program where success is expected immediately, Osterman talked about how Miller's tenure has dealt with a deeper rebuild than most think.
One line that sticks out is, "In many ways, Miller — like Tom Crean before him — is fighting to undo the damage of a generation's worth of laissez faire management, poor decision-making, and misguided vision that have left IU wandering far from college basketball's elite."
Within the article is detailed information regarding the Bob Knight era, Mike Davis, Kelvin Sampson, Tom Crean and all the athletic directors that came in-between.
It's worth a read to anyone who wants to truly understand what the last 30 years have been like for this storied program.
Banner #5
Team predictions, Derek Elston leaves program
Indiana basketball announced Thursday afternoon that Derek Elston would be leaving the program to take a new position with United Fidelity Bank in Carmel as a Community Development Officer. Elston had been with the program since 2015.
"I couldn't thank Coach Crean enough for bringing me back and Coach Miller for allowing me to continue to be part of the program and helping me grow as a professional," Elston said in a press release. "At this time in my life, I think this an opportunity that I believe is beneficial for my family and I can't pass up. I've loved working with our players and staff and I'm excited for what this group can accomplish this season and in the future."
With the season getting underway in just two days, it's now or never to make some predictions about the team. In this week's edition of Podcast on the Brink, Jerod Morris and Alex Bozich were joined by ESPN's Jon Crispin to talk about if IU was turning the corner in Miller's third year.
Then, on this week's Halloween edition of Assembly Call Radio, host Jim Hopper (Jerod Morris) was joined by Brian Tonsoni and Ryan Phillips, and they gave their opinions on Indiana's over-unders this season, ranging from a multitude of statistical categories.
Banner #6
Hoosier Sports Roundup
This content was contributed by Aaron Shifron
Men's Soccer is closing in on a Big Ten title while many other sports also saw competition this week in what has so far been the busiest week of the fall to date. Assembly Call will continue to have coverage of Men' Soccer and IU's other Olympic sports this fall in the Assembly Call Community for those with a subscription under the 'Men's Soccer' and "Other Sports" topic.
• Football trounced Northwestern under the lights Memorial Stadium to move to 7-2. Might the Hoosiers be ranked heading into Happy Valley next week? We'll see when the new rankings come out. Away from the field, backup quarterback Peyton Ramsey and wide receiver Whop Philyor earned national recognition.
• Former IU great George Taliaferro was recognized with a statue outside the stadium among other honors.
• Men's Soccer dominated Ohio State to continue to control its own destiny for the conference title. The Hoosiers can clinch the title outright on Sunday with a win against Michigan State or a Penn State loss or tie to Rutgers. This match will be at 3pm and be televised on BTN. Also freshman Aiden Morris won three awards for his play last week.
• Women's Soccer fell to arch rival Purdue but beat Michigan State to clinch a spot in the eight team Big Ten Tournament field on Sunday at noon against Rutgers. Also several players earned Big Ten honors for the season.
• Volleyball fell to Iowa for a second time and later in the week to arch rival Purdue.
• Field Hockey was defeated by Northwestern to end their season.
• Men's Swimming and Diving defeated two Big Ten rivals to improve to a perfect 4-0 on the season.
• Men's Golf concluded the fall season at the Steelwood Collegiate Invitational.
• Women's golf also concluded the fall season with junior Priscilla Schmid winning the Landfall Tradition. This earned Schmid her second Big Ten Golfer of the Week Award.
• Men's Tennis saw senior Bennett Crane finish runner-up at the ITA Regional Championships.
• Women's Basketball was ranked in the preseason for the second time in program history. It was also announced that the weekly coaches show with Teri Moren will air on most Mondays throughout the season beginning this week.
• Baseball changed the titles of a couple staff members.
Former Wrestler Trevor Elliot received a Medal of Courage.
Thanks for your continued support for The Assembly Call. We'll be back next weekend with a new roundup.
Now go enjoy yourself a 6-banner Sunday.
Filed to: