6-Banner Sunday: Can Justin Smith have a breakout third year?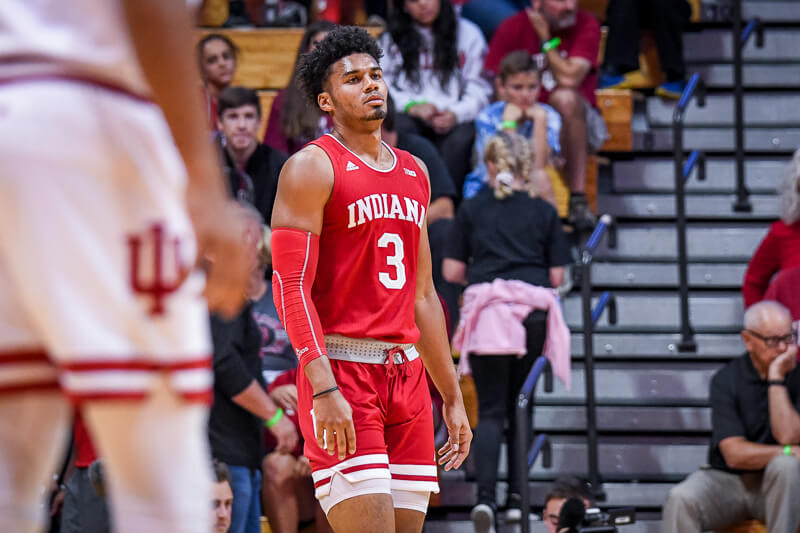 6-Banner Sunday is Inside the Hall's weekly newsletter in partnership with The Assembly Call. More than 6,500 Indiana fans receive the newsletter each week. In addition to appearing each week on the site, you can also opt to receive 6-Banner Sunday by email. A form to subscribe via email is available at the bottom of this week's 6-Banner Sunday.
Welcome to another edition of 6-Banner Sunday, a joint production between The Assembly Call and Inside the Hall where we highlight the five most essential IU basketball stories of the past week, plus take a look at how the other IU sports programs are doing.
Later today, Indiana will face Marquette in this year's not-so-secret secret scrimmage at Banker's Life Fieldhouse in Indianapolis.
While no footage of the game will be available, details (including player stats) often trickle out afterwards. For example, Jeff Goodman provided details on Michigan State's secret scrimmage loss to Gonzaga. So be on the lookout for brief reports on how the scrimmage went tonight or Monday.
The Hoosiers will step on the court in front of a live audience for the first time in just nine days for an exhibition game against Gannon in Assembly Hall. The Hoosiers haven't been seen on the court since Hoosier Hysteria, so the last few weeks have been scarce in terms of team news.
But, as the season nears, more predictions and previews of individual players have surfaced as everyone tries to figure out what role each player will have for the upcoming year.
In this week's edition:
• What role will Justin Smith have this season?
• Joey Brunk strikes gold
• Podcast on the Brink mailbag
• Recruiting updates on Galloway, Diarra, and Garcia
• Victor Oladipo's rise at Indiana
• Hoosier Sports Roundup
Banner #1
What role will Justin Smith have this season?
Throughout the course of the offseason a number of Indiana's players have garnered attention — Trayce Jackson-Davis winning the first gold jersey, Joey Brunk emerging as a vocal leader, Jerome Hunter returning to the court, and Al Durham and Devonte Green becoming team captains — but one player who has flown under the radar is Justin Smith.
Smith started in 32 of the 35 games last season, averaging 8.2 points and 4.5 rebounds per game. With a deep frontcourt this season, it's unknown where Smith will fit into the lineup.
In this week's edition of Assembly Call Radio, host Jerod Morris was joined by Andy Bottoms and Ryan Phillips to talk about what Smith needs to do to have a breakout year. The trio agreed that Smith has all the physical tools and athleticism to be an important piece for Indiana, but it will ultimately come down to the mental side of things.
Smith was also the latest player featured in the Inside The Hall player previews.
Banner #2
Joey Brunk strikes gold
After Trayce Jackson-Davis won the gold jersey following the first week of practice, Joey Brunk became the second newcomer to take the honor.
Brunk, standing at 6-foot-11, has often been referred to by his coaches and teammates as one of the more vocal players on the team. Brunk himself said during IU's media day that he feels comfortable speaking out even if he's new to the program after transferring from Butler.
"I'm comfortable with who I am, and I don't have any problem talking and speaking," Brunk said.
Banner #3
Podcast on the Brink mailbag
On this week's Podcast on the Brink, Morris and Alex Bozich took the time to answer questions from readers regarding Indiana's upcoming season.
Among the topics discussed are Indiana's most important games in a tough December schedule, what the rotation will look like in January, how the Hoosiers' offense and defense will fare, and if Jerome Hunter can elevate the team's ceiling.
The duo takes the questions and gives in-depth answers to realistically preview the season.
Banner #4
Recruiting updates on Galloway, Diarra, and Garcia
Last week, Inside The Hall caught up with Caleb Furst and Anthony Leal following Hoosier Hysteria to get their thoughts on the event and talk about their respective high school seasons.
This week, Trey Galloway was the latest recruit to give his thoughts. Galloway liked what he saw from the scrimmage at Hoosier Hysteria, saying, "They got a lot of guys that can play, so I think they can be pretty good in the Big Ten."
Galloway, from Culver Academies, is also excited to get his final prep season underway after losing the state championship by three last year to Silver Creek. He said he's going to have fun in his last season, but wants to avenge their loss and win the state title.
And in other recruiting news, 4-star guard Hassan Diarra picked Texas A&M over Indiana and Georgia. The pickings are getting slim if the Hoosiers are going to add a ball handler in the 2020 class.
The Hoosiers' top remaining 2020 target, Dawson Garcia, will be in Bloomington next weekend for his official visit. The consensus continues to be that Marquette and Indiana are the leaders, with most analysts giving Marquette the current lean. Corey Evans summed it up well:
I am going to say Marquette for now, but I am not entirely confident, especially with a visit ahead to Indiana. Memphis and Minnesota have hosted him in recent weeks and while each should have a chance, the feeling is that it will come down to a battle between the Hoosiers and the Golden Eagles. Marquette has been the often-discussed leader for him, yet no one has picked up greater momentum within his recruitment than Archie Miller's bunch. He will visit Bloomington on Oct. 25 and is slated to sign in November. Could his visit be enough to turn the tides and push Garcia towards the Hoosiers? Expect for a decision to be made within the coming weeks.
Banner #5
Victor Oladipo's rise at Indiana
Earlier this week, Dustin Dopirak of The Athletic wrote a feature about Victor Oladipo's rapid rise during his time at Indiana.
Within the piece is plenty of anecdotes not just about Oladipo's basketball ability, but his artistic side, such as playing instruments and singing.
Dopirak included stories of Oladipo told by Tom Crean, Verdell Jones, Tom Prichard, Derek Elston, Jordan Hulls, Cody Zeller and many more.
And in current Oladipo news, he recently participated in five-on-five drills for the first time since his injury. Also, many people are convinced that he is "Thingamajig" on The Masked Singer.
Banner #6
Hoosier Sports Roundup
This content was contributed by Aaron Shifron.
It was IU versus Maryland week in College Park as the Hoosiers and Terps competed no less than five times in the DC area. Maryland finished with a 3-1-1 record winning Field Hockey, Men's Soccer, and Volleyball while Indiana won the all-important football game and Women's Soccer finished in a tie.
• Football beat Maryland to move within one game of bowl eligibility, but the Hoosiers lost starting QB Michael Penix to an injury in the process. There is no word yet on the severity of the injury. They travel to Nebraska at 3:30 next week.
• Men's Soccer knocked off Michigan for the Big Ten lead but then fell to Maryland for its first Big Ten loss in four years. The Hoosiers still control their own destiny for Big Ten Title if they win their final three conference games. Away from the field Michael McRobbie attended the Michigan game, Jack Maher and Roman Celentano were honored, and several Hoosiers were named to the Top Drawer Soccer Freshman list.
• Women's Soccer beat Ohio State before tying Maryland.
• Volleyball fell to both Illinois and Maryland.
• Field Hockey lost to Maryland then got defeated by Iowa.
• Men's Golf competed at Crooked Stick in Carmel.
• Men's Tennis saw action at the MSU Invite.
• Cross Country ran at the Nuttycombe Invitational and Pre-National this week.
• IU had a very high graduation rate for the athletic department as a whole. There was also an Academic Excellence Dinner.
Thanks for your continued support for The Assembly Call. We'll be back next weekend with a new roundup.
Now go enjoy yourself a 6-banner Sunday.
Filed to: