6-Banner Sunday: Evaluating Jordan Geronimo's strengths and weaknesses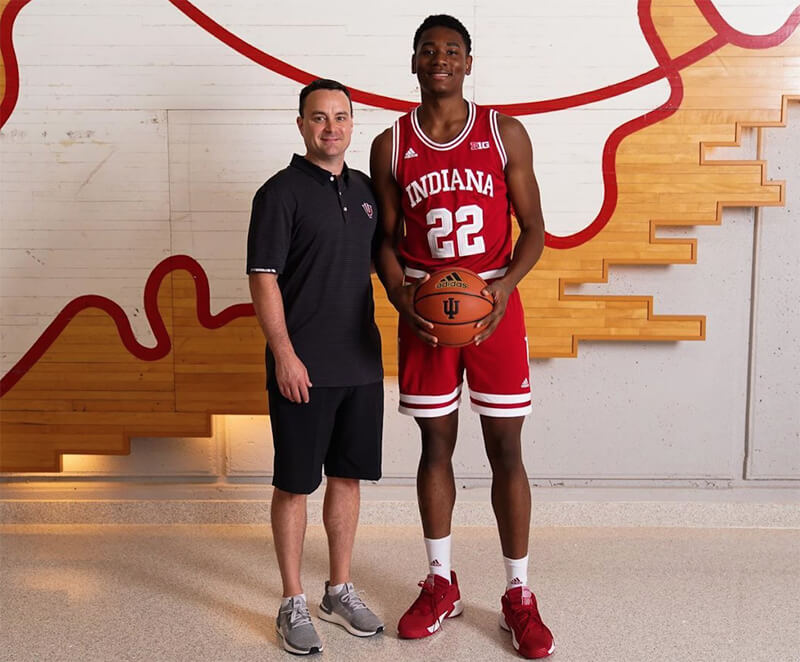 6-Banner Sunday is Inside the Hall's weekly newsletter in partnership with The Assembly Call. More than 6,500 Indiana fans receive the newsletter each week. In addition to appearing each week on the site, you can also opt to receive 6-Banner Sunday by email. A form to subscribe via email is available at the bottom of this week's 6-Banner Sunday.
Welcome to another edition of 6-Banner Sunday, a joint production between The Assembly Call and Inside the Hall where we highlight where we highlight the five most essential IU basketball stories of the past week plus take a look at how the other IU sports teams are doing.
Indiana's 2020 class saw another addition this week as Jordan Geronimo made it official Monday that he will join Trey Galloway and Anthony Leal in becoming a Hoosier.
This week was filled with content surrounding Geronimo and what he adds as the third player to what is currently ranked as the third best 2020 class in the nation by 247Composite, behind Virginia and Xavier. That, sprinkled in with some preseason rankings and scheduling updates, rounds out the Indiana basketball news for the week.
In this week's edition:
• Jordan Geronimo Q & A
• Evaluating Geronimo's game
• Exhibition game and tip times announced
• Athlon Sports, Lindy's Sports slot Indiana in bottom half of Big Ten
• Indiana offers Andre Curbelo
• Hoosier Sports Roundup: Football team demolishes Eastern Illinois
Banner #1
Jordan Geronimo Q & A
Assembly Call and Inside the Hall student intern Dylan Wallace caught up with Jordan Geronimo two days after Geronimo announced his commitment to Indiana.
In the Q & A, Geronimo talks in depth about why he chose Indiana, saying the cherry on top for him was seeing the rich Indiana basketball tradition projected out into the community when he was in Bloomington for his visit. Indiana was Geronimo's first official visit, and he planned to go on more, but that wasn't necessary as he committed the Monday after his weekend visit.
Geronimo rounded out the Q & A by answering what he's most excited about when it comes to playing in Assembly Hall.
"I'm just excited to go in there and make a name for myself."
Banner #2
Evaluating Geronimo's game
In the aforementioned Q & A with Geronimo, the St. Paul's (N.H.) product touched on parts of his game that he wants to improve, as well as what he hopes to bring to the program.
In this week's edition of Assembly Call Radio, host Andy Bottoms was joined by Brian Tonsoni and Ryan Phillips to discuss Geronimo's strengths and weaknesses.
The trio said that while he needs to work on his ball handling and ability to get to the rim off the bounce, his athleticism and defensive ability make him stand out.
Earlier in the week, Assembly Call and Inside the Hall student writer Cam Drummond caught up with Geronimo's high school and AAU coaches to delve into the 4-star's potential and what he can bring to Indiana.
"When you can cover multiple positions in college basketball, you're going to find your way on the floor," Mass Rivals coach Vin Pastore said. "I think that's going to happen for him."
Banner #3
Exhibition game and tip times announced
Indiana basketball announced Wednesday afternoon that its lone exhibition game will take place Oct. 29 against Gannon University at 7 p.m. in Assembly Hall. Since the Hoosiers will be playing Marquette in a closed exhibition, it allows them to have just one open exhibition game as opposed to two.
Indiana had this same structure last year when it played Loyola Chicago in a closed exhibition at Bankers Life Fieldhouse, then played Southern Indiana at Assembly Hall.
To add on to schedule news, Indiana released its TV schedule and tip times Thursday afternoon for most of its games this season. Marquee games include Indiana versus Purdue in Bloomington Feb. 8 at 2 p.m. on ESPN/ESPN2. The Hoosiers will play in West Lafayette Feb. 27 at 7 p.m. on FS1. Also on FS1, Indiana will square off against Michigan State in Assembly Hall Jan. 23 at 8:30 p.m.
Tip times that are still TBA include the second game of the season against Troy on Nov. 16, Dec. 3 against Florida State in the Big Ten/ACC Challenge, the Big Ten opener at Wisconsin Dec. 7, Dec. 10 against UConn in the Jimmy V Classic, and the Crossroads Classic matchup against Notre Dame Dec. 21.
Banner #4
Athlon Sports, Lindy's Sports slot Indiana in bottom half of Big Ten
A slew college basketball preview magazines hit newsstands this week, two of which are the Athlon Sports 2019-20 preview magazine and Lindy's Sports college basketball preview.
Athlon Sports picked Indiana to finish 9th in the Big Ten this season while Lindy's Sports placed the Hoosiers in 10th.
Michigan State is projected to be number one in both previews. In this week's edition of Podcast on the Brink, host Jerod Morris was joined by The Athletic's Brendan F. Quinn to preview the Spartans.
The two discuss the expectations of star guard Cassius Winston as well as the returning Josh Langford. They also reflected on Indiana's sweep of the eventual Final Four team last season.
Banner #5
Indiana offers Andre Curbelo
With one open scholarship left for the class of 2020, Indiana is continuing to make offers, specifically at the point guard position.
Wednesday afternoon the program offered a scholarship to Long Island Lutheran's Andre Curbelo. The 4-star guard is ranked the No. 52 player nationally by the 247Composite. Curbelo also attends the same high school that Indiana guard Devonte Green attended.
Inside the Hall's Alex Bozich caught up with Curbelo Thursday afternoon in a Q & A that talks extensively on what Curbelo is looking for in a college and his relationship with Indiana.
Banner #6
Hoosier Sports Roundup: Football team demolishes Eastern Illinois
This content was contributed by Aaron Shifron (twitter @ashifron).
All the major fall sports continue regular season competition this week. The Assembly Call will continue to have coverage of IU's Olympic sports this fall in the Assembly Call Community for those with a subscription under the 'Men's Soccer' and "Other Sports" topic.
• Football blasted Eastern Illinois 52-0.
• Men's Soccer won two more overtime games this week beating UCLA and Denver. Away from the field Jack Maher was named Big Ten defensive player of the week.
• Women's soccer lost to Louisville 1-0.
• Volleyball split matches with Tennessee-Martin and Santa Clara last week and did the same with Oregon State and Oklahoma this week. Away from the court there is a fan trip to the Purdue match on Oct. 30.
• Field Hockey beat Drexel in a 4-3 overtime thriller before losing to Miami (Ohio).
• Baseball introduced a new assistant coach this week.
• Women's Basketball announced they will have 10 games on the Big Ten Network this year.
• Swimming and Diving saw eight athletes named to the U.S. National Team Roster.
Thanks for your continued support for The Assembly Call. We'll be back next weekend with a new roundup.
Now go enjoy yourself a 6-banner Sunday.
Filed to: