Q & A: 2020 point guard Andre Curbelo talks IU offer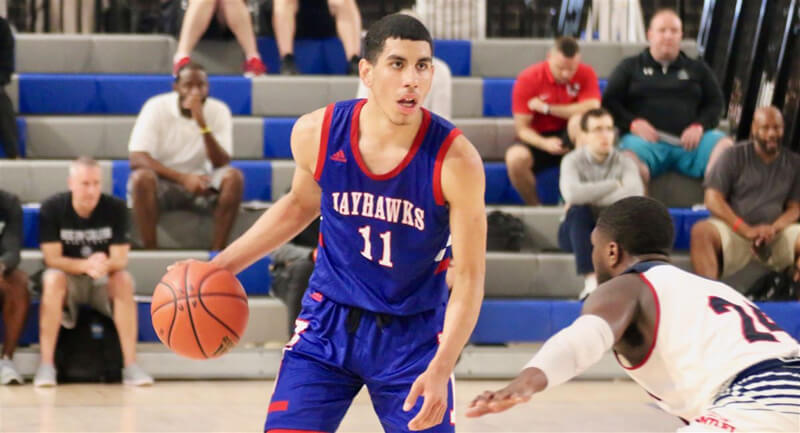 Indiana offered one of top available point guards in the 2020 class on Wednesday in Andre Curbelo of Long Island Lutheran (NY).
The Puerto Rico native has offers from more than 30 schools and is ranked the No. 52 player nationally by the 247Composite.
Inside the Hall spoke at length with Curbelo on Thursday afternoon to get the latest on his recruitment, the offer from Indiana, his background and more.
Our full Q & A is available below:
What was the conversation like with Indiana when they offered you a scholarship?
"It went really well. I'd been talking to the assistant coaches … coach (Mike) Roberts and coach (Tom) Ostrom there for a while … not every day, but every now and then. And then coach Roberts told me that the head coach would be calling, but that was while I was in Puerto Rico the last couple of days. And then yesterday, the head coach called and we talked about how much he liked me, why he liked me and why he's recruiting me and why he needs me. It went really well. They came in a little late, he said, but I told him that is fine because I haven't made any decisions yet. I'm still figuring things out. The conversation was really good when they offered."
You mentioned that it isn't too late for IU to get involved … where are you in the recruiting process?
"With that offer, it will be like 34 offers. But out of the 34, not all of them talk to me. I would say half of them, something like that, they kind of talk to me every now and then. And some of them talk to me every day. I'm just trying to figure things out and get more information. I don't have my parents here (in the United States), so that will basically be my home for four years or three, two, one, whatever it ends up being. So I have to dig more into it than the American players just because of the situation. So I'm still figuring things out with my guardian. We're still looking at who is actually being serious. We're taking in information because it's an important decision and I have to make the right one, obviously. I'm figuring things out and taking it step by step. I kind of want to get it over with because it is a hectic process, but at the same time, I've got to make the right decision and pick the right school because that's going to be my home. Whenever it's time, it will be time."
How did you get to this point where you're up to 34 offers?
"Obviously, as you know, I come from Puerto Rico. I started playing basketball over there and right around when I was around 10, 11, 12, I told my parents I wanted to go to the States and get a better situation with basketball. Don't get me wrong, basketball is not terrible in Puerto Rico, but I had people telling me I was the best player and it's not bad to be the best player, but I wanted to be challenged.
"I used to play for a travel team in Puerto Rico and we'd travel to play AAU in Florida and North Carolina, places like that. I started to get texts and calls and my parents would get the same thing. But we had to have a plan. Schools would say, 'just send him here and there will be a family that will take care of him and that's it.' But there wasn't more to it.
"But then Long Island Lutheran came up and it was the right plan. I knew where I was going to be all of the time. When I came here, I didn't know a single word of English. It was terrible. That was my only fear was coming to the States and not knowing anybody and not knowing the language. I went through a lot my freshman year. I was 14, didn't have my parents. I didn't play much. I actually decided to play JV for a while. I was worried about not playing varsity, but I knew it was a process. And I was also not doing the best in school. It was the best for me to play JV to get in rhythm and once I did, I came up to varsity, but I didn't play much.
"Sophomore and junior year, I started to have a blast. And from there, I grew and matured both mentally and physically and kept getting better and better. I still want to get better. I always will. That's the background. I went through a lot. Those years were better and now senior year, I started school today and it went pretty good. It's going to be a fun, fun year. A lot of things coming with the college stuff, the season, I'm looking forward to it."
One of the current IU players, Devonte Green, went to LuHi. Do you know him?
"I know him. We met at a workout at LuHi. We worked out and we were talking and stuff. But outside of that, I don't know him like I know other people. I've met him, we've talked for a little bit and haven't seen him since we worked out. We're friends and are cool with each other."
Have you visited any schools yet?
"I haven't, but I'll be visiting some soon. I'll make my five visits. I'm figuring that out. But when I figure that out, I'll be visiting some schools."
What do you know about IU basketball?
"I don't really know much about them, but I know they've always had a good program and a good team. I know the coaching staff is good and I've seen them play."
When you begin taking visits, what are you going to be looking for?
"The feeling when I get on campus. If you don't have that feeling, that right feeling, there's no point in committing. Just having that feeling that, 'I could be here' is important. Obviously, the basketball part plays a big role. If it's not the starting point guard spot, I'm looking for good minutes. I'm trying to be the starter. The other part is the academics and if they have the major that I want to study. And the relationship with the coaching staff and the team. The team culture has to be good. Because I come from a program and team where the culture is good and the brotherhood is insane. Every day, we get to know each other better and better and we get closer. Those things are important."
Filed to: Andre Curbelo