6-Banner Sunday: Jerome Hunter update highlights Archie's speech in Evansville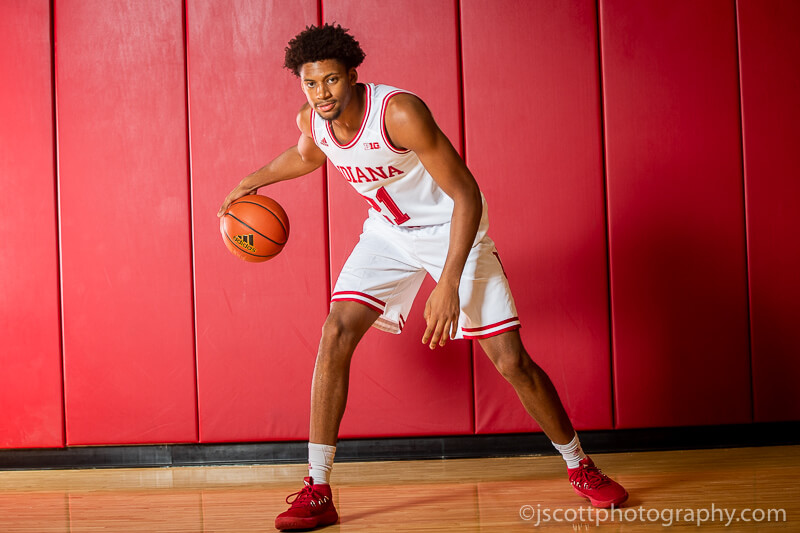 6-Banner Sunday is Inside the Hall's weekly newsletter in partnership with The Assembly Call. More than 6,500 Indiana fans receive the newsletter each week. In addition to appearing each week on the site, you can also opt to receive 6-Banner Sunday by email. A form to subscribe via email is available at the bottom of this week's 6-Banner Sunday.
Welcome to another edition of 6-Banner Sunday, a joint production between The Assembly Call and Inside the Hall where we highlight where we highlight the five most essential IU basketball stories of the past week plus take a look at how the other IU sports teams are doing.
While many Indiana fall sports began the new season this weekend, including the Hoosier football, men's soccer, and volleyball programs, basketball fans were treated to an in-depth update from head coach Archie Miller.
Miller's Tuesday evening stop at Evansville Harrison High School was a chance to update the public on his Hoosier team ahead of his third season in charge of the program.
From talking about the health of redshirt freshman forward Jerome Hunter to praising his incoming freshmen, Miller's media session and speech to the crowd highlighted the week in Indiana basketball, which also featured a class of 2020 player making his official visit to Bloomington over the weekend.
In this week's edition:
• Archie Miller gives progress update on Jerome Hunter
• Mike Roberts hire explained
• Praise for Franklin and Jackson-Davis
• Indiana offers North Carolina guard, Geronimo takes official visit
• Secret scrimmage scheduled, new ITH writers introduced
• Hoosier Sports Roundup
Banner #1
Archie Miller gives progress update on Jerome Hunter
A much sought-after question dating back to last season for those in and around Indiana basketball is the health of Jerome Hunter.
The Pickerington North (Ohio) recruit has never played a game for the Hoosiers and received a medical redshirt last season after undergoing surgery on his leg. The versatile swing man has plenty of potential as a scoring option on the wing for the Hoosiers, and Miller said Tuesday that Hunter participated in "pretty much" everything the team did.
While Miller elaborated to say the rehab process for Hunter wasn't traditional, it remains an encouraging sign that Hunter took part in Indiana's first fall workout last week.
"(Hunter is) in the best place he could possibly be right now," Miller said. "(He's) cleared to do everything he can do with us."
Banner #2
Mike Roberts hire explained
Tuesday's speaking engagement also meant it was the first chance for Miller to offer public comment about the hiring of Mike Roberts.
The former Indiana forward and associate head coach at UNC Greensboro was tabbed by Miller to replace Ed Schilling last week. Miller said time and research was put into the process to hire Roberts, and one of the main attributes that endeared Roberts to Miller was his reputation as a tireless worker.
"He's been involved in a lot, but he's really a grinder in terms of the way that he works," Miller said. "He also has a lot of toughness about him, he's a competitive guy. And I think when you come to Indiana, one of the things that I really have learned to appreciate is a fearlessness."
The Athletic's Dustin Dopirak spoke to ($) UNC Greensboro head coach Wes Miller to learn more about Roberts, his longtime aspirations to return to Indiana and the best qualities he brought to the sideline and the recruiting trail for the Spartans.
Banner #3
Praise for Franklin and Jackson-Davis
In addition, Miller took time to laud the efforts of freshman guard Armaan Franklin and freshman forward Trayce Jackson-Davis as they get set for the new season.
The release of the heights and weights of Indiana's roster for the new season lists Franklin, who will wear the No. 2, at 6-foot-4 and 195 pounds. Jackson-Davis will wear the No. 4 and is listed at 6-foot-9 and 245 pounds.
"These two guys are further ahead because they have a little bit of an older element around them," Miller said, making note of Indiana's small incoming class. "But they've also been really, really low maintenance in terms of what their approach has been. Academically, they're off to a good start. And both in the weight room have made significant gains."
The conditioning of Jackson-Davis will be a significant factor in Indiana's front-court plans for the new season. With senior forward De'Ron Davis and redshirt junior center Joey Brunk expected to play the bulk of the minutes down low for the Hoosiers, it'll be up to Jackson-Davis to provide spells for them off the bench and help limit the minutes played for both.
Banner #4
Indiana offers North Carolina guard, Geronimo takes official visit
An eye on the future was still maintained by the Hoosiers this week, as Indiana extended a scholarship offer to a North Carolina-based guard and welcomed class of 2020 forward Jordan Geronimo to Bloomington for his official visit.
The aforementioned scholarship offer went to Carter Whitt, a class of 2021 guard from Raleigh, on Thursday. Whitt, who attends Leesville Road High School, is ranked as the No. 48 player in the country by the 247Composite and also has offers listed on his 247Sports profile from brand names like Florida, NC State, Virginia, and Wake Forest.
Geronimo's official visit to Indiana this weekend comes amidst a flurry of interest in the northeast recruit. The small forward plays high school ball for St. Paul's School in New Hampshire and AAU ball for Mass Rivals, and visited Bloomington ahead of official visits scheduled for September to Georgia (home to former Indiana head coach Tom Crean) and Boston College.
Banner #5
Secret scrimmage scheduled, new ITH writers introduced
In similar fashion to last season's "secret scrimmage" against Loyola Chicago in Indianapolis, the date of Indiana's closed-door scrimmage ahead of the new season has been revealed.
The Journal Sentinel's Marquette men's basketball beat writer, Ben Steele, tweeted last week the Golden Eagles will play Indiana in a closed-door scrimmage on Oct. 20. The location for the scrimmage wasn't mentioned, although Steele wrote it wouldn't take place in Milwaukee.
This year's scrimmage is scheduled for 15 days after Hoosier Hysteria and 16 days before Indiana opens the season at home against Western Illinois.
Coverage for the new season at Assembly Call and Inside the Hall will feature two new faces this season as well, with student interns Cameron Drummond and Dylan Wallace introduced to the audience this week.
Both are veterans of the IU student media scene and are committed to delivering comprehensive coverage of the team during their senior years.
Banner #6
Hoosier Sports Roundup
This content was contributed by Aaron Shifron (twitter @ashifron).
All the major fall sports got regular season competition underway this week. Assembly Call will have coverage of IU's Olympic sports this fall in the Assembly Call Community for those with a subscription under the 'Men's Soccer' and "Other Sports" topic.
• Recent IU soccer star Andrew Gutman did an interview with Assembly Call this week. A free story about him can be read at this link. Despite losing Gutman and 10 other starters, the Hoosiers were named the Big Ten favorites for this year in part because Jack Maher and Josh Penn were named Preseason All-Americans.
• On the soccer field, IU won a 3-2 overtime thriller over Pittsburgh to open the season.
• Women's soccer won their first game of the season over Illinois-Chicago before falling to Murray State.
• Volleyball opened up their new stadium Wilkinson Hall with a couple of victories.
• Football gave more information about first time alcohol sales and improvements to Memorial Stadium this year. Also Michael Penix was named the starting quarterback. He threw for 326 yards and a touchdown (plus two interceptions) in the Hoosiers' 34-24 victory over Ball State at Lucas Oil Stadium.

• Baseball released their fall exhibition schedule.
• Softball also announced their exhibition fall schedule.
• Cross Country opened their season with strong results.
• Men's Golf added a transfer for this season.
• Field Hockey had three players tabbed for the Big Ten Preseason watch list before losing their season opener to Louisville.
• Rowing held informational meetings last week.
Thanks for your continued support for The Assembly Call. We'll be back next weekend with a new roundup.
Now go enjoy yourself a 6-banner Sunday.
Filed to: