Notes and quotes from Archie Miller's Tuesday media availability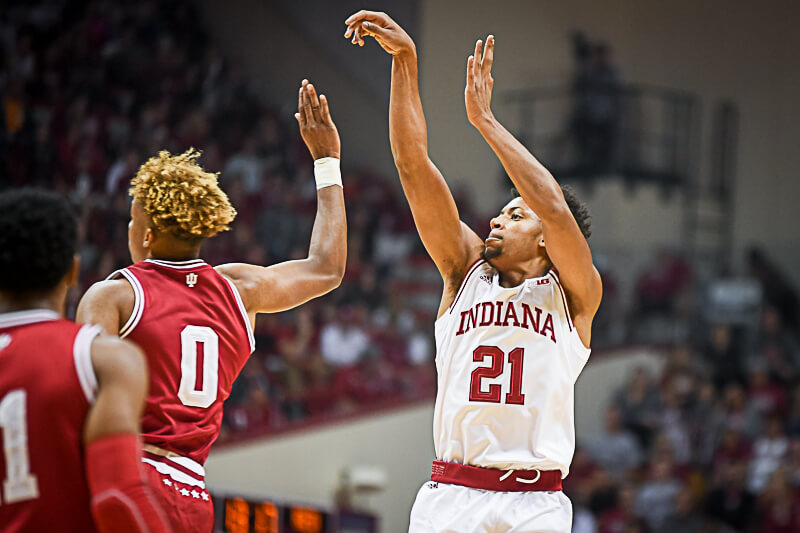 Indiana coach Archie Miller addressed the media for the first time in two months on Wednesday and discussed a variety of topics with the start of practice just a month away.
You can watch the full media Q & A here, but we've also summarized some of the more important takeaways below:
• Miller said that redshirt freshman Jerome Hunter finished Indiana's summer program and "pretty much" participate in everything the team did. Miller said Hunter had "very little" in terms of setbacks, but also said that it was less intense in terms of what the team will do when the season actually starts. Miller also said that Hunter is "cleared to do everything he can do with us," but also said it is also a "wait and see, day by day, week by week as we add things" to see what Hunter can handle.
• Indiana had its first fall workout as a team on Tuesday and Hunter was a participant, per Miller.
• Miller explained that Hunter's rehab wasn't traditional and that it was "a lot of trial and error and listening to doctors and trainers." Miller added that Hunter is "in the best place he could possible be right now."
• Miller's comments on what new assistant coach Mike Roberts will bring to the program:
"We took our time as a staff and me in particular really took our time and not only doing our research about the perfect fit for what I want and what I want around our players right now and what we could do to make ourselves better. Mike fit all of those boxes. One, he is a relentless worker. I think if you just study him as a player and then as his career has unfolded where he's been, whether that's been a graduate assistant with coach (Bob) Knight at Texas Tech or working his way up to California in the Pac-10, moving onto Rice and then, you know, establishing UNC Greensboro here over the last seven years as the associate head coach and building a program.
"He's been involved in a lot, but he's really a grinder in terms of the way that he works. He also has a lot of toughness about him, he's a competitive guy. And I think when you come to Indiana, one of the things that I really have learned to appreciate is a fearlessness. You know, a person that wants to be a part of what's going on at IU and particularly the basketball program and that tradition sometimes can put a little bit of fear in you. Like, 'wow, you know, I didn't realize it was this important or this big of a deal.' And it is. And Mike being able to walk in those shoes as a player, follow Indiana as a fellow coach in the business and understand that this is where his heart lies, you know, and he's not afraid of that. That's important.
That was very important decision in finalizing that last step. He's a proven recruiter. He's a proven developer, takes a lot of pride in our players, which I like. And you know, he's very shortly, he's been with us a couple of days already made a big imprint on me and being able to get him in the fold full scale and bringing his family back to Bloomington is really, really exciting.
• On being in the Evansville area: "I love Evansville. I really do. It's been one of the places that I've really enjoyed coming down to in my recruiting. The people that I've met here in terms of being not only in town and obviously back on campus, I can get that feeling like I do a lot of places in the state, but in particular southern Indiana and moving over here that there's great passion for not only our program but Indiana University in general."
• Miller noted that recruiting "never stops" and said that Indiana's campus and facilities are a huge selling point in attracting players to the program. "We have a lot of work to do, but that doesn't change, it never stops."
• On IU's team with the start of practice about a month away: "I like our team. You know, our team has a great deal of versatility and our strength obviously is in our size. Just in getting to know these guys and talking to them, humility is going to be a great deal for this team. A humble group, that's willing to work, that's going to care about maxing its potential. And that's what we've talked about a lot of the summer.
"But more importantly, as we started off this fall, that's been the theme of things is having great humility as a group. But it's a group I think that has as good versatility. Barring great health, every player on our team should anticipate being a part of a winning culture and having an anticipation that they can impact that thing. There's not a guy that I look at and say, 'boy, he's got his work cut out for him in terms of getting to the floor.'"
• On how the two scholarship freshmen are doing: "Trayce Jackson-Davis and Armaan Franklin have both done a really nice job of really stepping two feet in on the campus and buying in. It's not a huge class. Last year at this point in time we had five true freshmen on campus at one time. That's difficult to navigate early in August and September, October. These two guys are further ahead because they have a little bit of an older element around them, but they've also been really, really low maintenance in terms of what their approach has been. Academically, they're off to a good start, both in the weight room have made significant gains.
"Trayce has really taken his conditioning as a young frontcourt player to a different level than he's been in the past. His body's changed and Armaan's put on size here early, which he'll continue to have to do as as he gets older and bigger, stronger. But they've done a great job in those two areas. And then on the court just being willing learners and listeners watching them, both guys have a good feel. Both come from really good programs that have been coached in high school. I think they both obviously have bright futures and we love that they're here. I think they can both really contribute and add an impact to our team this season."
• Miller said there is still an interest from the IU side of things to resume the Kentucky series and that talks have been ongoing.
Filed to: Archie Miller, Armaan Franklin, Jerome Hunter, Mike Roberts, Trayce Jackson-Davis