Introducing Dylan Wallace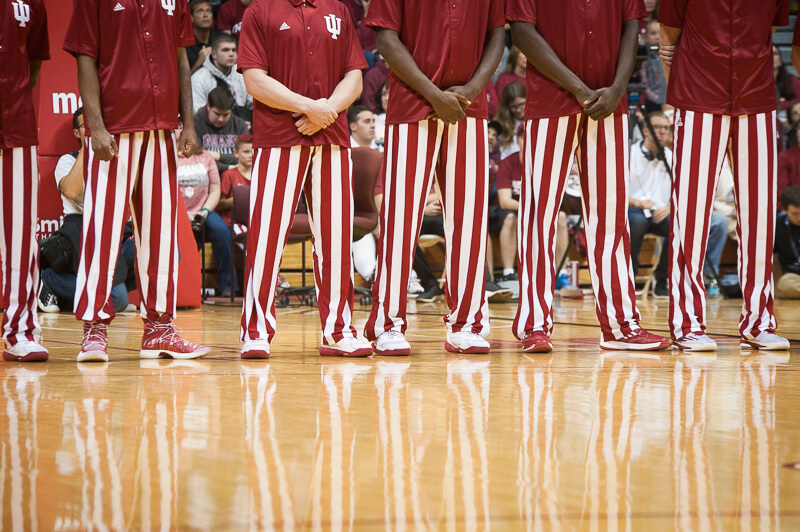 Editor's note: We're excited to announce that we've hired two new writers, Cameron Drummond and Dylan Wallace, for the upcoming season. Cameron and Dylan will be taking over all of the day-to-day duties that Ben Ladner and Seth Tow had last season and we're thrilled to welcome both of them to the team. Cameron and Dylan will also be working with The Assembly Call this season.
Make sure to follow Dylan on Twitter and look for his coverage in the weeks and months to come. His introduction post follows.
I had just finished up a track meet and when we got back to the high school, I decided to keep on my singlet and short shorts to attend my high school basketball team's sectional final. Why? Because, you know, foolish high school students liked to dress in costumes for games and since I didn't have a superman or banana body suit like other kids, I figured my uniform would do.
It was an intense back-and-forth battle between Crown Point and Valparaiso, and Purdue's Sasha Stefanovic hit a half-court 3-pointer to send the game into overtime. It was pandemonium. The students, myself included, rushed the court despite an extra period still needing to be played. It was known as "The shot heard round the Region."
Yes, I'm from Northwest Indiana or, in other words, "The Region." My high school, Crown Point, went on to win the game. Aside from a few regular season Chicago Bulls games that got loud toward the end, that sectional game was some of the craziest and loudest basketball I've seen.
Growing up in the northern part of Indiana, I never really understood the basketball craze this state embodies. That game was probably the closest I got.
It wasn't until I came to Indiana University and attended Indiana versus No. 3 North Carolina in Assembly Hall my freshman year in 2016. My high school gym in Crown Point suddenly seemed like a whisper to the overwhelming wails of the Hoosier fans in attendance that night. That night became one of many crazy games I've experienced in my first three years of college.
To many student media at the university, Indiana basketball, deservedly so, is the top of the food chain in terms of coverage. As a freshman, I understood that. I didn't expect to be the one writing the gamer for the Hoosiers' routing against the Tar Heels.
What many don't realize is the smaller sports at this school present some of the best opportunities to grow and get creative as a writer. Whether it be women's tennis, track and field, women's basketball, men's soccer or Little 500, I've had the opportunity to write some of my better stories to date and become a versatile writer today.
Stories like Tyra Buss' motivation to be the best women's player in Indiana's program, Maggie Allen's preparation for her final race as a Hoosier, George Taliaferro's trailblazing legacy and a group of women petitioning for equality in the Little 500.
As part of the Indiana Daily Student, where I served as the sports editor for two semesters, I had the chance to write at least one or more articles on 21 of the 24 Indiana sports. Yes, Indiana basketball included by helping out with coverage for the IDS last season and covering the team's NIT run for the Journal Gazette in Fort Wayne.
I've interned at the Times of Northwest Indiana and have freelanced for the Detroit News, but of all the experiences I've had, I'm more excited to cover Indiana basketball for Inside the Hall and Assembly Call, which I'd like to thank Alex and Jerod immensely for the opportunity.
Basketball is my favorite sport. From being manhandled as a kid by my cousin, who was plenty of inches taller than me, to watching/attending games with either my dad, cousin or girlfriend, basketball has been a big part of my life in terms of best memories and bringing loved ones together.
It's that aspect of the game that interests me the most.
When Sasha Stefanovic hit that ridiculous shot, I wrote a feature story on him that year. It wasn't about the shot. It was about how he got to this point, trying to pave his own path after his dad played in the NBA, attempting to prove himself in the future for the Big Ten conference.
It's the "more than a shot" type stories that I strive to write about. Of course, I'm beyond excited to be handling the day-to-day duties that Seth and Ben did last year, but something I'm eager to bring to the table is my ability to find deeper, more personal stories about the players that make up Indiana's roster.
I've already been able to give the Inside the Hall audience a taste of that with my story about Jordan Hulls earlier this summer, and I look to continue to find stories like that on past, present and future Indiana players.
I'll have tremendous help working alongside one of the media program's best writers in Cameron Drummond, and we're excited to churn out some of the best coverage and intricately written stories this season.
P.S. Don't expect to see me wearing short shorts in Assembly Hall this year.
P.P.S. This isn't a one-way street. The relationship that should exist between you, the ITH reader, and myself and Cameron, the ITH writers, should be mutually beneficial.
We want to provide you with the content you want. So, pass along your ideas, questions and queries to us. Find us on Twitter, shoot us an email, leave a comment below with something you'd like us to write about.
We'll look into it, I promise. Cameron and I will even dedicate our own ITH podcast (more news on that soon) to answering the questions that you, the ITH reader, have about Indiana basketball.
Filed to: