Introducing Cameron Drummond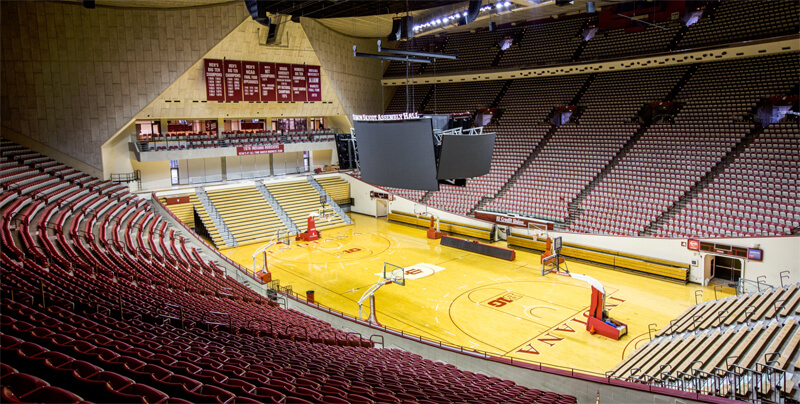 Editor's note: We're excited to announce that we've hired two new writers, Cameron Drummond and Dylan Wallace, for the upcoming season. Cameron and Dylan will be taking over all of the day-to-day duties that Ben Ladner and Seth Tow had last season and we're thrilled to welcome both of them to the team. Cameron and Dylan will also be working with The Assembly Call this season.
Make sure to follow Cameron on Twitter and look for his coverage in the weeks and months to come. His introduction post follows.
There are several ways I could go about introducing myself, from listing whatever qualifications I think would most endear me to you, the Inside the Hall reader, or by simply conveying how excited and thankful I am for the opportunity presented by Alex Bozich and Jerod Morris to work with my friend Dylan Wallace covering Indiana basketball for Assembly Call and ITH this season.
But I'd like to start with some stories about myself, and I promise they will all make sense in the end.
When I was a kid growing up as a first-generation American (Brazilian mother, Scottish father) in the suburb of Plano, Texas, just outside of Dallas, I had a lot of free time on my hands.
I recall several childhood endeavors of note, from creating fake menus for an imaginary restaurant to be located in my family's apartment, to collecting and sorting bottle caps according to brand and color that I picked up around my apartment complex. Last, but certainly not least, I created a fake art gallery in my family's apartment as I attempted (emphasis on the word attempted) to draw the sports logos for each professional team in the four major North American sports leagues.
Interpret that information however you wish, but those anecdotes communicate more about me and my way of going about things than anything else I could have written.
In both the way I live my life and how I work as a journalist, I enjoy studying how people act and why they do the things they do.
Analysis is needed as well, because it's important to understand things in context.
I played a lot of sports video games as a kid, and spending entire days listening to indie rock influenced soundtracks is why I remain loyal to The Strokes as my favorite band. I associate the sound with happy memories.
The same concept can be applied to Indiana basketball — look no further than the now departed Juwan Morgan and his childhood upbringing in a military household as the context needed to understand his gritty on-court play.
I'm obsessed with understanding more about people, the context their lives have been lived within and the effect that has on why they act in certain ways.
Why do I prefer to listen to the guitar-heavy rhythm of early 21st century rock music compared to the contemporary music scene?
Why does Devonte Green shoot as many 3s as he does? Why does he prefer a flamboyant, one-handed lob pass compared to the more reliable two-hand chest pass? Why does he fully embrace his style of play in the face of frequent criticism?
It's my opinion that we learn more about each other as people by chasing that question and finding the answers to it.
It's something I've tried to do in my previous stops as a journalist while going to school in Bloomington.
Three eventful years at the Indiana Daily Student gave me a chance to get good at figuring out the why. It spearheaded a feature story during my sophomore year on former Indiana football wide receiver Taysir Mack, which included me spending late nights in my apartment cross-referencing crime logs from Brooklyn, New York to help explain the context behind Mack's distinct touchdown celebration.
It's a question I answered twice last year on the Indiana men's basketball beat for the IDS.
The first came when I noticed a small tattoo on the inside of Evan Fitzner's left arm, part of a touching tribute to his grandmother. The second came once the 2018-19 season ended, because I was curious why Juwan Morgan always wore a T-shirt underneath his jerseys and resulted in a 3,000-word story that studied his persona on and off the court.
I've already done one piece for Inside the Hall, dissecting former Indiana player Maurice Creek and his emotional return to The Basketball Tournament. In that story the question of why produced an insightful look at how Creek moved past the death of a friend and teammate using the sport of basketball.
The point I'm trying to make is that many of the things we experience in life become clearer when we simply ask why? It lets us relate to one another better and empathize with each other more.
Whether you've wanted to know why in the context of Indiana basketball before, or not, I hope to provide you with that insight during the upcoming season.
But this isn't a one-way street. The relationship that should exist between you, the ITH reader, and myself and Dylan, the ITH writers, should be mutually beneficial.
We want to provide y'all (told you I'm from Texas) with the content you want. So pass along your ideas, questions and queries to us. Find us on Twitter, shoot us an email, leave a comment below with something you'd like for us to write about.
We'll look into it, I promise.
Dylan and I will even dedicate our own ITH podcast (more news on that soon) to answering the questions that you, the ITH reader, have about Indiana basketball.
We want you to ask why. I want you to ask why.
Let's do it together.
Filed to: