6-Banner Sunday: What should we expect from Jerome Hunter next season?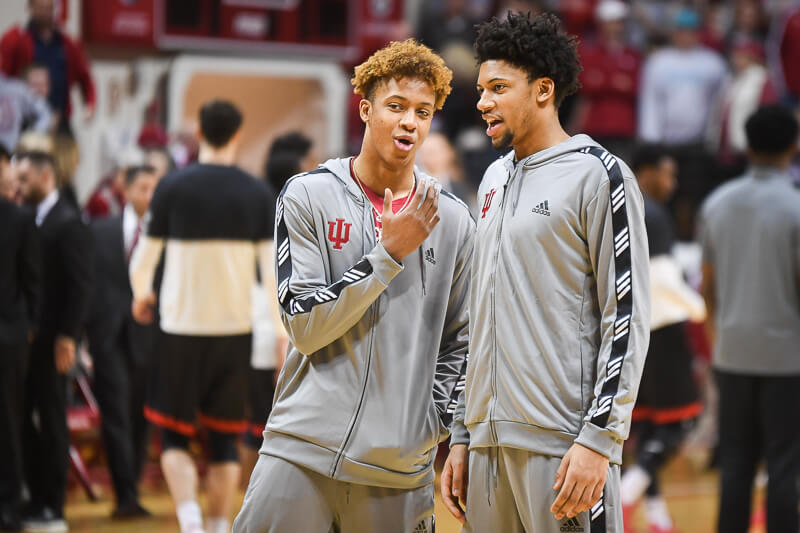 6-Banner Sunday is Inside the Hall's weekly newsletter in partnership with The Assembly Call. More than 6,500 Indiana fans receive the newsletter each week. In addition to appearing each week on the site, you can also opt to receive 6-Banner Sunday by email. A form to subscribe via email is available at the bottom of this week's 6-Banner Sunday.
Welcome to another edition of 6-Banner Sunday, a joint production between The Assembly Call and Inside the Hall where we highlight where we highlight the five most essential IU basketball stories of the past week plus take a look at how the other IU sports teams are doing.
Editor's note: We'll be taking a short summer hiatus the next two weeks before resuming weekly 6-Banner Sunday publishing on July 7th.
Despite college basketball season having ended months ago, there is still plenty of news and fodder for discussion of Indiana basketball. From offseason storylines to NBA futures, a great deal remains unknown about the program even in mid-June.
As even Archie Miller and his staff continue to search for answers, this newsletter seeks to do the same.
Here's what you should know about the past week in IU basketball.
In this week's edition:
• Assembly Call Radio: Breakout candidates
• What should we expect from Hunter next season?
• Inside the Hall: Offseason storylines
• Hulls basketball camp registration open
• Langford earns Green Room invite
• Hoosier Sports Roundup
Banner #1
Assembly Call Radio: Breakout candidates
On this week's Assembly Call Radio, the estimable trio of Jerod Morris, Andy Bottoms, and Galen Clavio fired up the mics to discuss one of the hottest points of discussion surrounding IU basketball this offseason: which players are poised to break out in the 2020 season?
With voids at both guard and forward, any of Rob Phinisee, Al Durham, Devonte Green, or De'Ron Davis could emerge as Indiana's best player next year, while Justin Smith and Race Thompson could provide huge boosts in the frontcourt by taking leaps forward.
The crew also dives into some news and fields some questions from listeners. Subscribe and listen to every episode of The Assembly Call here (if you haven't done so already) to stay current on the most important IU basketball news and analysis all year long — even the doldrums of the offseason!
Banner #2
What to expect from Hunter next season
After sitting out his entire first season at Indiana with an undisclosed leg condition, Jerome Hunter remains one of the most mysterious figures in the IU program.
Seen as a future NBA talent by some, the 6-foot-7 forward could have the power to drastically alter the team's fate next season — if only he could get back onto the court.
The Indianapolis Star's Zach Osterman dove into what impact Hunter might have should he return to the court and the various complications surrounding his current situation. Over at Inside the Hall, Alex Bozich looked at what Hunter's future at IU could hold.
With so little public information about Hunter's diagnosis and basketball future, the safest way to evaluate Hunter is to temper expectations until a firmer prognostication can be made. Whatever the impact he might make on the court, his and Indiana's first priority should be Hunter's health.
Banner #3
Inside the Hall: Offseason storylines
In addition to exploring Hunter's future, Inside the Hall spent the last week diving into some of the biggest questions and stories of IU's offseason.
On Monday, Ben Ladner wondered whether the team would have enough shooting to properly balance the floor and run an efficient offense.
On Tuesday, Ryan Corazza identified possible candidates that could replace Juwan Morgan and Romeo Langford's scoring production from last season.
Seth Tow examined more potential breakout candidates while Dylan Wallace assessed IU's frontcourt situation.
With the team's two best players departing, two highly talented freshmen stepping into the rotation, and Archie Miller entering a potentially pivotal third year of his IU tenure, the program is in the midst of a transformational period. The coming season will reveal a great deal about nearly everyone involved.
Banner #4
Hulls basketball camp registration opens
Registration for the Jordan Hulls Skills Academy has officially opened, the IU alumnus and Bloomington native Jordan Hulls recently announced Friday.
The basketball camp is open to boys and girls in grades 2 through 12 and will take place June 19-21 at Bloomington High School South. Players can register via this link.
Banner #5
Langford earns Green Room invite
Earlier this week, ESPN's Jonathan Givony reported that Romeo Langford was invited to sit in the Green Room at the NBA Draft later this month.
The Green Room (really a roped-off section of tables at the front of the Barclays Center) is largely just a way to distinguish the players most likely to be selected in the lottery and sit them closer to the stage for a quicker arrival when their names are called. Langford was a late addition to the Green Room, and the mere question of whether he'd be among that group is an indication of where his draft stock currently stands.
The guard has almost become a sleeper in this draft due to how low most evaluators have become on him. His ability to score and make plays from multiple levels of the floor remains a valuable asset, particularly in a relatively star-poor draft. Yet the concerns around Langford's game are valid, and he appears unlikely to be drafted before the teens.
Dustin Dopirak of The Athletic examined Langford's fit with various franchises slated to draft in Langford's projected range.
Banner #6
Hoosier Sports Roundup
This content was contributed by Aaron Shifron (twitter @ashifron).
All athletic teams at IU now have completed their 2018-2019 season. However, several offseason stories made headlines this week.
• IU's Baseball season is over. However, recent former Hoosier pitching great Kyle Hart returned to the state of Indiana in Indianapolis to pitch at Victory Field for the Triple A Pawtucket Red Sox. Assembly Call was on site for the game as Hart was dominant in seven innings while earning the win. Afterwards he was interviewed and a free story about the game and his time at IU can be read on the Assembly Call website. As for the current Hoosiers, IU announced where players are headed for Summer League.
• Men's and Women's Track and Field finished up the NCAA Championships last Saturday.
• IU Soccer saw current player Jack Maher make the USMNT U23 Camp.
• Wrestling saw IU alum Lucas Sheridan earn a spot to compete in the Final X.
• Field Hockey announced their 2019 schedule.
• Water Polo named a new head coach in Taylor Dodson.
And with that, the joy of hanging Banner #6 is now one week closer.
Thanks for your continued support for The Assembly Call and Inside the Hall. We'll be back next weekend with a new roundup.
Now go enjoy yourself a 6-banner Sunday.
Filed to: