Offseason storylines: What is Jerome Hunter's future at IU?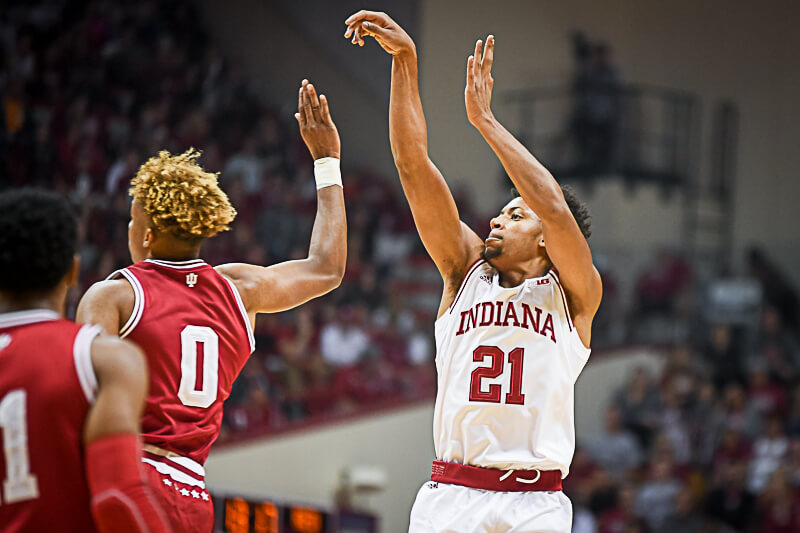 Welcome to offseason storylines, a look into some of the biggest storylines surrounding the 2019-2020 Indiana Hoosiers. Today's topic: A look at the uncertain future of Jerome Hunter.
When Jerome Hunter took the floor for the 2018 edition of Hoosier Hysteria at Simon Skjodt Assembly Hall on September 29, Indiana fans were treated to a head to head battle between the program's two best newcomers.
The 6-foot-7 forward went toe-to-toe with Romeo Langford for a good part of the event's scrimmage and more than held his own.
It wasn't hard to see how Langford and Hunter would fit together and complement each other on the floor.
In bigger lineups, Hunter and Langford could both play on the wing and provide Archie Miller with a pair of capable playmakers to flank whomever was running the point. And in smaller lineups, Hunter could shift to a stretch four role, arguably his most dangerous position because of his ability to shoot from the perimeter.
But that scrimmage would be the only time Indiana fans would see the duo together on the floor in an IU uniform. A month later on October 31, Hunter was shown wearing the gold practice jersey on IU's various social media accounts.
Just days later, however, Hunter was shut down with what was characterized as a lower leg condition. He underwent surgery in mid-November and did not play at all last season. According to IU's statement on the situation, Hunter's surgery took place at Cleveland Clinic and was performed to "treat a lower body condition that first developed early in the semester."
Unfortunately for Hunter, there is still no definitive update on what his future in Bloomington looks like.
Earlier in the spring, there was encouraging video shared by Hunter on social media that showed him working toward a return to the floor.
Working hard to get back on the court for the best fans in the country. ?? pic.twitter.com/DknxgecLzZ

— rome?? (@j_hunter35) April 19, 2019
But recent comments from Archie Miller at IU's annual "on the road" tour stop at Huber's Winery in Borden only reinforced that Hunter's status is still very much up in the air.
"He has a leg condition that is still very uncertain," Miller told IU fans. "He's not 100 percent cleared by any stretch of the imagination. And we're not 100 percent on what he's going to be able to do."
According to Miller, Hunter is in Bloomington and is doing rehab in the mornings with Tim Garl and the IU training staff. In the afternoon, Hunter shifts to weight training before finishing his days on the court doing agility work.
So what's next for Hunter and IU?
The hope is that he'll continue to progress and one day make a full return to the floor. That day, however, still appears to be a ways off in the distance.
"He's far, far away from having any indication or any final decision on where he goes from here," Miller said. "We're probably looking towards July and August and seeing what he's capable of doing as we continue to progress him with what the doctors and training staff have done with his plan."
For Indiana, having Hunter could be transformative as it seeks to avoid missing the NCAA tournament for a fourth straight season.
It's no secret that Indiana must find a way to replace its two most valuable players from last season's team that reached the third round of the National Invitation Tournament. Langford and Juwan Morgan were the only two Hoosiers to average in double figures. Without them, Miller has a huge task ahead in order to just build an average Big Ten offense.
If Hunter is able to play, he'll offer the Hoosiers a player with terrific size on the wing who can shoot. That was something Indiana simply did not have last season as Langford's thumb injury torpedoed his shooting numbers and the rest of the roster struggled to knock down shots with any consistency.
"We're hopeful that each month we'll get more information on Jerome," Miller said. "It's a very unfortunate thing. It's life. He's having to learn a hard lesson right now for the first time. Sometimes that happens."
Filed to: 2019-2020 season preview, Jerome Hunter