Offseason storylines: How can Indiana improve its shooting next season?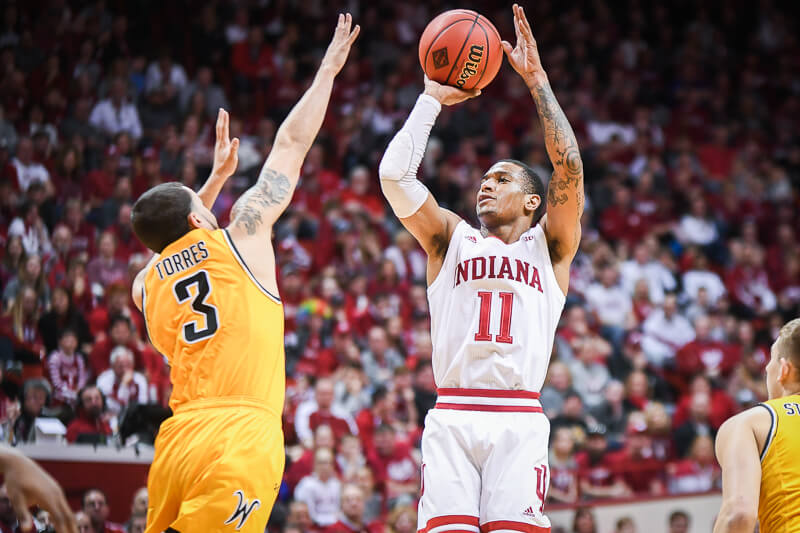 Welcome to offseason storylines, a look into some of the biggest storylines surrounding the 2019-2020 Indiana Hoosiers. Today's topic: How can Indiana improve its shooting next season?
Archie Miller still has two scholarship spots to fill on his 2019-2020 roster, and while it's unclear who exactly will fill those spots, the skill Indiana should target has been evident for months.
IU has been one of the worst shooting teams in college basketball during Miller's tenure, and barring drastic individual skill development this offseason, may continue to be next season. The coaching staff should look to add shooters to the roster at all costs, even if those players have limitations that prevent them from being much more than spot-up threats. While Miller doesn't emphasize the 3-point shot as a feature of his offense, Indiana could do with an increase in 3-point volume – not to mention accuracy – if only it could find the shooters necessary to make it happen.
IU made double-digit 3s just three times last season and ranked 300th out of 353 Division I teams in percentage of shots taken from deep – both of which helped cripple Indiana's offense last season. Beyond missing out on the additional point that comes from making a 3-pointer, the lack of spacing that stems from the absence of shooters constricts the floor and makes offense an exponentially more difficult endeavor. Nearly all of Romeo Langford's drives were met with at least one help defender, while Juwan Morgan's post-ups were often blanketed by double teams as opponents dared the rest of the team to make shots. Spoiler: they didn't. Only Devonte Green shot better than 35 percent from distance last season, and nearly all of Indiana's attempts came off the catch – theoretically the easiest triples to make.
For a team to lack that basic skill practically suffocates its offense to a point of futility. Indiana's 109.4 offensive rating (per KenPom) ranked 82nd in the country and 11th in the Big Ten – even with talents like Langford and Morgan at the controls. Absent those catalysts, it's difficult to see a path toward improvement in the near-term. For all their warts – of which there were many – perhaps no player in the Big Ten can replicate Morgan's array of moves, finishes, and passes or Langford's languid drives and smooth finishes. A potential silver lining: Morgan and Langford shot a combined 28 percent from deep last season. Replace that with another above-average mark from Green, improvements from Al Durham and Rob Phinisee, and average shooting from Armaan Franklin, and the team's overall 3-point percentage ought to tick up.
But without Langford and Morgan's playmaking, will IU be able to generate a high enough volume of attempts to genuinely compromise defenses?
Most every elite offense in college basketball last season featured either a deadly pull-up shooter or a deep cast of reliable catch-and-shoot marksmen (Duke was an exception, and if Indiana can somehow fill its remaining scholarships with facsimiles of Zion Williamson and R.J. Barrett, it will render this article's reasoning irrelevant). IU had neither, and therefore lacked the gravity necessary to run an efficient offense. Indiana needs someone in the backcourt to pop for the offense to make any tangible strides next year. If one of those four becomes a legitimate threat to shoot off the dribble, Indiana instantly becomes more dynamic and the floor opens up for role players to more easily pick their spots. Phinisee and Franklin have the tools to become reliable – though not elite – pull-up shooters, even if they don't get there next season.
At times, Green was Indiana's best offensive guard last season; he'll now be asked to sustain that for an entire season – an expectation that has proven challenging for him to meet in the past. Durham provided passable floor spacing for most of his sophomore season, and with his smooth, repeatable stroke, could offer more of the same as a junior. Phinisee was an inconsistent shooter as a freshman, but figures to be a good one moving forward. Franklin remains a wild card at the moment.
Given the personnel on its 2019-20 roster, Indiana will likely keep two bigs on the floor most of the time, which will further compromise its spacing. Most of those players are skilled enough to stay on the court together – and two-big alignments should help fortify the defense – but none are good enough shooters to solve any shooting concerns. Even if IU's backcourt provides reliable volume shooting (an unlikely expectation to begin with), it won't entirely remedy the team's spacing concerns because Miller will essentially have to keep two complete non-shooters on the floor at all times. By this point in his IU coaching tenure, he has plenty of experience in those situations.
Filed to: 2019-2020 season preview, Aljami Durham, Armaan Franklin, Devonte Green, Robert Phinisee