Offseason storylines: IU's breakout candidates for 2019-2020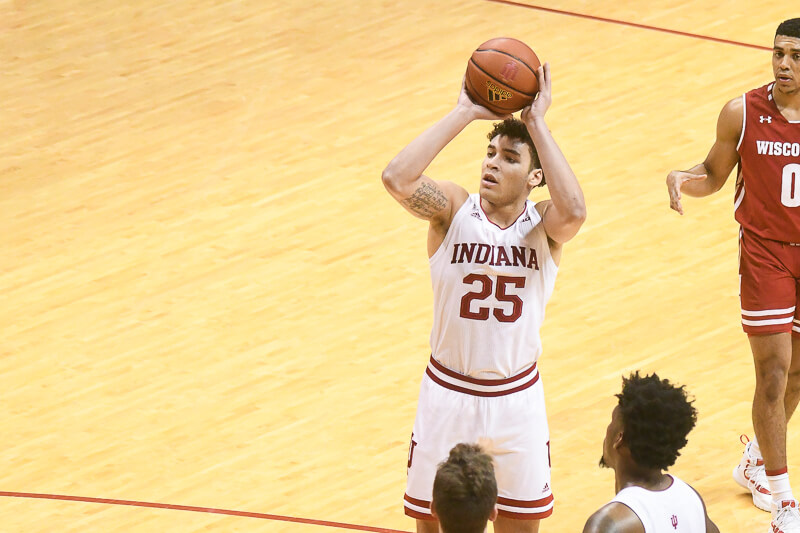 Welcome to offseason storylines, a look into some of the biggest storylines surrounding the 2019-2020 Indiana Hoosiers. Today's topic: A look at IU's breakout candidates for next season.
After losing the two best players from last year's team, Indiana will need some guys to break out next season. There are several ways a player can break out — whether it's marked improvement from one season to another or taking on a more prominent role. With so many question marks going into next season, IU needs players to break out in multiple ways. Here are a few candidates to do so.
Race Thompson
Thompson is the most obvious candidate for a breakout season in 2019-20. After redshirting in 2017-18, he spent most of last season on the sideline working through concussion symptoms that took him longer to overcome than he expected. Once he returned, his role varied. Sometimes he'd only play a few minutes to spell Indiana's bigs at the end of a half, and sometimes he'd play longer stretches when Juwan Morgan or De'Ron Davis got into foul trouble and IU needed help.
His best performance by a long shot came in IU's upset win over Wisconsin in double overtime, when he played 22 minutes and played good defense against Ethan Happ.
Next season, Thompson will have a crack at a more consistent and more important role for the Hoosiers. He's expected to be in the top four of Indiana's front court rotation, along with De'Ron Davis, Joey Brunk and Trayce Jackson-Davis. Thompson's calling card will be his defense, but he needs to improve his offensive game to carve out a larger role. He looked raw offensively in all facets last year. If he's fourth in the pecking order of big men, he may not have that much larger of a role next season than he did last season. But if he can develop offensively, his defensive ability will earn him playing time, and a breakout season would be very plausible.
Joey Brunk
At 6-foot-11, Brunk will be the tallest player to don an Indiana uniform since Jeremiah April back in 2014-15. That size alone will earn him some playing time in the post along with Davis, Jackson-Davis and Thompson. He won't offer much in the way of outside shooting, but that won't be his role. He plays physical inside, although it could be a new challenge for him to take that physicality into the Big Ten, and is a solid finisher. He went from averaging 1.3 points per game as a freshman to 7.6 as a sophomore.
So what would constitute a breakout season for Brunk? There are multiple answers. It would qualify if he continues to improve his output on the scoreboard and on the glass. It would also count if he's a solid contributor in the starting lineup — which is a very realistic possibility. His breakout wouldn't be the traditional breakout season since he'll be in a new program, but he'll have plenty of opportunities to ingratiate himself with the Hoosier faithful and earn their affection.
Damezi Anderson
Anderson never really settled into a role for last year's Hoosiers. His shooting proved inconsistent at best, and there wasn't much else he could lean on for minutes last season. But that doesn't mean he can't break out next season. Sure, there's a lot he needs to work on. His outside shooting — his strength — needs to be better, otherwise he'll be in for another season of mainly riding the bench. His defense needs drastic improvement to not be a liability on the floor.
But if Al Durham's 3-point shooting can go from second-worst among IU's regulars at 28 percent as a freshman to second-best on the team at 35 percent as a sophomore, there's no reason why Anderson couldn't raise his game in a similar fashion. That's not to say he *will*, as this is definitely more of a dark-horse breakout candidate, but it's certainly a possibility.
Filed to: 2019-2020 season preview, Damezi Anderson, Joey Brunk, Race Thompson