Offseason storylines: Who will step up in the scoring department?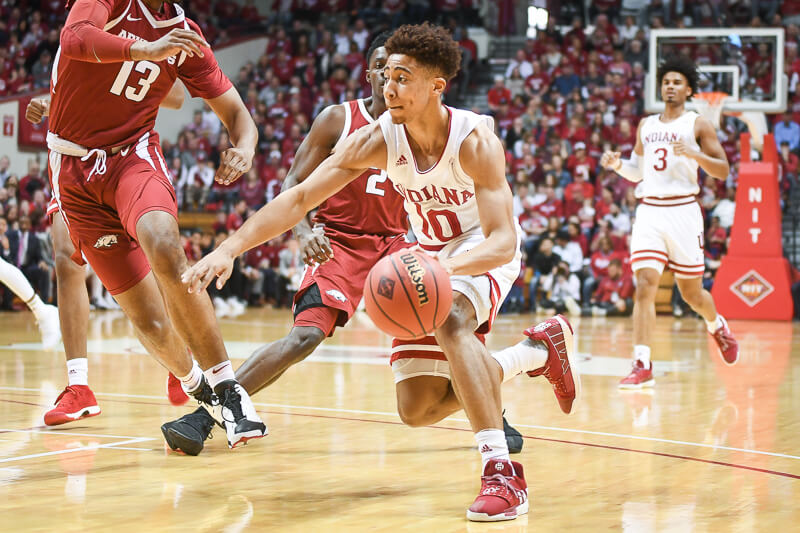 Welcome to offseason storylines, a look into some of the biggest storylines surrounding the 2019-2020 Indiana Hoosiers. Today: A look who will replace the scoring void with Juwan Morgan and Romeo Langford now departed.
With Juwan Morgan (15.5 ppg) and Romeo Langford (16.5 ppg) both entering the NBA draft, the 2019-2020 Hoosiers will be without their top two scorers from a season ago. Both were the only Indiana players to post double-digit scoring averages, attempt over 300 shots, play over 73 percent of available game minutes and have a usage rate above 25 percent.
Simply put: Indiana has holes to fill on offense going into next season.
So who will step up in their absence?
"Rob Phinisee's got to develop a bigger role offensively," Archie Miller said last month at Huber's Winery. "Devonte (Green) and De'Ron (Davis) being seniors have to elevate their games a little bit as well. I think with opportunity you get great confidence and you'll see guys change the complexion of their careers as they get older. That's what happens."
Miller also said at Huber's that Phinisee's experience and minutes from his freshman campaign means "he should be viewed as an upperclassman." As such, a look at filling the offensive void starts with the West Lafayette product. Phinisee showed promise as both a shooter and playmaker as a freshman, but sported an effective field goal percentage of just 42.4.
But he figures to again have the ball in his hands a lot as the primary point guard next year, giving him plenty of opportunity. In a 2018-2019 season in which the Hoosiers struggled to shoot from distance, Phinisee was third on the team in 3-point shooting (31.0%), showing good form. Improving that 3-point shooting percentage into the mid-to-high 30s would be a nice start towards an uptick in Phinisee's production.
Provided Green (41.0%) and Al Durham (34.8%) can keep pace or even improve on their 3-point shooting from last season, it's possible defenses packing the paint and daring the Hoosiers to shoot could be a thing of the past, if two or all three of these players are on the floor. That would allow for proper offensive spacing and expanded room in the paint, providing Phinisee increased opportunities to go to the hole for points and possibly an improved free throw rate, where it'd be helpful if he shot better than his 66 percent mark from the line from his freshman season.
Green's promising finish to the year — double digits in scoring over the last seven games, including a career-high 26 points against Ohio State in the Big Ten tournament — makes him another prime candidate to pick up some of the scoring load as well. The New Yorker is arguably the best Hoosier at creating his own shot, making something out of nothing in a flash.
He also enters the season as the best 3-point shooter in terms of percentage (41.0%) from the 2018-2019 campaign. He was better during his run at the end of the season with turnovers, but still finished the year with the third-highest turnover percentage (23.2) among regulars, too high of a mark. If Green can get better in that department and keep splashing in shots, he figures to have a strong scoring senior season.
Durham had his moments in 2018-2019 and could have another leap ahead of him in his junior campaign in 2019-2020. The Georgia native gives consistent hard effort. If he can combine that with better offensive efficiency, he could help round out a backcourt scoring surge behind Phinisee and Green.
Up front, Davis has shown an ability to take over games for stretches with his strength, size, footwork and touch being a lot for the defense to handle. But the question that has always lingered for Davis: Will he stay healthy? And if he does stay healthy, will he be able to provide a punch consistently down low? The incoming senior had by far the best free throw rate (71.0) on the team last year. But he shot just 41-of-71 (57.7%) from the charity stripe. Improve there along with a healthy, consistent season and that's the recipe for Davis to help fill in the gaps left by Morgan and Langford.
While Trayce Jackson-Davis is unlikely to be key in helping the Hoosiers' 3-point shooting, his size, hands, athleticism and sheer talent are enough to make him a key on offense next season. But just how he fits in, especially with Joey Brunk now in the fold, remains be be seen.
Miller believes he can mix and match up front, giving the lineup some size and versatility with Davis, Brunk and Jackson-Davis.
"I think all three guys have unique games where you can play with one another," Miller said. "Trayce is going to be able to play with both guys and one of the two, whoever is on the floor, will have to be able to defend on the perimeter a little bit and that will determine, so to speak, what combinations work."
And then there are the x-factors. Can Justin Smith take a step forward? Will Jerome Hunter be able to play? Can Damezi Anderson, Armaan Franklin or Race Thompson find enough minutes?
Filed to: 2019-2020 season preview, Deron Davis, Devonte Green, Robert Phinisee