6-Banner Sunday: IU coaches hit the road for big recruiting weekend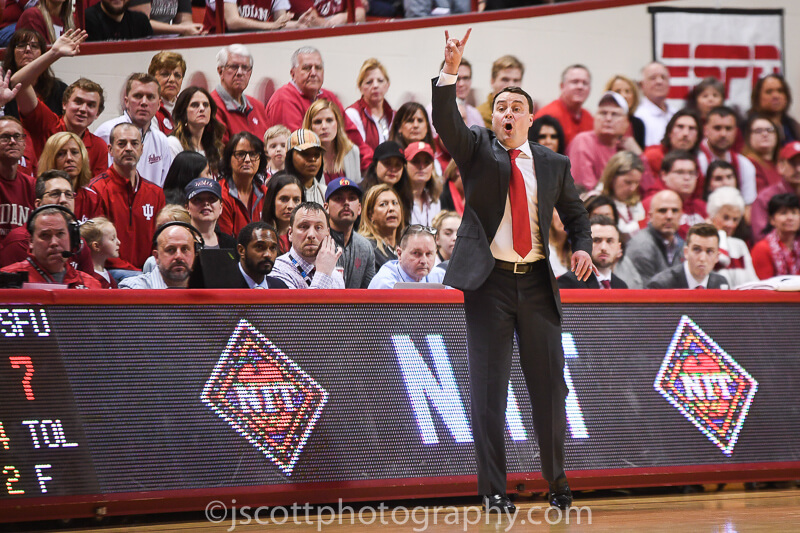 6-Banner Sunday is Inside the Hall's weekly newsletter in partnership with The Assembly Call. More than 6,000 Indiana fans receive the newsletter each week. In addition to appearing each week on the site, you can also opt to receive 6-Banner Sunday by email. A form to subscribe via email is available at the bottom of this week's 6-Banner Sunday.
Welcome to another edition of 6-Banner Sunday, a joint production between The Assembly Call and Inside the Hall where we highlight the six most essential IU basketball stories of the past week.
The 2018-19 college basketball season has been over for several weeks now, and coaches have long since turned their attention to 2019-2020 and beyond. Indiana is no different.
After more Hoosiers entered the NBA Draft — whether they're just looking for feedback or are hoping to hear their name called in June — it's imperative that Archie Miller gets the right guys to Bloomington for the future. This weekend, he and his staff were hard at work checking out the guys who could become future Hoosiers.
We have all that news and more in this edition of 6-Banner Sunday.
In this week's edition:
• Recruiting updates
• Several IU players declare for NBA Draft
• Inside the Hall wrap-ups
• POTB and AC Radio
• Juwan Morgan feature
• Other IU sports
Banner #1
Recruiting updates
Class of 2019 Florida guard Lester Quinones took his official visit to Bloomington last week. He posted photos from the visit on his Instagram.
He'll announce his college decision on May 10. IU is in his final five along with Maryland, Michigan, LSU and Memphis. He visited LSU in November, Maryland in December and Memphis in March. He had a visit to Michigan planned, but it was canceled.
Meanwhile, IU's coaching staff had a busy weekend on the recruiting trail. Archie Miller and Tom Ostrom were in Dallas for the adidas Gold Gauntlet series. Among the recruits they checked out: Class of 2020 Culver, Ind. guard Trey Galloway, 2021 Evansville, Ind. guard Khristian Lander, and 2020 Bloomington South guard Anthony Leal (who will have an in-home visit with Archie Miller on Monday), along with 2020 Ohio center Zach Loveday.
Ed Schilling and Bruiser Flint were in Atlanta for the Nike EYBL this weekend. Among the recruits they checked out were 2020 Pennsylvania forward Ethan Morton, 2020 St. Louis guard Caleb Love, and 2021 Fort Wayne, Ind. forward Caleb Furst.
Banner #2
Several IU players declare for NBA Draft
Romeo Langford and Juwan Morgan's NBA dreams have been clear for a while now. Langford announced his decision to leave IU for the NBA draft at the end of March, and Morgan is graduating and couldn't return either way.
But last week, we discovered several other Hoosiers were joining them in the NBA draft process. Justin Smith, Al Durham, and Devonte Green all appeared on the NBA draft's early entry list. None have hired agents, as all three are seeking feedback on their games from NBA personnel.
Green posted the best 3-point percentage on the Hoosiers last season at 41 percent. He averaged 9.3 points, 3.4 rebounds, three assists (team-high), and 1.4 steals (team-high) per game. He closed very strong, averaging 15.4 points per game in IU's last seven games. Durham enjoyed a breakout season last year, averaging 8.2 points per game and shooting 34 percent from 3-point range, which was second on the team. Smith put up 8.2 points and 4.5 rebounds per game.
Banner #3
Inside the Hall wrap-ups
Although the Inside the Hall team had already made its way through the full IU roster in its That's a Wrap series, the wrap-up posts rolled on last week with looks at IU's team offense and team defense, as well as summing up Archie Miller's season.
Ryan Corazza was careful in trying to assess the appropriate amount that Archie Miller deserves for IU's disappointing season.
So how much blame are we to lay at the feet of Miller for Indiana's season?

Surely some. This is big time college basketball and you don't get to walk away without any of the burden. Still, there were several other factors at play and plenty of nuance to what went wrong. A coach can only coach. He can not play. He can not magically gift his shooting talent to a roster that couldn't hit the broad side of a barn more often than not. The shooting was the missing ingredient that Indiana's coaching staff couldn't work around and it sunk the season. And a coach can't heal all the injuries — from Jerome Hunter's inability to play all year to Robert Phinisee's concussion to De'Ron Davis' soreness to Langford's torn thumb ligament to name a few — that caused incongruence in lineups and flow.
You can check out all the postseason wrap-up content on ITH here.
Banner #4
POTB and AC Radio
In this week's edition of Podcast on the Brink, Alex and Jerod chatted with Sports Illustrated assistant managing editor and The Crossover editor Matt Dollinger. The trio discuss the NBA Draft prospects of Romeo Langford and Juwan Morgan and dive into updates and thoughts on various Hoosiers in the NBA.
Over at Assembly Call Radio last week, Jerod, Andy and Coach looked at Archie Miller's second year at IU, predict what feedback Devonte Green, Al Durham, and Justin Smith will get from NBA teams, and much more.
Banner #5
Juwan Morgan feature
Earlier in the week, Cameron Drummond — who, along with Dylan Wallace, will step in as next year's Inside the Hall and Assembly Call student interns — published a lengthy profile of Juwan Morgan. The piece takes a long look at aspects of Morgan's personality.
Morgan has watched anime since he was 9, and the similarities between him and Android 13 go beyond the fact Morgan started wearing the number 13 when he arrived as a freshman in 2015.

In the "Dragon Ball Z" world, it's Android 13's mission to destroy the protagonist, Goku. But Android 13 takes a casual approach to this assignment, seeming almost bizarrely laid back before morphing into a more robust version of himself, similar to Morgan at IU.

"I never really showed emotion, got in anybody's face," Morgan said of his early college years. "Even in high school, I kind of just jogged everywhere. I don't think I sprinted one time all through high school."
It also looks at his IU career.
Once Thomas Bryant and OG Anunoby, part of the same 2015 recruiting class as Morgan, opted to leave IU early for the NBA after the 2016-17 season, a void was left at center.

Crean had used Morgan as a versatile defender within his system, which required all five Hoosiers on the court to be able, in theory, to guard any of their five opponents.

But Miller specifically needed a center.

It was another role for Morgan to slide into, and another chance to display his gritty, team-focused mindset.

"It made me tougher as a person overall," Morgan said.
Banner #6
Other IU sports
Update on Spring Sports Season
This content was contributed by Aaron Shifron (twitter @ashifron)
Assembly Call was on site for 2 baseball games this week but many of the Hoosiers' other 24 sports were in action as well. Also postseason play opened for several IU teams as the spring sports season starts to wind down.
• Baseball went 2-2 this week. Assembly Call was present for games against Ball St and Minnesota. Those with a subscription to the Assembly Call Community can read about those games at the Assembly Call Website by going into the "Community" and selecting the "Baseball Topic". The Hoosiers started the week on Sunday splitting a doubleheader with Michigan St losing the first game 5-3 and winning the second 11-2 to take the series. The Hoosiers on Tuesday pulled away from the Cardinals late winning 9-3 before falling 7-3 to the Golden Gophers on Friday
• Softball was swept by Wisconsin losing 4-3 in extra innings Saturday before falling 8-0 on Sunday. The team then rebounded with a 9-1 win Friday over Rutgers.
• Women's tennis beat Maryland 6-1 on senior day before falling in first round of Big Ten Tournament 4-2.
• Indiana Rowing competed at the Dale England Cup last week.
• Women's Golf finished tied for second at the Big Ten Championship to earn a bid into the NCAA tournament.
• Men's Golf finished eighth at the Hawkeye Invitational and sits tied for sixth after one day of play at the Big Ten Championships.
• Track and Field competed in three different meets last weekend at Stanford, Auburn and Kentucky.
• Men's Tennis fell to Ohio St before beating Michigan St 4-0 in first round of Big Ten tournament. However, the second round was not as kind as the Hoosiers fell 4-1 to Michigan St.
• Water Polo beat McKendree 14-4 before falling in the first round of the MSPF Championship 19-4.
And with that, the joy of hanging Banner #6 is now one week closer.
Thanks for your continued support for The Assembly Call and Inside the Hall. We'll be back next weekend with a new roundup.
Now go enjoy yourself a 6-banner Sunday.
Filed to: