6-Banner Sunday: Roller-coaster week concludes with unexpected triumph in East Lansing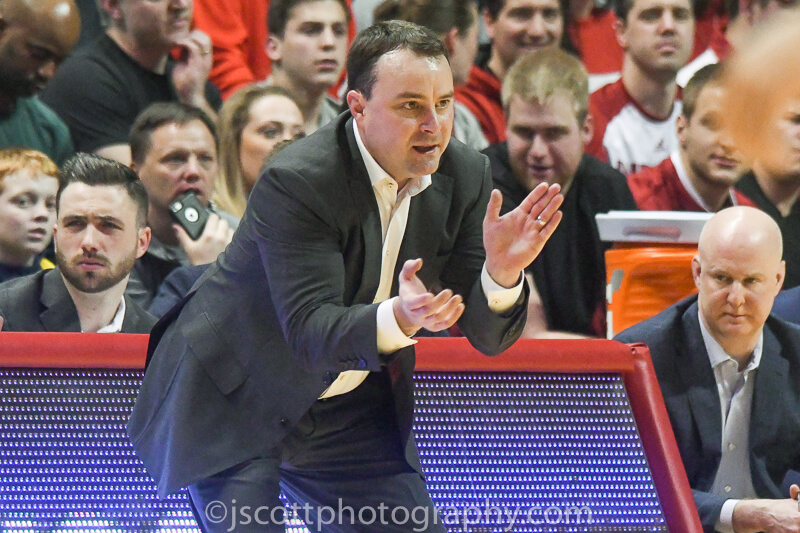 6-Banner Sunday is Inside the Hall's weekly newsletter in partnership with The Assembly Call. More than 6,000 Indiana fans receive the newsletter each week. In addition to appearing each week on the site, you can also opt to receive 6-Banner Sunday by email. A form to subscribe via email is available at the bottom of this week's 6-Banner Sunday.
Welcome to another edition of 6-Banner Sunday, a joint production between The Assembly Call and Inside the Hall where we highlight the six most essential IU basketball stories of the past week.
What a roller coaster of a week for the IU men's basketball team.
The Hoosiers dropped their seventh straight game in a lackluster performance at Rutgers … and then followed it up by delivering one of the most unexpected wins in school history.
Despite being a 14-point underdog, and losing Juwan Morgan to a shoulder injury midway through the first half, Indiana knocked off Michigan State in East Lansing, 79-75. And the way they did it — draining 3s, dominating on the glass, hustling like their hair was on fire — is what made it all the more surprising given how the previous three weeks had gone.
Let's revisit this wild week …
In this week's edition:
• Losing streak continues at Rutgers
• Hoosiers unexpectedly snap streak in East Lansing
• Breaking down IU's offensive issues
• IU to wear special uniforms for Ohio State game
• Big Ten Roundup
• Hoosiers in the NBA
Banner #1
Losing streak continues at Rutgers
In Wednesday's game at Rutgers, the Hoosiers faced a surprising litmus test. A win would provide hope that the Hoosiers could still hang with some middling Big Ten teams and that they could claw their way out of the mess they created. A loss would drop them into the lowest tier of Big Ten teams.
Just like every test the Hoosiers faced in January (save for Illinois), they failed. IU got off to a solid start but couldn't recover from a 22-0 Rutgers run spanning both halves and lost 66-58, its seventh straight defeat.
Indiana's depth was razor thin in this matchup, with Zach McRoberts essentially out (he played one minute), De'Ron Davis still out, Race Thompson still unavailable, and Devonte Green still suspended. That circumstance allowed Jake Forrester, Clifton Moore, and Damezi Anderson to see regular rotation minutes.
Romeo Langford and Juwan Morgan scored 20 and 15 points, respectively, but IU couldn't get enough production from its supporting cast to overcome the Scarlet Knights.
Ryan Corazza broke down Indiana's offense and a few things the Hoosiers did well in Inside the Hall's Film Session.
Alex Bozich touched on the harsh reality facing Indiana in his five takeaways at Inside the Hall:
Ken Pomeroy's numbers only go back to the 2001-2002 season, but at the midway point of the season, Indiana is on pace to have the worst 3-point shooting percentage in Big Ten games of the KenPom era.

According to Pomeroy's numbers, Nebraska's 26.5 percent on 3s back in the 2014-15 season was the lowest mark for a Big Ten team in conference games.

Indiana is currently shooting 25.3 percent on 3s through 10 league games.
On The Assembly Call Postgame Show, Jerod, Ryan and Andy discussed Al Durham's emergence, Morgan and Langford's roles, Archie Miller's coaching and much more.
But it's funny the difference one game can make …
Banner #2
Hoosiers unexpectedly snap streak in East Lansing
Even the most optimistic of IU fans were just hoping the Hoosiers would exit the Breslin Center on Saturday night having shown positive signs to build on moving forward.
Indiana had been firmly beaten seven straight times, while Michigan State was coming off its first loss of the season, had a week to prepare, and was hosting ESPN's College Gameday. Not to mention, Indiana entered the game having won in East Lansing just once since 1993.
Michigan State entered the game as a 14-point favorite, and the KenPom prediction was even bigger for the Spartans.
Yet the Hoosiers ended up winning by four points — even with Juwan Morgan having to leave the game in the first half with a shoulder injury. (Trusted fans on the scene late Saturday night when the team returned home from Cook Hall tweeted out encouraging news, though we still await official word on his status.)
As you can imagine, Jerod and the crew hosted a raucous and enthusiastic edition of The Assembly Call IU Postgame Show in the immediate aftermath of the win.
Archie Miller held a pretty matter-of-fact press conference after the game, but he couldn't help but smile when he was interviewed on the court minutes after the final buzzer sounded.
And the first line of Ryan Corazza's Minute After pretty much summed up how all IU fans felt in the immediate aftermath of the victory: "Wow."
Banner #3
Breaking down IU's offensive issues
Indiana's offense has struggled for much of the season, and the problems have intensified in recent weeks as the Hoosiers lull through Big Ten play. Even with the improved Michigan State performance factored in, IU's offense ranks 12th in offensive efficiency in Big Ten play at .95 points per possession.
Ben Ladner took a deeper look at Indiana's struggles before the Rutgers game at Inside the Hall. He covered all bases, from the issues caused by IU's weakening depth to Romeo Langford's weaknesses.
Opponents are keeping him from the basket at all costs, and Langford's own shooting woes have only worsened the issue. The freshman is shooting just 21 percent from distance, and defenders can freely duck under screens without penalty of the pull-up 3-pointer. Langford has played his part in hampering his team's struggles, but he is hardly the main problem, or even a major reason for it.
This week's edition of Assembly Call Radio touched on similar issues, and Alex and Jerod talked with BTN's Jon Crispin about Indiana's overall struggles on this week's Podcast on the Brink.
Banner #4
IU to wear special uniforms for Ohio State game
Earlier this week, Indiana rolled out new uniforms to be worn for the February 10 home game against Ohio State.
The uniforms are part of Adidas' Harlem Renaissance collection in honor of Black History Month. The CBC patch on the uniforms says Celebrating Black Culture on the outside.
The IU women's basketball team will wear the same uniforms for its February 6 game against Minnesota.
IU gave a nod to Bill Garrett and his role in breaking the color barrier in basketball in its press release about the uniforms.
"We are proud to wear these special uniforms to honor Bill Garrett and his critical role in integrating the Big Ten and expand the growth of basketball through expanded opportunities for African-American players," said IU Vice President and Director of Intercollegiate Athletics Fred Glass. "As the university that broke Big Ten Basketball's color barrier 70 years ago, Indiana University is very proud of its leadership role in racial integration and the social justice it reflects."
Banner #5
Big Ten Roundup
The middle of the pack in the Big Ten has started to sort itself out as conference play has progressed. Teams like Maryland, Wisconsin, Purdue, and Iowa have risen to the occasion while teams like Indiana, Ohio State, and Nebraska have fallen off — though Indiana obviously boosted itself with last night's victory.
Michigan and Michigan State have established themselves as the top teams in the conference and among the best teams in the country. Michigan State is ranked No. 4 in KenPom and Michigan is No. 6. The Big Ten has four teams ranked in KenPom's top 10 (No. 8 Purdue, No. 10 Wisconsin), six in the top 30 (No. 18 Maryland, No. 23 Iowa, No. 24 Nebraska) and eight in the top 50 (No. 34 Ohio State, No. 44 Indiana).
There were several significant results from last week, in addition to Indiana's victory over the Spartans. The most notable matchup was Iowa taking down Michigan at home in a 74-59 triumph on Friday. Wisconsin scored a big 69-61 home win over Maryland on Friday as well. The Badgers also downed Nebraska in Lincoln 62-51 on Wednesday. The Cornhuskers lost big man Isaac Copeland Jr. for the season with a torn ACL suffered during their game against Ohio State on Jan. 26.
Key games in the upcoming week include Minnesota at Purdue today, Maryland at Nebraska, and Wisconsin at Minnesota on Wednesday, Iowa at Indiana on Thursday, and three big games on Saturday: Wisconsin at Michigan, Minnesota at Michigan State and Nebraska at Purdue.
Banner #6
Hoosiers in the NBA
Victor Oladipo's devastating season-ending injury won't allow him to actually play, but the Pacers guard was named an All-Star for the second consecutive season. He averaged 18.8 points, 5.6 rebounds, 5.2 assists and 1.7 steals per game this year.
Thomas Bryant had a quiet week with the Wizards in a loss to Cleveland and a win over Indiana. Nonetheless, Wizards fans have taken to Bryant's celebrations after big plays and the way he hypes up the crowd. The Wizards played off that excitement in this Instagram post featuring Bryant and All-Star guard Bradley Beal.
Noah Vonleh has continued to find ways to contribute despite the Knicks' 12-game losing streak. He grabbed 12 rebounds in Tuesday's loss to Charlotte and he snagged 11 rebounds in Friday's loss to Boston. After New York's blockbuster trade earlier in the week to send Kristaps Porzingis and others to the Dallas Mavericks, Vonleh could feasibly see his playing time increase a bit if he isn't himself traded before Thursday's trade deadline.
Eric Gordon had two 17-point outings this week in two Houston losses. Yogi Ferrell put up 11 in Sacramento's win over Atlanta on Thursday.
And with that, the joy of hanging Banner #6 is now one week closer.
Thanks for your continued support for The Assembly Call and Inside the Hall. We'll be back next weekend with a new roundup.
Now go enjoy yourself a 6-banner Sunday.
Filed to: