An in-depth look at Indiana's offensive struggles and some possible solutions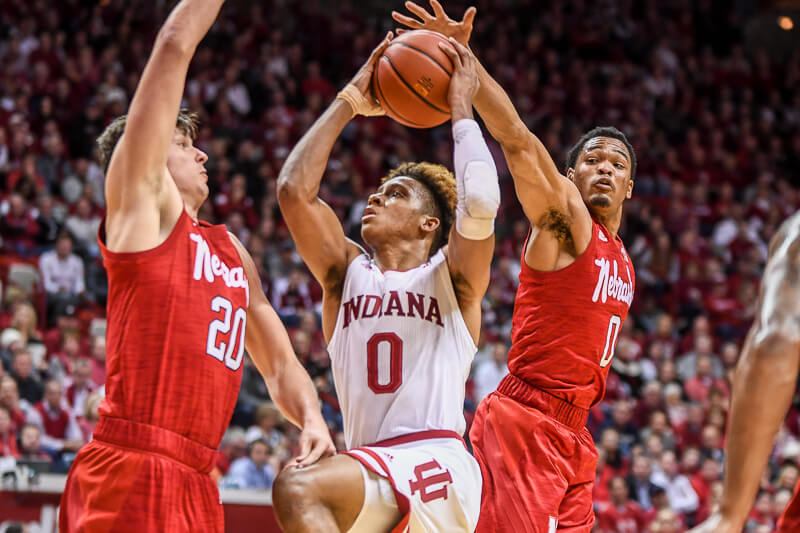 Not four weeks ago, the current state of these Indiana Hoosiers would have been inconceivable. IU was at the crest of a seven-game win streak – its longest in exactly three years – and a top-25 team in the country. Their two best players were playing at all-conference levels, the team finally meshing on both ends of the floor. Since then, they've dropped six straight and sunk to 66th in KenPom's adjusted offensive efficiency metric. Indiana ranks 75th nationally in effective field goal percentage – down over 60 spots since the calendar turned – and has mustered just 94.5 points per 100 possessions in Big Ten play, the third-worst mark in the conference.
In leaning so heavily on Juwan Morgan and Romeo Langford, Indiana has become fatally predictable. In the absence of a consistent third scorer, the team's offense must run almost entirely through its two stars, with no one to alleviate their burden. Commit fully to limiting two players and you'll likely shut Indiana down altogether. With so few Hoosiers capable of spacing the floor, opponents can freely clog the lane and load up on IU's only offensive catalysts, and the team hasn't found a way to capitalize on those concessions.
"Our team in general has got to find a way to get more rhythm," Archie Miller said. "We're sort of tweaking things as we go and figuring out what we have to do. But we have good looks. Guys are getting open shots. Some guys are being left open purposely right now to see if they can make it. That messes with you a little bit."
Indeed, opponents are ignoring Justin Smith and Zach McRoberts outright while devoting only as much attention to Rob Phinisee and Al Durham as absolutely necessary. That shrinks the space available to Langford and Morgan, bringing additional defenders toward them every trip down the floor.
"It's weird," said Smith, who is 2-of-10 from three-point range over his last four games. "I've never really experienced [not being guarded] before, and it's something I've got to get used to but use to my advantage. If they're going to give me that space, I've got to take advantage of it and use it to the best of my ability."
Any path toward decongesting the offense must start with opening up the floor, which requires contributions from all parties. It doesn't help that the Hoosiers have hit just a quarter of their 3s in conference play – even if they attempt more triples, defenses won't contest with much urgency until they go down at a higher rate. But even the mere act of taking a jumper helps improve floor spacing – if only marginally – and Indiana feels due for an uptick in percentage.
"We're shooting the ball right now, we're not making shots," Miller said. "I do think it was good to see Rob step up and let some go the other day. He's a good shooter. Al, without question, Justin, to Zach, if they're open, they've got to be willing to shoot it."
Only so much can be expected from a freshman guard and an undersized center fighting for every bucket. Morgan is a superlative scorer and passer who adeptly finds open teammates in the face of double teams, but if his targets can't consistently knock down open shots, even wide-open jumpers are preferable to him working his man in the post. Langford is a supremely talented scorer and one of the best finishers in all of college basketball, but scoring becomes a more challenging endeavor when every drive is met with a double team and layups are bothered by multiple help defenders:
Opponents are keeping him from the basket at all costs, and Langford's own shooting woes have only worsened the issue. The freshman is shooting just 21 percent from distance, and defenders can freely duck under screens without penalty of the pull-up 3-pointer. Langford has played his part in hampering his team's struggles, but he is hardly the main problem, or even a major reason for it.
Recent losses to Michigan and Purdue have thrown into stark relief Indiana's lack of offensive continuity and imagination, as nearly every possession seems to stagnate or run into a wall of defenders. When the ball does move, it is often only for the next man in line to take his turn. The team's collective athleticism does little good when those athletes don't have the freedom to put their gifts into action, and opportunities to play in space have become harder to come by lately.
At its best, Indiana's defense galvanized its offense, creating transition chances that allowed the team to play more freely. Durham pushed and Phinisee probed; Smith soared above the rim for dunks; Langford rushed backpedaling defenders into the lane. Those days feel distant now. Indiana has scored just 27 total points in transition over its last six games – an indication of failure on both ends of the floor.
"Our defense has got to create some offense for us," Miller said. "I just think forcing turnovers, the activity level, the ability to get defense to offense hasn't been there for us, which has hurt us."
In the halfcourt, the Hoosiers desperately need variation. As effective as Langford and Morgan have been in tandem, deploying them away from the ball more often might serve Indiana well and lighten the load on the stars' shoulders. Morgan averages 1.2 points per possession on spot-ups, according to Synergy Sports tracking data, and could provide crucial floor spacing were he used in that role more often. Brilliant though he is in the pick-and-roll, Langford would benefit from having other options available to him, either as a spot-up shooter, an off-ball mover, or elsewhere.
"He gets his seams in transition," Miller said of Langford. "He gets his seams after the ball moves. That's where he has to find it. He's not going to be able to do it with the ball in his hands 100 percent the time."
As Indiana searches for a reliable third option, Durham could shoulder more responsibility as both a shooter and a ball-handler. With a quick first step and deft touch around the rim, he ranks in the 75th percentile nationally as a pick-and-roll scorer, per Synergy. He's smart attacking closeouts, and his burst off the dribble allows him to knife into the lane like few Hoosiers can:
Rob Phinisee, though not quite as dynamic, offers similar straight-line vigor when provided the opportunity to drive downhill and passable marksmanship when given time to set his feet. Smith is a savvy cutter who can find open space when defenders abandon him. Miller could also feature Smith – who has all the athletic makings of an effective roll man – as a screener, where opponents would no choice but to pay him mind. Most importantly, Indiana must stay the course, and keep firing.
"Just keep shooting," Smith said. "Keep shooting with confidence and they're going to go down eventually."
The Hoosier Network's Zain Pyarali contributed research for this piece.
Filed to: