Preseason Bracketology: 5-8 Seeds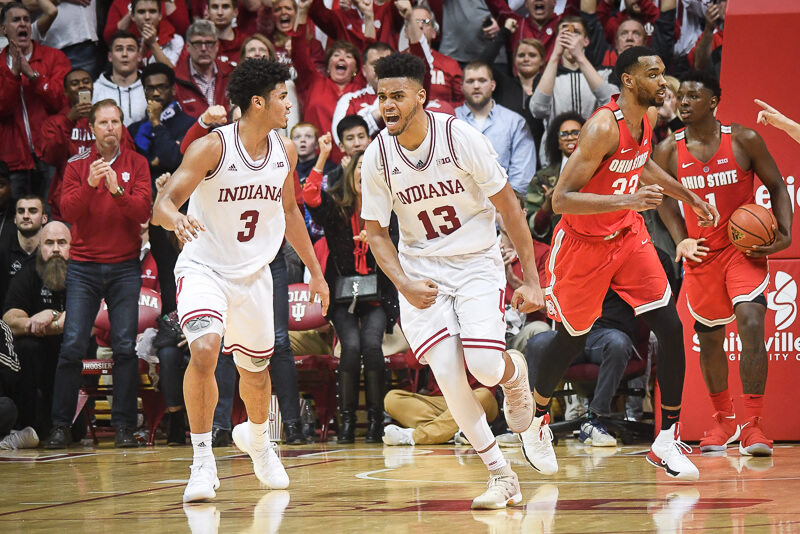 Today's installment of preseason bracketology focuses on seed lines five through eight, where the six major conferences are well-represented with four teams from the ACC and Big Ten and two teams each from the Big East, Pac-12, and SEC. (Previously: 13-16 seeds, 9-12 seeds).
8 Seeds
Xavier – The Musketeers lost three double-digit scorers, five rotation players, and their coach this offseason, so it's difficult to know what to expect in the Queen City. Quentin Goodin (8.7 ppg, 4.9 apg) is back to run the show after leading the team in assists last season, and Naji Marshall and Tyrique Jones each averaged at least 7.0 points and 4.4 rebounds in supporting roles last season. Those three will be counted on to increase their production, as will sophomore Paul Scruggs. Travis Steele became the head man after serving on staff for the last 10 years, and he picked up multiple grad transfers to aid in this transition season. Guard Kyle Castlin joins Xavier after leaving Columbia, while Zach Hankins (Ferris State) and Ryan Welage (San Jose State) will provide additional size on the front line. The Muskies are unlikely to challenge for a second straight Big East title, but I expect them to be in the mix of a crowded second tier that contains teams like Marquette, Providence, St. John's, and Butler.
Cincinnati – Mick Cronin must replace three of his top four scorers but should remain among the frontrunners to win the AAC. Jarron Cumberland (11.5 ppg, 4.0 rpg, 2.9 apg) and Cane Broome (7.9 ppg, 2.8 apg) are the top two returnees. Cumberland took over half of his field goal attempts from long range but made just 33.9 percent from deep, so if he can improve there, he could wind up scoring close to 20 points per game as his usage is bound to increase. Broome shared point guard duties with fellow returnee Justin Jennifer in his first season with the program after transferring from Sacred Heart, and he acquitted himself well in a largely supporting role. Of the newcomers, junior college transfer Rashawn Fredericks is the headliner and will need to help pick up the scoring slack left by the departures of Jacob Evans and Gary Clark. The Bearcats finished second in the nation in adjusted defensive efficiency last season, and they haven't finished outside of the Top 25 since 2009-2010. That will continue to be UC's calling card, and while the offense doesn't project to be anywhere near good enough to match last season's 31 victories, the Bearcats are still my pick to win the AAC.
NC State – In his first year with the program, Coach Kevin Keatts led the Wolfpack to 21 wins and an 11-7 mark in the ACC, both of which were significant upgrades over what the team was projected to do. With a lot of roster turnover, Keatts has his work cut out for him again this year. Just three rotation players are back, led by Torin Dorn, who posted 13.9 points and 6.3 rebounds per game as an undersized four-man. Guards Braxton Beverly (9.5 ppg, 3.9 apg) and Markell Johnson (8.9 ppg, 7.3 apg) were the two leading assist men for NC State last season while also chipping in with at least one steal per game. A flurry of transfers will be used to plug holes on the roster. Eric Lockett is a grad transfer who joins the team from Florida International, Wyatt Walker comes by way of Samford, and Devon Daniels scored nearly 10 points per game for Utah in 2016-17. The most impactful transfer should be guard C.J. Bryce, who followed Keatts from UNC-Wilmington and sat out last season after averaging 17.4 points and 5.4 rebounds in 2016-17. Junior college transfer DJ Funderburk was a former top recruit as well, so while the pieces are new, the roster doesn't lack for talent. Most previews I've seen slot the Wolfpack in at eighth in the ACC behind what appears to be a pretty clear top seven squads, and that seems about right to me.
Nebraska – The Huskers finished 13-5 in the Big Ten but were left out of the Big Dance thanks in large part to an unbalanced schedule that afford them very few opportunities to beat the league's best teams. With the top four scorers back from that club, it's reasonable to expect Nebraska to at least finish in the top half of the conference again. James Palmer, Jr. earned first-team All-Big Ten honors last season after averaging 17.2 points, 4.4 rebounds, and 3.0 assists. Isaac Copeland, Jr. (12.9 ppg, 6.1 rpg) and Glynn Watson, Jr. (10.5 ppg, 3.2 apg) provided additional scoring punch, but Isaiah Roby (8.7 ppg, 6.3 rpg, 2.0 bpg) is the player most likely to take the leap this year. The concerns for me are that the roster is full of unknowns outside of that quartet, there simply isn't much size on the team, and there don't appear to be many impact newcomers – at least based on the recruiting rankings. The Huskers did not shoot the ball well last season and logged just one win over a tournament caliber team, but I think that four-man group is among the league's best and should get Tim Miles back to the NCAA tournament.
7 Seeds
UCLA – The injury bug has hit the Bruins hard already. Shareef O'Neal was diagnosed with a heart condition that will cause him to miss time, but UCLA has a number of other options in the frontcourt even with Alex Olesinski sidelined as well. However, the loss of freshman guard Tyger Campbell to a knee injury appears to be more impactful in the short-term. Sophomores Kris Wilkes (13.7 ppg, 4.9 rpg) and Jaylen Hands (9.9 ppg, 4.0 rpg, 2.6 apg) both tested the NBA waters but decided to return to school. Those two, along with Prince Ali (9.1 ppg), are the key returnees for a team that lost Aaron Holliday, who led the team in points and assists, and Thomas Welsh, who averaged a double-double last year. Steve Alford does add four other Top 100 recruits, led by Moses Brown and Jules Bernard, and he'll also have the services of a pair of 6-foot-10 players who were suspended last season in Cody Riley and Jalen Hill. Point guard play will be critical for the offense to maintain the efficiency it has shown in recent seasons, because Alford's team has finished outside the Top 100 in adjusted defensive efficiency in two of the last three seasons with the other team finishing 85th. Still, in a relatively weak Pac-12, the Bruins look like a team destined to finish in the top four or five.
Purdue – Few teams lost as much production as the Boilermakers, who will be replacing four starters from a team that finished 15-3 in the Big Ten and 30-7 overall. However, the one starter coming back, Carsen Edwards, has been tabbed a preseason first team All-American by just about every pundit out there. Edwards averaged 18.5 points, 3.8 rebounds, and 2.8 assists last year and should see his scoring climb over 20 points per game as a junior. Role players like Matt Haarms (4.8 ppg, 3.2 rpg), Ryan Cline (4.0 ppg), and Nojel Eastern (2.9 ppg, 2.5 rpg) will assume larger roles for Matt Painter's squad with Haarms and Eastern the most likely to see a significant jump in production. Dartmouth transfer Evan Boudreaux will slide into the starting frontcourt after posting 17.5 points and 9.5 rebounds per game in 2016-17. Redshirt freshmen Aaron Wheeler and Sasha Stefanovic have a year in the program under their belts, which should land them in the rotation with true freshman Eric Hunter Jr. The Boilers finished second in adjusted offensive efficiency last season, and with so many new pieces, a drop-off there is inevitable. However, Painter has a solid defensive track record and has the pieces to be formidable on that end of the floor once again. I don't see Purdue challenging for the Big Ten title, but with a dynamic player like Edwards, I also don't see them falling much lower than fifth or sixth.
TCU – It was an up and down season for the Horned Frogs, who won their first 12 games in the non-conference, then dropped four of their first five Big 12 games before ultimately finishing 9-9 in the league. The losses of Vladimir Brodziansky and Kenrich Williams will be huge, as those players combined to average 28.2 points, 14.4 rebounds, and 5.1 assists. They should have Jaylen Fisher (12.3 ppg, 5.4 apg) back after losing him midway through last season to a knee injury only to watch him undergo another knee surgery in the offseason. Three other players return who scored at least 9.7 points per game, led by Desmond Bane (12.5 ppg, 4.1 rpg) and Alex Robinson (9.7 ppg, 6.1 apg), so the cupboard isn't entirely bare. The frontcourt is extremely inexperienced, but there are some intriguing options at Jamie Dixon's disposal. He has won 45 games in his first two seasons at his alma mater, and his offensive track record suggests the Horned Frogs will remain efficient on that end of the floor. They did take a relatively large step back defensively last year, but if they can stabilize things there, they should slot in around fourth or fifth in a loaded Big 12.
Marquette – The Golden Eagles are fun to watch offensively when they get things rolling, as they frequently did last year on their way to finishing 12th in adjusted offensive efficiency. The problem was a defense that disappeared more often than not by putting its opponents on the line too frequently and allowing them to shoot nearly 54 percent on 2-pointers. One of the team's two 20-point scorers is gone, but Marcus Howard (20.4 ppg, 2.8 apg) is back for his junior season. Howard knocked down over 40 percent from 3-point range, shot 53.3 percent on 2s, and made nearly 94 percent from the line. Forward Sam Hauser shot 48.7 percent from beyond the arc and will be the secondary scoring option this season. A number of key role players also return like Sacar Anim (7.6 ppg, 2.9 rpg), and the roster will also be bolstered by a pair of transfers in former Fordham standout Joseph Chartouny and ex-Nebraska forward Ed Morrow. Even marginal improvement on the defensive end could lead to a second place finish in the Big East, as the drop-off after Villanova looks to be pretty steep.
6 Seeds
Clemson – The Tigers were one of college basketball's biggest surprises last season and managed to finish 11-7 in the ACC and reach the Sweet Sixteen despite losing senior Donte Grantham to a knee injury mid-way through the season. This year's team is less likely to sneak up on people, but the backcourt tandem of Shelton Mitchell (12.2 ppg, 3.6 apg) and Marcquise Reed (15.8 ppg, 4.7 rpg, 3.3 apg) is among the league's best. Big man Elijah Thomas (10.7 ppg, 8.1 rpg, 2.3 bpg) is the other returnee of note, but sophomore Aamir Simms was able to pick up valuable experience after Grantham went down. Oral Roberts grad transfer Javan White will provide additional depth up front after averaging 10.2 points and 9.0 boards for ORU last season. Clemson was among the nation's best defenses a year ago, finishing in the Top 70 in effective field goal percentage defense, defensive rebounding percentage, and defensive free throw rate. The Tigers are a rung below the elite teams in the ACC, but they are firmly in the next tier with the likes of Florida State, Syracuse, and Virginia Tech.
Florida – The Gators were a difficult team to figure out last season, knocking off Gonzaga and Cincinnati on neutral floors and sweeping Kentucky but also losing at Ole Miss and being swept by Georgia. Mike White needs true freshman Andrew Nembhard to step into the point guard spot that was vacated following the graduation of Chris Chiozza, who helped propel the Gators had one of the lowest turnover rates in the nation. Jalen Hudson (15.5 ppg) and KeVaughn Allen (11.0 ppg) will shoulder the bulk of the scoring load, while Keith Stone and Kevarrius Hayes form an experienced frontcourt. Florida has ranked in the Top 25 in adjusted defensive efficiency in each of White's three seasons at the helm, and given the personnel, it's reasonable to expect that trend to continue. I struggle to believe the Gators will challenge the likes of Kentucky, Tennessee, or Auburn for the SEC Title, but they seem to fit into the next tier with LSU and Mississippi State.
Washington – Mike Hopkins had an extremely successful debut in Seattle, as the Huskies improved their win total from nine to 21 and finished above .500 in the Pac-12. Virtually everyone is back from that team, led by Jaylen Nowell (16.0 ppg, 4.0 rpg), Noah Dickerson (15.5 ppg, 8.4 rpg), and stat sheet stuffer and reigning defensive player of the year Matisse Thybulle. Guard David Crisp provides Hopkins with another double-digit scorer, while a number of key role players also return. Five freshmen will provide additional depth with Jamal Bey the most likely to carve out an impact role. The Huskies ranked 33rd in defensive turnover rate last season, but the 2-3 zone left them susceptible to allowing offensive rebounds. The Washington offense has plenty of room for improvement after finishing 140th in adjusted offensive efficiency, but the mix of talent and continuity should lead to a top three finish in the Pac-12 with a legitimate chance to win the league title outright.
Indiana – Hopes are high for the Hoosiers, who will boast arguably the Big Ten's best one-two punch with senior Juwan Morgan (16.5 ppg, 7.4 rpg, 1.2 spg, 1.4 bpg) and freshman phenom Romeo Langford. Morgan will be the unquestioned leader, while Langford provides a perimeter offensive threat that was lacking on last year's team. A talented group of freshmen as well as Saint Mary's transfer Evan Fitzner will ensure this team is much deeper than the one we saw in Archie Miller's first season at the helm. Sophomore Justin Smith (6.5 ppg) showed flashes last season, and he has a great chance to emerge as a double-digit scorer this year. The main question is at point guard where junior Devonte Green (7.6 ppg, 2.5 apg) is likely to get first crack at the job with freshman Rob Phinisee breathing down his neck. After some bumps early on, Miller's defensive scheme started to pay dividends as the season went along, as the Hoosiers finished fourth in league play in adjusted defensive efficiency after finishing dead last in 2016-17. Shooting woes from 3-point range and the foul line plagued the team offensively, although they showed significant improvement in taking care of the basketball. With so many new pieces, the range of outcomes looks pretty wide for IU, who I pegged third in the Big Ten but could conceivably challenge for the title or finish fifth or sixth depending on how quickly it all comes together. Either way, I'd be surprised if they aren't back in the NCAA tournament this season.
5 Seeds
LSU – Will Wade's first season in Baton Rouge had its share of ups and downs with the Tigers knocking off multiple tournament teams over the course of the season but also losing some head scratchers and ultimately finishing 18-15 after a second-round NIT exit. Sophomore guard Tremont Waters (15.9 ppg, 3.4 rpg, 6.0 apg, 2.0 spg) was handed the keys right away and led the team in points, assists, and steals. Skylar Mays (11.3 ppg) and Daryl Edwards (6.8 ppg) are the only other returnees of note, but Wade landed an impressive recruiting class featuring multiple top 50 recruits. Forward Naz Reid is the highest rated of the bunch, while fellow freshmen Emmitt Williams and Ja'Vonte Smart could both join him in the starting lineup. Reid and Williams will provide an infusion of talent and athleticism in the frontcourt, which also adds Oregon transfer Kavell Bigby-Williams. That should help improve a defense that ranked 280th in opponent 2-point shooting last season and 296th in defensive rebounding percentage. LSU is a step below top SEC teams like Kentucky, Tennessee, and Auburn, but they are in the thick of things in a second tier that features Florida and Mississippi State.
Florida State – After a 9-0 start, the Noles went 11-11 the rest of the regular season before mounting a tournament run to the Elite Eight by knocking off Missouri, Xavier, and Gonzaga. Seven rotation players return from that team, all of whom scored at least 6.5 points per game. Leading scorer Phil Cofer (12.8 ppg, 5.1 rpg) is expected to miss time early in the season due to a foot injury, which may cause FSU some problems in non-conference matchups with Florida and Purdue. Leonard Hamilton also returns another double-digit scorer in Terance Mann (12.6 ppg, 5.4 rpg), and guard Trent Forrest does a little bit of everything for Florida State. Fellow sophomore MJ Walker appears to be the most likely candidate to see a meaningful jump in production, while Albany grad transfer David Nichols will provide backcourt depth. The Seminoles have a ton of size and length to throw at opponents, which should lead to a third straight Top 40 finish in adjusted defensive efficiency. Last season the Noles blocked 14 percent of their opponents' field goal attempts, which was good for 17th in the country, and they also ranked 17th in 2-point defense. I don't think the talent is there to sneak into the top four of the ACC, but FSU is firmly in the second tier along with Virginia Tech, Syracuse, and Clemson.
Michigan – The Wolverines lost three of their top four scorers from a team that advanced all the way to the National Championship game before losing to Villanova, so this selection is based largely on my faith in John Beilein's coaching acumen. The cupboard isn't entirely bare with Charles Mathews (13.0 ppg, 5.5 rpg) back to lead the offensive attack. Zavier Simpson (7.3 ppg, 3.7 apg) runs the show and is a bulldog defensively, and tournament hero Jordan Poole (6.0 ppg) will be counted on to double his offensive output as a sophomore. Jon Teske and Isaiah Livers will also slide into larger roles in the frontcourt after performing efficiently off the bench last season. Beilein adds five true freshmen as well with forwards Ignas Brazdeikis and Brandon Johns, Jr. the most likely to carve out significant roles on the team. The story for Michigan last season was their profound improvement on the defensive end, as the Wolverines jumped from 69th to third in adjusted defensive efficiency. While a repeat performance feels like a stretch, the pieces are there to suggest defense will still be a strength for the Wolverines. I have them slotted in at second in the Big Ten, but given the balance in the league, there isn't much of a gap between second place and seventh.
Syracuse – The Orange were the surprise recipient of an at-large bid, but they made the most of it by knocking off Michigan State and making it to the Sweet Sixteen. Virtually everyone is back from that team, but it's admittedly hard to balance whether the really Syracuse team is the one that finished 8-10 in the league or the one that played so well in the NCAA tournament. The truth is likely somewhere in the middle. Tyus Battle surprised many people when he decided to come back to school after averaging 19.2 points as a sophomore, but if he can improve on his shooting percentages, his stock could certainly rise. Oshae Brissett (14.9 ppg, 8.8 rpg) acquitted himself well as a freshman, and senior Frank Howard also scored over 14 points per game while leading the team in assists. All three of those players ranked in the Top 10 in the nation in percent of minutes played, but none of them posted an offensive rating higher than 106. Other returnees include shot-blocker Paschal Chukwu and Marek Dolezaj, both of whom averaged at least 5.4 points and 4.8 boards last year. A few newcomers should provide Jim Boeheim with additional depth, led by guard Jalen Carey and East Carolina transfer Elijah Howard. The Orange have finished in the Top 20 in adjusted defensive efficiency in eight of the last nine years, and it's hard to envision that not happening again this season. They were also among the worst shooting teams in the country last year, so even marginal improvement there should be enough to yield a few more victories.
Follow Andy on Twitter (@andybottoms) for more thoughts on college hoops and to receive an update whenever new brackets are posted.
Filed to: 2018-2019 bracketology